Small Cap Value Report (Mon 24 Oct 2022) - BVXP, CER, FCRM, D4T4, AFRN
Monday, October 24, 2022 7:22
% of readers think this story is Fact. Add your two cents.

Good morning from Paul amp; Graham!
Weekend podcast – went up on Saturday, as usual. Here is the direct link. I thought it might be helpful to subscribers if I also type up the podcast, so there's a separate podcast summary post here on Stockopedia. Lots of bargains are cropping up, but the stability of the financial system worries me a lot. If people find a written summary of the week helpful, I'll keep doing them, even though it takes a chunk out of my weekend!
This looks a particularly interesting (online) show, with all 3 companies presenting having cropped up on my radar :
Warpaint London (LON:W7L)
Quixant (LON:QXT)
Galliford Try Holdings (LON:GFRD)
---
Agenda
Paul's Section:
Cerillion (LON:CER) – another positive update from this software company. Its track record is absolutely superb. No issues with the previous accounts - balance sheet amp; cashflow are strong. It's a bit stingy with the divis, which is helping grow the cash pile, up to £20m now. Shares are expensive on a PER basis, but I can see why, given the outstanding performance since 2020. Thumbs up from me. I'll be interviewing the CEO next week, we're just setting that up.
Fulcrum Utility Services (LON:FCRM) (I hold) [no section below] – profit warning, shares down 26% to 4.4p. A series of problems mean it's now guiding an adj EBITDA loss of £3m, in each of H1 and H2. It's taking longer than expected to resolve onerous contracts. "Unprecedented cost increases". Net cash down to £4.8m at end Sept. "In discussions with its substantial shareholders to ensure that the Group remains adequately funded" – this last sentence is the killer for me, so I've decided to sell my small position here, and take a c.30% loss on the chin. I don't like holding shares that need to raise more cash – the risk of small shareholders being heavily diluted in another fundraising is too high for me. I'll keep an eye on it though in future. It's a turnaround situation, that is not going so well, so far. [no section below].
Aferian (LON:AFRN) down 38% on a profit warning, caused by customers de-stocking (an issue that I've been flagging in my podcasts lately). Guidance is revised down, and I look through reduced forecasts from Progressive. Balance sheet has nothing in NTAV. Overall, I can't get excited about this, and reckon there are probably better opportunities elsewhere.
Graham's Section:
Bioventix (LON:BVXP) (£179m) – another strong financial performance, including a huge operating margin, as we always expect to see from this high-quality biotech stock. I've just reviewed my last comments on this share, from 2019, and it's amazing how little has changed. One difference is that currency movements have helped in recent times by adding on a few percentage points of growth to the current year. Shareholders will benefit from a special dividend on top of an increased regular dividend. I remain neutral, despite the stunning financial performance, simply because it is a biotech share that is outside my circle of competence. The revenue growth does look a bit slow, and I think there are significant medium-term uncertainties relating to competition. But it's hard to argue against a company that has performed so well for so long.
D4t4 Solutions (LON:D4T4) (£98m) (-2%) [no section below] – H1 revenues are up 8% to £8.1 million, at this data solutions company. The adjusted pre-tax loss is £1.3m, but results are always very much weighted to H2. The key ARR metric (annualised recurring revenue) is up nearly 13% to £15.8m, however the lion's share of this is due to currency movements. The underlying increase in ARR is only around 3%. It sounds like the strong US dollar could keep boosting results for some time, as "a large part of reported revenues" in H1 are derived from contracts signed during previous periods.
With "an increasing number of sales opportunities in the final stages of the funnel", there is "good visibility" and confidence that full-year results will be in line with expectations. The forecast net income is £3.5m, according to the StockReport, and there is a healthy cash balance of £26m. Deduct that from the market cap and you get an enterprise value of £72m, which is 4.5x the company's ARR. By the standards of SaaS that is not an excessive multiple, but I think you still need quite a lot of conviction in the growth trajectory to justify it. D4T4 does have a terrific track record of posting consecutive annual profits for nearly 20 years. Along with the hefty cash balance, that helps to offset the demanding valuation multiples here. [no section below].
---
Explanatory notes -
A quick reminder that we don't recommend any stocks. We aim to review trading updates amp; results of the day and offer our opinions on them as possible candidates for further research if they interest you. Our opinions will sometimes turn out to be right, and sometimes wrong, because it's anybody's guess what direction market sentiment will take amp; nobody can predict the future with certainty. We are analysing the company fundamentals, not trying to predict market sentiment.
We stick to companies that have issued news on the day, with market caps up to about £700m. We avoid the smallest, and most speculative companies, and also avoid a few specialist sectors (e.g. natural resources, pharma/biotech).
A key assumption is that readers DYOR (do your own research), and make your own investment decisions. Reader comments are welcomed – please be civil, rational, and include the company name/ticker, otherwise people won't necessarily know what company you are referring to.
---
Paul's Section
Cerillion
(LON:CER)
1144p (up 10% at 08:23)
Market cap £337m
Cerillion, the billing, charging and customer relationship management software solutions provider, is pleased to announce an update on trading for the financial year ended 30 September 2022.
Strong trading has continued -
Cerillion entered the second half of the financial year with a strong back-order book* and continued to trade very well throughout the period, including securing the Company's largest contract to date in the fourth quarter.

During the period, the Company benefitted significantly from favourable foreign exchange rates and higher resource utilisation, as well as lower net finance costs and lower depreciation and amortisation than anticipated.

As a consequence, whilst revenue is expected to be marginally ahead of market expectations, adjusted profit before tax for the financial year is now expected to be materially ahead of the consensus market forecast of £10.1m.

*Back-order book consists of sales contracted but not yet recognised as revenue at the end of the reporting period plus annualised support and maintenance revenue.
Clearly that's good news, although those are mainly one-off factors, or happy coincidences, rather than underlying trading being much different from plan, with revenue only marginally ahead of expectations.
Balance sheet – cash has gone up nicely, to £20.0m, up from £13.2m a year earlier. It was £16.5m at the interim results, so looks to be growing at a steady pace. There's only a small dividend yield though, of about 1%, so I would expect cash to be growing. Overall, the balance sheet is smashing, I've just checked the last one, as at 3/2022, and it's strong. Hence little to no risk of dilution/insolvency. This is confirmed on the StockReport with good scores below – I find it's important to check these two items for every company I look at -
Pipeline of new business "remains buoyant".
FY 9/2022 results will be published in late November, along with another trading update.
Broker forecasts – there are 2 updates today available on Research Tree, many thanks to Liberum and Singers, who both put out great quality research notes, which are easy for us to access, this is so helpful to private investors.
Liberum upgrades FY 9/2022 forecast profit by 19%, which raises FD (fully diluted, for share options) EPS to 33.1p – at 1144p/share that's a hefty PER of 34.6
My opinion – what a superb company! The growth track record now is tremendous.
As you can see below, something positive happened in 2020, and since then the company's performance has really taken off.

The valuation looks toppy, but when a company is growing like this, there's a strong case to throw caution to the wind, and pay up for the shares. Obviously the risk is that something might then go wrong, growth slows, causing the high rating to be slashed.
Overall though, providing nothing goes wrong, this share looks expensive, but with a good justification for that.
I've reached out to the company this morning, to invite the CER to do an audio interview with me, as it meets my criteria of being a strongly performing company, with an attractive business model, and a sound balance sheet. Update – good news – I'll be interviewing the CEO next week, we're just sorting out date/time, TBC.
Long-term holders have had a multi-bagger here.
Consistently high StockRank too.
.
---
Aferian
(LON:AFRN)
80p (down 38% at 10:52)
Market cap £69m
Aferian plc (LSE AIM: AFRN), the B2B video streaming solutions company, today announces the following trading update.
FY 11/2022.
I've summarised the key points -
De-stocking by customers means that device revenues will be 10% less than expected.
De-stocking also expected to impact FY 11/2023.
Recurring amp; software revenues are growing, in line with management expectations.
Updated guidance -
In the light of these facts, the Board now expects Group adjusted operating profit for the year ending 30 November 2022 to be in the range of $7.8m to $8.8m.
When companies change guidance, I wish they would specify the previous guidance, so we can quickly see the change in amount amp; percent. That isn't done here.
Research update – Progressive is retained to produce research notes, and the table below is their changes today to forecasts. I don't normally copy anything from broker notes into these reports, because I assume it's not allowed. However, since Progressive is a commissioned researcher, and publishes these notes available to all, then I'm hoping nobody will mind me showing this table -
.
Quite hefty reductions in earnings then, down by about a third. The share price is down a bit more, at -38% – does that make sense? It implies that the market thinks this is a permanent reduction in earnings, but if it's down to de-stocking, then it could just be a blip, with subsequent years' earnings going back up possibly?
Note that AFRN reports in US dollars, so the EPS (fd) convert at £1:$1.13 to -
FY 11/2022: 5.6p, PER of 14.3 (at 80p/share)
FY 11/2023: 6.7p, PER of 11.9
Given the uncertain macro outlook, I'm not placing a lot of reliance on 2023 forecasts generally. We just have to accept that we don't know.
It doesn't look particularly cheap, even after the 38% fall in share price today. But if earnings subsequently recover, once the customer de-stocking has ended, then the valuation would look quite attractive now.
Aborted acquisition - this is a bit of a shocker. Management has managed to blow $5.5m in costs in fees for an aborted major acquisition. That's most of this year's profits, which seems crazy to me.
Cash forecasted to be in the range from $2m net cash, to $2m net debt at 11/2022 year end. That looks fine for a profitable company.
My opinion – all rather disappointing. I just can't get excited about this company. There's nothing in the numbers to indicate to me that it's an exciting growth opportunity. Revenues amp; profits go up amp; down, with no obvious trend over the last 6 years.
The balance sheet has been hollowed out with an acquisition spree that leaves nothing in NTAV, once the £97m intangible assets are written off. It looks like a lot of costs are being capitalised into intangible assets on the balance sheet (£4.2m in the interim results), so be sure to ignore EBITDA.
It's not obvious to me that the various acquisitions have created any shareholder value here.
Overall, I think this share would probably only be of interest if something exciting for the future could be ascertained about its products – e.g. if they bring out some new product that is brilliant, and trounces the competition, then the shares and results could improve. That requires sector knowledge, and a lot of work, and I can't motivate myself to dig any deeper, given the disappointing update, and a valuation that doesn't look especially cheap.
Have any readers looked at this one in more detail? If so, what do you think?
It's now halved from last year's peak, which is not especially bad in this horrible bear market for small caps.
Note the StockRank is middle-high, which is now likely to take a tumble, as the momentum score is likely to take a hit from both reduced forecasts, and the lower share price.
My commiserations to holders, profit warnings are horrible, but they just happen sometimes. It's then a tough decision as to whether to ditch the shares, or stick with them for a hopeful recovery in due course. Your money – your decision!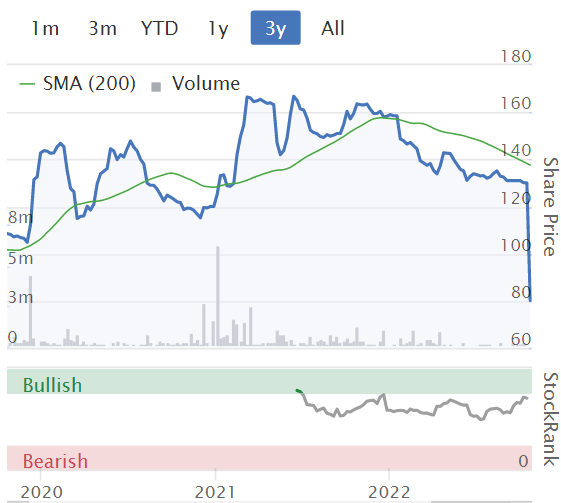 ---
Graham's Section:
Bioventix
(LON:BVXP)
Share price: £34.33 (+4%)
Market cap: £179m
This is a highly successful biotech company that many of you will be familiar with.
After so many years of producing excellent results, it became common knowledge within the investor community that this was a high-quality company. Focus shifted to valuation: who was willing to pay a PE multiple that was often in the 30s?
This chart goes all the way back to October 2017. You can see that since around 2019, the situation has stabilised and the share price has traded within a range:
The PE multiple has accordingly calmed down a little:
Let's dig into these results for FY June 2022 and see how the latest numbers stack up:
Revenue +7% to £11.7m (last year: £10.9m)
Without currency gains, revenues would have increased only to £11.3m.
PBT +14% to £9.3m
Year-end cash £6.1m
As an unhedged exporter, whose sales are mostly in US dollars, Bioventix enjoyed a nice tailwind from dollar strength during the year.
Here's a company description to help refresh our understanding of what the company does. It creates, manufactures and supplies "sheep monoclonal antibodies" (SMAs):
Most of our antibodies are used on blood-testing machines installed in hospitals and other laboratories around the world. Bioventix makes antibodies using our SMA technology for supply to diagnostic companies for subsequent manufacture into reagent packs used on blood-testing machines. These blood-testing machines are supplied by large multinational in vitro diagnostics (IVD) companies such as Roche Diagnostics, Siemens Healthineers, Abbott Diagnostics amp; Beckman Coulter. Antibody-based blood tests are used to help diagnose many different conditions including, amongst others, heart disease, thyroid function, fertility, infectious disease and cancer.
There is a long lead time between research and commercialisation – the company mentions today that its current research work "is more likely to influence sales in the period 2026-2036".
Note that about 70% of revenues are derived from royalties on the sale of devices that use Bioventix technology. Royalties are always something I look out for – they prove the existence of valuable IP!
Another thing I look out for is revenue per employee. According to the company's StockReport, Bioventix has 17 employees. This implies revenue per employee of almost £700k: excellent!
Indeed, today's RNS says that "the Bioventix team" consists of just 12 full-time equivalents. If that number represents the current workforce, then revenues per employee are closer to £1 million!
There is an interesting section on China:
Our shipments of physical antibody to China continued to increase. Some sales are made directly but the majority are made through five appointed distributors. Regulatory approvals for domestic Chinese customers have considerable lead times but we are now seeing modest increases in royalty payments flowing from these customers. The prospects for further growth in China are good though we recognise that continued antibody technology development in China and elsewhere does constitute a longer-term threat.
I've noted before the difficulties involved in selling Western technology in China (see Somero).
It's impressive that Bioventix is getting any royalty payments out of China, but again I wouldn't bank on this being a long and fruitful venture. At some point, I would expect Chinese companies to figure out how to make this product for themselves.
In that regard, the reference to "continued antibody technology development in China" as a "longer-term threat" is certainly worth remembering.
Cash – the company says it only needs a cash balance of £5m. Therefore, on top of the raised ordinary dividend, there is a special dividend of 26p per share.
Outlook
We are pleased with our financial results for the year which we believe reflect both the growth in the use of our products and of course some relief from the global pandemic. In particular the continued roll-out of the high sensitivity troponin assays and the royalties associated with them have combined to help replace revenues from NT-proBNP which ceased from August 2021. After stripping out the impact of these 2 significant changes the growth in our underlying business over the year is in the range 8-10% which we believe is sustainable for the immediate future as our sales mix continues to change.
Excellent technical progress has been made with our research projects and we anticipate that our pipeline of opportunities will create additional shareholder value in the period 2026 to 2036.
My view
This is always a tricky one for me. I can't say how likely it is that the current research projects at Bioventix will succeed, or how valuable they could be. There are good reasons I don't cover most biotech shares!
I can say that I think the revenue growth reported here, before currency gains, is underwhelming (only around 4%).
They say that they can sustain underlying sales growth of 8%-10% "for the immediate future", and based on their credibility, we can have some faith in that prediction.
But looking further out, I would have some concerns about the prospects here, especially considering that the stock continues to trade at a stretching valuation.
Even if growth of 10% is achieved, that is not normally the pace of expansion that you'd expect from a highly-rated share.
From a currency perspective, if you think that GBP is overdue for a recovery against the dollar, then the company's forex tailwind could reverse. This could wipe out a significant chunk of nominal growth.
Before concluding, we should remind ourselves again that the quality metrics here are stunning – I have little doubt about the quality of the financial performance.
When you see such high quality metrics, it feels easy to justify paying a premium valuation for the company producing them. But personally, I lack the specific expertise needed to have confidence in this company's prospects, and I would like to see a higher rate of growth, so this is not something I'd personally invest in. Life is easier when we stay inside our circle of competence!
Source:
https://www.stockopedia.com/content/small-cap-value-report-mon-24-oct-2022-bvxp-cer-fcrm-d4t4-afrn-956057/
Before It's News®
is a community of individuals who report on what's going on around them, from all around the world.
Anyone can
join
.
Anyone can contribute.
Anyone can become informed about their world.
"United We Stand" Click Here To Create Your Personal Citizen Journalist Account Today, Be Sure To Invite Your Friends.
Please Help Support BeforeitsNews by trying our Natural Health Products below!
Order by Phone at 888-809-8385 or online at https://mitocopper.com M - F 9am to 5pm EST
Order by Phone at 866-388-7003 or online at https://www.herbanomic.com M - F 9am to 5pm EST
Order by Phone at 866-388-7003 or online at https://www.herbanomics.com M - F 9am to 5pm EST
Humic & Fulvic Trace Minerals Complex - Nature's most important supplement! Vivid Dreams again!
HNEX HydroNano EXtracellular Water - Improve immune system health and reduce inflammation.
Ultimate Clinical Potency Curcumin - Natural pain relief, reduce inflammation and so much more.
MitoCopper - Bioavailable Copper destroys pathogens and gives you more energy. (See Blood Video)
Oxy Powder - Natural Colon Cleanser! Cleans out toxic buildup with oxygen!
Nascent Iodine - Promotes detoxification, mental focus and thyroid health.
Smart Meter Cover - Reduces Smart Meter radiation by 96%! (See Video).