Small Cap Value Report (Mon 3 Oct 2022) - MEX, SRT, AGFX, PEEL, SPSY, RNWH
Monday, October 3, 2022 8:22
% of readers think this story is Fact. Add your two cents.

Good morning from Paul amp; Graham.
Paul's Podcast - Episode 14 went out on Saturday, although I didn't get round to recording part 2 (macro comments), so will try to catch up on that maybe tomorrow or Weds. Hence episode 14 is purely comments on individual companies which we covered in the SCVRs last week. The "mystery shares" are my best ideas each week, which I'm holding back specifically for Stockopedia readers (since you're paying for me to do the research!). Last week's mystery shares were £LOAD and £REDD .
Come hell or high water, I'll keep these podcasts going, because it's the current awful market conditions that are throwing up the big long-term buying opportunities, and we mustn't get swamped by the negativity. Bad patches happen, and they're deeply unpleasant, but then a new bull market starts and we make a fresh fortune! That's what 's happened in the past, and will happen again. The only unknown question is timing.
Agenda -
Paul's Section:
Tortilla Mexican Grill (LON:MEX) – interim results show this expanding casual dining /takeaway burrito chain operating just above breakeven. A profit warning for H2 is only just perceptible in the outlook statement. Yet broker forecasts have been drastically reduced for 2022 amp; 2023, to just above breakeven. This completely changes the investment proposition, which was for rapid profit growth due to expansion, and is now barely profitable despite the growth. So I'm rapidly losing interest in this share.
Spectra Systems (LON:SPSY) [no section below] – I wrote very positively about SPSY recently, see the archive. Today there's a positive contract amendment announced, and broker WH Ireland (see Reearch Tree) has increased forecasts. It's now expected to make 12.8 US cents EPS in FY 12/2023 (previous forecast ws 12.3c). Note that nearly all earnings are paid out in divis. So this share offers a reasonable PER, very good yield, and interesting growth potential. So I want to reiterate my positive opinion of this share. [no section below].
Renew Holdings (LON:RNWH) – a positive trading update. Renew has established such a good track record, in the 10 years we've been following it here. It's managed to grow hugely, through acquisitions, whilst paying growing divis, and gradually improving what at times looked like a dangerously stretched balance sheet. Also it's safely navigated the considerable risks that contracts in this sector often fall foul of. Very impressive. The price now looks attractive to me, for a long-term investment. That's assuming nothing serious goes wrong in future, which it hasn't in the past.
Graham's Section:
SRT Marine Systems (LON:SRT) (£54m) – this H1 2023 update has been received positively as SRT delivers spectacular growth in revenues and a swing to pre-tax profits. Much has been promised over many years at this company, and results are finally delivered with H1 revenues of £18.8m and a pre-tax profit of not less than £1.5m. As disclosed in the full-year 2022 results, SRT's systems division has a new coast guard customer and is also carrying out major works in the Philippines. I would continue to treat this one cautiously as revenue recognition is inherently lumpy and unpredictable. But management has gained credibility by finally hitting some big revenue numbers. Long may it continue.
Argentex (LON:AGFX) (£119m) – a terrific update from this FX broker. Revenues are up 75% compared to H1 last year, while costs remain in line with management expectations. The success is attributed to the company's "core UK proposition" but also to the exceptional trading conditions in Sterling recently. I remain impressed by several features of this company which is probably my top pick in the FX brokerage space. It recently won an electronic money licence in the Netherlands as it seeks to internationalise and further diversify its customer base. The valuation here has looked low relative to its growth achievements and I reckon that it deserves a re-rating.
Peel Hunt (LON:PEEL) (82p) (-7%) (£101m) [no section below] – many of you will be familiar with this investment bank that caters for small and medium-sized businesses. The corporate client base currently sits at 164 companies, with an average market cap of £600m.
It is yet another example of a 2021 IPO that has gone terribly for investors so far. That's partly because the small-cap market has been decimated over the past year, but also undoubtedly because IPO valuations were overcooked. This listed at 228p and so nearly two-thirds of its IPO valuation has been written off in a year. Today's outlook statement warns of the effects of uncertain capital market conditions, geopolitical/macroeconomic factors and tightening monetary policy, but says that the company will be prepared for when market activity levels "normalise". Trading in small-cap and AIM companies is currently "much lower" than before, though larger companies and investment trusts are in line with expectations. Peel Hunt is also leading the charge for more retail participation with "REX" (giving retail investors easier access to fundraisings) and plans to launch Peel Hunt Europe during the current financial year. While Peel Hunt is a very successful broker, it lacks a track record for external shareholders to rely on in terms of bottom-line profitability – apart from FY March 2022, the year in which it listed. I would therefore treat these shares very cautiously.
(Paul adds: Peel Hunt is also known for its outstanding research notes, many on small to mid caps. But the company jealously guards them, and private investors don't get access to them, unless we're prepared to pay a substantial annual fee which most people can't afford or justify. I appreciate that it costs a lot of money to product quality research, and the MiFiD rules have made it difficult, but even so I question whether it is fair or right that research analysts get privileged access to, and inside information/guidance from companies, but then restrict who can see that research)? That doesn't seem consistent with the rules. Maybe Peel Hunt should do what other brokers (e.g. Singers, Liberum) do, and put out short notes on Research Tree, holding back the deeper research for fee paying clients? The danger is that, by withholding research from private investors, Peel Hunt is actually harming its clients – because private investors create the market liquidity in small caps. If we can't get broker research, many of us won't buy the shares. So when I talk to small cap management, I always urget them to use a broker which publishes research for everyone to see).
---
Explanatory notes -
A quick reminder that we don't recommend any stocks. We aim to review trading updates amp; results of the day and offer our opinions on them as possible candidates for further research if they interest you. Our opinions will sometimes turn out to be right, and sometimes wrong, because it's anybody's guess what direction market sentiment will take amp; nobody can predict the future with certainty. We are analysing the company fundamentals, not trying to predict market sentiment.
We stick to companies that have issued news on the day, with market caps up to about £700m. We avoid the smallest, and most speculative companies, and also avoid a few specialist sectors (e.g. natural resources, pharma/biotech).
A key assumption is that readers DYOR (do your own research), and make your own investment decisions. Reader comments are welcomed – please be civil, rational, and include the company name/ticker, otherwise people won't necessarily know what company you are referring to.
---
Paul's Section:
Tortilla Mexican Grill
(LON:MEX)
112p (down 22% at 09:11)
Market cap £44m
Tortilla Mexican Grill plc, the largest and most successful fast-casual Mexican restaurant business in the UK, today announces its unaudited interim results for the 26 weeks ended 3 July 2022 ("H1 FY22″, "the Period"). All numbers are shown on a IFRS basis unless otherwise stated.
Tortilla demand and market conditions lead to acceleration in pipeline
H1 numbers seem OK, although it's not yet reached any meaningful level of profitability.
Key figures for H1 are -
Revenues £26.9m (up 30%vs H1 LY) – helped by 5 new sites, and acquisition of smaller rival Chilango near the end of H1, but being up 30% suggests that there's good growth from the existing sites too.
Like-for-like (LFL) revenue growth (a key measure, as it strips out the effect of new site openings amp; any site closures) is an impressive +19% – footnote 2 says the comparative is H1 2019, pre-pandemic. Revenues need to be strongly up against a comp that is now 3 years old, because many costs (esp. wages) will have risen a lot over that time.
Adj EBITDA (quite a useful measure in this sector, as it does approximate to cashflow) is £2.5m in H1, but PBT is only £0.3m – so taking into account all costs, the business is effectively trading just above breakeven – not very exciting for investors.
Site expansion (roll out) – now has 84 sites, including 5 new Tortillas, 1 delivery kitchen, and 8 acquired Chilango sites (5 of which have been re-branded as Tortilla). 5 more new sites are planned for H2 this year. Then expansion is to accelerate to 12-15 new sites p.a. – I like this a lot. Now is the perfect time to be rolling out a good format, that is popular with customers, because the deals available from landlords are currently so good, it's completely unprecedented actually. I've heard of sites being offered at only a third of the pre-pandemic rents, and often come with a large capital contribution from the landlord towards fitting out costs.
London – very interesting, with read-across to other companies – Tortilla's central London sites are now trading at 98% of pre-pandemic revenues. That's still well below its overall +19% performance, but gives confidence that London is returning to normal, gradually. That's certainly my perception too, subjectively, having been in London for the last month, it feels busy amp; buoyant here.
Current trading – LFLs (vs pre-pandemic remember) slipped back a bit in the summer (July: +13.2%, Aug: +12.3%, but improved in Sept to +16.6%).
Cost inflation – mentions higher meat costs, and utilities. Combined this will take £1.8m off the gross margin for FY 12/2022. I can't find any information on cost hedging. We do need guidance on this, so a bit of a gap there.
Outlook - sounds like a profit warning for H2, due to increasing costs. Let's see if broker downgrades have happened.
Broker update – many thanks to Liberum for updating us with revised numbers. It's a big drop to forecast profitability in both 2022 (£0.7m new, vs £3.9m old), and 2023 (£1.1m new, vs £4.3m old), with the main cause being (as the company explained), slower trading over the summer, but increased meat amp; utilities costs being the main culprits.
Note also that the tail end of Pandemic support measures boosted Q1 (business rates relief, and reduced VAT for hospitality).
Can't they just raise prices? The commentary indicates that Tortilla wants to stick with a value-for-money offering, eschewing both price rises, and discounting, both of which are (I think correctly) viewed as damaging in the long-term. Therefore I think investors will just have to accept that, for now anyway, profitability is not really happening, they're just building the business at or just above breakeven, rolling out new sites, with (hopefully) profits coming longer-term. That's a big change in the investment proposition though, and might put off some investors.
Balance sheet - looks OK, I wouldn't call it strong, more adequate. NAV is £4.2m, less £2.6m intangibles (mainly arising from the acquisition of Chilango), gives NTAV of a rather modest £1.6m. However, the IFRS 16 lease entries have a deficit of £5.3m (liabilities exceed RoUA). I am happy to remove all these items, which puts NTAV up to a better £6.9m. Although note that a deficit on the IFRS 16 entries suggests that Tortilla has several loss-making sites, where it can't get out of the lease.
Cashflow – positive EBITDA has been spent on acquiring Chilango, and funding the capex for new sites. It's still got £6.1m in net cash though (ignoring leases). Plus an unused £7m RCF as back up. Although I imagine the bank might want to reduce that facility, given that profit guidance has now been slashed.
Should it do a placing, to give more cash headroom? I don't think that's necessary actually, and the timing is certainly not right to be asking investors for more cash. The existing cash, and the £7m bank facility looks perfectly adequate for the current expansion plans. Remember that each new site costs c.£0.5m, but landlords will probably be covering a fair chunk of that, with reverse premiums negotiated as part of agreeing lease terms. So the cash requirement for new sites doesn't look onerous: 12-15 news sites per year could probably be funded from existing resources.
My opinion - this is a big drop in expectations today. Instead of profitability building nicely as the business scales up, revised forecasts are now saying little more than breakeven in 2022 and 2023. So the economics of the business can now only really be viewed as unproven. That has to impact valuation heavily. I'm not convinced that this morning's 22% drop in share price in the first hour of trading, is the last of the fall.
It depends how much investors are prepared to look to the longer-term growth potential? Current trading at around breakeven, is certainly not enough to justify the £44m market cap. It really should be profitable now, with 84 sites. Which suggests to me that the format isn't quite right at the moment. What are the issues? I think pricing is too low, and needs to be increased. Also, the menu is too complicated, which slows down the production line I've noticed when mystery shopping. Also, it's annoying to customers when delivery orders are being prepared as a priority, and I have to stand there waiting whilst a delivery order is prepared. I think a much faster, simplified menu, is needed. Not giving customers dozens of different options – do you want this, or that? (half the time you can't understand what they're saying, due to accents/mumbling, and loud background music).
Despite these issues, I think the business has good long-term potential. Maybe management should focus more on getting the format right, and operating profitably, before doing a rapid roll-out of new sites, which is likely to take up most of their attention?
Overall, given this major downgrade of forecast profits, I think the shares have gone from appealing, to unappealing.
Also, I have to question why it's taken so long to guide down profit expectations? Cost increases should have been obvious months ago, which makes me question the strength of the finance team here, who don't seem to have been on the ball in terms of accurate forecasting. After all broker research effectively comes from the company, which guide them.
Once macro conditions stabilise, then there could be upside for future profits, but it feels too early to start anticipating that.
MEX shares floated in Dec 2021, so it's been a rip-roaring success compared with many other 2021 floats!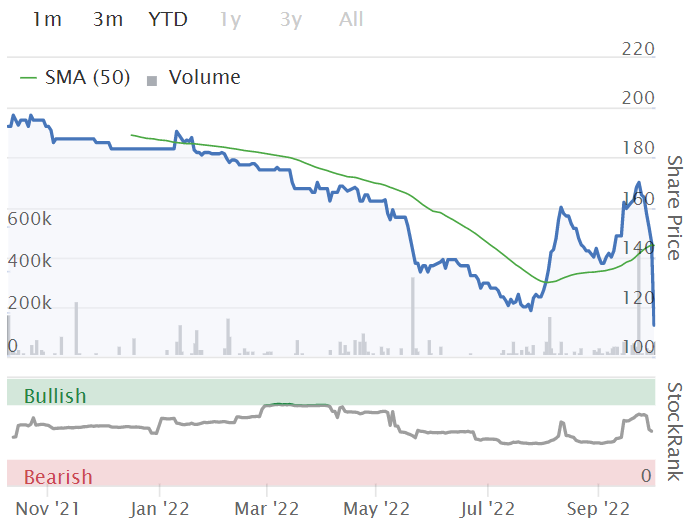 .
---
Renew Holdings
(LON:RNWH)
589p (up 3% at 11:59)
Market cap £464m
Renew (AIM: RNWH), the leading Engineering Services Group supporting the maintenance and renewal of critical UK infrastructure, provides the following trading update for the financial year ended 30 September 2022.
Strong trading with results expected to be marginally ahead of market consensus
Here's the update in full, as it's all relevant (as usual, I've added bolding) -
The Group continues to successfully manage the well documented inflationary pressures and supply chain challenges in the wider economy.
As such, there has been no material impact on trading, once again demonstrating the resilient and differentiated nature of Renew.
As a result, the Board expects the Group to report results for the year marginally ahead of market consensus1.
1Company derived consensus adjusted operating profit is £54.0m and pre-IFRS 16 net cash of £8.9m.
The Company's balance sheet continues to be strong with net cash, at 30 September 2022, anticipated to be ahead of market consensus1 due to lower capital expenditure and pension costs combined with higher operating profit in the period.

The Group's Engineering Services order book remains strong and we continue to see good demand across our core markets which continue to trade well. Despite the uncertain economic outlook, the Board looks to the year ahead with confidence with the Group well positioned to continue to benefit from the UK Government's committed infrastructure spend.
That sounds very good indeed. I'm so impressed with Renew – having followed it for many years. Management seem to have executed flawlessly, growing the group by acquisitions, whilst also paying growing divis, all whilst gradually improving what was at times a dangerously stretched balance sheet.
It also seems to have avoided the widespread risks of contracts going wrong, which bedevils the sector. And they've steadily improved margins over time, which was exactly what was originally planned.
Valuation - Stockopedia is showing a forward PER of 10.3, and a 3.2% dividend yield. Companies in this sector tend to attract fairly low valuations, so the current valuation, in a tough market, looks about right to me.
My opinion – given the outstanding track record, I can see a lot of merit in this share, as something to just hold long-term, and watch management hopefully continue to execute very well.
It seems to have good inflation protection built in, clearly being able to pass on cost increases to customers. There's a good order book too.
Lots to like here, for a long-term hold I think, assuming nothing serious goes wrong along the way. It hasn't so far, so it looks as if management are safe hands, and seem adept at setting up contracts so that the downside risks are anticipated amp; allowed for – that's really the crux of things for this sector – getting the original contract terms right to allow for all eventualities.
.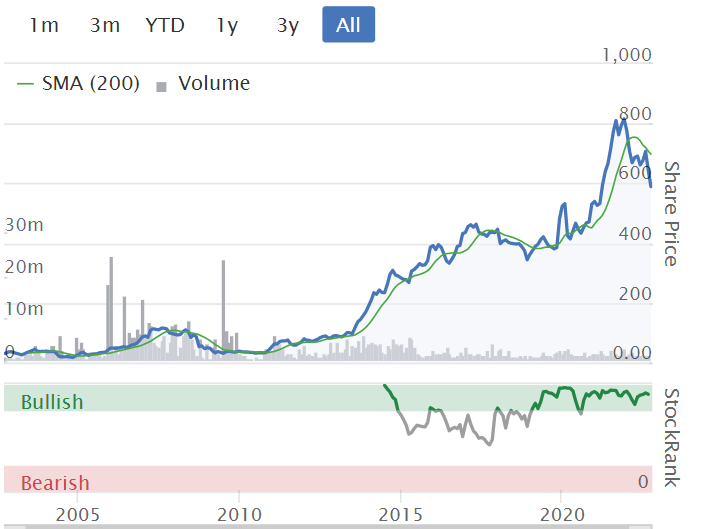 ---
Graham's Section:
SRT Marine Systems
(LON:SRT)
Share price: 29.87p (+11.7%)
Market cap: £54m
A brief update from this "global provider of maritime surveillance, monitoring and management systems".
H1 revenues are up 300% to £18.8m, and pre-tax profit is expected to be "not less than £1.5m" (financial year ending March 2023).
I have felt that this company over-promised and under-delivered to its shareholders over a long period of time, so I'm glad to see that it might finally be coming through with some decent financial results.
Let's review its H1 revenues and PBT over the years:
H1 2022: revenues £4.7m, loss before tax £3.1m
H1 2021: revenues £3.8m, loss before tax £2.7m
H1 2020: revenues £3.5m, loss before tax £1.5m
H1 2019: revenues £3.2m, loss before tax £1.3m
H1 2018: revenues £2.9m, loss before tax £3.3m
As you can see, the track record is grim.
On top of the losses, shareholders have been diluted with 180 million shares currently outstanding versus 128 million, five years ago.
But something has changed. From today's RNS (emphasis added):
Despite continuing production constraints, our transceivers business revenue grew by approximately 20% to £5.2m (H1 2021/22: £4.2m). Our systems business delivered multiple operational and several revenue milestones, and thus generated approximately £13.6m (H1 2021/22: £0.5m) of revenue.
At the final results, CEO Simon Tucker talked of a "£600m systems division validated sales pipeline", which I thought had very little credibility.
This is how the systems division performed back in FY March 2022:
The systems business did not complete any revenue milestones and thus only generated £0.6m of revenues during the period from the ongoing sale of data services to system customers. Cash payments amounting to £6.1m were received during the year from existing system customers.
These "revenue milestones" (points when revenues can be recognised in the financial statements from ongoing contract work) are clearly very lumpy! And like buses, after a 12-month period in which none of them were achieved, SRT has delivered several of them in just a six-month period.
Under IFRS 15, revenue is recognised only when a company satisfies an accounting requirement called a "performance obligation". Sometimes, this means that companies can carry out lots of work before revenue is eventually recognised.
The work that SRT is doing in its system division includes the following:
For the Philippines: a fisheries monitoring and management centre, and "further follow-on data sustainability and system expansion contracts to follow".
For "a new national coast guard agency": an SRT-MDA System, which uses SRT's inhouse technology to create "a national scale integrated system solution that delivers a full range of sophisticated maritime surveillance, command, control and management functionality."
With respect to this new coast guard customer, SRT said: We consider this new customer to be of considerable long-term value to SRT and likely to generate further contracts as they build up their maritime surveillance capabilities.
My view
I would continue to take a cautious approach here: one swallow doesn't make a summer, and all that. It's possible that things will change from now on, but the long-term track record is extremely patchy.
As you can see from the fact that total revenues quadrupled compared to last year – and went from almost nothing to £13.6m in the systems division – the results here are lumpy in the extreme, making them very difficult or impossible to predict. This is a consequence of both the small size of the business (reliant on a small number of contracts) and the complex nature of its contracts.
There is also precious little asset backing – close to zero net tangible assets at March 2022, despite raising £4.9m in an equity placing.
Therefore, these shares continue to strike me as high-risk, although I have to acknowledge that management has much more credibility now that their promises of contracts coming through in FY 2023 have materialised. Hopefully we will see more consistency from this company in future.
---
Argentex
(LON:AGFX)
Share price: 105.5p (+16.6%)
Market cap: £119m
This FX company provides an H1 update for the six-month period ending September 2022.
It is confident it will "exceed expectations for the period ended 31 December 2022" (it recently changed its year-end from March to December).
Argentex expects to report six month revenues of £27.4m, a 75% increase compared to the same period last year (H1 2022: £15.7m)* with costs remaining in line with management expectations. There has been continued strong client demand with the number of corporate clients trading growing to 1,393 (H1 2022: 1,241)*.
The company attributes this successful performance to its "core UK proposition" but also to "more favourable market dynamics, with the recent historic lows in Sterling presenting exceptional short-term trading conditions".
That's an interesting feature of the recent volatility that I had overlooked: the additional demand for FX services to manage these conditions. Also, the additional value that firms like Argentex can arguably provide for their clients by timing the purchase of Sterling in recent days and weeks.
Let's remind ourselves of what Argentex does:
Our clients use us for bespoke advice, tailored hedging strategies, spot, forward and structured products. We also offer payment services and an online portal should you want to manage your own trades.
We operate like a private bank, giving our clients a bespoke service every time they deal with us. Our clients range from institutions, corporates and private clients of varying sizes.
It's easy to imagine the demand picking up for currency management, as high net worth individuals try to figure out what to do with their currency exposures. And the number of corporate clients is up by 12%, too.
My view
I flagged this company as offering high growth at a single-digit PE ratio back in July.
My main difficulty with the FX brokerage space is (and perhaps it's my own fault) I find it difficult to distinguish between the different players in the sectors. How to choose one over another?
That being said, there are a few things about Argentex that caught my attention:
Working hard to build out an international presence (it recently won a Dutch electronic money licence).
Growth appears to be fully organic and customer diversification is improving (the top 20 customers generated 36% of revenues last year).
Its online platform enables customers to efficiently make their own trades, if they wish.
See my commentary in July for more detail (link).
After today's positive trading update, I'm clearly going to retain my positive impression of the company and even bolster it with added excitement around the rate of growth it's achieving.
See the PEG Ratio below, as calculated by Stockopedia. Anything less than 1x has traditionally been considered to represent good-value growth.
Source:
https://www.stockopedia.com/content/small-cap-value-report-mon-3-oct-2022-mex-srt-agfx-peel-spsy-rnwh-954905/
Before It's News®
is a community of individuals who report on what's going on around them, from all around the world.
Anyone can
join
.
Anyone can contribute.
Anyone can become informed about their world.
"United We Stand" Click Here To Create Your Personal Citizen Journalist Account Today, Be Sure To Invite Your Friends.
Please Help Support BeforeitsNews by trying our Natural Health Products below!
Order by Phone at 888-809-8385 or online at https://mitocopper.com M - F 9am to 5pm EST
Order by Phone at 866-388-7003 or online at https://www.herbanomic.com M - F 9am to 5pm EST
Order by Phone at 866-388-7003 or online at https://www.herbanomics.com M - F 9am to 5pm EST
Humic & Fulvic Trace Minerals Complex - Nature's most important supplement! Vivid Dreams again!
HNEX HydroNano EXtracellular Water - Improve immune system health and reduce inflammation.
Ultimate Clinical Potency Curcumin - Natural pain relief, reduce inflammation and so much more.
MitoCopper - Bioavailable Copper destroys pathogens and gives you more energy. (See Blood Video)
Oxy Powder - Natural Colon Cleanser! Cleans out toxic buildup with oxygen!
Nascent Iodine - Promotes detoxification, mental focus and thyroid health.
Smart Meter Cover - Reduces Smart Meter radiation by 96%! (See Video).