Small Cap Value Report (Thu 13 Oct 2022) - ZTF, NXR, RNK, TET
Thursday, October 13, 2022 7:17
% of readers think this story is Fact. Add your two cents.

Good morning from Paul amp; Graham!
It's going to be a crazy day today, as I (Paul) am recording two CEO interviews! Plus the usual report, so my head will probably be spinning on its axis by the end of the day! Still, it's all very interesting.
---
Brief macro/markets thoughts from Paul

Plummeting markets create opportunities for our bulging watch lists. Although as mentioned in my most recent couple of podcasts, I'm becoming increasingly worried at signs of stress in the global financial system (these problems are certainly not confined to the UK, as the parochial/clueless UK media would have us believe) – e.g. look at double digit inflation in some European countries (17% in Holland, 16% in Poland), plus the Euro is now below parity against the dollar, and showing little signs of recovering.
Another sovereign debt crisis looks to be brewing, with Italian 10-year Govt bond yields now up to 4.8% (higher than the UK), against 2.4% for Germany. So I think the next big crisis could be strain on the single currency, which was never going to work in my opinion, as the countries in it are far too diverse, and there are now massive imbalances, e.g. the ECB propping things up by buying Italian debt on a gigantic scale (something like 500bn Euros, I believe). What happens when that stops?
It seems obvious to me that central banks (esp the Fed, and the BoE) have made major policy errors, in ending QE too abruptly, and allowing bond yields to rise far too quickly. That's triggered plunges in bond, equity, and property values, so that's bound to cause major problems. Unless they change course, I think we're possibly heading into a major financial crisis, I'm sorry to say.
The early signs are already there – this pensions derivatives fiasco, clumsy handling of it by the Bank of England which I think urgently needs a more switched-on Governor, open-ended funds beginning to "gate", i.e. suspend redemptions (e.g. Columbia Threadneedle open-ended UK property funds). Close your eyes, and it almost feels like 2007 again, when the credit crunch was beginning to build up, and forced liquidations of assets began.
I don't like the macro picture one bit, and am very worried actually. It could all be fine, but if a major player in the financial system fails, and needs a bailout (Credit Suisse maybe?) then everyone starts to worry about counter-party risk again (just like in 2008), and we could go into another credit crunch as lenders withdraw credit to shrink their balance sheet risk. Buyers can then name their price.
Central banks could nip all this in the bud, but they seem determined to demonstrate machismo against inflation that is largely a result of supply chain shocks which are already beginning to ease. So they really don't need to crash the economy (and probably the whole financial system) with overly rapid rises in bond yields. I don't like this situation at all, and sorry to be alarmist, but that's how I see it.
---
Summaries
Paul's Section:
Zotefoams (LON:ZTF) – I reported positively here on this specialist foam manufacturer's interims in Aug 2022, expecting it to out-perform soft forecasts. The good news today, is confirmation of a strong Q3, and raising full year expectations. Demand is strong, and impressive price rises have been passed on to customers. The balance sheet is strong, with plenty of freeholds. It's benefiting from weak sterling vs dollar. Plus there's blue sky potential from the Re-Zorce new product. It got a thumbs up from me last time, and I'm now awarding it "Mystery share" status for this weekend's podcast – one of the top companies reporting. It's up 25% today, which I worry could be a spike up, despite the good news, things often tend to drift back down again after good news in this horrible market, but it's high on my watchlist for a future purchase.
Graham's Section:
Norcros (LON:NXR) (£159m) – a reassuring in-line trading update from this provider of bathroom products such as showers, taps and tiles. The shares are once again extraordinarily cheap; they have often looked cheap in the past, but the PE multiple is now less than 5x, according to Stockopedia. I suspect we are again at the point where the shares are worthy of a gamble, for those willing to research it in more detail. The pension scheme contributions look manageable and can't rise by more than 5% p.a. Additionally, I suspect that rising interest rates have caused another very favourable movement in the surplus. The company is carrying some financial debt now, but the company it acquired with borrowed money is performing in line with expectations. An intriguing valuation at today's share price, in my view.
Rank (LON:RNK) (£276m) – this Q1 trading update has further diminished the price of Rank shares as the market cap now sinks below £300m. Q1 net gaming revenues increased by just 2% (to £166m), with weakness in Grosvenor Casinos outside London. The average spend by casino visitors is down as people reassess their spending habits in light of the cost-of-living crisis. The inflation is hitting Rank too, as its own energy bills and other input costs have risen enormously. The consensus earnings forecasts here aren't worth relying on – the business is clearly going to have a tough year, and will be lucky to get through with any meaningful profit. As a recovery play, I think this could be a wonderful share to own, but there is no evidence of stabilisation or recovery in trading yet. Much, much safer to stay on the sidelines for now.
Treatt (LON:TET) (£342m) (+10%) [no section below] – this ingredients business says that FY September 2022 profits will be in line with expectations of £15m – £15.3m, on revenue growth of around 13% (9% at constant currencies) to £140m. FY 2022 sounds like it was a good year: growth in all categories except Tea, a small new Coffee category has been created, and price increases were passed on to reflect higher commodity prices. Hopefully this will turn out to be an inflation-proof company for its shareholders – food producers ought to have little difficulty negotiating price increases.
Looking forward, UK production capacity is set to double during FY 2023 thanks to a new facility. FX hedging techniques have been revised and improved, and the company has a modest net debt figure of £23m. There are "positive market dynamics" and costs are under control. The CEO is "confident the business can revert to its trajectory of growth".
There's very little to dislike here but the shares do perhaps already reflect the strength of trading with an expensive PER of 22x (as of last night's close) and a modest dividend yield of 1.6%, according to Stocko. With the promise of good inflation protection, this might be one of the more relaxing stocks to hold over the next few years. [no section below].
---
Explanatory notes -
A quick reminder that we don't recommend any stocks. We aim to review trading updates amp; results of the day and offer our opinions on them as possible candidates for further research if they interest you. Our opinions will sometimes turn out to be right, and sometimes wrong, because it's anybody's guess what direction market sentiment will take amp; nobody can predict the future with certainty. We are analysing the company fundamentals, not trying to predict market sentiment.
We stick to companies that have issued news on the day, with market caps up to about £700m. We avoid the smallest, and most speculative companies, and also avoid a few specialist sectors (e.g. natural resources, pharma/biotech).
A key assumption is that readers DYOR (do your own research), and make your own investment decisions. Reader comments are welcomed – please be civil, rational, and include the company name/ticker, otherwise people won't necessarily know what company you are referring to.
---
Agenda
Paul's Section:
Zotefoams
(LON:ZTF)
267p (up 15% at 08:20)
Market cap £130m
13 October 2022 – Zotefoams, a world leader in cellular materials technology, today provides a trading update for the nine months ended 30 September 2022 ("year to date") and in respect of its financial year ending 31 December 2022.
Continued positive momentum through Q3 and full year expectations increased
Summarising today's update -
Revenues – record performance in Q3, up 27%, despite strong 2021 comparatives.
Year to date (YTD) revenues +24% vs LY – impressive!
Demand continues to be resilient in most markets.
Revenues amp; margins benefiting from price rises earlier in 2022 (e.g. Polyolefin revenues up 27%, but volume only up 4%, implying big price rises have been achieved).
Some benefit from dollar strength vs sterling, although limited by hedging.
Input cost inflation – "some recent abatement", e.g. polymer prices easing from record levels in H1.
Energy costs – this is very interesting, and could have positive read-across for other UK producers maybe? -
Wholesale energy prices remain volatile but, in the UK, which accounts for the majority of Group energy consumption, the short-term risk associated with energy pricing has been reduced due to Government pricing actions.
Re-Zorce – potentially exciting blue sky project, making "good progress".
Outlook - sounds good -
Demand entering the final quarter remains encouraging and we have good visibility of confirmed orders for the remainder of 2022.
Based on its current sales forecasts and foreign exchange rates, and subject to there being no material disruption to the business, the Board now expects adjusted profit before income tax to be significantly ahead of market expectations*.
* Current Company-compiled consensus expectations for adjusted profit before income tax and separately disclosed items, for the year ending 31 December 2022, is £9.3m.
Cash generation also continues to be strong and so the better than anticipated earnings performance should contribute to an appreciable reduction in both net debt and leverage.
Updated forecasts - many thanks to Arden for providing guidance with an update note this morning. It's raised forecast adj PBT to £11.6m, which is 19.7p EPS (up from 15.2p actuals in both 2020 and 2021).
Working out the PER on this morning's increased share price of 267p (at 08:21), gives a 12/2022 PER of 13.6, which strikes me as a reasonable price (remember that PERs should now be lower than in recent years, given higher interest rates, and macro uncertainty).
My opinion - I remember having a very positive call with management in Aug 2022, and writing up a positive review of its interim results here on 9 Aug 2022. That's well worth revisiting, if you're interested in this share. It passed my balance sheet review with flying colours (some debt, but not onerous, and freehold factories), so no issues there. My crystal ball was working well (for a change!) back then, as I correctly predicted that forecasts were set too low, and likely to be beaten, pretty easy to work out from the interim results amp; positive outlook comments back then. I concluded with a thumbs up in August, and today's positive update reinforces me positive view of ZTF. So it gets another, more emphatic thumbs up today!
I'll approach management, and see if they'll do an interview with me, and ZTF is going on my "Mystery shares" list for the podcast later this week (i.e. best share ideas of the week, exclusively for Stockopedia subscribers).
I particularly like that ZTF has demonstrated it has strong pricing power, and able to push through price rises, even expanding its profit margin. That's telling us this is a quality, resilient business.
At some stage I want to buy some ZTF myself, but am not ready to push the button, due to horrible macro outlook for markets generally. So I think there's probably no need to chase the price higher today, as the share price could easily drift back down again, we're seeing that happen in lots of cases. I could be wrong, but it seems to me we've probably not reached a market bottom yet, as the macro picture seems to be worsening by the day.
Note that the middling StockRank of 56 is likely to increase, once upwardly revised forecasts come through – that should increase both the value, and momentum scores. It will be interesting to check that theory in a few days' time.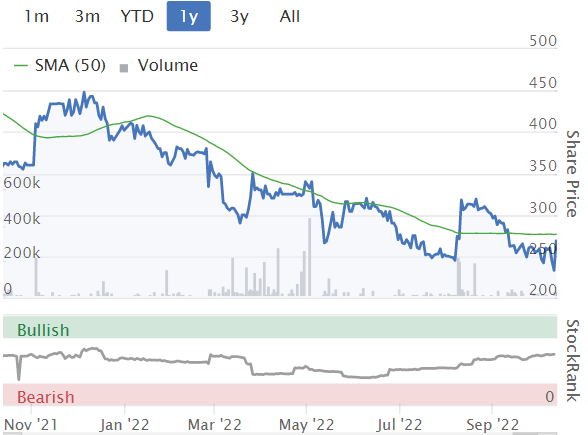 .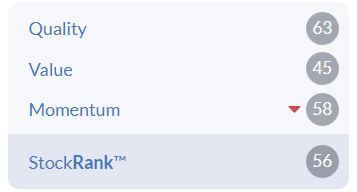 ---
Graham's Section:
Norcros
(LON:NXR)
Share price: 180p (unch.)
Market cap: £159m
This is the "market leading supplier of high quality and innovative bathroom and kitchen products", which we have covered many times before in this report.
As a reminder it owns the followings brands, among others:
Triton
Merlyn (shower enclosures and trays)
Vado (brassware)
Johnson Tiles
Croydex (bathroom furnishings and accessories)
Let's see how the company performed in H1 (the period from the end of March to the end of September).
"Robust H1 performance reflecting the strength of our customer proposition and the breadth of our distribution channels."
Revenue +1% on a constant currency like-for-like basis (this is the best way of measuring revenue growth, in my view).
Reported revenue +10% to £220m, which I believe is due to the acquisition it made this year.
Geographic split: UK like-for-like revenue minus 3% vs. last year, South Africa like-for-like revenue +10% vs. last year.
The company is eager to point out that its UK revenues were higher than 2019, which I guess is the last time we had a "normal" year (I have to put that in scare quotes because normal years don't seem to happen very often these days!).
So what is going on with the UK business? "Softer demand in the retail channels and destocking in some of the larger retail customers". The destocking issue has been mentioned before – it has been going on for a while, making 2022 yet another abnormal year.
Meanwhile, the South African business continues to "outperform the market", with "growth across all divisions reflecting market share gains".
Balance sheet: net debt of £60m, after the company made an £80m acquisition that was only partially financed by raising new equity.
Committed banking facilities of £130m suggest lots of remaining headroom.
Pension scheme: expected to be in an accounting surplus (as Paul has noted recently, the accounting view of pensions doesn't necessarily mean much).
Outlook: in line with expectations for FY March 2023. Underlying operating profit in H1 to be "no less than £21m".
My view
This strikes me as a business that should be on a modest rating, since (for example) I don't think that Triton showers command high prices just because they have the Triton brand attached to them. These are normal, mainstream products – nothing too fancy.
But wow, these shares are cheap:
Let's remind ourselves of the current arrangement with the pension scheme. At the company's final results this year, it said:
The Group has reached agreement with the Trustee on the 2021 triennial actuarial valuation for the UK defined benefit scheme and on a new deficit recovery plan. Deficit repair contributions have been agreed at £3.8m per annum from 1 April 2022 to March 2027 (increasing with CPI, capped at 5%, each year).
Compared to underlying operating profit of £21m in six months, these pension contributions look very easily affordable (assuming that cash conversion is ok).
So I don't think that the pension scheme is a very good argument these days, when it comes to explaining why these shares are so cheap.
I'd also point out the following snippet, again from the final results statement in July:
The net position relating to our UK defined benefit pension scheme (as calculated under IAS 19R) has improved to a surplus position of £19.6m at 31 March 2022 from a deficit of £18.3m at 31 March 2021, primarily as a result of an increase in the discount rate driven by market factors.
I acknowledge that this is the accounting calculation, which is less meaningful than the actuarial calculation, but I have to point out that there was a £38m swing in one year, caused by rising interest rates. Rates have only gone in one direction since then – much higher.
I think it might be time to get excited that pension deficits are not going to be the problem that they were before, for many company balance sheets.
The Norcros contributions are indexed to CPI, but capped at 5%. This hints at the point I made earlier this week – that defined benefit pension payments are often capped at a 5% annual increase, so that schemes don't have to match runaway inflation.
Following the acquisition it made, Norcros does now have a large RCF balance (I think of this as a company credit card), so there is again some financial risk with this share that is separate to any views on the pension scheme.
And there is also the exposure to South Africa.
But maybe this share is simply too cheap now?
The ValueRank is 84 and it even passes the Benjamin Graham Deep Value Checklist.
I prefer higher-quality companies than this one but if I had to buy a deep value share, this would go on the shortlist.
With UK value shares being perhaps more unpopular now than they've ever been before, it looks like this one has been rather carelessly de-rated. With an in-line trading update, the company has demonstrated an ability to manage these economic conditions so far:
This is worthy of further research as a possible value investment, in my view.
.
---
Rank (LON:RNK)
Share price: 59p (-8%)
Market cap: £276m
I'm limiting this to a short section as whenever I mention it, I get the sense that private investors have limited interest in this one!
But this is a huge business – it's the largest casino operator and the largest bingo operator in Britain. It also has bingo operations in Spain and a collection of digital brands.
I'd like to own shares in it some day, which is why I've been carefully following its share price collapse. I also simply find it interesting to see such a big and established business trading so cheaply.
The market valued it at £1.2 billion as recently as February 2020, and now it's worth less than £300m, only a fraction of the revenues it generates:
As you can see, its post-Covid recovery was muted and over the last 18 months, it has sunk lower and lower.
Key points from today's Q1 trading update:
Net gaming revenue +2% to £166m
Grosvenor casinos down 5% to £75m
Digital revenues +13% to £49m.
Visits to Grosvenor were up but with a lower spend per visit. Strong growth in London but significant decline outside London.
Outlook
Consumer discretionary expenditure is expected to remain under significant pressure this year with inflation likely to remain high for some time, despite the positive impact of the energy price cap, and the impact of rising interest rates. We expect to see some continued impact of these external pressures on the business, particularly in the Grosvenor venues outside of London.
Energy costs in the current financial year will be £34m (£23m last year).
Other inflationary problems include: wage inflation, food prices, and supply chain pressures.
Next year will be worse again with the loss of rates relief and furlough payments.
My view
The market has evidently decided (and perhaps it's right) that a business like this is going to be a victim of this economy. You have rising cost pressures on the one hand, which greatly impact real-life venues such as casinos and bingo halls.
At the same time, you have a cost-of-living crisis which makes people reassess how much they are willing to spend playing blackjack or bingo.
As of August 2022, Rank had a net cash position of £19m, before lease liabilities. These lease liabilities are significant, having a present value of £182m. But it looks like the balance sheet could survive some stress, before the company needed to raise fresh equity.
I'm going to stubbornly keep an eye on this one, looking for an improving trend and any sign that trading might have stabilised. But it does look like things will be tough for at least the next year or two.
Source:
https://www.stockopedia.com/content/small-cap-value-report-thu-13-oct-2022-ztf-nxr-rnk-tet-955505/
Before It's News®
is a community of individuals who report on what's going on around them, from all around the world.
Anyone can
join
.
Anyone can contribute.
Anyone can become informed about their world.
"United We Stand" Click Here To Create Your Personal Citizen Journalist Account Today, Be Sure To Invite Your Friends.
Please Help Support BeforeitsNews by trying our Natural Health Products below!
Order by Phone at 888-809-8385 or online at https://mitocopper.com M - F 9am to 5pm EST
Order by Phone at 866-388-7003 or online at https://www.herbanomic.com M - F 9am to 5pm EST
Order by Phone at 866-388-7003 or online at https://www.herbanomics.com M - F 9am to 5pm EST
Humic & Fulvic Trace Minerals Complex - Nature's most important supplement! Vivid Dreams again!
HNEX HydroNano EXtracellular Water - Improve immune system health and reduce inflammation.
Ultimate Clinical Potency Curcumin - Natural pain relief, reduce inflammation and so much more.
MitoCopper - Bioavailable Copper destroys pathogens and gives you more energy. (See Blood Video)
Oxy Powder - Natural Colon Cleanser! Cleans out toxic buildup with oxygen!
Nascent Iodine - Promotes detoxification, mental focus and thyroid health.
Smart Meter Cover - Reduces Smart Meter radiation by 96%! (See Video).