Small Cap Value Report (Thu 27 Oct 2022) - PURP, FOXT, CCR, SEE, SPEC, PCIP
Thursday, October 27, 2022 7:22
% of readers think this story is Fact. Add your two cents.

Good morning from Paul amp; Graham!
Bonds podcast - I'm hoping to speak to Paul Hawkins, a very experienced professional in corporate bonds, later today. So that should be published on my website and on my podcast channel at about 15:00 today. Bonds are, for the first time since zero interest rates, starting to look an interesting alternative to equities, hence why it's cropped up on mine, and many other people's radars. I'm only a generalist, so I'm looking forward to talking to an expert in the field! Essential first listening is this superb interview with Tamzin at PIWorld from June 2020. I'm going to try to avoid replicating that interview, so will cover different aspects of corporate bonds in my interview, as much as possible, and current themes now that interest rates are rising. Should be interesting!
Also, our Graham, did a cracking podcast this week about bonds, where Graham has had experience handling bonds, from his fund management days. That's well worth a listen too, I enjoyed it.
---
Agenda
Paul's Section:
Purplebricks (LON:PURP) [no section below] – brings in a new CFO, to join the newish (April 2022) CEO. As mentioned before here, this share is now a special situation, with a decent cash pile and well-known brand name (from large advertising spend in the past) being good assets, but poor performance, heavy losses, and multiple operational problems amp; legal issues presenting the downside case. There has been Director buying, and cost-cutting, so maybe some hope of a turnaround? Although I think there are better opportunities amongst conventional estate agents with big lettings income (stable), such as Foxtons (LON:FOXT) (more on that later today) or Belvoir (LON:BLV) [no section below]
Made.Com (LON:MADE) [no section below] - another update this morning, says that the Formal Sales Process (under the Takeover Code) has ended. No big surprise there, as it had already informed the market that nothing was forthcoming from the interested parties. As I've previously mentioned, I suspect interested parties probably wanted to go through the figures, and then wait to buy assets (such as the brand name, website, inventories) on the cheap from an administrator. Today it repeated this line -
The Board of MADE will continue to look to preserve value for its creditors and shareholders as part of the ongoing strategic review and a further update will be made as and when appropriate.
As I mentioned yesterday, shares in MADE are likely to be worthless, but there is an outside chance that some cash might remain at topco level, and the operating subsidiary only might be put into administration. Although that depends what other liabilities amp; guarantees topco might have. So it's a completely unknown, and not worth speculating over, in my opinion. The company really should have disclosed what the cash position is at topco, so they're not revealing the most important piece of information as things stand now. [no section below]
Foxtons (LON:FOXT) – surprisingly (given tough macro conditions) this London-centric estate/lettings agent reports that Q3 has been good, and it's now trading ahead of expectations for FY 12/2022. Singers raises the forecast by 12%. The new CEO thinks there's upside from his turnaround plan. Balance sheet is OK I think. Valuation now looks reasonable, so on balance I think it's a thumbs up from me as a long-term investment idea, but shorter term, the outlook is uncertain. [more detail below]
PCI- PAL (LON:PCIP) [no section below] – Reassurance from AGM Statement today. Confirms that it is trading in line with expectations for FY 6/2023. Q1 revenues were up 29% (slower growth than FY 6/2023 exceptional +62% revenue growth – see my notes here). But Finncap's forecast only assumes +20% growth this year, so it's ahead of that. Strong pipeline. Mgt said they're excited about new product developments, which I haven't had a chance to look into yet. It's still loss-making though, and has the cloud of a patent infringement case. But assuming nothing too bad happens with the patent claim, then I reckon this share could re-rate nicely in the next bull market. [no section below].
Graham's Section:
Camp;C (LON:CCR) (£640m) – a cloudy outlook from this beer and cider producer, which also has major distribution assets. The cost-of-living crisis has impacted recent sales, and input cost inflation is hurting margins. Today's interim results illustrate that the overall operating margin is still below pre-Covid levels. This share does clearly suffer from economic sensitivity. But as a former shareholder, I still see great merit in the business, particularly with its Bulmers/Magners and Tennent's brand. I don't know when margins are going to normalise but I can potentially see the stock's PE multiple moving higher in tandem with higher earnings, i.e. two major forces for share price growth. The debt position has been normalised, albeit at the cost of some dilution. One to consider for those with a sunny outlook on the economy. [more detail below]
Seeing Machines (LON:SEE) (£290m) – revenues are up 15% but the company argues that "underlying revenues", excluding a licence deal, have improved at a faster rate. More pressing is the fact that the company continues to burn through cash at a rapid rate, although its preference to capitalise its development spending saves that cash burn from hitting the income statement straight away. Equity was raised during FY June 2022 to keep it going, but more recently it chose to go down the route of a convertible bond offering. If the share price doesn't increase significantly, and if the cash burn continues, then paying off the principal of this bond in 2026 is likely to involve yet another equity raise. This company might stop diluting its shareholders some day, but there is precious little evidence of that happening any time soon. [more detail below]
Inspecs (LON:SPEC) (£61m) (-47.6%) [no section below] – just a short note on this eyewear manufacturer. I covered it in August, when the market cap was £228m, arguing that it was unclear how it was going to be able to justify this valuation in the long-run. It was a 2020 IPO that had yet to fall far below its IPO price.
The share price rapidly drifted lower after that, and today it has capitulated with a fall of nearly 50%. Today's Q3 update reports that year-to-date revenues are up 2.8%, or 9.8% at constant currency (currency movements have clearly been a headwind). Worse, the economic and consumer conditions in Europe have "deteriorated sharply since September 2022", and order intake is "significantly down on the previous year". The total group order book is down 13% year-on-year, as of the end of September. Growth plans with new and expanded factories have been delayed, the Chairman has decided to retire, and Inspecs expects to be impacted by economic conditions through the first half of 2023.
Unfortunately, there is still not much tangible balance sheet support at the current valuation, and it's reasonable to expect significant losses on reduced revenues. I would not be a buyer here. [no section below]
---
Paul's Section:
Foxtons
(LON:FOXT)
Price 31p (up 8% at 08:36)
Market cap £97m
The share price is volatile this morning – when I started writing this section, it was up 18%, but then fell to +8%, so I had to change the header above.
I reviewed the interim accounts for this London-centric estate agent/ lettings business here in July. My conclusion then was that the business looked interesting, with an increasing focus on lettings (steady, not cyclical income), and with cost savings being implemented. Although at 44p, the shares didn't look particularly cheap on fundamentals at the time.
The good news is that the share price has dropped a lot, going below 30p recently, so this could be a more attractive buying opportunity now perhaps?
This is the latest update today -
Lettings continues to drive solid performance alongside strong sales revenue growth
Positive trading update, ahead of expectations (but not quantified) -
FY22 full year outlook
Whilst we are mindful of the ongoing macroeconomic and political uncertainty, the strength of our performance in the third quarter gives us confidence in the outlook for the full year. Accordingly, we now expect to deliver a result for the 2022 financial year ahead of our previous expectations.
Q3 revenues up 25% to £43.8m
9-month revenues for FY 9/2022 to date were £108.9m, up 11% on LY (last year).
New CEO Guy Gittins (a former employee) has returned recently (Sept), saying the business has "significant unfulfilled potential".
Q3 performance seems surprisingly strong, especially in sales, although I suppose the time lag from negotiation to completion (extended due to bottlenecks in conveyancing amp; local authority searches) means that transactions in Q3 possibly pre-date the worst of recent economic amp; political turmoil -
This quarter has seen continued positive momentum with growth across all areas of the business. Our lettings business performed strongly as we delivered both organic and acquisitive growth. Our investment in sales negotiators, combined with strong buyer demand and a renewed focus on sales intensity has benefitted our sales business.
Q4 outlook is weaker, as I would expect, but I don't hear any alarm bells ringing here -
We enter Q4 with a less certain sales market backdrop, but cost action taken in H1 and our resilient lettings and financial services businesses leave us positioned to weather further macroeconomic and political challenges."
More detail -
Lettings – this was 67% of total group revenue in Q3, so is highly significant. Most of the 18% growth is organic, with a bit from an acquisition.
Acquisitions performing well.
Higher rents, and longer tenancies, more than offset a fall in lettings volumes.
Demand strong, supply constrained.
Residential Sales -
Good growth, but remember that Q3 LY was unusually weak, distorted by Stamp Duty changes.
Q3 YTD sales revenues down 2% on LY.
"Early progress" in targeting higher value property transactions.
Pipeline at end Q3 is up 15% on LY – surprisingly good I'd say.
Uncertain outlook for Q4 due to macro factors.
Financial Services -
The smallest division, but committed to growing it.
Forecasts - an update from Singers has just come through, as I'm typing this, many thanks to them.
It's upgraded FY 12/2022 from 2.37p EPS, to 2.66p, up 12%.
Next year FY 12/2023 is left unchanged at 3.18p – so that could be challenging if macro conditions worsen, which looks likely. Although offset by turnaround activity by the new CEO.
Valuation – the share price is still moving up and down, but at 32.5p currently (10:16), I make that PERs of 12.2 for 2022 (which should be locked on now that we're near the end of the year), falling to 10.2 times for 2023 (assuming the forecasts are hit, which isn't a given in current conditions).
I wanted to say that's cheap, but given all the uncertainty, I'd say the valuation probably looks about right for now.
My opinion – as mentioned previously, I like this company, which has a good mix of business, with the lettings side very significant. Hence it's not as cyclical or vulnerable as perhaps some investors might think.
Valuation now looks reasonable, after a fall in share price (partially reversing today), and better than expected earnings.
I went through the last balance sheet amp; cashflow statement here in some detail, but the short version is, they're OK.
Overall, I'll give this a thumbs up I think, for a long-term investment, but in the shorter term, I'm not sure. It depends on market conditions, and if the new CEO's turnaround plans work – that could provide good upside if his measures do drive profit growth.
.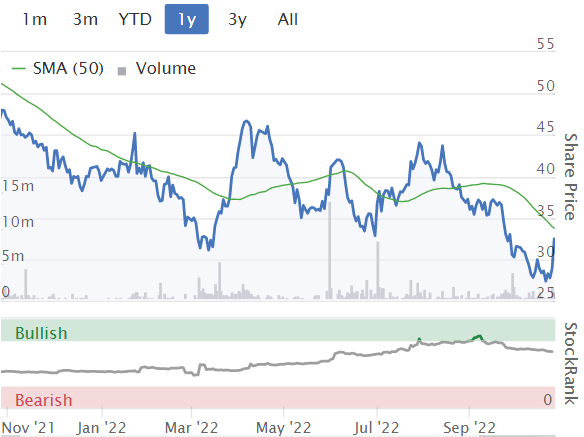 ---
Graham's Section:
Camp;C
(LON:CCR)
Share price: 162.9p (-1.6%)
Market cap: £640m
This drinks company (in which I'm a former shareholder) has had a rough few years since the onset of Covid.
Let's put the distant past behind us, and see how the company is doing more recently. This morning we have interim results for the period to August 2022.
Highlights:
Net revenue +35.6% to €903m
Adjusted EBITDA more than doubles to €70.9m
Operating profit €54.9m (last year: €15.5m)
The operating margin has bounced from 2.3% to 6.1%, confirming that the company's financial performance was ready to improve, as soon as sales improved.
The company's balance sheet was a key concern during Covid. They saw fit to issue 81 million new shares at 186p, during FY February 2022. This raised £151m / €176m, money that was needed to pay down its debt.
The company also sold its interest in Admiral Taverns for £55m / €66m.
Thanks to these actions, and its underlying free cash flow conversion, it seems to have pulled through.
Net debt (excluding lease liabilities) is now €104.5m, so the net debt to adjusted EBITDA multiple is only 1.5x.
Camp;C "has now exited covenant waivers", i.e. it has satisfied its bank lending group that it poses a normal credit risk and does not need to be given special treatment.
There's no dividend yet, but the Board "intends to recommence a full and final year dividend following the release of the full year FY 2023 results".
So on the face of it, things should be back to normal now for Camp;C.
However, profitability faces some serious immediate headwinds:
Group branded operating margins are broadly in line year-on-year, with volume, price/mix growth and price actions being offset by increased marketing investment, inflationary impact on cost base and manufacturing input costs.
Note that Camp;C is a collection of owned drinks brands, and also a major distributor. After the collapse of Conviviality, it picked up the distributors Matthew Clark and Bibendum for a song.
While the distribution businesses interest me somewhat less than the owned drinks brands do, the synergies between them are easy enough to understand.
It looks like inflationary input costs are going to hold back profitability in the branded drinks segment for the time being.
In the H1 results for 2019, which was the last pre-Covid year, Camp;C had an overall operating margin of 7.3%, versus 6.1% in the most recent period. Hopefully the pre-Covid margins can be seen again – surely margins will normalise at some point?
Outlook
The cost-of-living crisis is having an impact:
Macro-economic and consumer environment remains difficult with net revenues for September 2022 -5% compared to the same period in 2021.
More positively:
Our near-term trading focus is on ensuring the highest standards of service and stock availability to our customers and consumers as we prepare for the first unrestricted Christmas trading period for three years and the upcoming FIFA World Cup.
It will be worth remembering that the World Cup will impact full-year results this year (FY Feb 2023), with no similar boost available for FY Feb 2024.
My view
As a former shareholder, there were of course many things I liked about this business. I still do like it, just not with enough conviction to keep it in my currently quite concentrated portfolio.
Take the Bulmers/Magners cider drink, for example. This has very strong market share in its niche, and remains exceptionally well-positioned. In Ireland, Bulmers market share has grown:
The Bulmers Brand MAT off-trade cider volume share has grown year-on-year to 55.1%, a significant increase… compared to pre COVID-19 levels. Across the latest 13 weeks, share has increased to 57.2%…
In the on-trade, the latest Bulmers MAT cider volume share at 63.8% reflects growth in Bulmers market share ahead of last year… Bulmers continues to enjoy its position as the largest and most popular cider brand in Ireland.
In Britain, Camp;C sells more Tennent's lager than the amount of cider it sells.
Tennent's has lost beer market share to the trend for premiumisation, but remains a huge brand. Its volumes continue to "outsell the two closest competitors by 20%", according to today's update. In the on-trade, its volume share in beer is 35.8%.
So I still see huge brand assets at Camp;C.
The StockRanks don't like this share, but I view the company's current results as being most likely temporarily depressed by our economic and inflationary problems.
I don't know when those problems will be resolved, of course.
It seems to me that this share is well-positioned for an earnings recovery which could also be accompanied by a normalisation of its earnings multiple (e.g. to 12x or 15x). In that case, you'd get a double-whammy of share price growth:
However, let me repeat again that I don't know when this will happen! Could input cost inflation and the cost-of-living crisis drag on for several years – who knows?
But if you're willing to bet on economic normalisation, which I imagine that most equity investors are willing to do, then this share seems like a decent candidate to me.
---
Seeing Machines
(LON:SEE)
Share price: 6.97p (-0.7%)
Market cap: £290m
Let's skim the results from this Australian company that develops driver monitoring systems.
Revenues +15% to AUD $54.4m
"Underlying revenue" is +22%, if you exclude a one-off licence from FY 2021.
Last year, there was a similar story: revenues were up 18%, but "underlying revenues" were up 30%.
I'm not sure I can accept this presentation of revenues.
In the results for FY 2021, it wasn't clearly indicated that there was a one-off licence deal that should be excluded from underlying results. It looks like the licence deal revenues may have been included in last year's underlying revenues.
I've gone back and downloaded the annual report for FY 2021, and still don't have clarity on the calculation of underlying revenues. So I'm afraid I have a problem with the very first line of Seeing Machine's income statement!
Let's go to the cash flow statement instead, and see what is happening there.
Operating cash flows: AUD $15.8m outflow, not as bad as the $25m loss on the income statement.
Investing cash flows: $28m outflow, mostly due to capitalised development spending.
In total, there is a nearly $44m outflow from operating and investing activities, significantly worse than the prior year.
Seeing Machines dealt with that during the year by issuing shares.
Investment by Magna International: earlier this month, Seeing Machines entered into an exclusivity agreement with a car parts manufacturer.
Seeing Machines is receiving up to $17.5m in cash, and also sold a 4-year convertible note to Magna (maximum size $47.5m, i.e. one year of Seeing Machine's cash burn at the current rate).
The note pays interest of 8% and is also convertible at 11p (latest share price: 6.97p), with dilution of up to almost 10% for existing shareholders in Seeing Machines.
My view
The convertible note looks like a risky move from Seeing Machines.
Remember that a convertible note should have a lower yield than an equivalent note without the conversion option (because the conversion option is a valuable bonus for the lender, so the lender is happy to accept a lower yield).
But Seeing Machines is happy to borrow at 8% and to potentially dilute its shareholders by nearly 10%, if its share price increases.
If the share price doesn't increase, then it will need to pay off this convertible note with cold hard cash, most likely from a fresh equity raise (and who knows at what level the next raise will be at).
The cash burn remains awful and I must reiterate that I see no support for this company's valuation in its financial statements.
It's a mystery to me how this company has managed to sustain this valuation in a small-cap bear market. It must have quite a following!
Source:
https://www.stockopedia.com/content/small-cap-value-report-thu-27-oct-2022-purp-foxt-ccr-see-spec-pcip-956228/
Before It's News®
is a community of individuals who report on what's going on around them, from all around the world.
Anyone can
join
.
Anyone can contribute.
Anyone can become informed about their world.
"United We Stand" Click Here To Create Your Personal Citizen Journalist Account Today, Be Sure To Invite Your Friends.
Please Help Support BeforeitsNews by trying our Natural Health Products below!
Order by Phone at 888-809-8385 or online at https://mitocopper.com M - F 9am to 5pm EST
Order by Phone at 866-388-7003 or online at https://www.herbanomic.com M - F 9am to 5pm EST
Order by Phone at 866-388-7003 or online at https://www.herbanomics.com M - F 9am to 5pm EST
Humic & Fulvic Trace Minerals Complex - Nature's most important supplement! Vivid Dreams again!
HNEX HydroNano EXtracellular Water - Improve immune system health and reduce inflammation.
Ultimate Clinical Potency Curcumin - Natural pain relief, reduce inflammation and so much more.
MitoCopper - Bioavailable Copper destroys pathogens and gives you more energy. (See Blood Video)
Oxy Powder - Natural Colon Cleanser! Cleans out toxic buildup with oxygen!
Nascent Iodine - Promotes detoxification, mental focus and thyroid health.
Smart Meter Cover - Reduces Smart Meter radiation by 96%! (See Video).