Small Cap Value Report (Tue 1 Nov 2022) - MADE, FUL, MCON, ECK, VTU, VINO
Tuesday, November 1, 2022 9:01
% of readers think this story is Fact. Add your two cents.

Good morning! It's Paul amp; Graham here, with our usual daily review of small cap trading updates amp; results statements.
Agenda
Paul's Section:
Made.Com (LON:MADE) – as expected, its shares have been suspended this morning, and Price Waterhouse Coopers are being lined up to become administrators of MDL (the operating subsidiary company). Proposals were received during the formal sale process to buy trade, assets, and brand out of administration. So the next step is that the administrator will sell off whatever they can, which usually happens quickly, and the proceeds are then used to pay creditors in the order stipulated by the law. Since it will owe customers, and trade creditors, then I would say the likelihood of any return for shareholders from the administration of MDL is probably zero, because shareholders rank behind all creditors in an insolvency. It says that, "in due course" the listing of MADE shares will be cancelled, and "any residual value will be distributed to the Company's shareholders". I've mentioned this before, that it looks as if the topco is not going into administration, and may have a little remaining cash possibly? Although there is a bank guarantee over leased properties that might consume that cash, and other costs, who knows? Anyway, it's a sorry tale from listing in June 2021, to insolvency in November 2022. What went wrong? Supply chain problems, and incompetent management I would say. Also, the arrogance of a "disruptor", thinking people would buy furniture online, when in reality most people like to see, and sit on furniture. Plus extrapolating out the pandemic boom in sales, and thinking it was structural growth. Then losing money hand over fist, and burning rapidly through a large cash pile. It was very clear earlier this year that MADE was heading for disaster, so nobody should have been holding this share who reads this column. I wonder who will buy it? The brand, and operations could be snapped up by DFS or SCS, possibly? Although maybe both would be happy to see it disappear without trace, leaving them more market share? Who knows.

Fulham Shore (LON:FUL) – an H1 trading update, with robust trading continuing, and in line with expectations. Rapid expansion of new sites is underway, and the company remains in a net cash position. Valuation would look attractive (forward PER of 13.2) in normal conditions, but the trouble is we're probably heading into a recession. Therefore it's difficult to see any reason to rush into buying shares that are so dependent on consumer spending right now. On company fundamentals though, FUL looks good. Its value for money customer offering is proving resilient so far.
Virgin Wines UK (LON:VINO) – I've had a good rummage through its FY 6/2022 accounts, and think this looks a resilient business, with sound finances, and an undemanding valuation. So, as a value share, and thinking long term, it gets a thumbs up from me. In the meantime, there's an obvious risk that customer cancellations of subscriptions might rise in the current environment.
Graham's Section:
Mincon (LON:MCON) (£192m) – a pleasing update from this manufacturer and distributor of drilling equipment. Sales to construction are up strongly but the mining industry, its largest customer, has also grown at double digits. Overall sales in the first nine months of the year are up 25%, although this is boosted by acquisitions and by currency tailwinds. Margins look set to hopefully recover, although there is a lag between input cost increases and Mincon's sale price increases. The long-awaited Greenhammer system is now being used for commercial drilling in Western Australia. I remain a fan of this company and its shares don't look overly expensive to me.
Eckoh (LON:ECK) (£125m) – trading is in line with expectations at this company that provides online customer service solutions to corporate customers. Headline revenue growth is excellent but again the organic growth at constant exchange rates is unclear. I find the valuation here to be stretching. Even if a price to sales multiple of about 4x is average or cheap in an industry context, I find it difficult to get comfortable with it. The Stockopedia computers agree, awarding it a ValueRank of only 12.
Vertu Motors (LON:VTU) (£164m) (+3%) [no section below] – a small (£4m) acquisition by this automotive retailer. It has picked up two BMW Motorrad outlets from a family-run business in Yorkshire, with plans to rebrand them and operate them within the Vertu motorcycle division. The price paid is nine times last year's operating profit and freehold property worth nearly £2m is included in the deal.
Vertu will then have six motorcycle outlets, three of which are BMW Motorrad dealerships, and will be "the largest partner in the UK for BMW Motorrad". I've never given any thought to the merits of motorcycle dealerships versus car dealerships but it can't be a bad thing for Vertu to increase its presence in this sector for such a modest price. I note that the company completed a £3m buyback programme in July and announced a new one in October. With perceived low-quality companies trading so cheaply at present, there is in my view a huge opportunity for them to deliver shareholder value through buybacks, where genuine cash flow generation can support such a move. [no section below]
---
Explanatory notes -
A quick reminder that we don't recommend any stocks. We aim to review trading updates amp; results of the day and offer our opinions on them as possible candidates for further research if they interest you. Our opinions will sometimes turn out to be right, and sometimes wrong, because it's anybody's guess what direction market sentiment will take amp; nobody can predict the future with certainty. We are analysing the company fundamentals, not trying to predict market sentiment.
We stick to companies that have issued news on the day, with market caps up to about £700m. We avoid the smallest, and most speculative companies, and also avoid a few specialist sectors (e.g. natural resources, pharma/biotech).
A key assumption is that readers DYOR (do your own research), and make your own investment decisions. Reader comments are welcomed – please be civil, rational, and include the company name/ticker, otherwise people won't necessarily know what company you are referring to.
---
Paul's Section:
Fulham Shore
(LON:FUL)
9.9p
Market cap £63m
The story so far – this restaurant chain (Franco Manca pizzas, and "The Real Greek") was trading robustly this year, with an in line trading update that I reported on here, end August 2022. It also reported rapid expansion into new sites (10 new restaurants this year, taking the total to 90 by end August, up to 95 now), with favourable deals available from landlords.
Here's today's news -
Business Development amp; Trading Update
This covers H1 to end Sept 2022, for FY 3/2023.
Reassuring news -
First half trading in line with management expectations
Trading – in line, despite challenging backdrop.
… both our established and new restaurants performed well during the first half of the Group's financial year.
Value for money products.
Revenues are up 35% vs pre-pandemic 2019, and 25% up on 2021, but that doesn't seem to be like-for-like, so some of the growth will be for new site openings. Therefore we can't really judge how good the performance is, unless we do a spreadsheet to estimate the effect of new sites. The only meaningful revenue comparisons are for like-for-like sites, so there's a gap in the reporting here.
Net cash – was £2.6m at the end of H1 (26 Sept 2022). Undrawn bank facilities of £16.9m gives it plenty of headroom. It's used £2.1m of cash since the last update of £4.7m at end Aug 2022, which doesn't seem a concern, seeing as payments would be required to pay for the capex at new sites. Also quarterly rent payments are paid near end Sept, so this reduction in cash looks reasonable, not a concern.
Supermarkets deal – Franco Manca pizzas are now to be sold in supermarkets (500 initially, from this week), for cooking at home. Similar to what Pizza Express have been doing for years. This is being implemented via a licensing partner, Rondanini.
The reason given is to drive brand awareness, especially in areas where there are no Frano Manca restaurants.
New sites – 6 more have been opened in just the last 2 months, so this expansion is really quite rapid now.
Interim results will be announced in December, with another trading update.
Outlook – the well-known macro issues are mentioned -.
… trading conditions that are more unstable and unpredictable than at any time in recent memory. ..
My opinion - let's find out which supermarkets are stocking the Franco Manca pizzas, and mystery shop them! I see possible damage to the brand, if this new venture is not executed well, and the product disappoints. Personally I've never bought branded pizzas in supermarkets, because they're a rip-off. Although I am particularly careful with my supermarket purchases, as a former neighbour quipped (after I'd suffered some huge loss on the stock market, but quibbled over the price of broccoli), "You're penny-wise, but pound-foolish, Paul!" It's difficult to argue with that.
Anyway, are FUL shares good value yet? I would say, yes it's going that way. We now know that (at least so far) its customer offering is proving resilient, and does indeed offer value for money, which is essential in these difficult times. Lots of competition (especially independents) are leaving this sector, which provides more market share for the strong companies which survive.
There's an obvious risk that consumer conditions worsen, and FUL issues a profit warning, so it's difficult to see any pressing reason to buy it now. I'd be inclined to put this on my watch list, and just wait. If there is a downturn in trading, then that might provide a better buying opportunity. If not, then that's fine, it's difficult to see much upside any time soon on the current share price.
In more normal times, a forward PER of 13.2, for a rapid roll-out, would be attractive. But we're not in normal times.
It's striking that, despite a series of reassuring trading updates this year, FUL shares have still halved in price from last autumn's peak – showing just how negative sentiment has turned – which is what provides future opportunities for investors to make profits, of course. It's just the timing that's the tricky bit.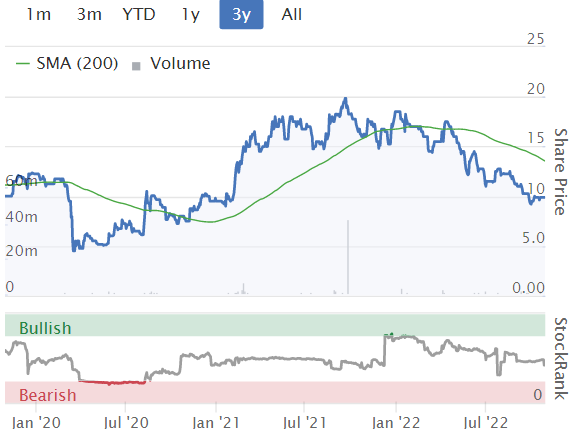 .
---
Virgin Wines UK
(LON:VINO)
51p
Market cap £28m
I hope the wine for 2021 turns out to be better quality than the distinctly corked IPOs of last year! This one is down about 80% from its peak in May 2021.
I briefly reviewed its FY 6/2022 trading update here, and came away with a mildly positive view.
Last week it reported results -
Virgin Wines UK plc (AIM: VINO), one of the UK's largest direct-to-consumer online wine retailers, today announces its audited Annual Results for the period ended 1 July 2022 ("FY22″).
I'll call that FY 6/2022.
I've reviewed the numbers, here are my notes -
Profitability is very similar to the previous trading update, so no surprises.
Revenues of £69.2m – down 6% on the pandemic-boosted prior year.
WineBank (monthly subscriptions) is key, generating 56% of all revenues, £38.5m
Adj EBITDA £6.2m (down 11% on LY)
EBITDA margin of 9.0%, it says is sector-leading.
PBT £5.1m (down slightly on £5.2m LY)
These numbers look quite respectable to me, so far.
EPS of 7.8p, which is helped by a lowish 14% corp tax charge. Although bear in mind that EPS is expected to fall to about 6.0p this year amp; next.
PER is only 6.5, which looks cheap, but of course would rise if earnings fall this year.
Gross margin is low at 31.4%, slightly below LY. I don't think wine retailing is a particularly good sector, look at the mess Naked Wines (LON:WINE) got itself into. VINO looks a much more sensible amp; less risky investment to me. EDIT: I note from the recent webinar that gross margin includes the costs of packaging amp; dispatch to customers, so the product margin alone would be higher than this. End of edit.
Unusual fall in administration costs (before exceptionals, e.g. LY listing costs), from £5.4m LY, to £4.4m this time. That strikes me as odd, so maybe some one-offs either this year, or last year? The commentary says the business benefits from a flexible cost base.
Finance costs have greatly reduced, as the pre-IPO funding structure (debt) disappeared. Maybe this year could benefit from interest received on customer amp; company cash deposits?
Staffing – it says 200 in total, of which 164 are in sales! Where are the warehouse staff then? I wonder if distribution might be outsourced, although a bit googling suggests not. There were distribution problems near the end of 2021, with staffing trouble amp; Omicron.
Cost of customer acquisition (CAC) looks reasonable, at £13.22 (LY: £13.49), but I can't see any information on customer lifetime estimates. Although the reported figures on customer attrition sound low, but that depends how they're calculated, so it seems a little opaque to me.
Strong recruitment of new customers in Q4 (Apr-Jun 2022), so that provided a tailwind into FY 6/2023.
Interesting B2B partnerships, with railway operators, Moonpig, and Saga [I hold], and strong pipeline of partnerships – this looks an appealing strategy, and an effective way to recruit new customers. Corporate gifts also did well, up 16%.
Current trading – Aug good, Sept softer (but reined in marketing spending around Queen's death).
Guidance – flat revenues for FY 6/2023. Expecting EBITDA margin to fall from 9.0% to 8.0%, as not able to offset all cost increases.
Balance sheet is fine, about £11.0m NTAV (as expected). This includes very little fixed assets, it's mainly working capital, which is favourable because customers pay up-front through subscriptions. Conservative accounting, with customer cash ring-fenced. Total cash was £15.1m, or £7.7m once customer WineBank deposits are removed. That's a healthy position.
Cashflow statement – note that good operating cashflow is almost all absorbed into increased working capital, which happened last year too. Not necessarily a problem, but I would want to make sure it starts generating genuine free cashflow in future years.
Dividends – none. The prior year divis looks to have been part of the old finance structure, pre-IPO, with preference shares. VINO really should be concentrating on paying divis in future, so I'd like to hear more about their future intentions in this regard. Since revenues aren't growing, then the company needs to focus on cash, and divis, I think.
Overall, these numbers look clean to me, with hardly any adjustments, and the accounting policies seem sensible, so I'm comfortable with the numbers, and how they're presented.
My opinion – I quite like this! The numbers seem solid – with profit only down slightly on the pandemic-boosted prior year, although I am curious as to how administrative costs were reduced by £1.0m, that's a good point to query if they do a webinar. Ah drat, I just realised I missed it, there was an InvestorMeetCompany webinar on 28 Oct, so I'll watch the recording instead.
It seems to me that the share price has been unfairly clobbered, probably on general negative investor sentiment, but also possibly on worries that cash-strapped consumers might cancel subscriptions. There again, as VINO says in its commentary, eating/drinking out has become so expensive, that having nice wines delivered to your home could be something that people might prioritise as an "affordable treat", instead of eating out, and paying an inflated price for usually really poor wine (is it just me, or do bars amp; restaurants in the UK generally serve revolting, cheap nasty wine, but expect us to pay £25+ per bottle!). I can see the advantage to doing a bit of pre-loading with nicer Virgin Wines, and turning up half-cut at the restaurant, and drink tap water instead.
Joking apart, overall I think VINO shares look attractively valued now, at c.50p, so it gets a thumbs up from me. It probably won't blow out the lights, but in a bull market I think this share could double from the current level, with a bit of patience. In the meantime, the downside risk looks protected with a sound balance sheet, and comfortable cash position.
.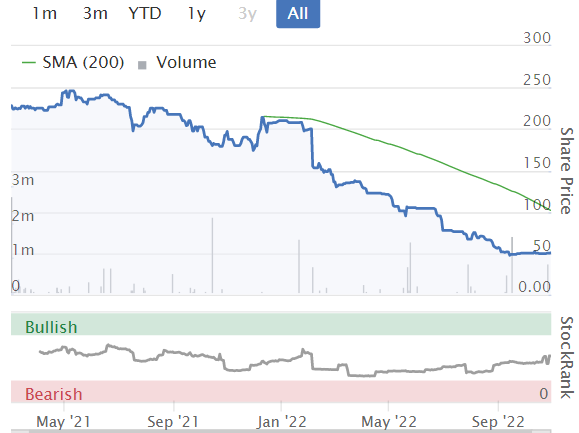 ---
Graham's Section:
Mincon
(LON:MCON)
Share price: 98.5p (+5%)
Market cap: £192m
This is an Irish engineering group. As I've noted before, it has shown excellent long-term progress in revenues and profitability:
Calling itself "the driller's choice", it specialises in drilling equipment: drill rigs, hammers and drill bits. It mostly sells products that it has manufactured itself, and it mostly sells to the mining industry.
At the interim results in August, I noted that the strong dollar had boosted its revenues, but cost increases had held back margins. To meet customer orders as swiftly as possibly, it had switched to expensive air freight.
Let's take a look at this Q3 update. Key points:
Revenues year-to-date (9 months) are up 25% year-on-year
Growth is "mostly organic", with currency tailwinds. It would be helpful if the company published like-for-like growth at constant exchange rates.
Industries: construction is growing fastest, but mining is also growing at double digits.
Margins
During the past quarter we made significant progress in reducing our order backlog. This will facilitate production and logistics planning, and in particular enable us to significantly reduce air freight from our factories to our customer centres in the final quarter.
The use of air freight has been a major hit to margins – but it has not been the only cause of difficulty:
We introduced price increases in H1 2022 across all markets and regions of the Group. While the effect of these in the past quarter has improved margins compared to the first half of 2022, they have been offset to some extent by higher energy prices in our factories and energy related surcharges on raw materials. Nevertheless, we remain positive about achieving an improved margin percentage for the second half of this year.
For gross margin, Mincon achieved 31.8% in H1 this year, which was down from 34.2% the prior year.
Greenhammer
This mysterious project has been in the works for a long time, and some investors have rightly been sceptical of whether it would lead to anything. The CEO has said that Greenhammer "can have a significant impact on both Mincon and hard rock surface mining more generally".
Thankfully, there has at last been a commercial contract signed for Greenhammer (announced in September). The contract is with " a blue-chip mining contractor operating on a major gold mine in Western Australia", and has "the potential to be a multi-million-euro contract". Commercial drilling started in October.
More importantly, there are hopes that all going well, Greenhammer "will be taken up quickly by the wider hard rock mining community".
I usually try not to emphasise projects and plans that appear to be "blue sky" in nature. But in this case, we have a credible company and a credible management team who are making the ambitious claims. So I think it's worth bearing that in mind.
My view
I see little reason to change my view on this company that I expressed in August. At 95p, I thought the shares looked promising: not too expensive versus current earnings, and with the potential for margins to recover and for Greenhammer to start making a contribution.
The share price has drifted within a range for the past few months. I maintain my positive view.
.
---
Eckoh
(LON:ECK)
Share price: 43p (+2%)
Market cap: £125m
This is a "global provider of Customer Engagement Security Solutions", with an H1 trading update for the period ending September 2022.
Trading is in line with expectations.
H1 revenues are up 33% to £19.6m but this includes the impact of an acquisition. US revenue is now 44% of the total.
Similarly, operating profit is up 50% (last year's adjusted operating profit was £2.5m) but this includes both currency tailwinds and the acquisition's contribution.
Annualised recurring revenues are now £27.8m.
Product development – Eckoh is developing new products for remote workers. They are already serving this segment, but the new products will include upgraded features and functionality.
Outlook
Despite the ongoing macro-economic uncertainty, the Board expect revenue and profit for FY23 to be significantly higher than FY22. The Group is trading in line with consensus market expectations , supported by long-term structural growth drivers, increasing Cloud adoption and Eckoh's strengthening product offering.
Company-compiled estimates are for revenue of £40.25m and adjusted operating profit of £7.45m.
My view
I haven't found much to criticise at this company, but I've also found little to excite. Underlying organic growth remains unclear and the valuation is punchy:
Note that the ValueRank is only 12.
It's a sector that investors are often willing to pay up for – online tech, with elements of fintech and cybersecurity – and the price to sales multiple is around 4x (I use the enterprise value to ARR multiple, which comes out at 4.4x).
That's not really an expensive multiple in an industry context, but I still find it uncomfortably high. Judging by the ValueRank, the Stockopedia computers agree.
Source:
https://www.stockopedia.com/content/small-cap-value-report-tue-1-nov-2022-made-ful-mcon-eck-vtu-vino-956422/
Before It's News®
is a community of individuals who report on what's going on around them, from all around the world.
Anyone can
join
.
Anyone can contribute.
Anyone can become informed about their world.
"United We Stand" Click Here To Create Your Personal Citizen Journalist Account Today, Be Sure To Invite Your Friends.
Please Help Support BeforeitsNews by trying our Natural Health Products below!
Order by Phone at 888-809-8385 or online at https://mitocopper.com M - F 9am to 5pm EST
Order by Phone at 866-388-7003 or online at https://www.herbanomic.com M - F 9am to 5pm EST
Order by Phone at 866-388-7003 or online at https://www.herbanomics.com M - F 9am to 5pm EST
Humic & Fulvic Trace Minerals Complex - Nature's most important supplement! Vivid Dreams again!
HNEX HydroNano EXtracellular Water - Improve immune system health and reduce inflammation.
Ultimate Clinical Potency Curcumin - Natural pain relief, reduce inflammation and so much more.
MitoCopper - Bioavailable Copper destroys pathogens and gives you more energy. (See Blood Video)
Oxy Powder - Natural Colon Cleanser! Cleans out toxic buildup with oxygen!
Nascent Iodine - Promotes detoxification, mental focus and thyroid health.
Smart Meter Cover - Reduces Smart Meter radiation by 96%! (See Video).