Small Cap Value Report (Tue 24 Jan 2023) - EMAN, ITS, CFX, SAGA, WAND, SNR, ACRL, SNWS, CYAN, SAA, CPC
Tuesday, January 24, 2023 8:09
% of readers think this story is Fact. Add your two cents.

Good morning, it's Paul amp; Graham, here!
We've run out of time, managed to make a dent in today's huge list of news. Today's report is now finished.
---
Explanatory notes -
A quick reminder that we don't recommend any stocks. We aim to review trading updates amp; results of the day and offer our opinions on them as possible candidates for further research if they interest you. Our opinions will sometimes turn out to be right, and sometimes wrong, because it's anybody's guess what direction market sentiment will take amp; nobody can predict the future with certainty. We are analysing the company fundamentals, not trying to predict market sentiment.
We stick to companies that have issued news on the day, with market caps up to about £700m. We avoid the smallest, and most speculative companies, and also avoid a few specialist sectors (e.g. natural resources, pharma/biotech).
A key assumption is that readers DYOR (do your own research), and make your own investment decisions. Reader comments are welcomed – please be civil, rational, and include the company name/ticker, otherwise people won't necessarily know what company you are referring to.
---
Agenda/Summaries
Nearly finish time of 1pm, this is what we've managed to do -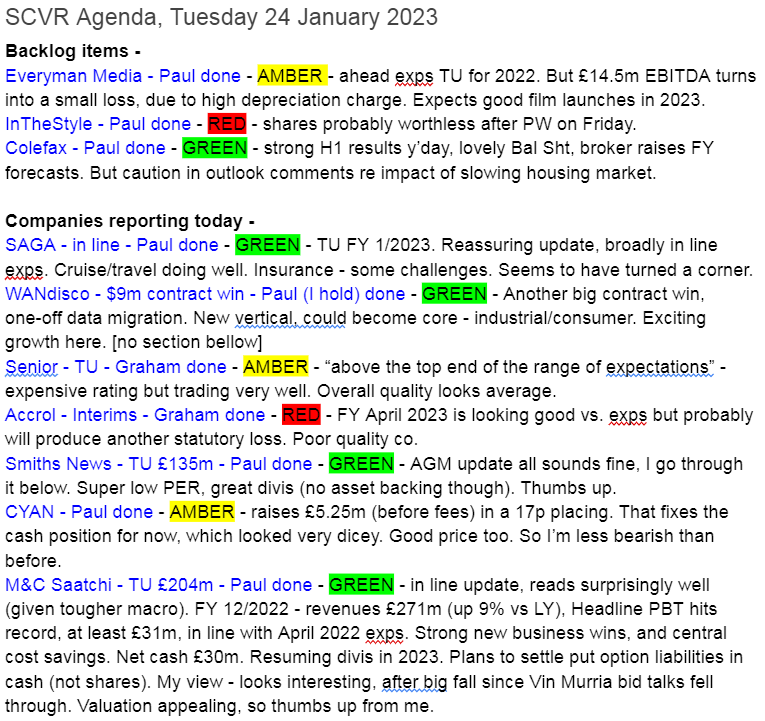 .
Lots left over though, here are the ones we didn't cover. I'll have a sift through these later today, and try to get some brief comments up tomorrow morning on the more interesting ones -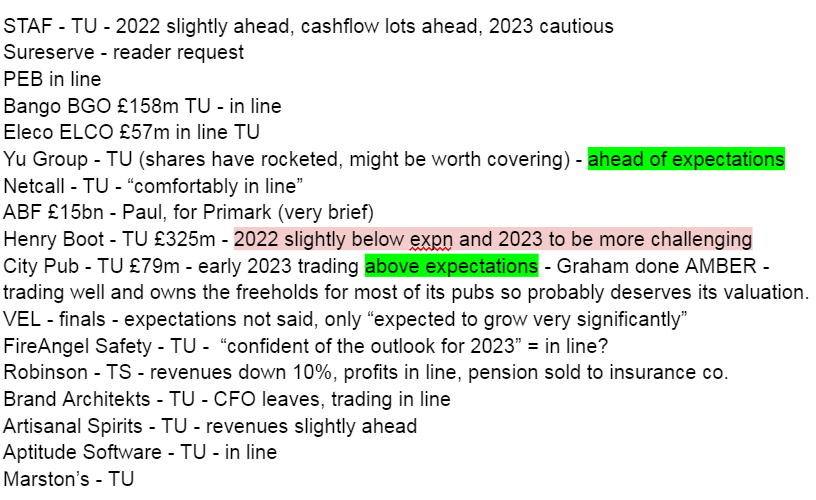 ---
Paul's Section:
Everyman Media (LON:EMAN)
Up 9% yesterday, to 93.5p (mkt cap £85m) – TU for 52 wks to 29 Dec 2022. EBITDA "ahead of market expectations" at £14.5m. Operating 38 cinemas now (+2 in the last year). 5 new sites planned for 2023. Current trading "encouraging". Expecting improved volume amp; quality of new film releases in 2023.
Note separate announcement – 2m "growth shares" in a subsidiary issued to CEO – needs a careful look.
My opinion – check out the broker research – £14.5m EBITDA for 2022 turns into a loss before tax of £(0.7)m. Continued small losses forecast for both 2023 and 2024. So I'm not sure what the point of this business is, if it's not expected to generate any future profits? To borrow a phrase from Charlie Munger, re EBITDA -
"Does management think the tooth fairy pays for capital expenditures?"
In Style group (LON:ITS)
We already knew this me-too fast fashion business was in trouble, but a profit warning on Friday makes things worse still, with an increased loss for FY 12/2022. There's still £3.2m in cash left, but I suspect ITS probably only has a few months left to survive. Equity probably worth little to nothing now. I can't be certain, but it's difficult to see why anyone would refinance the existing business, when it's trading so badly. Hence the most likely outcome I'd say is a delisting, or lurching into administration, and the business probably being bought out for tuppence halfpenny, minus all the liabilities, by management or a financial buyer.
Bottom line is, I think the existing equity is almost certainly ending up at zero, in the not-too-distant future. Hence it's a bargepole share, at any price.
Saga (LON:SAGA)
152p (pre market) – mkt cap £214m
Trading Update – for FY 1/2023.
This sounds OK. Although at the top it says -
We remain on track to report an Underlying Profit Before Tax of between £20m and £30m, in line with previous guidance.
Then at the bottom, it says this, which seems a little contradictory -
"Saga continued to demonstrate progress in the second half of the year, delivering a trading performance which is broadly in line with expectations.
A reader here pointed out that recent broker consensus had edged up, from near breakeven 1.3p EPS, to 12.7p forecast EPS for FY 1/2023. So at least the trend of falling forecasts seems to have stopped -
There's more detail in today's update, but very quickly summarising the key points below, I don't see anything of concern, it seems reassuring overall -
Ocean cruise business doing well, with strong H2 bookings amp; increased prices.
Cruise also well set up with bookings for the new financial year FY 1/2024.
Travel business beginning to recover, at last, but small loss for FY 1/2023 (as expected , it says)
Insurance broking "broadly in line with guidance". Big increase in travel insurance.
Underwriting business (that's up for sale, we learned yesterday) experienced "some pressure", motor insurance facing "challenging period", with more expensive claims. Raising prices in response.
Saga Money – growing, no detail provided.
"Available cash" c.£140m at 31 Jan 2023 – ample liquidity.
Net debt "slightly higher than at 31 July 2022" – no figure provided.
Covenants on the (unused) bank facility (RCF of £50m, I think) have been favourably amended, to give more flexibility.
Capital Markets Day – strategy briefing – we can watch online at 3pm today, with recording amp; slides going up here later.
My opinion – this update seems reassuring, and has been anticipated by the market, with the share price already having doubled from the Oct 2022 low. I'm currently sitting on the sidelines, awaiting today's news. The key thing for me is that performance had to stabilise, and not lurch further down towards losses, as that could trigger problems with the bonds (covenants linked to RCF covenants – so those being amended sounds good). It seems that performance has indeed stabilised, and with travel/cruise now recovering, the trajectory for profits should now be upwards.
All of this means it's less risky today than it was yesterday, and that makes the risk of a dilutive equity raise look less likely. Also the risk from debt also seems to be receding somewhat, although that depends on your point of view.
Overall – it's moving in the right direction now, I think. Let's see what brokers do to their forecasts, as that should be key to whether there's enough in the tank for another push upwards, or whether shares might need to consolidate after a strong recent run? Time will tell on that.
---
Colefax (LON:CFX)
Up 3% to 670p yesterday – mkt cap £48m
This is like a smaller version of Sanderson Design (LON:SDG) (one of my favourite value/GARP shares), making wallpaper and fabrics.
It had a one-off stellar year in FY 4/2022, and has since been guiding for a fall back in earnings this year.
Interim results out yesterday look really good, better than expected.
I've only got time for a very quick review, so here are some key points -
H1 revenue up 12% to £52m (growth mainly from forex, was 2.5% at constant currency)
Profit before tax (PBT) £5.2m (up 16% vs LY H1)
EPS up 30% to 51.3p in H1
No adjustments to the accounts, they're squeaky clean!
Balance sheet is excellent with £32m NTAV. CFX seems particularly good at collecting in receivables, which are always low, this time only £8m. I think it must sell a fair bit on a pro forma basis (i.e. payment up-front before delivery), which is wonderful, because it removes risk of client going bust, and improves cashflow. Impressive £20m net cash pile.
Cashflow statement – there's quite a lot of leased property, so note that the £2.9m payment of lease liabilities is near the bottom within financing, which means the numbers above that line are inflated – not the company's fault, but the fault of IFRS 16 which has messed up the cashflow statement by putting some of rents (operating costs) within finance charges, which is total nonsense. Accounting standards really must repeal IFRS 16, but are probably too obstinate to do so. Meanwhile accounts users have to rejig accounts manually, to ensure they actually make sense.
Capex increased to £1.9m in H1 (H1 LY: £0.8m).
The stand-out item is £5.4m "purchase of own shares" in H1, and it was £6.8m last year. These are huge numbers for buybacks in a company with only £48m market cap. This is creating a very unusual situation where the share count is quite rapidly reducing by a lot – thus enhancing EPS, although liquidity deteriorates (see the crazily wide bid-offer spread).
As you can see below the shares are very tightly held by 4 main holders – possible delisting risk? Although 3 fund managers hold enough to block any such move, so on reflection that risk looks small. It could mean an opportunistic bid for the company could be blocked, so I'm comfortable with this structure, on balance.
.
.
Outlook – good, but with some caution here – it's nice to see mgt explain the dynamics of their sector openly like this, so investors don't get carried away -
Our performance over the last six months reflects generally favourable trading conditions in all our major markets, in line with our expectations at the start of the year. In addition we benefitted from a very strong US Dollar exchange rate and as a result, we now expect our full year performance to 30 April 2023 to be ahead of previous expectations.
Our business is closely tied to high end housing market activity but with a time lag of six to twelve months. Over the last six months we are aware that housing transactions have slowed significantly in the US and the UK and we therefore expect trading in these markets to become progressively more challenging in the year ahead. We have experienced significant cost inflation over the last year, mainly driven by increased energy costs in our supply chain but there are tentative signs that the worst might be over.
Revised forecasts – note that a sizeable uplift in FY 4/2023 forecast has just come through overnight, and even this higher number of 76.2p EPS looks cautious, given that it's already done 51.3p in H1 – this is what we want to see – forecasts that already factor in a softer macro position.
Forecast EPS for FY 4/2024 has been edged up a little, at 64.9p – note that this is below the current year, which again is what I want to see, given uncertain macro times. In a big recession of course, earnings would drop substantially, due to the operational gearing. So if you think that's likely, then cyclical shares like this are probably best avoided altogether!
We can get some inkling of how companies perform in downturns from the pandemic experience (although massively distorted with Govt support measures), and even going back to 2008 (if a company is even vaguely similar to what it did back then, which CFX is).
CFX sailed through the pandemic with only a temporary dip in profitability.
It's a similar picture in the 2008 recession – CFX remained profitable, on similar revenues to more recent years, with profits dropping by just over half in FY 4/2009, then recovering.
Hence CFX looks to me a resilient business that has a history of trading OK through recessions, which combined with a super-strong balance sheet, says to me that risk here looks negligible for long-term holders.
My opinion – this looks a good value share, thumbs up from me.
Although the lack of liquidity and wide spread could be an issue, so probably not something to attempt trading in amp; out of.
I see the positive update here also galvanised larger competitor Sanderson Design (LON:SDG) yesterday.
A very good long-term performer (depending on when you timed your purchase), and also note the high StockRank.
Looking for similar shares? Then have a look at the screens (I've put in clickable links below) that CFX passes (shown on every StockReport, just under the chart) -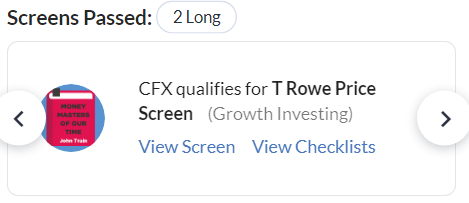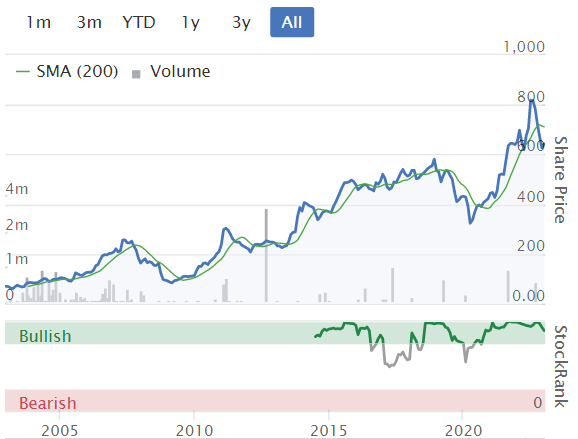 ---
Smiths News (LON:SNWS)
51.6p (down 7% at 11:34) – mkt cap £121m
Newspaper/magazines distributor. Holding its AGM today. Current year is FY 8/2023.
Everything sounds fine, key points -
Trading in line with market expectations (but no footnote)

Core revenues "ahead of historical trends", due to cover price increases.

Inflation being managed in line with business plan.

Efficiency gains amp; cost controls on track.

Outlook – Board "remains confident in the Company's profit and cash generation".

"Significant progress" in contract renewals – 46% of revenues secured to 2029.

Strategy – enhance core operations, and develop "adjacent opportunities", "moving up the value chain" – see 9 Nov 2022 results announcement for more details.

Final divi of 2.75p will be paid shortly (Feb 2023).
My opinion – this all sounds fine to me. We've been fans of this value share here since the turnaround first started, and it's done well.
Still looks really good value, with a forward PER of 5.4 – but it won't ever get a high rating, due to the structural decline of the core business. Fantastic divis now, yield of 7.5%. No balance sheet support though. It has to be a thumbs up again.
---
Graham's Section:
Senior (LON:SNR)
Share price: 145.6p (+7%)
Market cap: £610m
This mid-sized engineering and defence group provides us with one of today's "ahead of expectations" updates.
It has two major divisions: Aerospace and Flexonics. If you're not sure what that second word means (neither am I!), here's the description from Senior:
For a three-minute YouTube video showing what one of the companies in the Flexonics division does in its factories, see here.
Why does it matter? Well, the Flexonics division has outperformed at the end of FY 2022, while the Aerospace division is in line with expectations.
Therefore, group adjusted PBT for 2022 is now expected above the top end of the range of consensus expectations. This range of expectations is £16.2m – £18m, so adjusted PBT will be somewhere north of that.
Here's the explanation of the outperformance:
Trading in the Flexonics Division has been ahead of previous expectations, driven by strong customer demand in the land vehicle and power amp; energy markets. In particular, demand for heavy duty truck and the levels of maintenance and overhaul in power amp; energy have improved since the last trading update.
My view
There's very little else contained in this update, so it's time to wrap this up.
Senior has been around for a long time – ninety years – and was first listed on the LSE in 1947. Can anyone confirm if it has been listed continuously since then, without interruption? That would surely make it one of the longest-listed companies!
For as long as I've known of Senior, it has been considered a decent defence stock. I note that on their homepage, they are advertising a target ROCE of at least 13.5% over the medium-term.
However, their StockReport would suggest that this is not a target they've hit recently:
For me personally, aerospace and defence stocks tend not to have the quality characteristics that I'm looking for, and Senior is no exception to that. But for those who do invest in this sector, Senior is possibly one of the higher-quality companies, which is reflected in its premium rating:
There's also the small matter of geopolitics and the tailwind that the current environment might produce for demand in this sector. It's grim when you think about it, but maybe defence stocks are going to be a profitable bet for the next few years?
---
Accrol group (LON:ACRL)
Share price: 30.8p (+5%)
Market cap: £98m
This tissue paper company has a complicated past which was summarised extremely well by Paul in November.
Since expectations were normalised in late 2017, the stock has traded within a range:
The reported numbers have not been very good but it is now expected to turn a profit again:
Let's see the highlights from these interim results to October 2022:
Volumes up 14% vs. market up just 1%, i.e. market share growth (as noted by Paul, Accrol's cheaper products do well in a consumer downturn).

Adjusted net debt £30.5m in October 2022, on track to reach a net debt/EBITDA multiple of lt;1.5x by the end of the financial year.

On track for revenue of £230m and adjusted EBITDA of £15.5m in this financial year, which are marginally ahead of expectations.
The prior expectations were revenues of £219m and adj. EBITDA of £15.5m.
I should note that despite Accrol reporting adj. EBITDA of £7.1m in H1, it actually made a statutory loss before tax of £0.9m.
You can see that in H1 2022, the difference between adj. EBITDA (£5m) and the loss (£3.5m) was £8.5m.
In H1 2023, the difference is £8m.
These are big numbers between adjusted and statutory results for just a six-month period, for a company valued at less than £100m.
Therefore, if you are valuing this company on the basis of adj. EBITDA, then in my opinion you are at risk of wildly overvaluing it.
Included within the adjusted are share-based payments, worth £0.6m in H1 2023 and also £0.6m in H1 2022. It always strikes me as odd that management don't consider these to be "real" or "underlying" costs, since they are simply a method of remunerating staff.
Outlook
The Group is well invested with adjusted net debt on track to be less than 1.5x EBITDA by the current year end (FY22: 3.0x). The Group's margins, which were impacted by the time-lag on price increases, are recovering in H2 FY23 and we are confident that this recovery to continue [sic] throughout FY24.
Strategic Review Outcome – Build a Mill
In a separate RNS, Accrol states its intention to build its own paper mill. This is not expected to cost more than £10m, will be operational by mid-2025, and will produce 40% of Accrol's needed volumes.
Benefits of the mill will be 1) "reduced volatility in tissue input costs… providing greater customer pricing visibility and certainty", and 2) "enhanced security and visibility of tissue supply, which will reduce working capital requirements in the UK tissue conversion business".
My view
Let me compile a list of bull and bear points.
Bull points.
The company is in an economic sweet spot right now, as consumers trade down to discount brands to reduce their cost of living.

Has succeeded in passing on "significant price increases". While there is a lag between input cost inflation and sale price increases, Accrol does appear to be very capable of passing on price increases.

If the plans to build a paper mill are realistic, the benefits should be significant and should reduce the risk of very sharp, unpredictable input cost increases for the tissue business (of course the paper mill will have its own raw material, energy and electricity costs, and these will need to be managed).
Bear points.
The company's heavy focus on adjusted EBITDA leaves me feeling uneasy. As Buffett is supposed to have said: "Does management think the tooth fairy pays for capital expenditures?" Adjusted EBITDA hides depreciation, share-based payments, and even product development costs and software costs.

The company is still loss-making as of H1. According to a broker note I've found this morning from Liberum, the full-year result expected this year is for another reported loss.

The debt load is still a consideration, e.g. enterprise value is currently c. £130m. Another up to £10m will be needed to build the new paper mill.
In summary, I'm going to take a negative view on this stock because I can find little evidence of any quality in it, I don't like the way it presents its figures, and its true rate of profitability seems poor.
---
City Pub (LON:CPC)
Share price: 73.63p (-1%)
Market cap: £76m
Let's take a quick look at this trading update for Q4 and the full year ended 25th Dec 2022.
Trading in Q4 delivered accelerated LFL sales growth compared with 2019 of 7.8% as a result of improved planning to maximise revenues from events such as the World Cup and Christmas. The performance would have been even better, had it not been for the rail strikes, especially those towards the end of the year, where we estimate lost revenue to be in the region £0.75m (c. 3.5% of revenue for Q4).
Swings and roundabouts: the World Cup helped revenues, while rail strikes hindered it.
Performance of the "core estate" in 2022 was in line with expectations, with like-for-like sales 3% higher than 2019.
The first four weeks of 2023 are better: like-for-like sales are ahead of expectations and 25% higher than early 2022 (which was impacted to some extent by Covid).
Acquisitions – I find comfort in this statement:
…the Company has, particularly at this stage in the cycle, very strict criteria for acquiring pubs as we expect pub prices to continue to soften.
Nevertheless, two pubs have been added to the estate.
Net debt is low at £5m. The company has a "predominately freehold estate", so rents shouldn't be an issue.
My view
If I was investing in a pub group, I'd probably choose something with freehold properties, like this, since owning the freehold dramatically improves the worst-case outcome!
This share looks like it might be priced about right, given the low-risk nature of its property ownership and asset backing.
Source:
https://www.stockopedia.com/content/small-cap-value-report-tue-24-jan-2023-eman-its-cfx-saga-wand-snr-acrl-snws-cyan-saa-cpc-961068/
Before It's News®
is a community of individuals who report on what's going on around them, from all around the world.
Anyone can
join
.
Anyone can contribute.
Anyone can become informed about their world.
"United We Stand" Click Here To Create Your Personal Citizen Journalist Account Today, Be Sure To Invite Your Friends.