BeforeItsNews Announcements
Step 1: Get the Telegram App and Get Our Stories Direct To Your Phone or Computer Without Censorship!
Step 2: Join the BeforeitsNews Telegram Channel Using This Link!
Digital Warriors & Youtubers Welcome: Before It's News® Is A Community of Individuals Who Report On What's Going On Around Them, From All Around The World. Anyone Can Join. Anyone Can Contribute. "United We Stand" - Click Here To Create Your Personal Citizen Journalist Account Today, Be Sure To Invite Your Friends.
Story Views

Now:
Last Hour:
Last 24 Hours:
Total:
This Sickening Purge Of Christian And Conservative News Publishers From Social Media Is The Only Way The Liberal Left Can Win The Election In 2020
Thursday, June 13, 2019 18:25
% of readers think this story is Fact. Add your two cents.

I believe that the Liberal Left relive the night that Trump won the presidency over and over – every single day, and it is driving them to the brink of insanity!
This has prompted the Giant Tech Social media companies to actually write algorithms which weed out Conservative thought from their sites. They are not being discreet about this. It's BLATANT CENSORSHIP and they are proud to be part of it.
YOU SEE, THE LEFT CANNOT WIN ELECTIONS WITHOUT PLAYING DIRTY.
I also believe that if Saul Alinsky of "Rules for Radicals" fame were alive today, he would have added a chapter titled "Get Conservative views BANNED by major Social Media outlets. Scrub them from the Internet!!"
And that is EXACTLY what is happening at this very moment. Just yesterday "LiveAction.org" was suspended forever on Pinterest. At first Pinterest labled LiveAction as "Pornography!" This is ludicrous – anyone who follows Lila Rose on LiveAction know that her ministry devotes itself to saving babies from being aborted. She also posts pictures and writes on the joys of parenthood.
Pinterest finally took LiveAction off their pornography list , but then later suspended their account forever.
Watch Lila Rose talk about this on PragerU:
Pinterest has Permanently Banned @LiveAction.org
@LiveAction has also been banned from Twitter!
Pinterest has also permanently Banned NTEB
NOTE: NTEB started our Pinterest account back in 2012, and for years thousands of photos were up and totally fine. Then in late 2018, we started receiving ominous emails saying that 'certain pins are being removed' but never say which ones. Then it went to groups, then to the entire account.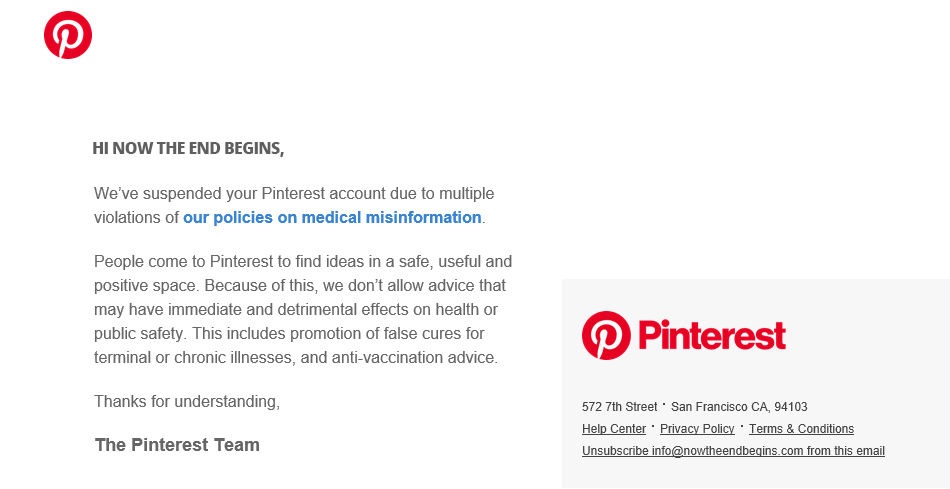 Facebook Banned Geoffrey Grider's personal page for 'Hate Speech'
NOTE: This started out as a 3-day suspension, which turned into a 7-day suspension, which then turned into the profile being turned off. This was all because of a post on illegal Muslim migrants taking over the Charles de Gaulle airport in Paris, read it for yourself and see if it is 'hate speech' or not.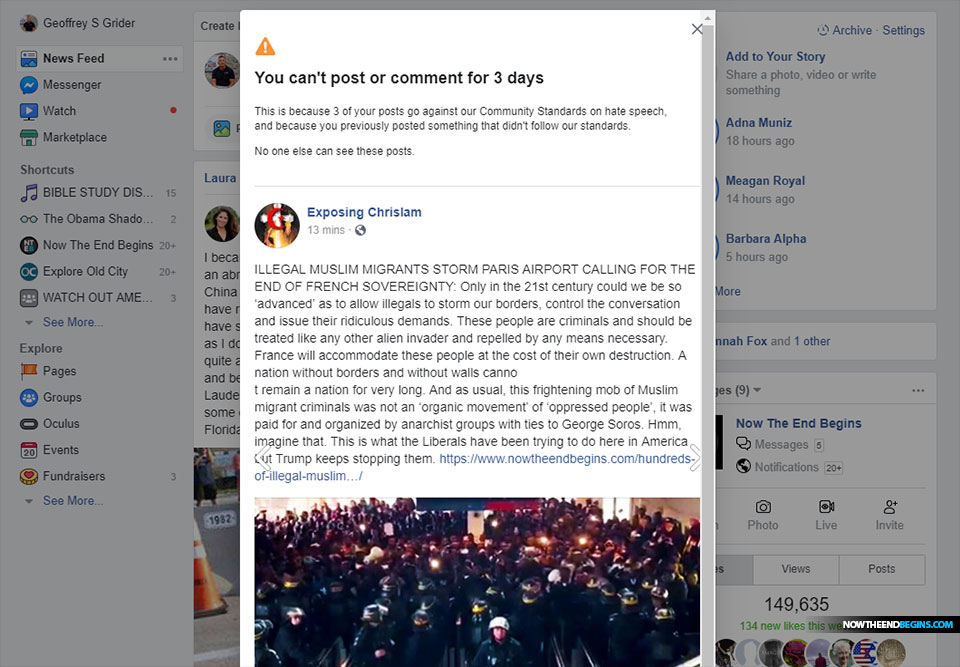 Then Facebook Took Away Our Publishing Rights On Our Own Page
NOTE: Are you seeing a pattern in these photos here?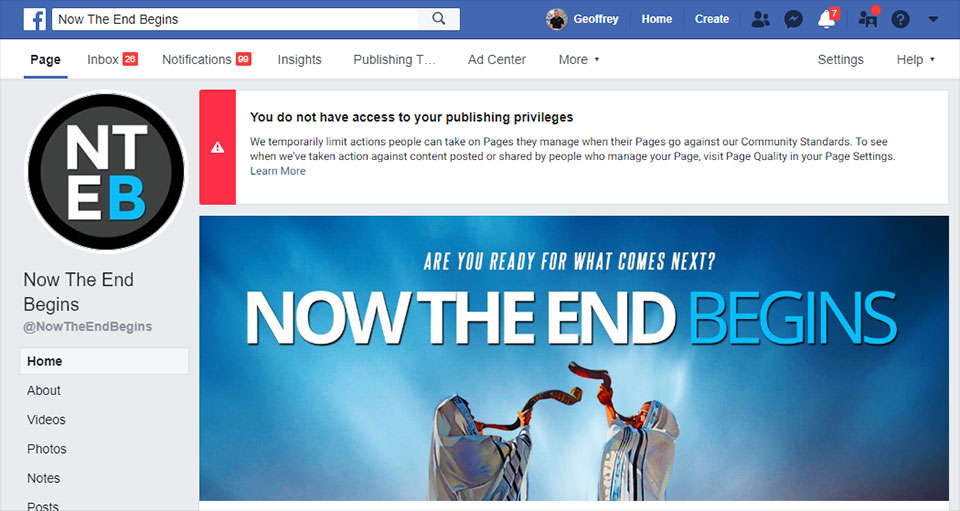 From lifesitenews.com
Revealed: Facebook keeps list of conservatives deemed potential 'hate agents'
In the latest indicator that the world's biggest social network is not the neutral forum it claims to be, Facebook maintains a list of right-wing "hate agents" to be singled out for potential termination. Breitbart recently broke the news in two reports on an April spreadsheet identifying personalities to be investigated not only for illegal conduct such as promoting violence but for alleged association with any "designated hate entity," "designated hateful ideology," or "hate paraphernalia." Some of the names were left-wing, but most were right-of-center.
Those named included several figures banned earlier this month from Facebook and Instagram for being "dangerous," such as Alex Jones, Laura Loomer, Paul Joseph Watson, and Louis Farrakhan. But while some conservatives initially dismissed the controversy based on the past words and actions of the particular targets, Breitbart's latest reporting revealed that at least two more mainstream figures also made the list: conservative commentator Candace Owens and Brigitte Gabriel, a prominent activist against Islamic extremism.
The spreadsheet labeled Owens "extra credit" whom Facebook should "look into" after dispensing with other targets. The revelation came shortly after Facebook temporarily suspended her for a post imploring her fellow black Americans to see "liberal supremacy" as a greater threat than white supremacy, which Facebook later claimed was a "mistake."
Gabriel, meanwhile, was flagged for alleged "Tier 1 Hate Speech" in the form of allegedly having "compared Arabs to barbarians," a speech referencingthe "Islamic cancer of terrorism and radicalism," and referring to Siraj Ibn Wahhaj, who is currently facing terror charges, as a "depraved Muslim terrorist" (as well as an unspecified "designated hate organization" providing security at an event she attended). She says the list misrepresents her words.
"When I referred to 'Arabs as Barbarians,' I didn't say it that way," Gabriel explained to Breitbart. "I was talking about Palestinian suicide bombers who blow themselves up to kill Jews," such as Um Nidal, a Hamas member and proud mother of three suicide-bomber "martyrs."
Regarding the "cancer" quote, "I was discussing the rise of terrorism in Europe" she said. "I said Europe is at stage four cancer. They have ignored the problem for so long that now the problem has metastasized in the culture, and intelligence agencies are having a hard time keeping up with monitoring the tens of thousands of people on their list. I said America is at stage two cancer. We can still implement the security measures we need to monitor and nip Islamic radicalism rising in any community in the U.S."
Facebook hit Gabriel with one 24-hour suspension over her condemnation of Wahhaj, and the spreadsheet suggested her overall record could be grounds for "lifetime deletion for hate speech – dehumanizing."
This is an attack on my free speech! If we as a society cannot have the tough conversations, then where are we as a society?

I do not want to live in a world absent of freedom of expression. It must be fought for! https://t.co/KeyEOy1c5q

— Brigitte Gabriel (@ACTBrigitte) May 21, 2019
A Facebook spokeswoman confirmed to Breitbart the existence of the list but suggested it has not yet led to an investigation of Owens. The social media giant did not respond to the follow-up about Gabriel. The revelations further reinforce conservative fears of what they call Facebook's discrimination against and suppression of right-of-center content. The social network recently came under fire for blocking objective informational links about abortion from the American Pregnancy Association's website and criticism of a Canadian coin to celebrate homosexuality, as well as flagging accurate reporting about a controversial history textbook as false. In March, a Project Veritas investigation detailed how Facebook "deboosts" traffic to several mainstream conservative sites. source
Tech Giants Purging Conservative thought on Internet
Mike Adams of Natural News has been targeted. As a matter of fact, Mike just sent our an email to his subscribers that he is not BANNED from every Social Media outset. The only way he can disseminate his priceless information is by email. Here is how it started for Natural News in 2018:
FASCISM IN ACTION: Here is the Tech Giant Purge List of Prominent Conservative Websites
Tech Giants Google and Facebook are currently purging conservative content from Facebook and YouTube — They are hiding conservative stories on Google — They are shadow-banning conservative news on all social media.
In February Facebook launched a new algorithm to ensure that conservative news would not spread on the social media platform. The algorithm change caused President Donald Trump's engagement on Facebook posts to plummet a whopping 45%.
In contrast, Senators Elizabeth Warren (D-MA) and Bernie Sanders (I-VT) do not appear to have suffered a comparable decline in Facebook engagement.
Top conservative Facebook pages with daily traffic in the millions have seen 75% to 95% drop in traffic. Young Cons, Western Journalism, SarahPalin.com, Independent Journal Review, Right Wing News, and several others have seen dramatic loss in traffic.
The Gateway Pundit does not rely on Facebook for our traffic numbers. Still, we saw a significant drop in Facebook traffic last month.This is criminal behavior. They take your money for advertising then shadowban your site.
This is the definition of a scam.
Meanwhile, liberal sites are doing fine this year.
Google also deleted several top Conservative channels this week.
During the election conservatives fled the corrupt mainstream media and went online to get their news from trusted websites.
Today far left tech giants want conservative sites eliminated.
The left is even targeting the advertising and income of conservative websites.
It's time to regulate Google and Facebook!
Here is an initial list of top conservative websites that have been blacklisted and targeted by Google, YouTube and Facebook.
Young Cons: Extremely popular conservative news site and received millions of daily readers during the election. The website received nearly all of its traffic from Facebook. Since 2016 Facebook shut down stories to Young Cons. Each algorithm change meant less traffic for the popular website. YoungCons was blacklisted by Facebook and struggles to maintain readers. The site regularly switches domains to save traffic.
SarahPalin.com: With over 4 million fans one of the popular conservative pages on Facebook until Facebook blocked all traffic to the website. The page was forced to change the domain to save traffic numbers.
Right Wing News: Right Wing News grew to an enormous website in the past few years thanks its popularity on Facebook. In July of 2015, in just a week, the Right Wing News Facebook page reached 133 million people. Because conservatives were sharing content they were interested in, Right Wing News (with 3.6 million Facebook likes ) was driving the same amount of web traffic as some of the biggest newspapers in America. Since the 2016 election Facebook blocked traffic to the website. Owner John Hawkins announced he was shutting down the website in January.
Western Journalism: Newsweek reported that the site has grown from receiving 1,000 page views a day in 2009[3] to more than 1 million during 2016. The website was averaging around 6 million page views a day according to Quantcast during the election. Today it is down to around 500,000 a day. Western Journalism was blacklisted by Facebook.
The Gateway Pundit: TGP was ranked as the 4th most influential conservative news source during the 2016 election. The site in 2016 received nearly a third of its traffic from Facebook. This past weekend Facebook blocked all traffic from recent stories to the website. TGP advertised with Facebook and is another top conservative website blacklisted by the company. TGP is also shadow-banned by Google and frequently attacked and smeared by the liberal media.
President Trump Facebook page: A recent algorithm change has caused President Donald Trump's engagement on Facebook posts to plummet a whopping 45%. In contrast, Senators Elizabeth Warren (D-MA) and Bernie Sanders (I-VT) do not appear to have suffered a comparable decline in Facebook engagement, reported Breitbart's Alum Bokhari.
Independent Journal Review: A massive conservative website based on Facebook audience. The Independent Journal Review (IJR) terminated a number of its employees on Thursday, leaving an unclear future for the millennial-focused conservative website that has recently faced a declining audience. IDF was also shadow-banned and blacklisted.
Breitbart.com: Breitbart was the most influential conservative news source in 2016 with a massive audience. Since the election Breitbart is constantly targeted and smeared by far left operations. Breitbart advertising was targeted by Sleeping Giants and other Soros sites.
InfoWars: Infowars is another dominant conservative site with enormous traffic. After several years of video production and tens of thousands of video YouTube gave Infowars its third strike this week and threatens to shut the YouTube Channel down.
Right Side Broadcasting: This YouTube Channel had millions of views before the election. Since 2016 YouTube has shadow-banned all of their videos. YouTube has classified its videos of President Trump at a rally as hate speech. YouTube has demonetized hundreds of its videos. YouTube hides its videos. Income for the site is down 95% since the election.
Natural News: A very prominent health website and the world's top source on natural health. The site receives tens of thousands of readers every day. YouTube wiped out over 1,700 videos covering everything from nutrition, natural medicine, history, science and current events.
From a reader: You Tube deleted Natural News Channel. It's conservative and full of info on health, too. I took a screen shot. I'm very upset. My husband has aggressive cancer from. Agent Orange and I depended on this channel for his diet among other things. The man, Mike Adams, is literally a genius, and I mean literally, and he is very conservative.
Prager Report: PragerU, a conservative educational site, is suing Google and its subsidiary YouTube, accusing the video site of censoring its online videos because of their political leanings. YouTube has banned several of its videos including segments on abortion and Islam. Prager U has a massive conservative audience in the millions.
Pamela Geller.com: Pamela is well-known for speaking out against radical Islam. ISIS has threatened to behead her several times. During the election PG had over 100,000 daily views from Facebook. Today Facebook has shut down most of her traffic. Her website suffered serious losses in revenue since the election.
Diamond and Silk: Pro-Trump YouTube sensations have a suit against YouTube. The Trump supporters announced in August 2017 that 95% of their videos have been demonetized on YouTube.
These are just a few of the more prominent websites being targeted and banned by Facebook and Google.
We did not list the conservative organizations and individuals targeted, shadow-banned and blocked by Twitter. We have heard from other prominent websites but they are afraid if they bring attention to their plight Facebook or Google will shut down their remaining traffic.
Either the government needs to act to prevent this targeting or conservative websites will be obliterated in the next few years. source
The websites listed above which have been BANNED is in no way an exhaustive list. Every day more Conservative sites are being banned by the Tech Giants. Brethren, the hopes of the LEFT who are playing dirty is simply this: They hope that as Conservative thought vanishes from the Internet, that many people – especially those in the middle – will think that we have somehow retreated. They will be told that we are "fringe groups" and that our "Fake News" had to be dealt with and so they did. Shutting us down is their only recourse of action before the presidential election in 2020.
This reminds me of Benjamin Franklin saying to the woman as he emerged from the Constitutional Convention when she asked him what kind of government we have.
Franklin said to her: "A Republic – if you can keep it." But CAN we keep it? If it's up to the Left, our government will morph into Socialism.
MARANATHA!!!
Political Censorship by Twitter, Facebook, Google, Youtube & Reddit
Now The End Begins is your front line defense against the rising tide of darkness in the last days before the Rapture of the Church
HOW TO DONATE: Click here to view our GoFundMe page
When you contribute to this fundraising effort, you are helping us to do what the Lord called us to do. The money you send in goes primarily to the building of the recording studio, but it also goes to the overall daily operations of this site. When people ask for Bibles, we send them out at no charge. When people write in and say how much they would like gospel tracts but cannot afford them, we send them a box at no cost to them for either the tracts or the shipping, no matter where they are in the world. Even all the way to South Africa. We even restarted our weekly radio Bible study on Sunday nights again, thanks to your generous donations.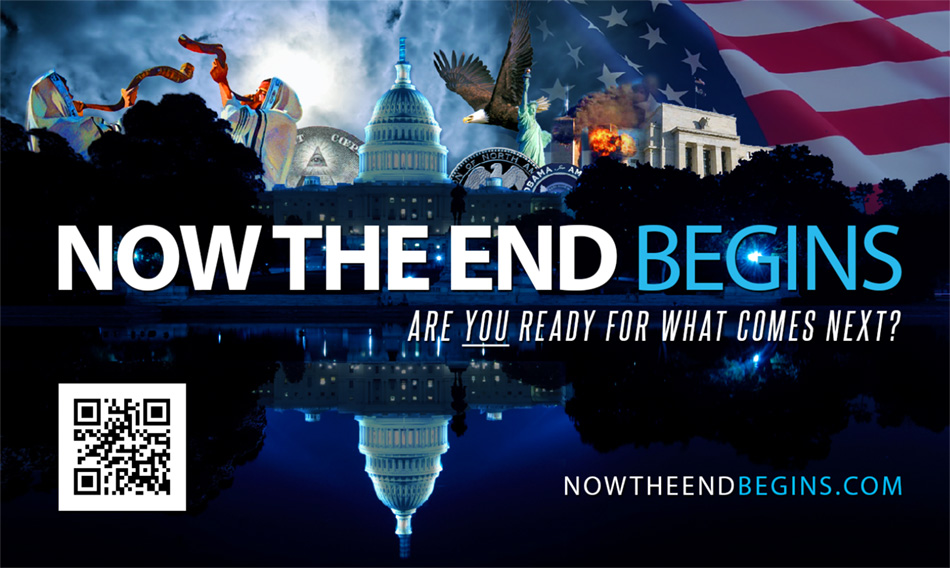 But whatever you do, don't do nothing. Time is short and we need your help right now. If every one of the 12,832 people on our daily mailing list gave $4.50, we would reach our goal immediately. If every one of our 151,781 followers on Facebook gave $1.00 each, we would reach 300% of our goal. The same goes for our 14,000 followers on Twitter. But sadly, many will not give, so we need the ones who can and who will give to be generous. As generous as possible.
"Looking for that blessed hope, and the glorious appearing of the great God and our Saviour Jesus Christ;" Titus 2:13 (KJV)
"Thank you very much!" – Geoffrey, editor-in-chief, NTEB
HOW TO DONATE: Click here to view our GoFundMe page
---
The post This Sickening Purge Of Christian And Conservative News Publishers From Social Media Is The Only Way The Liberal Left Can Win The Election In 2020 appeared first on Now The End Begins.
Source:
https://www.nowtheendbegins.com/social-media-purge-christians-conservatives-liberal-left-only-way-to-win-2020-election-facebook-twitter-pinterest-reddit/
Before It's News®
is a community of individuals who report on what's going on around them, from all around the world.
Anyone can
join
.
Anyone can contribute.
Anyone can become informed about their world.
"United We Stand" Click Here To Create Your Personal Citizen Journalist Account Today, Be Sure To Invite Your Friends.
---
Support BeforeitsNews by trying our natural health products! Join our affiliate program
Order by Phone at 888-809-8385 or online at www.mitocopper.com

Get our Free Ebook, "Suppressed Health Secrets" with Natural Cures THEY don't want you to know!
APeX - Far superior to colloidal silver! Destroys Viruses, Bacteria, Pathogens with Oxygen plus Silver!
Supreme Fulvic - Nature's most important supplement! Vivid Dreams again!
Ultimate Curcumin - Natural pain relief, reduce inflammation and so much more.
MitoCopper - Bioavailable Copper destroys pathogens and gives you more energy. (See Blood Video)
Oxy Powder - Natural Colon Cleanser! Cleans out toxic buildup with oxygen!
Organic Hemp Extract (CBD) - Full Spectrum high CBD (3300mg) hemp extract eases stiff joints, relieves stress and more!
Nascent Iodine - Promotes detoxification, mental focus and thyroid health.
Smart Meter Cover - Reduces Smart Meter radiation by 96%! (See Video)
FINAL WARNING! Diseases are EXPLODING! Watch this Video about APeX and You'll THROW AWAY Your Colloidal Silver! APeX destroys Viruses, Bacteria and other Pathogens with the power of Oxygen PLUS Silver! Nobody else has a product like THIS! See why the inventor hasn't been sick in 16 years and why you'll never hear about it on the FAKE NEWS! Get some now and tell your friends about it too so we can reach more people!
APeX Interview - Superior to Colloidal Silver from Lee Canady on Vimeo.
Learn about APeX Here and Get the 50 Page Report in PDF format. Call us at 888-809-8385 to order by phone.
---