Israel Is Right Now Negotiating 'Historic Pact' With Arab Gulf States That Will Provide 'Peace And Safety' In Unprecedented End Times Alliance
Saturday, October 5, 2019 16:26
% of readers think this story is Fact. Add your two cents.

Israel is reportedly negotiating with several Gulf states on a "non-aggression pact" between them as they face off against an increasingly emboldened Iran.
This is obviously not the covenant that Daniel 9:27 talks about, but it could absolutely be the first step in setting the table for the final peace pact under Antichrist in the time of Jacob's trouble. At the very least, it's breathtaking to see movement after so long a time of inactivity, and when you consider the scope of what such a pact would entail, the implications are far-reaching and highly prophetic in nature.
"For yourselves know perfectly that the day of the Lord so cometh as a thief in the night. For when they shall say, Peace and safety; then sudden destruction cometh upon them, as travail upon a woman with child; and they shall not escape." 1 Thessalonians 5:2,3 (KJV)
When you read the article below from the Times of Israel, look carefully at the section I have broken out in quote formatting. The part that says "the non-aggression pact initiative stems from Israel's recognition that full relations with the Gulf states may not be possible unless or until the Israeli-Palestinian conflict is resolved" shows you exactly where we are at on the Bible timeline. The only question is how much of this will we get to see come to fruition before the Rapture takes place.
"And he shall confirm the covenant with many for one week: and in the midst of the week he shall cause the sacrifice and the oblation to cease, and for the overspreading of abominations he shall make it desolate, even until the consummation, and that determined shall be poured upon the desolate." Daniel 9:27 (KJV)
They are calling it an "historic peace pact" and not only is it historic, I will go one step further and say, if they can pull it off, it is prophetic as well. If they can pull this off, we will be halfway to the Daniel 9 prophecy, and a kitten's whisker away from the fulfillment of Titus 2:13 (KJV). If you love end times Bible prophecy, the video at the bottom of this article will blow you away, especially when Katz quotes Isaiah.
Israel and Gulf states working on 'historic pact' to end conflict between them
FROM THE TIMES OF ISRAEL: The deal, which Channel 12 news described as potentially "historic," aims to put an end to the state of conflict between the Gulf states and Israel, and reportedly provides for friendly relations, cooperation in a variety of fields, and no war or incitement against each other.
Advancing the Israeli initiative, Foreign Minister Israel Katz met on the sidelines of the UN General Assembly last month with several foreign ministers from Arab Gulf states, Channel 12 news reported Saturday night. There was no immediate comment from the Foreign Ministry, but Katz himself on September 23 tweeted that he had held talks with an unnamed counterpart from an Arab country with which Israel does not have formal relations, and said they discussed "ways to deal with the Iranian threat" and a process for boosting "civilian cooperation."
Katz, who is leading the effort with the backing of Prime Minister Benjamin Netanyahu, agreed with his Gulf Arab interlocutors during "a series of meetings" to set up working teams to take the non-aggression pact forward, the TV report said. He presented his Gulf counterparts with a draft text of the intended pact, which was drawn up by the Israeli Foreign Ministry, the TV report said. It reportedly highlights the opportunity to advance common interests in the context of the threat posed by Iran, and is drafted in accordance with principles of international law.
Katz is also reported to have discussed the intended pact with the Trump administration outgoing special envoy for the peace process, Jason Greenblatt.
While Israel seeks to widen its diplomatic relations with states in the region beyond its two full peace partners Egypt and Jordan, the non-aggression pact initiative stems from Israel's recognition that full relations with the Gulf states may not be possible unless or until the Israeli-Palestinian conflict is resolved, the TV report noted. The deal would constitute a "historic" document, putting an end to the state of conflict between these Gulf states and Israel, the report said.
The draft clauses reportedly include commitments to develop "friendly relations and cooperation" in accordance with the UN charter and international law; to prevent hostility or incitement to hostility against each other; and to eschew any military or security alliance with other parties against each other.
Among other elements, the TV report said, the draft text specifies cooperation in the fight against terror, and in advancing economic interests.
Katz attended the General Assembly on behalf of Netanyahu, who remained in Israel as he seeks to negotiate a majority coalition. The prime minister had planned to attend the UN gathering and meet on the sidelines with US President Donald Trump, who had said earlier last month that he intended to discuss a possible US-Israel Mutual Defense pact.
At the UN on September 23, Katz held what he said at the time was "a first and fascinating meeting yesterday with one of the Arab foreign ministers." READ MORE
Minister for Foreign Affairs Addresses General Debate, 74th Session
Israel Katz, Minister for Foreign Affairs of Israel, addresses the general debate of the 74th Session of the General Assembly of the UN (New York, 24 – 30 September 2019). NOTE: This video will send chills down your spine if you know anything at all about end times Bible prophecy. Highly recommend you watch it.
Now The End Begins is your front line defense against the rising tide of darkness in the last days before the Rapture of the Church
When you contribute to this fundraising effort, you are helping us to do what the Lord called us to do. The money you send in goes primarily to the overall daily operations of this site. When people ask for Bibles, we send them out at no charge. When people write in and say how much they would like gospel tracts but cannot afford them, we send them a box at no cost to them for either the tracts or the shipping, no matter where they are in the world. Even all the way to South Africa. We even restarted our weekly radio Bible study on Sunday nights again, thanks to your generous donations. All this is possible because YOU pray for us, YOU support us, and YOU give so we can continue growing.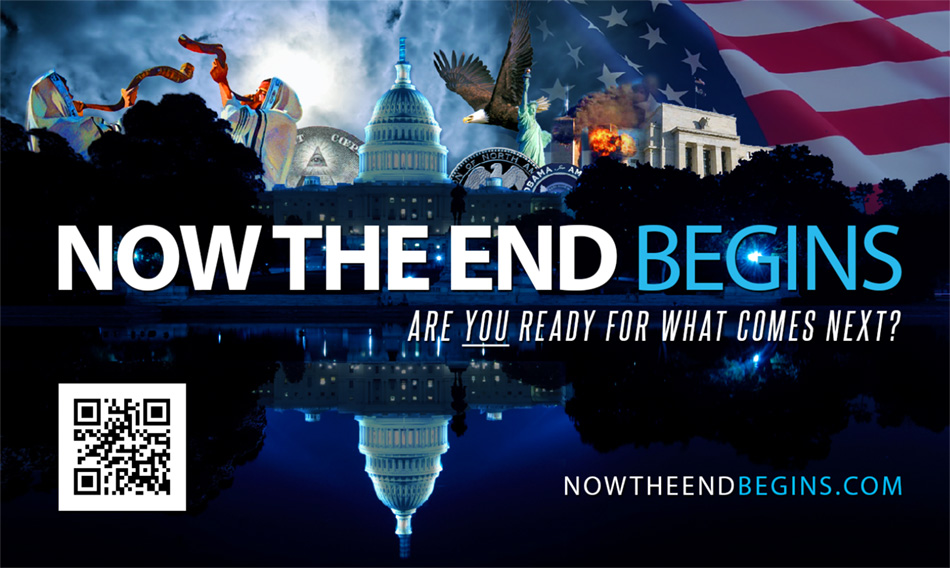 But whatever you do, don't do nothing. Time is short and we need your help right now. If every one of the 13,131 people on our daily mailing list gave $4.50, we would reach our goal immediately. If every one of our 151,781 followers on Facebook gave $1.00 each, we would reach 300% of our goal. The same goes for our 14,500 followers on Twitter. But sadly, many will not give, so we need the ones who can and who will give to be generous. As generous as possible.
"Looking for that blessed hope, and the glorious appearing of the great God and our Saviour Jesus Christ;" Titus 2:13 (KJV)
"Thank you very much!" – Geoffrey, editor-in-chief, NTEB
---
The post Israel Is Right Now Negotiating 'Historic Pact' With Arab Gulf States That Will Provide 'Peace And Safety' In Unprecedented End Times Alliance appeared first on Now The End Begins.
Source:
https://www.nowtheendbegins.com/israel-negotiating-historic-pact-with-muslim-arab-gulf-states-that-will-provide-peace-safety-in-unprecedented-strategic-alliance-middle-east-end-times/
Before It's News®
is a community of individuals who report on what's going on around them, from all around the world.
Anyone can
join
.
Anyone can contribute.
Anyone can become informed about their world.
"United We Stand" Click Here To Create Your Personal Citizen Journalist Account Today, Be Sure To Invite Your Friends.