Thanks To Your Generous Giving We Have Been Able To Purchase All New Computer Systems And Increase Our Global Reach Into More Countries
Friday, January 10, 2020 17:42
% of readers think this story is Fact. Add your two cents.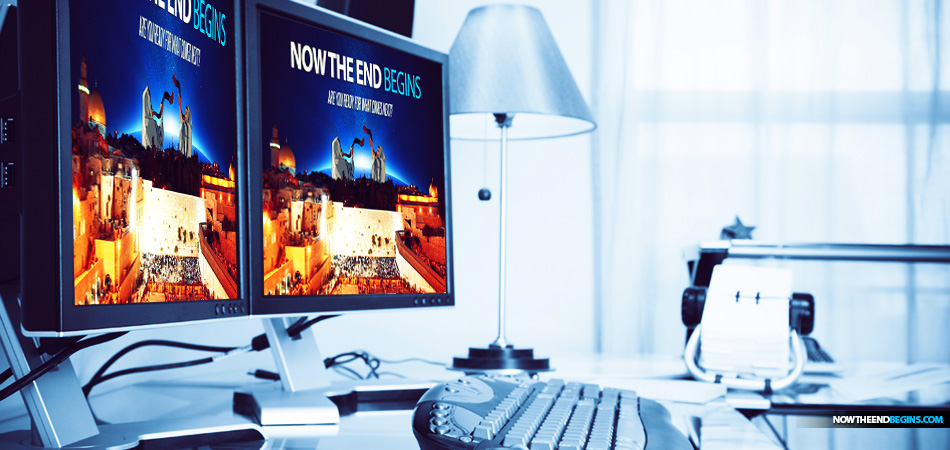 An excellent way to support NTEB while expanding your own ministry at the same time is to purchase NTEB Gospel Tracts.
2020 is off to an exciting, fast-paced start, as we told you all through 2019 that it would be, and the need for people to understand end times Bible prophecy is more urgent than ever before. As I told you in our first article of the year on New Years Eve, I have committed myself to running Now The End Begins on a completely full time basis. That takes a lot of work from me, and that takes a lot of support from all of you.
"But none of these things move me, neither count I my life dear unto myself, so that I might finish my course with joy, and the ministry, which I have received of the Lord Jesus, to testify the gospel of the grace of God." Acts 20:24 (KJV)
Thanks to your generous giving and support of this ministry, we were able to purchase all new computer systems that NTEB is run on, as well as connecting with Content Delivery Networks in such far-flung places as Singapore, Seoul, Sao Paulo, Melbourne and a dozen other places around the globe. So I just wanted to take a moment to thank you all for praying for us, visiting our site multiple times per day, sharing our links, and supporting us financially. There is no place I would rather be as we are busy about the Father's business and waiting for our Blessed Hope.
People ask me all the time what they can do to help us continue to grow, and happily, it's very easy to do. If you benefit from this website and would like to contribute in a variety of ways, here is how you can do it.
DONATE TO OUR FUNDRAISER: Running this website and producing daily content is a expensive and time-consuming proposition, it is not only my ministry but it is my full-time job. Your financial gifts make it possible for me to keep doing it. To donate to NTEB, you can CLICK HERE NOW.
PRAY FOR US: This is the number one way you can help, we covet your prayers earnestly.
SHARE OUR LINKS: We do run ads on NTEB, and the more people who read these links means more ad revenue we receive. But more important than that, when you share our links with your friends and social acquaintances, the witness of the gospel goes further and further.
PURCHASE OUR GOSPEL TRACTS: An excellent way to support NTEB while expanding your own ministry at the same time is to purchase NTEB Gospel Tracts. These are the exact same ones we use every time we preach on the streets here in Saint Augustine, Florida. CLICK HERE to order your box now!
When you give to Now The End Begins, you are giving a gift that enables us to stay in the fight 24-hours per day, every day of the year. In addition to that, your giving makes it possible for us to send gospel tracts and bible, free of charge, to people who cannot afford them. How great is that? When you give, you are placing yourself as part of the much-needed supply line in this end times spiritual battle we are all in.
HOW TO DONATE: Click here to view our GoFundMe page
Listen to what our donation angels have to say about the ministry of Now The End Begins
"Thank you for the work you are doing brother. Your page and your testimony were a blessing to me this morning as I came across it for the first time. Thank you for the reality of your testimony and what God has done for you in introducing you to Jesus our Lord. God has brought me, in salvation, to Himself as well, through His love and mercy and grace in salvation. How can we praise Him enough? How can we not share this good news!? I pray this day for God's blessing on your ministry that He may save many souls through the work He has called you to. Isaiah 40:31 (KJV)" Mark and Melissa
"Love the Sunday night bible study. I want to support someone who has the passion for the lost like Geoffrey does and rightly divides the word of God. God bless you." Teresa Carey
"I give because not many news outlets are brave enough or Godly enough to tell these stories from a Christian's point of view. I see stories here that will not be seen anywhere else." William Grayshaw
"It's hard to find solid biblical teaching in America these days. It's a blessing to be able to take part in a ministry financially without being concerned about false teaching. All glory to God! God bless!" Maximilian Swan
"I donate because you are reporting the truth about the increasing wickedness of our time, as God's word foretold. In so doing we are reminded to "Keep looking up" as we wait in joyful hope for the Lord's coming, Maranatha! " Anthony Sloane
"Geoffrey has the best End Times News out there. I have been receiving his emails for years now and always enjoy his Sunday night messages although I don't always think exactly as he thinks. We are all in this "boat of life" together and as I come to the end of my life's journey here, I am more aware of Jesus's call for us to be one as He and the Father are One." Deborah Cleaveland
"I believe in Christ Jesus, my LORD and Savior. I see Mt 24 " The Days of NOAH ". Happening before our eyes. I think from all the signs, turmoil, godlessness, the Rapture Is at hand.1 Thes 4:16–18. WARN SOMEONE TODAY." Dwight Shotwell
" I like the way you are promoting the scriptures of the Kingdom Message Baptism of Jesus Christ, as those of Paul in Acts 20: 27-31 Preachers don't D this !! they make up their own IDEAS and then claim the person has Holy Spirit, WHEN THEY HAVE NOT not ever will !!!! …bye now…" Bara Rodgers
HOW TO DONATE: Click here to view our GoFundMe page
So thank you, personally, from the bottom of my heart, for standing with us in these end times, and labouring together to get something done for the Lord while time remains.
Join Us In The End Times Fight!
This 2-minute video shows you exactly what it is like to be a street preacher, and how the average person on the street will react to you. This video was shot on the corner of St. George and Hypolita streets in downtown St. Augustine, Florida.
---
The post Thanks To Your Generous Giving We Have Been Able To Purchase All New Computer Systems And Increase Our Global Reach Into More Countries appeared first on Now The End Begins.
Source:
https://www.nowtheendbegins.com/now-the-end-begins-king-james-bible-teaching-preaching/
Before It's News®
is a community of individuals who report on what's going on around them, from all around the world.
Anyone can
join
.
Anyone can contribute.
Anyone can become informed about their world.
"United We Stand" Click Here To Create Your Personal Citizen Journalist Account Today, Be Sure To Invite Your Friends.