NTEB PROPHECY NEWS PODCAST: From A Bible Prophecy Perspective, This Third Week Of September May Be The Most Action-Packed Week Of All Of 2020
Monday, September 14, 2020 9:25
% of readers think this story is Fact. Add your two cents.

Events are happening fast now…very, very fast. Blink and you'll miss it. You're not going to want to miss this important prophecy news update.
Just what can we expect this coming week by way of bible prophecy? That's hard to say, but when you look at the potential of what could happen with how everything is shaping up, it's more than a little exciting. Just imagine, in the same week, you will have Israel, the UAE, and Bahrain sign the Abraham Accord, the Feast of Trumpets on the sabbath day and the beginning of a 3 x 7 day lockdown for the entire nation of Israel! If you can't get excited by all that, you need to spend more time in your Old Testament and Revelation. The table is surely set for something more than biscuits and gravy.
"Wherefore hear the word of the LORD, ye scornful men, that rule this people which is in Jerusalem. Because ye have said, We have made a covenant with death, and with hell are we at agreement; when the overflowing scourge shall pass through, it shall not come unto us: for we have made lies our refuge, and under falsehood have we hid ourselves: Therefore thus saith the Lord GOD, Behold, I lay in Zion for a foundation a stone, a tried stone, a precious corner stone, a sure foundation: he that believeth shall not make haste." Isaiah 28:14-16 (KJB)
On this episode of the NTEB Prophecy News Podcast, we are looking at the amazing, incredible and nearly unbelievable convergence of events happening in this third week of September of 2020. Events so incredible they practically are leaping off the pages of your King James Bible. Today we will examine all these things in the light of the scripture of truth to see exactly where we are on the end times timeline. Events are happening fast now…very, very fast. Blink and you'll miss it. You're not going to want to miss this important prophecy news update.
This live Prophecy News Podcast begins today starting at Noon EST, please join us and bring a friend to listen with you!
Study Helps And Links For Today's Podcast
We Have Greatly Expanded Our Programming, Take A Look!

---
• The RIGHTLY DIVIDING Radio Bible Study
Every Sunday and Wednesday evenings from 9:00 – 11:00 PM EST, we offer an in-depth rightly dividing and dispensationally correct rocket ride through the preserved word of God as found within the pages of the King James Holy Bible.
SUNDAY NIGHT: Our original Sunday Night Radio Bible Study, it's from 9:00 – 11:00 PM EST, and we have praise, singing, testimony and of 90-minute King James Bible study. All our King James bible study programs are archived here.
WEDNESDAY NIGHT: Our Wednesday Night Radio Bible Study, it's from 9:00 – 11:00 PM EST, and we have praise, singing, testimony and of 90-minute King James Bible study. All our King James bible study programs are archived here.
---
• The NTEB PROPHECY NEWS PODCAST Hour
Every Monday and Friday afternoons from Noon to 1:30 PM EST, we examine breaking news and current events in light of bible prophecy.
MONDAY AT NOON: Every Monday at Noon we review all the latest news and events related to bible prophecy, and examine what is happening in light of what is written. If you miss the live show, all of our Prophecy News Podcast programs are archived here.
FRIDAY AT NOON: Friday at Noon we review all the latest news and events related to bible prophecy, and examine what is happening in light of what is written. If you miss the live show, all of our Prophecy News Podcast programs are archived here.
---
Your Generous Donations Make These Live King James Radio Bible Studies Possible!
On our Sunday and Wednesday night radio bible study, we are preaching and teaching the gospel of the grace of God, rightly divided and dispensationally correct, to a truly global audience who is hungry for the word. These programs would not be possible without your generous support. Listen to just a few of the recent comments we have gotten:
"The sole purpose of this email to you is to let you know how much we have been blessed by your amazing ministry/website. 'We' is my wife and I, in our early forties, 3 kids, professing, churchgoing, bible believing Christians in The Netherlands. Since two months, I listen to your bible studies on Sunday evening, and since this week also to your prophecy podcast. I listen to them in the archives, because of the 6 hour time difference. The shofar and the blessing at 0:30 into the study never fails to make tears in my eyes. We are praying for you, we are praying for your voice, that it lasts in these incredible busy times for you. Listening to your podcasts, you seem to do it effortlessly, talking, scanning the chatbox for questions, diving into the texts, from Genesis to Revelation and everything in between, I love it when you realize after 1:30h into the study, actually a lot more subjects need to be addressed! Thank you for all your work and effort, you are doing an amazing job. Although it all seems effortlessly, I know it is not…Our faith is strengthened by your work and we are able to testify in a better way to the people around us!" Wouter D. van der Wiel
"Wanted to send you encouragement and thank you for all you are doing!! I've been reading from this website for about 5 years and I've been on this at least 10 times a day. It's the most honest prophecy website in history. And you have ministered to me greatly. This lockdown has been amazing as God gets us unto himself and smooths out the paths for us. I was reading devotional from Kenneth Copeland and during that time you had really hit That ministries hard. I was not Word Faith but I was feeding off his teaching. During this time I have removed Kenneth Copeland I wanted to thank you for your exposure of his ministry. Holy Spirit is truly the leader of all truths. The bible study on Bill Gates was tremendous. And I had the same check in my spirit as you did. He's the guy that gonna lead this one world revolution Amazing times we live in. I'm super excited and living in total victory and peace. Once again thank you for the time you put in your reward in heaven will truly be great. Looking forward to this coming week. My prayer tonight is this …Father send Your Son!! DG
"

Thank you oh so much for sound teaching. I am so thankful and blessed for clicking on your channel. I have been on your Facebook page since 2011 and never subscribed to you-tube channel until today. I loved the live recording of singing, what a delight to hear the joy of the Lord in the voices of the congregation. So wonderful to hear the part about Luke

12:36, that has made my eyebrows furrow when I read and therefore I have always steadfast to not leaning on my own understanding. May God continue to bless you, your family friends and loved ones. All Glory be to Jesus, my Saviour Redeemer and King, Amen." Susan Anderson
"

Loved this teaching! Presented in a clear contextual manner that was easy to follow along. You connected the dots for me that had previously brought so much confusion, namely the 4th seal covenant, the 5th seal tribulation saints, and the 6th seal 2nd Coming of Christ AFTER the wedding of the Body/Bride of Christ IN HEAVEN.

Wow, after 41 years since my being born again by the Holy Spirit in to the Body of Christ, I finally have the answers to end the confusion. What joy and peace has flooded my heart! Thank you for this encouraging teaching of the Word." SB
"I am from Sri Lanka and listen to the radio Bible study every week." Nihal Perera
Nothing thrills my soul like teaching the word of God, it is what the Lord called me to do 29 years ago, and Now The End Begins is the vehicle in which I am able to do it. How exciting it is to be able to teach the Bible to tens of thousands of people per year. Like I told you with the first post of 2020, I have dedicated myself now full-time to NTEB, and it is only through your generous support that such a thing is possible.
HOW TO DONATE: Click here to view our GoFundMe page
Listen to what our donation angels have to say about the ministry of Now The End Begins
"Hey NTEB, just wanted to say thank you for the radio show, I am loving it every single one of them. Right now I'm studying the rightly dividing the kingdom of heaven and the kingdom of God. God saved me from a horrible pit and the Holy Spirit lead me to Pastor Charles Lawson many years ago, and now at NTEB. Can't be more blessed than that.Thank you, Thank you, Thank you……….Jesus. Till He comes…Blessings and Prayers on you." Alda Kajana
I just want to thank you for the teachings you give every Sunday night on radio. You are such a blessing to me. I absolutely love your way of teaching the scriptures. I don't have a church where I can have fellowship and teaching, so you have been my teacher for many months now. Thanks God you are there for all of us who have no church to go to. I pray that the Lord will bless you abundantly in your ministry, and your loved ones too. You are such a blessing to me, and many others, in these last days before the rapture. Thank you so much Geoffrey, from the bottom of my heart. May the Lord keep you, until He comes back for us. You are in my prayers." Donald Godin
"Thank you for the work you are doing brother. Your page and your testimony were a blessing to me this morning as I came across it for the first time. Thank you for the reality of your testimony and what God has done for you in introducing you to Jesus our Lord. God has brought me, in salvation, to Himself as well, through His love and mercy and grace in salvation. How can we praise Him enough? How can we not share this good news!? I pray this day for God's blessing on your ministry that He may save many souls through the work He has called you to. Isaiah 40:31 (KJV)" Mark and Melissa
"Love the Sunday night bible study. I want to support someone who has the passion for the lost like Geoffrey does and rightly divides the word of God. God bless you." Teresa Carey
"I give because not many news outlets are brave enough or Godly enough to tell these stories from a Christian's point of view. I see stories here that will not be seen anywhere else." William Grayshaw
"It's hard to find solid biblical teaching in America these days. It's a blessing to be able to take part in a ministry financially without being concerned about false teaching. All glory to God! God bless!" Maximilian Swan
"I donate because you are reporting the truth about the increasing wickedness of our time, as God's word foretold. In so doing we are reminded to "Keep looking up" as we wait in joyful hope for the Lord's coming, Maranatha! " Anthony Sloane
"Geoffrey has the best End Times News out there. I have been receiving his emails for years now and always enjoy his Sunday night messages although I don't always think exactly as he thinks. We are all in this "boat of life" together and as I come to the end of my life's journey here, I am more aware of Jesus's call for us to be one as He and the Father are One." Deborah Cleaveland
"I believe in Christ Jesus, my LORD and Savior. I see Mt 24 " The Days of NOAH ". Happening before our eyes. I think from all the signs, turmoil, godlessness, the Rapture Is at hand.1 Thes 4:16–18. WARN SOMEONE TODAY." Dwight Shotwell
" I like the way you are promoting the scriptures of the Kingdom Message Baptism of Jesus Christ, as those of Paul in Acts 20: 27-31 Preachers don't D this !! they make up their own IDEAS and then claim the person has Holy Spirit, WHEN THEY HAVE NOT not ever will !!!! …bye now…" Bara Rodgers
HOW TO DONATE: Click here to view our GoFundMe page
STREET-TESTED NTEB GOSPEL TRACTS:
This is the official gospel tract of NTEB, used here on the streets of Saint Augustine and sent around the world as they are purchased through our website. We ask you to prayerfully consider supporting the work of Now The End Begins by purchasing a box of these full-color, high-quality gospel tracts. Thank you in advance!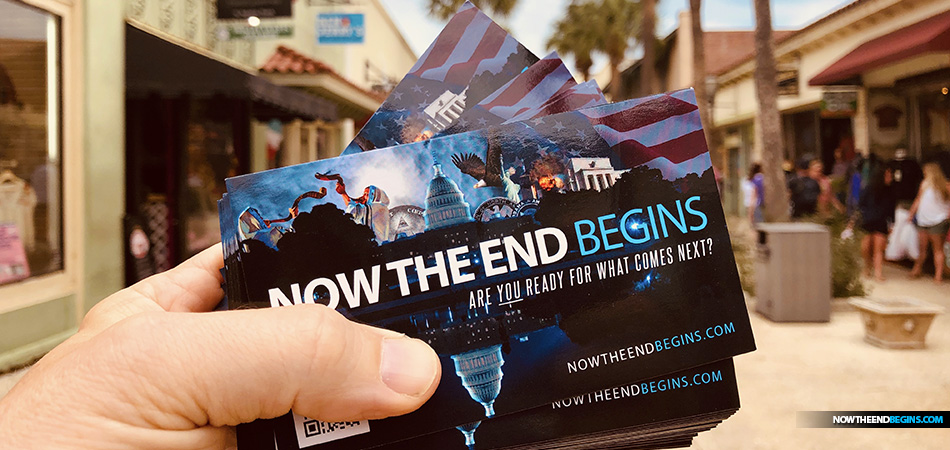 But whatever you do, don't do nothing. Time is short and we need your help right now. If every one of the 12,882 people on our daily mailing list gave $4.50, we would reach our goal immediately. If every one of our 151,781 followers on Facebook gave $1.00 each, we would reach 300% of our goal. The same goes for our 14.000 followers on Twitter. But sadly, many will not give, so we need the ones who can and who will give to be generous. As generous as possible.
"Thank you very much!" – Geoffrey, editor-in-chief, NTEB
"Looking for that blessed hope, and the glorious appearing of the great God and our Saviour Jesus Christ;" Titus 2:13 (KJV)
HOW TO DONATE: Click here to view our GoFundMe page
---
The post NTEB PROPHECY NEWS PODCAST: From A Bible Prophecy Perspective, This Third Week Of September May Be The Most Action-Packed Week Of All Of 2020 appeared first on Now The End Begins.
Source:
https://www.nowtheendbegins.com/nteb-prophecy-news-podcast-players-gather-washington-dc-sign-abraham-accord-feast-of-trumpets-israel-lockdown/
Before It's News®
is a community of individuals who report on what's going on around them, from all around the world.
Anyone can
join
.
Anyone can contribute.
Anyone can become informed about their world.
"United We Stand" Click Here To Create Your Personal Citizen Journalist Account Today, Be Sure To Invite Your Friends.