Washington DC Exists Right Now In A State Of War With Armed Troops Patrolling The Streets As President Trump Declares State Of Emergency
Monday, January 11, 2021 23:33
% of readers think this story is Fact. Add your two cents.

Today, President Donald J. Trump declared that an emergency exists in the District of Columbia and ordered Federal assistance to supplement the District's response efforts due to the emergency conditions resulting from the 59th Presidential Inauguration from January 11 to January 24, 2021.
It is absolutely breathtaking watching all the news stories coming across the wire, each new headline trumpeting the latest disaster in a nation that is literally coming apart at the seams. The fear coming out of Washington DC tonight is so palpable, if I open my north-facing windows I can smell it all the way from down here in the free state of Florida.
"Son of man, speak to the children of thy people, and say unto them, When I bring the sword upon a land, if the people of the land take a man of their coasts, and set him for their watchman: If when he seeth the sword come upon the land, he blow the trumpet, and warn the people; Then whosoever heareth the sound of the trumpet, and taketh not warning; if the sword come, and take him away, his blood shall be upon his own head." Ezekiel 33:2-4 (KJB)
The Democrats, so consumed with their lust for power in light of their sweeping, across the board political victories are way overplaying their hand and now look like they are about to snatch defeat from the jaws of victory. Twitter, having banished President Trump is now experiencing a massive stock drop, as millions rise up against them to protest their squelching of free speech. The pushback against the fascist social media overlords is actually having an effect, so keep up the pressure, they can be defeated.
Pelosi and her brown shirts demanding either Trump get the 25th Amendment or be impeached is causing a rift even within the Democrat party. The FBI is now warning of a 'huge uprising' of American citizens who are rightly rejecting what they see happening right now. It look just like either a pathetic, Third World banana republic, or the greatest nation on earth being squeezed to death by the judgment of Almighty God. You pick.
"The tree of liberty must be refreshed from time to time with the blood of patriots and tyrants. It is it's natural manure." Thomas Jefferson, Monticello 1787
The very air we are breathing right now is crackling with electricity, something really big is coming and everyone from the farmers in the wheat fields of Kansas, all the way up to the hedge fund titans in their steel and glass towers in every major city knows something is about to break loose. Something tells me that Trump has not played his final card yet, stay tuned.
President Donald J. Trump Approves District of Columbia Emergency Declaration
FROM THE WHITE HOUSE: The President's action authorizes the Department of Homeland Security, Federal Emergency Management Agency (FEMA), to coordinate all disaster relief efforts which have the purpose of alleviating the hardship and suffering caused by the emergency on the local population, and to provide appropriate assistance for required emergency measures, authorized under Title V of the Stafford Act, to save lives and to protect property and public health and safety, and to lessen or avert the threat of a catastrophe in the District of Columbia.
The US House of Representatives is expected on Tuesday to take up a measure calling on Vice President Mike Pence and members of Trump's Cabinet to invoke a process under the 25th Amendment, which allows for the removal of a president deemed unfit to fulfill their duties. Democratic House Speaker Nancy Pelosi said on Monday that the president poses an "imminent threat" to the nation and "must be removed from office immediately".
Specifically, FEMA is authorized to identify, mobilize, and provide at its discretion, equipment and resources necessary to alleviate the impacts of the emergency. Emergency protective measures, limited to direct Federal assistance, will be provided at 100 percent Federal funding.
Pete Gaynor, Administrator, Federal Emergency WHITE HOUSE.GOV
Now The End Begins is your front line defense against the rising tide of darkness in the last Days before the Rapture of the Church
HOW TO DONATE: Mail your donation to

NOW THE END BEGINS PO Box 3378 Saint Augustine, FL 32085
When you contribute to this fundraising effort, you are helping us to do what the Lord called us to do. The money you send in goes primarily to the overall daily operations of this site. When people ask for Bibles, we send them out at no charge. When people write in and say how much they would like gospel tracts but cannot afford them, we send them a box at no cost to them for either the tracts or the shipping, no matter where they are in the world. Even all the way to South Africa. We even restarted our weekly radio Bible study on Sunday nights again, thanks to your generous donations. All this is possible because YOU pray for us, YOU support us, and YOU give so we can continue growing.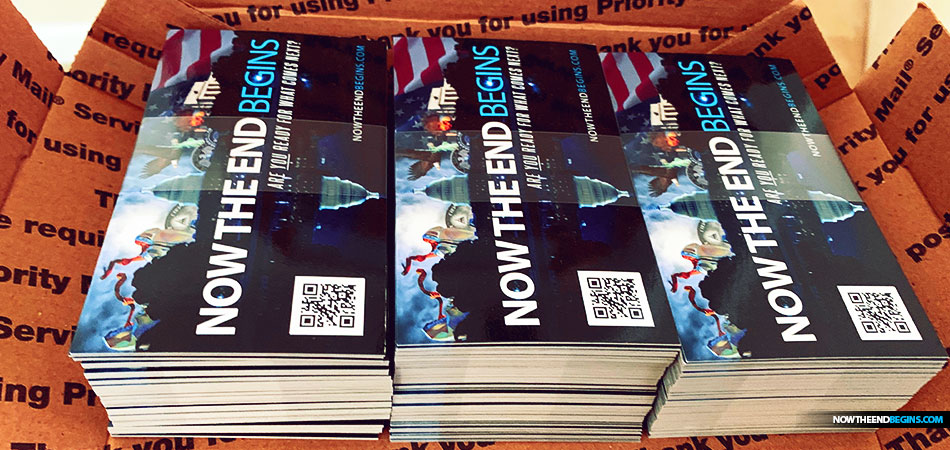 But whatever you do, don't do nothing. Time is short and we need your help right now. If every one of the 15,860+ people on our daily mailing list gave $4.50, we would reach our goal immediately. If every one of our 150,000+ followers on Facebook gave $1.00 each, we would reach 300% of our goal. The same goes for our 15,900 followers on Twitter. But sadly, many will not give, so we need the ones who can and who will give to be generous. As generous as possible.
"Looking for that blessed hope, and the glorious appearing of the great God and our Saviour Jesus Christ;" Titus 2:13 (KJV)
"Thank you very much!" – Geoffrey, editor-in-chief, NTEB
HOW TO DONATE: Mail your donation to

NOW THE END BEGINS PO Box 3378 Saint Augustine, FL 32085
---
The post Washington DC Exists Right Now In A State Of War With Armed Troops Patrolling The Streets As President Trump Declares State Of Emergency appeared first on Now The End Begins.
Source:
https://www.nowtheendbegins.com/washington-dc-existing-right-now-at-war-as-armed-troops-patrol-streets-politicians-plot-scheme-for-control/
Before It's News®
is a community of individuals who report on what's going on around them, from all around the world.
Anyone can
join
.
Anyone can contribute.
Anyone can become informed about their world.
"United We Stand" Click Here To Create Your Personal Citizen Journalist Account Today, Be Sure To Invite Your Friends.