2+2=5: Oregon Department Of 'Education' Promoting Course Claiming Math Is 'Racist' And 'White Supremacist' Because It Requires A Correct Answer
Wednesday, April 7, 2021 9:17
% of readers think this story is Fact. Add your two cents.

The Oregon Department of Education is promoting an online course that claims math is racist because it requires a correct answer.
The person who said that 'liberalism is a mental disorder' might as well have been talking about math class at the Oregon Department of Education who says that 'math is racist' because it requires a correct answer. And of course, that is really 'white supremacism' disguised as math, because slavery. There is seemingly no limit to the lunacy coming from the Left in 2021, but I don't blame them, I blame us. Why? Because we allow it.
"A wonderful and horrible thing is committed in the land; The prophets prophesy falsely, and the priests bear rule by their means; and my people love to have it so: and what will ye do in the end thereof?" Jeremiah 5:30,31 (KJB)
The Liberals tell us that there are not two genders, but 72 genders, no wait, make that 100 genders, and our response to that anti-scientific nonsense? Mostly silence. The Liberals tell us that a man can magically become a woman, and our response to that lunacy? Mostly silence. The Liberals tell us a virus with a 99%+ recovery rate requires us to inject ourselves with unproven and dangerous vaccines that are causing thousands of deaths and hundreds of thousands of adverse reactions, and our response? Mostly silence. See where all that is taking us? If you're not sure, let me spell it out for you.
"For, after all, how do we know that two and two make four? Or that the force of gravity works? Or that the past is unchangeable? If both the past and the external world exist only in the mind, and if the mind itself is controllable – what then?" ― George Orwell, 1984
Since we didn't really push back on the lie that men can become women, they are now passing laws that will make it a crime to not agree that a man could become a woman. Fines and jail time await the violator. Since we didn't really push back on the lie of dozens of genders, 'misgendering' someone in your speech is about to become a crime as well. Since we're not really pushing back on the poison vaccines, companies around the world are now forcing their employees to get jabbed, forcing customers to get jabbed to fly, and forcing vaccine passports to go out in public.
"You are a slow learner, Winston."
"How can I help it? How can I help but see what is in front of my eyes? Two and two are four."
"Sometimes, Winston. Sometimes they are five. Sometimes they are three. Sometimes they are all of them at once. You must try harder. It is not easy to become sane." ― George Orwell, 1984
All of this brings us to 'moron math' in Oregon, and the stunning idea that math was created by white supremacists because it requires the student to provide the right answer. This is the world we live in because this is the world we allow. Disinformation is the new information, up is down, black is good and white is bad. This is what life looks like in a world that rejects the God that created it. Your King James Bible told you 2,000 years ago this was coming, it's here. George Orwell told you in '1984' it was coming, it came 37 years later, but here it is.
Oregon Department of Education Pushes Course Claiming Math is Racist Because It Requires a Correct Answer
FROM THE GATEWAY PUNDIT: The class, called "A Pathway to Equitable Math Instruction," describes itself as "an integrated approach to mathematics that centers Black, Latinx, and Multilingual students" that provides "opportunities for ongoing self-reflection as they seek to develop an anti-racist math practice."
"White supremacy culture infiltrates math classrooms in everyday teacher actions," the guide states. "Coupled with the beliefs that underlie these actions, they perpetuate educational harm on Black, Latinx, and multilingual students, denying them full access to the world of mathematics."
First reported by Campus Reform, the"white supremacy culture" cited by the document include a focus on "getting the 'right' answer" and requiring students to show their work.
Campus Reform notes that the authors of the program state that "The concept of mathematics being purely objective is unequivocally false, and teaching it is even much less so. Upholding the idea that there are always right and wrong answers perpetuate objectivity as well as fear of open conflict."
The program also instructs teachers to "Choose problems that have complex, competing, or multiple answers" so that students can come up with "at least two answers" in order to "challenge standardized test questions…"
"Often the emphasis is placed on learning math in the 'real world,'" the program guide says, "as if our classrooms are not a part of the real world. This reinforces notions of either/or thinking because math is only seen as useful when it is in a particular context. However, this can result in using mathematics to uphold capitalist and imperialist ways of being and understandings of the world." READ MORE
Now The End Begins is your front line defense against the rising tide of darkness in the last Days before the Rapture of the Church
When you contribute to this fundraising effort, you are helping us to do what the Lord called us to do. The money you send in goes primarily to the overall daily operations of this site. When people ask for Bibles, we send them out at no charge. When people write in and say how much they would like gospel tracts but cannot afford them, we send them a box at no cost to them for either the tracts or the shipping, no matter where they are in the world. Even all the way to South Africa. We even restarted our weekly radio Bible study on Sunday nights again, thanks to your generous donations. All this is possible because YOU pray for us, YOU support us, and YOU give so we can continue growing.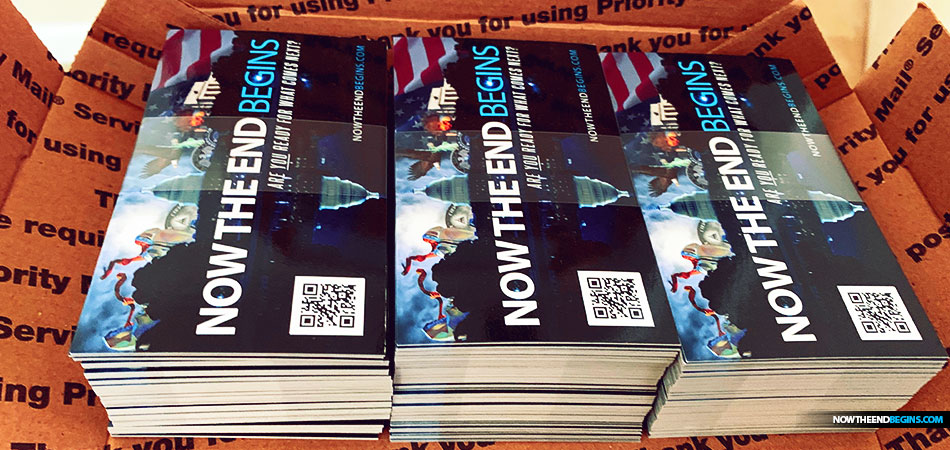 But whatever you do, don't do nothing. Time is short and we need your help right now. If every one of the 15,860+ people on our daily mailing list gave $4.50, we would reach our goal immediately. If every one of our 150,000+ followers on Facebook gave $1.00 each, we would reach 300% of our goal. The same goes for our 15,900 followers on Twitter. But sadly, many will not give, so we need the ones who can and who will give to be generous. As generous as possible.
"Looking for that blessed hope, and the glorious appearing of the great God and our Saviour Jesus Christ;" Titus 2:13 (KJV)
"Thank you very much!" – Geoffrey, editor-in-chief, NTEB
The post 2+2=5: Oregon Department Of 'Education' Promoting Course Claiming Math Is 'Racist' And 'White Supremacist' Because It Requires A Correct Answer appeared first on Now The End Begins.
Source:
https://www.nowtheendbegins.com/oregon-department-of-education-pathway-equitable-math-instruction-racist-white-supremacist-liberals-far-left/
Before It's News®
is a community of individuals who report on what's going on around them, from all around the world.
Anyone can
join
.
Anyone can contribute.
Anyone can become informed about their world.
"United We Stand" Click Here To Create Your Personal Citizen Journalist Account Today, Be Sure To Invite Your Friends.