The Media Made Me Laugh Today As I Watched Them Pathetically Attempt To Convince You That 'The Great Reset' Is Not The New World Order Takeover
Thursday, January 20, 2022 11:49
% of readers think this story is Fact. Add your two cents.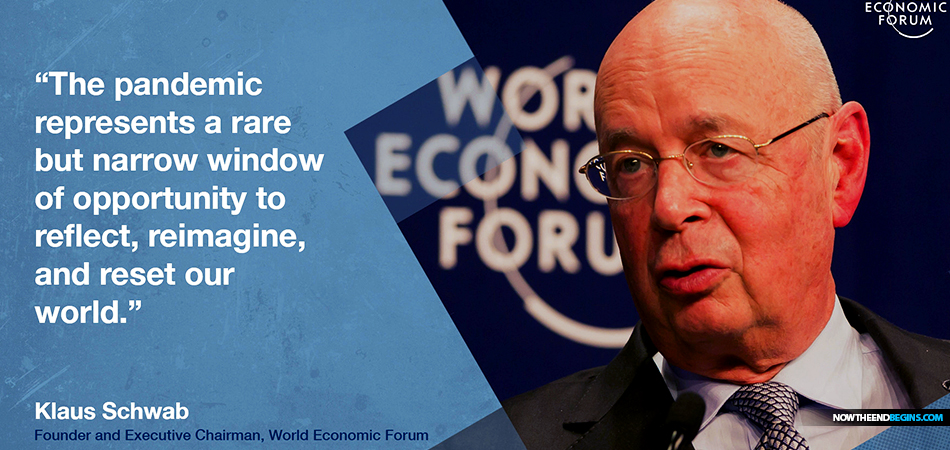 'The Great Reset' conspiracy theories don't seem to want to die. The theories were triggered by the World Economic Forum's (WEF) summit last year, which had the theme 'The Great Reset' and argued that the COVID crisis was an opportunity to address the burning issues facing the world.
Millions of people around the world who are interested in end times events come to Now The End Begins to get the truth about the world around them, and now in our 13th year, we seek the leading of the Holy Spirit to enable us to do just that. So let me tell you in no uncertain terms, everything the global media is putting out this week regarding something called 'The Great Reset' is a complete and total lie. The Great Reset is absolutely a conspiracy, one hatched simultaneously at the highest levels of human governments, and in the lowest bowels of Hell.
"Behold ye among the heathen, and regard, and wonder marvellously: for I will work a work in your days, which ye will not believe, though it be told you." Habakkuk 1:5 (KJB)
Sounding like an extra from an old black-and-white Hollywood B-movie about the Nazis, head of the World Economic Forum has been telling anyone who'll listen that the pandemic must be used to bring about massive global change in order to rewire the entire paradigm of human existence. Klaus Schwab is laboring in the same fields as George Soros, David Rockefeller, the Bilderbergers, the Illuminati, and even the Freemasons, all of whom are intent on welcoming the coming leader of the coming and short-lived 7-year kingdom of Antichrist.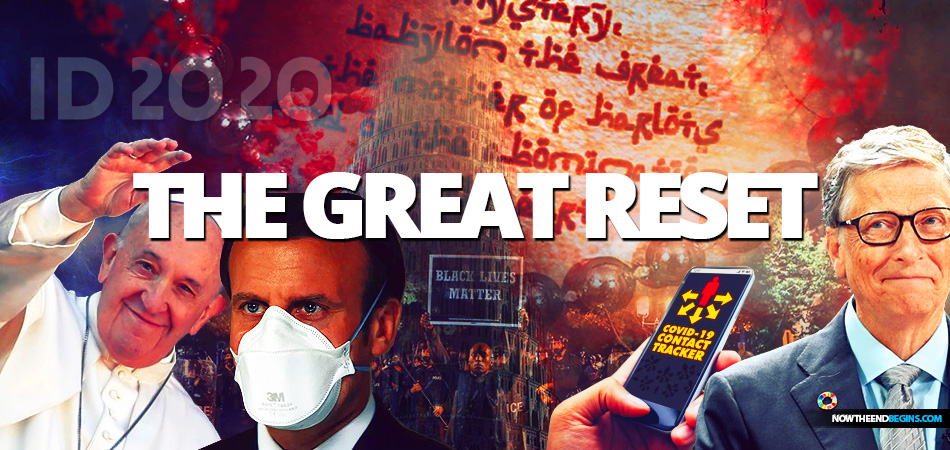 Conspiracy theories aside, there is something fishy about the Great Reset
FROM OPEN DEMOCRACY: According to the BBC, the term 'Great Reset' has received more than eight million interactions on Facebook and has been shared almost two million times on Twitter since the WEF initiative was launched.
The set of conspiracy theories around the Great Reset are nebulous and hard to pin down, but piecing them together gives us something like this: the Great Reset is the global elite's plan to instate a communist world order by abolishing private property while using COVID-19 to solve overpopulation and enslaving what remains of humanity with vaccines. Intrigued by the palaver around last year's summit, I decided to find out what the WEF's Great Reset plan was really about. At the heart of conspiracy theories are supposed secret agendas and malicious intent. While these may be absent from the WEF's Great Reset initiative, what I found was something almost as sinister hiding in plain sight. In fact, more sinister because it's real and it's happening now. And it involves things as fundamental as our food, our data and our vaccines.
This Kinda Smells Like Damage Control… https://t.co/YTCXs5ENrr

— Covid-1984 (@Orwells_Ghost_) January 20, 2022
The magic words are 'stakeholder capitalism', a concept that WEF chairman Klaus Schwab has been hammering for decades and which occupies pride of place in the WEF's Great Reset plan from June 2020. The idea is that global capitalism should be transformed so that corporations no longer focus solely on serving shareholders but become custodians of society by creating value for customers, suppliers, employees, communities and other 'stakeholders'. The way the WEF sees stakeholder capitalism being carried out is through a range of 'multi-stakeholder partnerships' bringing together the private sector, governments and civil society across all areas of global governance.
The idea of stakeholder capitalism and multi-stakeholder partnerships might sound warm and fuzzy, until we dig deeper and realise that this actually means giving corporations more power over society, and democratic institutions less.
The plan from which the Great Reset originated was called the Global Redesign Initiative. Drafted by the WEF after the 2008 economic crisis, the initiative contains a 600-page report on transforming global governance. In the WEF's vision, "the government voice would be one among many, without always being the final arbiter." Governments would be just one stakeholder in a multi-stakeholder model of global governance. Harris Gleckman, senior fellow at the University of Massachusetts, describes the report as "the most comprehensive proposal for re-designing global governance since the formulation of the United Nations during World War II."
Who are these other, non-governmental stakeholders? The WEF, best known for its annual meeting of high-net-worth individuals in Davos, Switzerland, describes itself as an international organization for public-private cooperation. WEF partners include some of the biggest companies in oil (Saudi Aramco, Shell, Chevron, BP), food (Unilever, The Coca-Cola Company, Nestlé), technology (Facebook, Google, Amazon, Microsoft, Apple) and pharmaceuticals (AstraZeneca, Pfizer, Moderna).
Instead of corporations serving many stakeholders, in the multi-stakeholder model of global governance, corporations are promoted to being official stakeholders in global decision-making, while governments are relegated to being one of many stakeholders. In practice, corporations become the main stakeholders, while governments take a backseat role, and civil society is mainly window dressing.
So even if the WEF (or Bill Gates) is not responsible for the COVID pandemic, even if the vaccines are not laced with microchips to control our thoughts, something fishy really is going on in the realm of global governance. If you value your right to public health, to privacy, to access healthy food or to democratic representation, be wary of the words 'stakeholder capitalism' when they pop up at the next Davos summit. READ MORE
Now The End Begins is your front line defense against the rising tide of darkness in the last Days before the Rapture of the Church
When you contribute to this fundraising effort, you are helping us to do what the Lord called us to do. The money you send in goes primarily to the overall daily operations of this site. When people ask for Bibles, we send them out at no charge. When people write in and say how much they would like gospel tracts but cannot afford them, we send them a box at no cost to them for either the tracts or the shipping, no matter where they are in the world. Even all the way to South Africa. We even restarted our weekly radio Bible study on Sunday nights again, thanks to your generous donations. All this is possible because YOU pray for us, YOU support us, and YOU give so we can continue growing.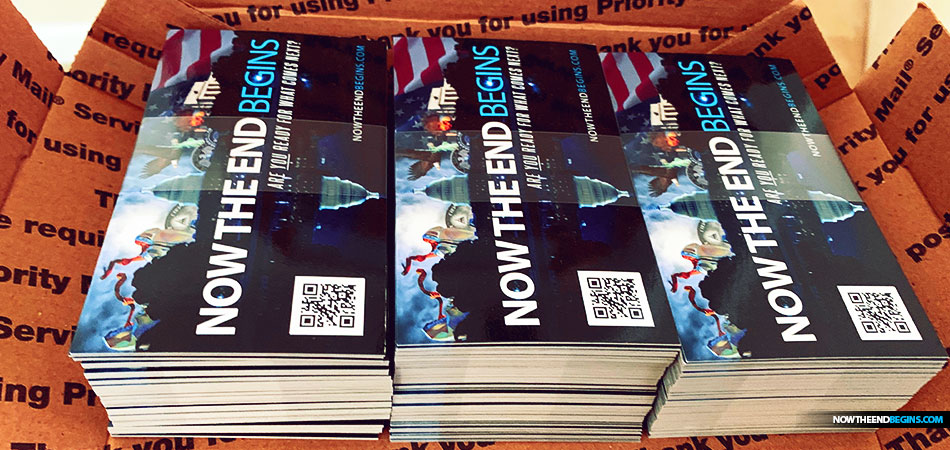 But whatever you do, don't do nothing. Time is short and we need your help right now. If every one of the 15,860+ people on our daily mailing list gave $4.50, we would reach our goal immediately. If every one of our 150,000+ followers on Facebook gave $1.00 each, we would reach 300% of our goal. The same goes for our 16,400 followers on Twitter. But sadly, many will not give, so we need the ones who can and who will give to be generous. As generous as possible.
"Looking for that blessed hope, and the glorious appearing of the great God and our Saviour Jesus Christ;" Titus 2:13 (KJV)
"Thank you very much!" – Geoffrey, editor-in-chief, NTEB
The post The Media Made Me Laugh Today As I Watched Them Pathetically Attempt To Convince You That 'The Great Reset' Is Not The New World Order Takeover appeared first on Now The End Begins.
Source:
https://www.nowtheendbegins.com/great-reset-is-absolutely-new-world-order-coming-kingdom-of-antichrist-davos/
Before It's News®
is a community of individuals who report on what's going on around them, from all around the world.
Anyone can
join
.
Anyone can contribute.
Anyone can become informed about their world.
"United We Stand" Click Here To Create Your Personal Citizen Journalist Account Today, Be Sure To Invite Your Friends.