US Eyeing Central Asia - Can it Really Engage There?
Saturday, May 13, 2023 16:10
% of readers think this story is Fact. Add your two cents.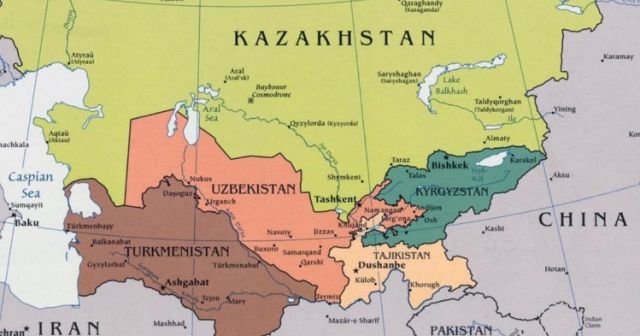 US Eyeing Central Asia – Can it Really Engage There?
Friday, May 12, 2023
Uriel Araujo, researcher with a focus on international and ethnic conflicts
---
Last week, US Secretary of State Antony Blinken said US-hosted talks between Azerbaijani and Armenian foreign ministers have gotten closer to an agreement regarding the ongoing Nagorno-Karabakh conflict. According to James M. Dorsey, a S. Rajaratnam School of International Studies senior fellow, this, among other things, goes to show how Washington is increasingly paying attention to Central Asia and even considering an increased security role in that region.
Since 2020, nearly 2000 Russian peacekeepers have been deployed to the Armenian-Azerbaijani border area to enforce a ceasefire agreement and ensure safe transit. However, the turmoil in the Lachin corridor since December has opened a window of opportunity for Washington to increase its influence there by offering mediation – with implications beyond the South Caucasus across Central Asia.
Dorsey questions, however, whether the US, "already rejiggering its commitment to security in the Middle East, has the will and wherewithal to engage" there. The expert, however, argues, from an American perspective, that while the United States has focused on the Indo-Pacific Region and showed less interest in the Middle East, "there is no cohesive Indo-Pacific strategy that fails to include the Arabian Sea, the Western mouth of the Indo-Pacific". The same argument, he reasons, "could be made for Central Asia", a "potential land-based counterpart to the maritime Indo-Pacific in Russia's soft underbelly and China's western flank."
In any case, Blinken has also stated, during his visit to Tashkent (Uzbekistan) that the US "remain committed to standing for the sovereignty, the territorial integrity, the independence not only of Ukraine, but for countries across Central Asia". Aside from the clear hypocrisy, these new developments are quite significant, geopolitically speaking.
English geographer Halford John Mackinder has famously written that whoever controlled the "heartland" of Eurasia, including Central Asia, would "gain control over the world." Be as it may, this strategic region is increasingly returning to the spotlight. India, for instance, has urged the QUAD to engage more there. Any American aspirations in that area, however, must be seen as part of the larger challenge currently faced by Washington.
The United States foreign policy, in its pursuit of the "American Century" and the perpetuation of unipolarity, has often resembled the swing of a pendulum. In the long term, it often oscillates, back and forth, between "countering" Russia or China – and at times it attempts to do both things at once, as seems to be the case with the current US presidency and its ambitious dual containment approach. "Countering" and "encircling" a Great Power to the point of making it perceive such actions as an existential threat is risky enough, and yet Washington is happy to do so with two of them simultaneously, as we have seen with America's strategy for Ukraine, with Taiwan, AUKUS and a number of other dangerous initiatives.
Imbued with a cold war mentality, the American superpower does not understand the emerging non-aligned and multi-aligned approaches – or strategic autonomy, for that matter. It in fact seems to prefer a new bipolarity scenario, as a kind of plan B, rather than welcoming the emergence of any new polycentric world order. In that spirit, it pressures allies and partners to "choose" between either Washington or Beijing, or between Washington or Moscow – and thus boosts tensions and erodes trust. In other words, America's aggressive diplomacy often backfires by increasingly alienating its potential partners, be it in Asia or in the Global South in general or elsewhere – even in Europe.
Considering the long "Ukraine fatigue" process that has been lingering for quite a while and the failure of the anti-Russian sanctions, I wrote on how an overburdened US could invest on Sweden and Finland's NATO membership to then pivot to the Pacific - the latter Nordic country has already accessed to the Atlantic alliance, while the former has been "stubbornly" blocked by Turkey. In this scenario, the American "burden" of "conventional deterrence and warfighting" in Eurasia would be up to a militarized and "NATOized" European bloc – and, this way, a somewhat less overstretched United States could focus on the Pacific. In all likelihood, Washington has at least been entertaining such a notion. In this scenario, Hillary Clinton's concept of the "Pacific Century" could make a comeback.
The problem is that after investing and committing to a complex dual containment approach, one gets entangled in a number of conundrums and the way out of them is not so simple. For one thing, Turkey might as well keep blocking Sweden's accession to NATO over its divergences with Washington in the Middle East, namely the Kurdish issue - in other words, it is quite impossible today to reconcile American goals in the Middle East and Europe, at least as long as Turkish President Recep Tayyip Erdogan remains in power. Another contradiction lies in deindustrialized Europe's dependence on the US for security, a situation largely perpetuated by Washington itself, as I've written.
Therefore, all of the "pivot to the Pacific" scenario above so far seems to be yet another "plan B" – at least for now. The current US administration simply won't let dual containment go. It wants the Eurasian "Heartland" (as Mackinder called it), including Central Asia, and it wants the Pacific too. In other words, the Atlantic superpower seeks to be both a continentalist power and an oceanic-power, as writes Jerry Hendrix, retired Navy captain and former Pentagon adviser.
The pendulum could swing again, but the tension remains. To sum it up, the great American existential dilemma is both about being (or not being) the world's sole superpower and about being (or not being) a seapower. It seems to want it all. American exceptionalism, after all, is deeply ingrained in the political thinking of the US elites. It is difficult to estimate, however, how long it would be feasible to pursue such an audacious goal or mission. Moreover, it remains to be seen how the coming 2024 presidential elections can impact all that – not to mention the upcoming 14 May Turkish elections.
Source: InfoBrics
Before It's News®
is a community of individuals who report on what's going on around them, from all around the world.
Anyone can
join
.
Anyone can contribute.
Anyone can become informed about their world.
"United We Stand" Click Here To Create Your Personal Citizen Journalist Account Today, Be Sure To Invite Your Friends.