How Air Conditioning Could Keep Everyone Cool Without Cooking the Planet
Thursday, September 2, 2021 18:14
% of readers think this story is Fact. Add your two cents.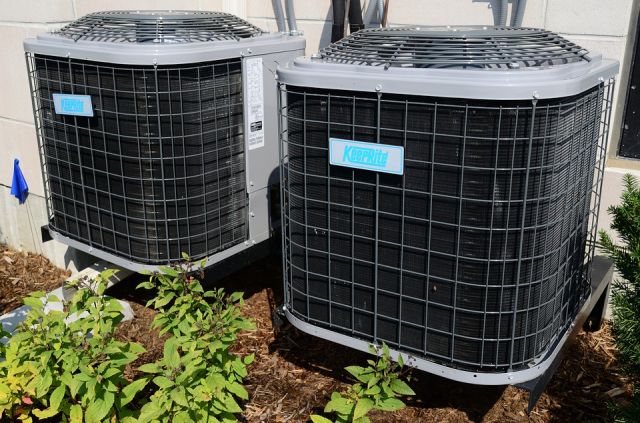 How Air Conditioning Could Keep Everyone Cool Without Cooking the Planet
As the temperature outside soars during the heat of summer, we all turn to the cool relief provided by our air conditioning systems both at home and at businesses. While it wasn't too many years ago that having an air conditioner was a luxury, for most, the ability to keep inside temperatures cool and comfortable is an expectation these days. But as the world's population continues to rise along with average summer temperatures, all appliances are using up more and more electricity every day. Using an even higher percentage of the electrical grid every year, air conditioning units are ironically contributing to problems associated with keeping the planet itself cool. So, what can be done to mitigate the impact air conditioning has on our world? Let's look at a few ways air conditioning can keep everyone cool without cooking the planet.
Make Air Conditioners More Efficient
One of the most obvious and effective ways to help diminish the negative effects of air conditioning on the planet is to improve the design and structure of the units to work more efficiently. While simple in concept, improving on new technologies takes time and innovation, and these changes will only affect new units rather than the millions already in use right now. In the same way that the introduction of LED lighting vastly improved the efficiency of lighting around the globe, small tweaks in technology and materials currently used in HVAC units, both commercial and residential, can improve the efficiency of the units, saving energy while using. Incentives can be offered, as well, to encourage companies like Plano air conditioning repair to implement the more efficient units and homeowners could be incentivized to incorporate newer units, too.
Remove HFC's from Air Conditioners
Dangerous chemicals like hydrofluorocarbons, or HFCs, are currently used in most A/C units. This coolant compound was once considered a viable replacement for now-banned chlorofluorocarbon (called CFC), another clear, odorless gas. Now, however, HFC's have been found to contribute to global warming as well by combining with other natural greenhouse gases to create a super-warming effect on the globe. New coolant substances have been created that eliminates the need to use HFC's in air conditioning units, creating less or no additional greenhouse gas problems when instituted. These replacement chemicals can be used with new air conditioning technology and even added in to upgrade old units or as an after-market add-on, making this change viable on a big scale.
Use Design to Cool Spaces
Since realistically, the number of air conditioning units worldwide will only increase as long as the world's population continues to rise, one effective strategy to continue to use heating and cooling systems without cooking the planet is to create spaces that maximize the benefits of the cooling system. Architects and designers have methods of creating buildings and homes that are not only energy-efficient to hold in cool air for longer periods of time but also ways to make a space naturally stay cooler, needing less cool air to begin with.
For example, commercial buildings and private homes both can be designed utilizing natural elements like trees and greenery to provide more shade, reducing the amount of cool air needed inside the space. Adding in natural elements to a structure is not always possible once a structure is built or even adding to an existing home or commercial building. But, enhancing the volume of a structure's insulation can ensure that cool conditioned air inside will remain cool, reducing the usage and output of A/C units overall. Similarly, building and home design with an eye on window and door placement can create similar cost and energy-saving effects. Windows that are placed under shade structures, like overhangs or louvers, can reduce heat and lower energy used on cooling the space. For windows that are west or east that receive a large amount of sun every day, using external shutters can prevent heated up air from entering the space and reduce the need for excess cooling. While more commonly seen in European countries, this tried-and-true method of shutters is effective and can demonstrably provide a cooler space that necessarily needs less air conditioning and, therefore, less energy to stay comfortable.
Training for Cooling Technicians
New air conditioning technology continues to roll out, but the technicians that work on them may not be up to date or able to service them if not trained correctly. If an HFC-free coolant is available and would work for a unit, having a well-trained tech to implement that change is vital. Making upgrades or changes to current systems is a critical step in providing air conditioning that does not cook the planet but having trained and knowledgeable technicians to complete the process is essential to the successes of these improvements. New cooling technicians must be trained thoroughly in the newer, more efficient systems and changes, and those currently working in the field must be given opportunities to learn as well. Without a properly trained workforce, these advances in cooling technology will not be implemented on a wide scale, and the Earth will continue to cook from the impact of old, inefficient air conditioning systems.
Encourage Passive Cooling Locations
Since air conditioning is needed for comfort and safety during extreme temperatures, implementing more green spaces in areas that suffer from "heat island" effects is a strong strategy to improve the effectiveness of current air conditioning units. Parks, trees, and more grassy areas, also called passive cooling locations, can be encouraged in areas that have less efficient, older buildings that may have older air conditioners that have to work harder to cool down a structure. These green spaces will also not absorb as much heat as concrete or steel-constructed buildings or homes. These passive cooling locations will allow the older, less efficient HVAC units to work less and pull less energy from the grid to cool the space down. If trees can be placed to provide shade, too, then these locations will also benefit from their cooler ambient effect as well. Air conditioning will still be used to cool down buildings and homes, but ones with nearby passive cooling locations will needless to do so and will, in turn, heat up the planet less in the process.
Use Multiple Strategies for Biggest Impact on the World
Everyone wants to preserve our home on this Earth and do what we can to sustain a comfortable life here with the least amount of impact on the planet. Using multiple strategies to decrease humanity's footprint on the Earth includes making improvements in how our air conditioning systems work and what gases they put out into the atmosphere. By decreasing their harmful gases, using less but more efficient systems, and designing the inside and outside of buildings and homes with using less energy as a priority, using necessary air conditioning can not only keep up cool today but will help to keep the planet cooler in the long run.
Before It's News®
is a community of individuals who report on what's going on around them, from all around the world.
Anyone can
join
.
Anyone can contribute.
Anyone can become informed about their world.
"United We Stand" Click Here To Create Your Personal Citizen Journalist Account Today, Be Sure To Invite Your Friends.