How Humic Fulvic Acid Helps Fight Viruses
Monday, July 4, 2022 19:12
% of readers think this story is Fact. Add your two cents.

The benefits of Humic and Fulvic acids are undeniable to anyone who has added this supplement to their daily routine.
We are going to present evidence from scientific studies, that there is a relationship between virus activity within our bodies and Fulvic Acid, when present. The fulvic acid seems to coat and block the replication of a virus. The immune system then becomes much more effective in protecting against the virus.
The facts will demonstrate the immense anti-viral power of Fulvic Acid.—-
Studies Conducted With Fulvic Acid
The following are observations by professionals working in clinical studies and the wording has been drawn directly from them. Consequently, you'll see a lot of "science jargon" which may, or may not, be familiar to you. Hopefully, you'll still get the gist.
Improved Sleep
Over 50% of hospital patients noticed they were able to sleep more relaxed when treated with Fulvic Acid, (a Humic extract). Improved sleep came as an added benefit since the patients were already being given the the Fulvic acid for various chronic diseases.
Immune System Observations
Hospital studies have shown patients with normally incurable epidemic Hemorrhagic Fever seemed to improve when taking Humic/Fulvic extracts, with reports of it impacting bleeding, restoring circulation, removing clots, and seeming to act as an anti-viral, significantly bolstering and regulating the immune system,
Eye Diseases
Extensive hospital eye clinic studies using Humic/Fulvic Acid extracts showed 100% positive success for eye diseases caused by virus, bacteria or fungus, while also having a positive impact on ulcerous wounds, inflammation relief and hemorrhaging, without side effects.
Bone Regeneration
'Remarkable bone regeneration and resorption characteristics were identified when the animal bone implants were impregnated with a low molecular weight Humic substance (Fulvic acid) prior to transplant into patients. The bone implant then became highly osteoconductive and served the host tissue as a "guide-line" for the deposition of newly developing bone tissue. The same transplant procedure without the Fulvic acid showed no signs of regeneration during the course of the experiment.
While on the lookout for a new group of active agents with the ability to promote wound healing, the doctors came across the humic substances. The doctors said the bone resorption is most easily explained by the known ability of humate to induce the activation of leucocytes. They said previous experiments had established the Humic substances are able to bind to calcium containing compounds, stimulate granulocytes and block the infectivity of the HIV virus.'
Multiple Viruses Inhitibited
"Preliminary in-vitro studies with Coxsackie A9 virus, influenza A virus and herpes simplex virus type 1 (HSV-1) have already shown that (Humic Substances) are effective against both naked and enveloped DNA viruses (Klocking and Sprosig, 1972, 1975; Thiel et al., 1977)."
"Further investigations corroborate the ability of (Humic/Fulvic Acid) to inhibit selectively viruses for human immunodeficiency virus type 1 (HIV-1) and type 2 (HIV-2), cytomegalovirus (CMV) and vaccinia virus (Schols et al., 1991; Neyts et al., 1992)."
Viral Fusion Inhibition
"With most viruses, the inhibitory effect of (Humic/Fulvic Acid) is directed specifically against an early stage of virus replication, namely virus attachment to cells (Klocking and Sprosig, 1975; Schols et al., 1991; Neyts et al., 1992)." "…it appears likely that the poly-anionic Humic/Fulvic Acids occupy positively charged domains of the viral envelope glycoprotein's, which are necessary for virus attachment to the cell surface (Neyts et al., 1992)."
Effect on Herpes Virus
"The effect of (Humic/Fulvic Acids) on an early stage of herpes virus replication has been confirmed by the results of animal experiments. The number of lesions in the cornea of HSV-1-infected rabbits was strongly reduced when a solution of the (Humic/Fulvic Acid) was applied into the conjunctival sac of the eye along with or immediately after the infectious agent."
"Current interest is directed to the prophylactic effect (means "disease prevention") of (Humic/Fulvic Acids) on recurrent HSV viral infection." "It is known that topical application of (Humic/Fulvic Acid) may significantly reduce or even completely suppress experimentally induced herpes in the mouse ear (Durre and Schindler, 1992), though the mechanistic basis of this effect remains to be elucidated."
HIV Virus
"A low-molecular weight (Humic/Fulvic Acid) (HS 1500, M.W. = 1500 Daltons), was found to strongly inhibit HIV-1 in vitro (Schneider et al., 1996).
Conclusion
"Taken together, results so far show Humic/Fulvic Substances are promising candidates for prophylactic rather than therapeutic (means "treating existing diseases") use in the treatment of viral diseases."
Scientific studies have demonstrated that if a host cell is penetrated before the introduction of the Humic/Fulvic Acid, the viral reproductive process is not halted. HOWEVER, after the virus reproduces, the host cell releases the new viruses into the bloodstream. At this point, if Humic/Fulvic Acid is present, it can impact the new generation(s) of viruses from attaching to additional host cells.
This is a therapeutic action that the above research has not specifically verified in procedure, hence the above conclusion. Further, the interaction of Humic/Fulvic Acid regarding the aforementioned viral studies would also be presumed to work for most if not all viral diseases (including the novel coronavirus). Other studies are currently on going throughout the world.————————–
Are Humic / Fulvic Acid Safe as an AntiViral?
Many people have asked us if scientists and the government have proven that humates are safe, in addition to being a highly effective antiviral. And is it safe to try Fulvic acid supplements like HerbAnomic's Humic and Fulvic Liquid Trace Mineral Complex during these times of heightened concern about wellness? And the answer to that is absolutely.
Fulvic acid is 100% natural and organic and is derived from plant matter that was naturally composted over millions of years. Often called "the miracle molecule" Fulvic acid contains the micronutrients and minerals the body needs to maintain health – and nothing else.
Not a single medical study has ever shown any risk, side-effects or complications from taking Fulvic acid as a supplement. Even further, Fulvic acid has no known adverse reactions when taken with other supplements.
Order Your Humic Fulvic For Your Family by Clicking on this Link , or the Banner Below.
Fulvic Acid – Natural AntiViral Supplements
In light of the scientifically proven antiviral properties and health benefits of Humic / Fulvic acid, there is no reason not to take HerbAnomic's Fulvic supplements as part of your health regimen.
Since there are no risks – and many documented health benefits – many people are considering Fulvic acid as an essential part of their routine for living a healthy life during these challenging times. As your doctor if Nature's Fulvic supplements are right for you!
HerbAnomic's Humic and Fulvic Liquid Trace Mineral Complex
is a revolutionary New Humic and Fulvic Acid Complex designed to support your body at the cellular level. Our product has been thoroughly tested by an ISO/IEC Certified Lab for toxins and Heavy metals as well as for trace mineral content. We KNOW we have NO lead, arsenic, mercury, aluminum etc. in our Formula. This Humic & Fulvic Liquid Trace Mineral complex has high trace levels of naturally occurring Humic and Fulvic Acids as well as high trace levels of Zinc, Iron, Magnesium, Molybdenum, Potassium and more. There is a wide range of up to 70 trace minerals which occur naturally in our Complex at varying levels. We Choose to list the 8 substances which occur in higher trace levels on our supplement panel. We don't claim a high number of minerals as other Humic and Fulvic Supplements do and leave you to guess which elements you'll be getting.
Our Formula is an exceptional value compared to other Humic Fulvic Minerals because:
It's OXYGENATED
Our Extraction Process protects fragile and ancient oxygen bonds which can be broken by over bombardment of the Humic and Fulvic Molecule Matrixes. Secondarily, we use Oxygenated water in our Extraction process which adds further O2 bonds to the Humic and Fulvic Molecules. This enhances Oxygen delivery at the cellular level!
It always tests at 9.5+ pH
Alkaline substances combat Body Acidity brought on by high sugar and carbohydrate consumption. When your body fluids contain too much acid, it's known as acidosis. Never processed using Heat, Humic and Fulvic acids are delicate and are damaged when subjected to high heat.
Preservative and Chemical free
HerbAnomic desires to avoid all unnecessary additions of Preservatives and Chemical additives. Our Complex does have beneficial Phyto-Chemicals, but never synthetic chemicals added for shelf stability.
Allergen Free
We don't add Unnecessary bulk and flavoring to our product so we are able to keep our product clear of Allergenic compounds like Gluten, Dairy, Nuts, Shellfish, Legumes, Nightshades, Soy, Corn and all other potential allergenic products.
Comes from a Pure, unpolluted, organic source
Free from GMOs and Man-Made Toxins-All our food supply, water and air is effected by pollution, has traces of rocket fuel, residues from petrochemicals and deposits of harmful Pesticides and Forever-Chemicals. Our source material is protected, harvested from within the earth, never coming into contact with these damaging toxins.
Is an excellent source for Trace Minerals
Our food supply is devoid of mineral input and toxic herbicides, pesticides and chemicals prevent proper use of minerals by the plants. Our bodies cannot extract enough Bio-Available plant minerals from our modern era crops. This is why we need a true trace mineral complex which is BIO AVAIABLE to access these trace elements. Beyond just minerals, our product provides a Full Spectrum Humic/Fulvic Blend Complete with Amino Acids, Poly-Electrolytes, Phytochemicals, Polyphenols, Bio-Flavinoids & Trace Vitamins.
Is from Whole, Prehisoric Plant Based origin material with Ionic Minerals and Constituents:
Herbanomic's complex has been carefully sourced from whole plant based material, its mineral content is ionically suspended in our liquid formulation. Our Humic Fulvic Complex is extracted directly from this natural Origin material: It Contains fully Bio-Available Minerals and other due to the large amount of electrons they possess. This causes them to bond with positively charged substances such as trace elements, oxygen particles and minerals salts. Humic and Fulvic Acids are incredibly small, so small that when they do bond, these micron sized, once elemental particles are so tiny that they are able to pass through the cellular wall and into the nucleus of the cell thus becoming Organic and BioAvailable. Synthetic vitamins and Elemental minerals that you find added to fortified foods, in chelated form in supplements and from your iron frying pan are too large to be used within the cell.
Highly Conductive/Full of Extra Electrons
This is exactly what cells need for optimum functionality. Our Bodies are Bombarded with EMFs, Radiation, Radio Frequencies and many types of currents every day. Often, Cells can be confused in the high frequency exposure and perform poorly. Enter Humic and Fulvic with their high levels of electrons and High charge. Additional Electrons enable Humic acids to bond to Positively charged damaging viruses and fungi, Heavy metals and toxins removing them from the digestive system through the gut. Fulvic acids are able to charge cells with their extra electrons, enabling them to return to normal function.
Is a Full Spectrum Complex
Our Humic and Fulvic Liquid Trace Mineral Complex has Minerals, Amino Acids, Poly Electrolytes, Phytochemicals, Polyphenols, Bio-Flavinoids and Trace Vitamins included with the Humic and Fulvic Acid. Our Source material is high in these constituents, wheras, other manufacturers use inferior materials.
Order Your Humic Fulvic For Your Family by Clicking on this Link , or the Banner Below.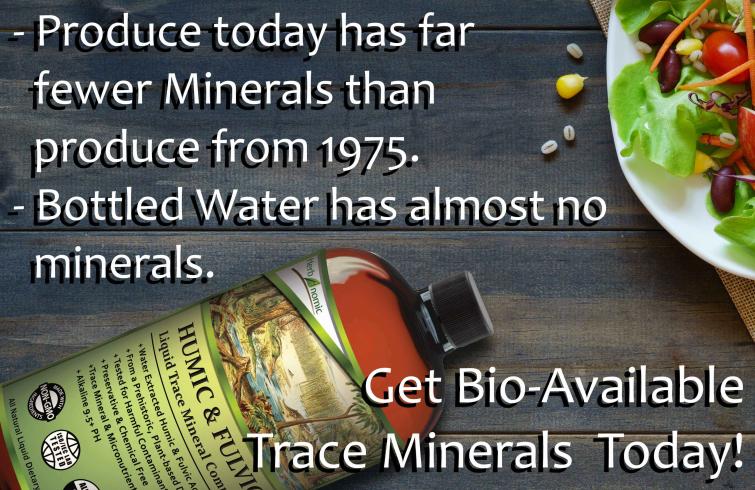 Take advantage of this Bundle offer for a savings of $13.00, Due to shipping costs, this is a limited time offer, take advantage of this Bundle now.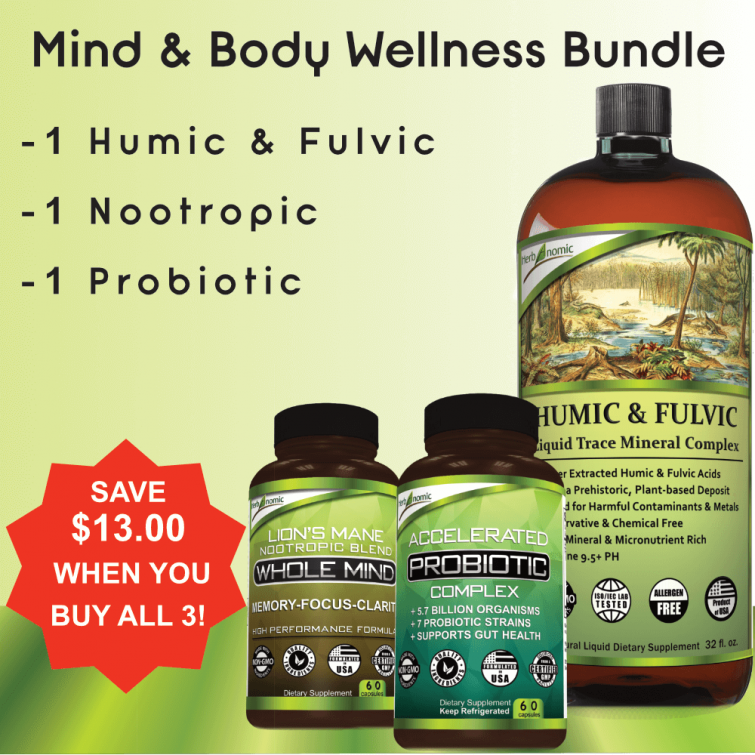 Humic and Fulvic Acid have been used for thousands of years as a natural antibiotic and wound dressing.
Our Humic & Fulvic Liquid Trace Mineral Complex can be added to a Spray bottle and applied directly to burns, wounds and problem skin for direct absorpion. The Skin can absorb the Fulvic Acids and their minerals while the Humic Acid will reduce surface infection as well as impede the action of viral, fungal or years activity. Its high Alkalinity even aleviates pain from bee stings and insect bites which are acid based.
Before It's News®
is a community of individuals who report on what's going on around them, from all around the world.
Anyone can
join
.
Anyone can contribute.
Anyone can become informed about their world.
"United We Stand" Click Here To Create Your Personal Citizen Journalist Account Today, Be Sure To Invite Your Friends.