Gold Chain Snatched In Broad Daylight
Thursday, April 20, 2023 9:16
% of readers think this story is Fact. Add your two cents.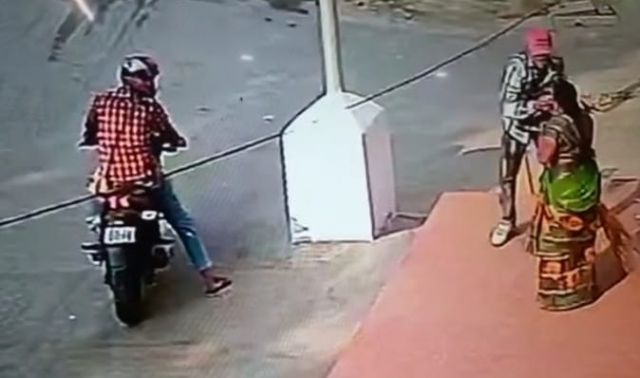 Chain-snatcher snaching gold chain. Source: CC Camera Grab
Anantapur (Before It's News – IC): A chain-snatcher snatched a woman's gold chain in broad daylight while she was working outside her house. The incident happened near 5th Road, Bangaramma Temple on Thursday. Two strangers came on a bike and one of them approached the woman named Marekka and asked her for some address. While asking that, he snatched the gold chain from her neck and ran away on the bike. The incident took place before the victim was alerted. The theft of the gold chain was recorded on the CC camera located nearby.
As such incidents are happening here and there, the police suggest that women, especially those who go for a walk in the morning and evening, should be vigilant with appropriate precautions. Victims should immediately file a complaint at the nearest police station. The women are appealing to the police to take appropriate action to prevent the recurrence of such incidents.
పట్టపగలే బంగారు గొలుసు అపహరణ
అనంతపురం (బిఫోర్ ఇట్స్ న్యూస్ – ఐసీ): పట్టపగలే పనిచేసుకుంటున్న మహిళ మెడలోని బంగారు గొలుసు ఆపహరణకు గురైంది. ఈ ఘటన 5 వ రోడ్డు, బంగారమ్మ గుడికి సమీపంలో గురువారం చోటు చేసుకుంది. ఇద్దరు అపరిచిత వ్యక్తులు ద్విచక్రవాహనంలో వచ్చి, ఇంటి వెలుపల పని చేసుకుంటున్న మారెక్క అనే మహిళను తనకు ఏదో అడ్రస్ కావాలని ఇద్దరిలో ఒక అపరిచిత వ్యక్తి అడిగాడు. అలా అడుగుతూనే క్షణాల్లో ఆమె మెడలోని బంగారు గొలుసు లాగేసుకొని తనతో పాటు వచ్చిన వ్యక్తి ద్విచక్రవాహనంలో పరారయ్యాడు. బాధితురాలు అప్రమత్తం అయ్యేలోపే ఈ ఘటన జరిగిపోయింది. ఈ బంగారు గొలుసు అపహరణ ఘటన అక్కడే ఉన్న సీసీ కెమెరాలో రికార్డయ్యింది.
ఇటువంటి ఘటనలు అక్కడక్కడా జరుగుతున్నందున మహిళలు, ముఖ్యంగా ఉదయం, సాయంత్రం వేళల్లో నడకకు వెళ్లే మహిళలు తగిన జాగ్రత్తలతో అప్రమత్తంగా ఉండాలని పోలీసులు సూచిస్తున్నారు. బాధితులు వెంటనే సమీపంలోని పోలీసు స్టేషన్లో ఫిర్యాదు చేయాలంటున్నారు. ఈ తరహా ఘటనలు పునరావృతం కాకుండా పోలీసులు తగిన చర్యలు తీసుకోవాలని మహిళలు విజ్ఞప్తి చేస్తున్నారు.
(Source: TYP/IAIJ/BIN/DPJB)
Before It's News®
is a community of individuals who report on what's going on around them, from all around the world.
Anyone can
join
.
Anyone can contribute.
Anyone can become informed about their world.
"United We Stand" Click Here To Create Your Personal Citizen Journalist Account Today, Be Sure To Invite Your Friends.