Places Where Whites are Welcomed
Sunday, June 28, 2020 3:03
% of readers think this story is Fact. Add your two cents.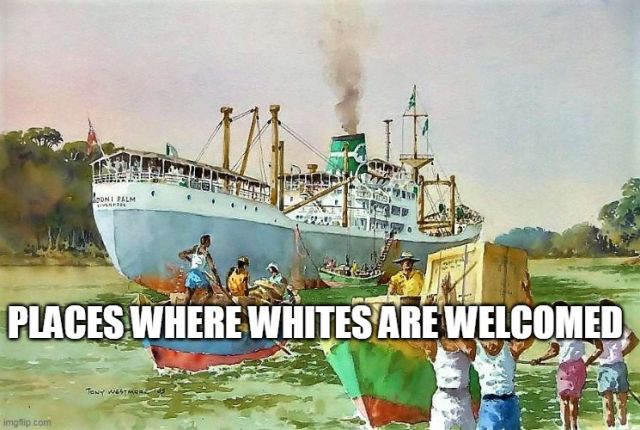 THE CARING PEOPLES PAPER Please publish our stories and share them on social media. We are dependent upon donations. Never miss a story: Follow My Blog right-hand column scroll down Visitors welcome to visit BOOKS or BUY FROM AUTHOR [email protected]
As it is some time since I visited, worked and lived in Africa I concede that what I write is now a hypothesis. Just as I would research before re-locating to a mainly White country, I would consider moving to an African or Latin American country.
Based on my past experience, I would presume I would be warmer welcomed and more appreciated in some pre-colonies by the indigenous peoples than I would be in say in 'White' Europe or the United States.
There are few coastal countries in Latin America Africa that I haven't visited and mostly on several occasions. I knew both the city and village dwellers of Africa well. I worked and socialised with them and on the whole, found them easy-going.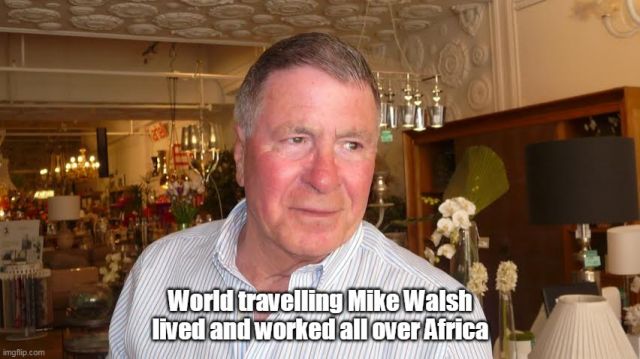 The Africans in Africa are nothing like their arrogant benefit-bandits counterparts in Europe and the United States. Like all nations, there are places and types to avoid but on the whole, Africans a good-humoured, innocent, law-abiding and sincere people.
There was a rare incident in which I and my friends' were nearly victims of a robbery. I still wince when recalling the rough justice meted out for the culprits by the local cops for their attacking the country's White guests.
In countries like Ghana, Nigeria, The Gambia, Ivory Coast, Sierra Leone, Liberia, Cameroons, Togo, Benin, Equatorial Guinea, Guinea, Guinea-Bissau, White settlers and residue of colonialists known as 'empire builders' lived the life of the West's super-rich.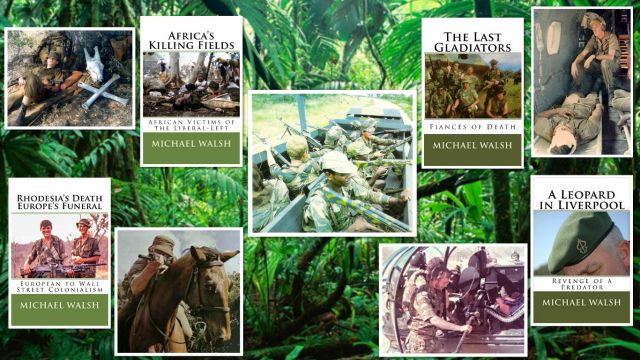 This was despite the fact that their skills, if any, in a developed country were just average. Not in Africa where the White person's initiative, experience, ability to problem solves, their comparative drive and self-confidence are considered quite extraordinary.
I recall the unloading of a locomotive from a ship's deck in the creek port Takoradi in Ghana. In charge of the heavy lift and about 20 or more African stevedores was an outspoken White gang boss.
Intrigued, I chatted with him and asked him how it was that an ordinary Liverpool docker, one of the thousands at the time, found himself in such an elevated position in Takoradi. Any British seaman could have done what he was doing. He told me his story:
'Working on the docks, I answered a call of nature during which time I picked up a dropped copy of The Daily Telegraph. Turning to the situations vacant pages, I spotted an agency advert for a dock worker with heavy lifting gear experience. (Sailors are taught all that as are some dockers).
I posted the completed coupon and doubting I would ever hear anything of it I thought no more of it. Soon afterwards, I took a call, was interviewed in London and I was accepted. The flights were booked for me and my wife. Here in Ghana, I am paid far more than I could hope to be in England.
We live in a beautiful villa with grounds and a swimming pool, we have staff including a maid and houseboy, I have a car all provided by my employer.
My acquaintance was no rarity for I heard similar stories and met similar characters in Nigeria, Sierra Leone, and other West African and Latin American countries like Argentina, Uruguay, and Chile.
I fell into conversation with a Swede and a Belgian in one of the ex-colonies. Ordinary factory managers in their home countries they now lived in a gated compound. Their neighbours were government ministers, the panorama was exceptional, flunkies looked after their every need; a company car, they lived the lives of oligarchs.
The irony is that in such countries, ethnic-Europeans are respected and appreciated. Work opportunities are greater ~ because they are ethnic-European.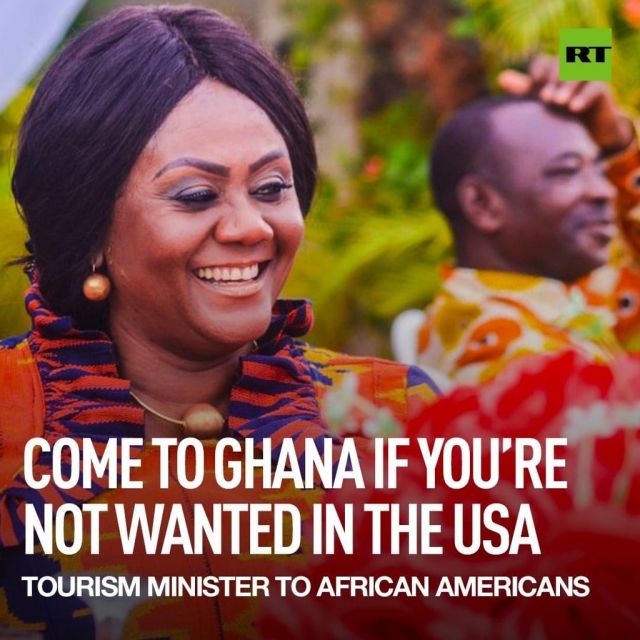 MICHAEL WALSH is a worldwide journalist, broadcaster and author of 64 book titles with 36 years experience. Like other journalists of integrity, he no longer writes for corporate media, opting instead for true journalism.
Like this story? Share with friends!
NEVER MISS ANOTHER STORY: Home Page right-hand column scroll down and click FOLLOW. PLEASE LIKE US and SHARE.
MICHAEL WALSH is a journalist, broadcaster and the author of RISE OF THE SUN WEEL, EUROPE ARISE, TROTSKY'S WHITE NEGROES, MEGACAUST, DEATH OF A CITY, WITNESS TO HISTORY, THE BUSINESS BOOSTER , THE FIFTH COLUMN VOLUME I and II, FOR THOSE WHO CANNOT SPEAK, IMMORTAL BELOVED, THE ALL LIES INVASION, INSPIRE A NATION Volume I, INSPIRE A NATION Volume II , SLAUGHTER OF A DYNASTY , REICH AND WRONG, THE RED BRIGANDS, RANSACKING THE REICH , SCULPTURES OF THE THIRD RIECH: ARNO BREKER AND REICH SCULPTORS , SCULPTURES OF THE THIRD RIECH: JOSEF THORAK AND REICH SCULPTORS , The Exiled Duke Romanov Who Turned Desert Into Paradise , THE DOVETAILS and other book titles. These illustrated best-selling books are essential for the libraries of informed readers.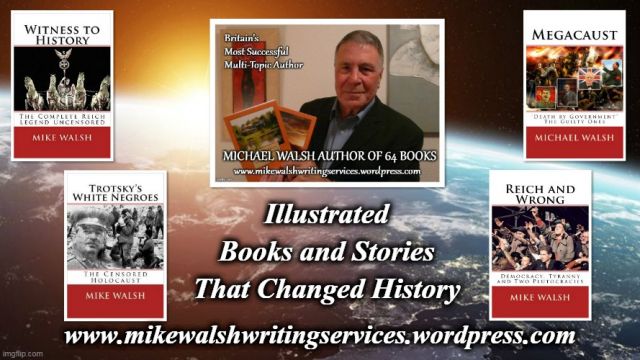 MICHAEL WALSH BOOK CLUB: Set up a Standing Order minimum of €25 (£25) to my UK bank account each month to receive every 3-months a FREE SIGNED copy of any book from our BUY FROM AUTHOR LINK.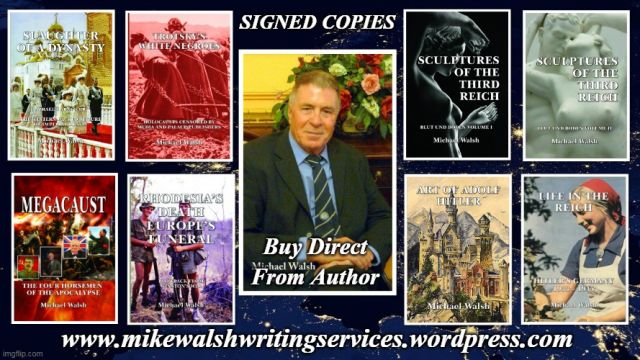 THE BARNES REVIEW is considered by historians as the world's most prestigious source of bona fide essays and information. Michael Walsh is a key member of the periodical's Board of Contributing Editors. See www.BarnesReview.com https://barnesreview.org/
THE LIVERPOOL TETRALOGY
The revenge of a predator is a city-vigilante epic better than Death Wish A LEOPARD IN LIVERPOOL , 30 lavishly illustrated first-hand stories by a Liverpool sailor BELIEVING OF LIVERPOOL, Latest Killer-Thriller From Michael Walsh the City Vigilante Supremo The Stigma Enigma , A powerful thought-provoking paranormal romance The Soul Meets, How to form a naughty ménage a trois THE DOVETAILS.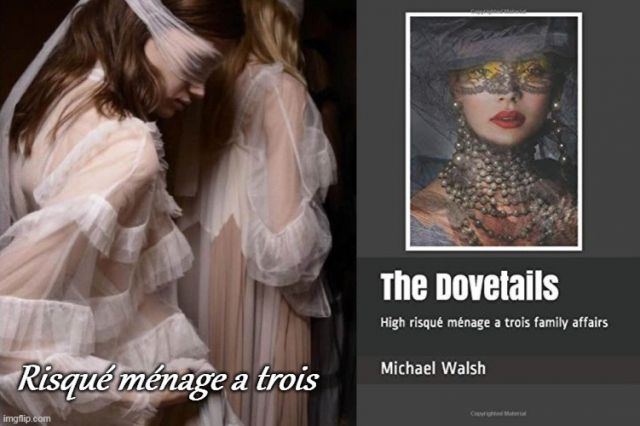 Latest Michael Walsh bestsellers: Those who fall victim to the taxman, banks and moneylenders are victims of legalised mugging DEBTOR'S REVENGE, The Business Booster shows you how to double your profits not your workload THE BUSINESS BOOSTER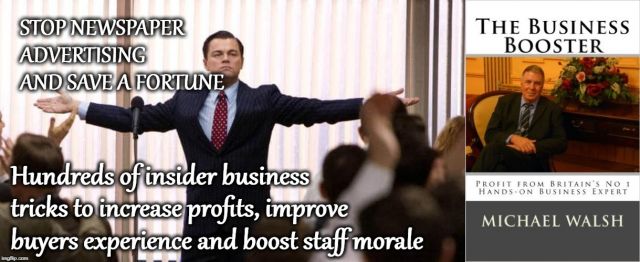 MICHAEL WALSH is a journalist, author, and broadcaster. His 64 books include best-selling RHODESIA'S DEATH EUROPE'S FUNERAL, AFRICA'S KILLING FIELDS, THE LAST GLADIATORS, A Leopard in Liverpool, RISE OF THE SUN WEEL, EUROPE ARISE, FOR THOSE WHO CANNOT SPEAK, THE ALL LIES INVASION, INSPIRE A NATION Volume I, INSPIRE A NATION Volume II , and many other book titles. These illustrated best-selling books are essential for the libraries of informed readers.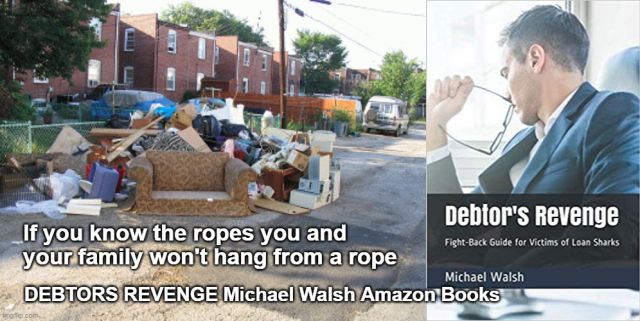 The dissident author's books available for purchase by visiting his website BOOKSTORE, BUY FROM AUTHOR and POETRY links.
We are in debt to our donors (click ESPRIT DE CORP) who finance the distribution of spin-free real news and fearlessly expressed views.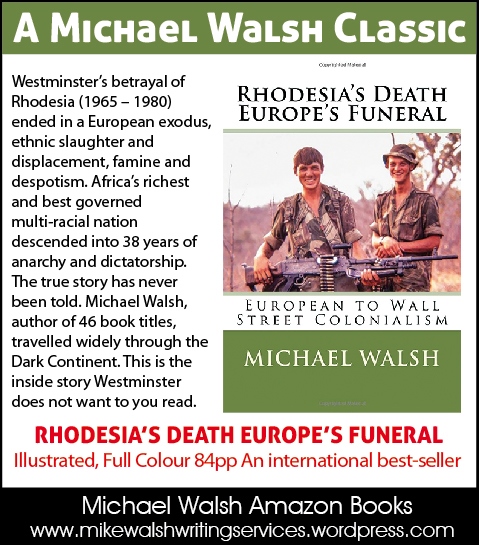 KEEP REAL NEWS OPEN: Donate by using Western Union, MoneyGram, Ria, registered mail or contact Michael Walsh: [email protected] or [email protected] 2) Follow our blog. 3) Share our stories and 4) buy our author-signed books. 5) Receive free newsletters by writing subscribe to [email protected]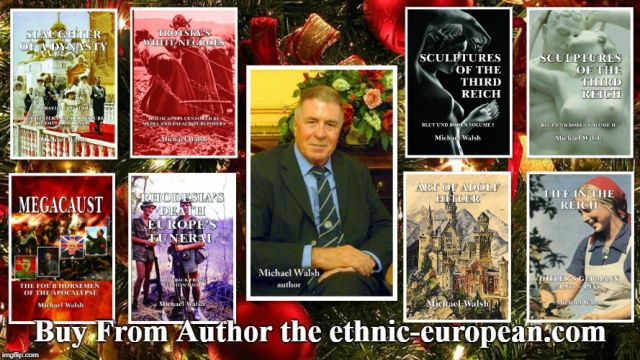 Michael Walsh currently has eight books listed under BUY DIRECT. Royalties will be ploughed into adding further popular titles declared taboo by the treacherous troika; Amazon, Facebook, and Mainstream Media. When ordering the book contact Michael Walsh by email [email protected] to receive your signed copy.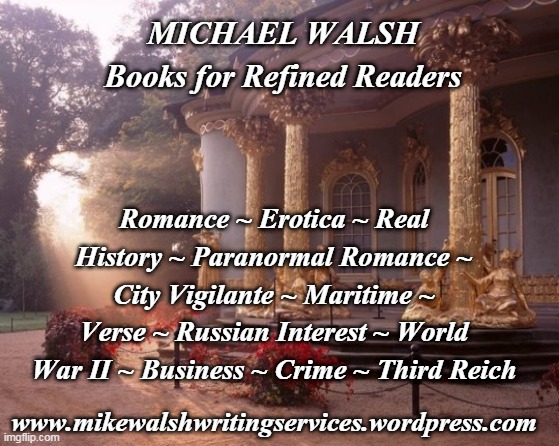 www.mikewalshwritingservices.wordpress.com
BOOKS THAT CHALLENGE, INSPIRE, INFORM Michael Walsh, 'Writer of the Year' with a strong global following. Nearly 64 interesting Amazon book titles famed for changing and improving lives. CLICK TO VIEW www.mikewalshwritingservices.wordpress.com
New stories every day!
THE ETHNIC-EUROPEAN
The Voice of Ethnic-Europeans Worldwide
https://europeansworldwide.wordpress.com/
https://ethnic-european.blogspot.com/
Before It's News®
is a community of individuals who report on what's going on around them, from all around the world.
Anyone can
join
.
Anyone can contribute.
Anyone can become informed about their world.
"United We Stand" Click Here To Create Your Personal Citizen Journalist Account Today, Be Sure To Invite Your Friends.