African Wisdom @TheWisdomJournal "No person is born great, great people become great when others are sleeping."
Sunday, July 16, 2023 17:02
% of readers think this story is Fact. Add your two cents.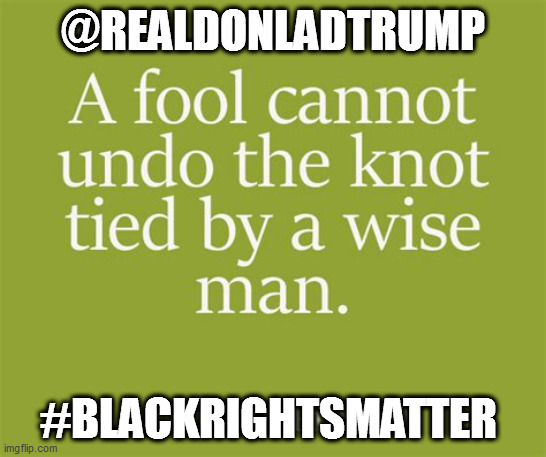 @realDonaldTrump #LetMeLearnYouSomething As I let God guide my every step in all that I do, I'm sharing God's grace and mercy in order that I am able to complete my journey with strength and courage. It is his word that is a lamp unto my feet that guides me!! It produces much fruit in my life and I know I can build my life on the bible!! I'm posting these African Wisdom quotes for you and all of America. I hope you learn something useful from it. I love you all..INSURGARD #IJustKnowWhatIKnow #TellTheTruthelonmusk
Only a fool tests the depth of a river with both feet.
Meaning it is unwise to venture into something without proper knowledge or understanding of the potential risks involved.
Examine what is said and not who is speaking.
Meaning: judge the content or message based on it's merit, rather than being influenced by the speakers identity or reputation.
If you want to know the end, look at the beginning.
Meaning: The outcome or future can often be predicted or understood by examining the initial stages or starting point of a situation.
Knowledge is a garden, if it isn't cultivated, you can't harvest it.
Meaning: Learning and acquiring knowledge require effort and continuous nurturing. You neglect your knowledge you won't benefit from it.
A roaring lion kills no game.
Meaning: Making loud or boastful noises does not guarantee success or accomplishment, Action is necessary to achieve results.
Do not look where you fell, look where you slipped.
Meaning: Instead of focusing on your emotions or blaming others for your mistakes, reflect on your own errors or missteps to avoid repeating them.
When two elephants fight, it is the grass that gets hurt.
Meaning: When powerful individuals or entities engage in conflicts or disputes, it is often the innocent or weaker parties who suffer most.
Tomorrow belongs to people who prepare for it today.
Meaning: Success and opportunities in the future are more likely to come to those who plan, work hard and make preparations in the present.
Even the lion protects itself against flies.
Meaning: Even the most powerful or influential individuals need to be cautious and take measures to protect themselves from minor or seemingly insignificant threats.
The ax forgets, but the tree remembers.
Meaning: People may forget past conflicts or harm they have caused, but those who have been affected or hurt by their actions will always remember.
Don't set sail on on someone else's star.
Meaning: Follow your own path and pursue your own dreams and aspirations instead of relying on or imitating the achievements of others.
Seeing is different than being told.
Meaning: personal experience or firsthand observation provides a more accurate and insightful understanding of something compared to relying solely on information or hearsay.
He that refuses to obey cannot command.
Meaning: A person who does not demonstrate the ability to follow or respect authority, cannot expect to be given authority over others.
The earth is a beehive, We all enter by the same door.
Meaning: Regardless of our backgrounds, origins or circumstances, we all share a common existence and enter the world through the same means.
Rain does not fall on one roof alone.
Meaning: Misfortunes or blessings do not affect just one group, they have a broader impact and reach beyond individual boundaries.
However far a stream flows, it doesn't forget it's origin.
Meaning: No matter how successful one becomes, it is important to remember and honor ones roots, heritage and origins.
If you think you are too small to make a difference try spending the night with a mosquito.
Meaning: Even the smallest actions or contributions can have a significant impact, and one should not underestimate their potential for making a difference.

Before It's News®
is a community of individuals who report on what's going on around them, from all around the world.
Anyone can
join
.
Anyone can contribute.
Anyone can become informed about their world.
"United We Stand" Click Here To Create Your Personal Citizen Journalist Account Today, Be Sure To Invite Your Friends.