President & CEO Derrick Johnson. The accomplished activists, professionals, and philanthropists who lead NAACP are committed to ending race-based discrimination. Start Here!! #BLACKRIGHTSMATTER
Tuesday, July 25, 2023 19:30
% of readers think this story is Fact. Add your two cents.

NAACP:
Our mission is to achieve equity, political rights, and social inclusion by advancing policies and practices that expand human and civil rights, eliminate discrimination, and accelerate the well-being, education, and economic security of Black people and all persons of color. Theory of Change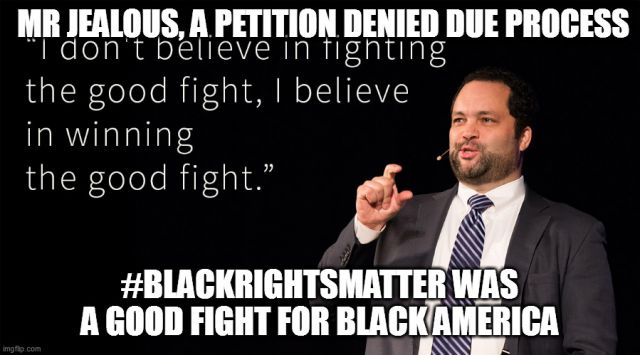 Mr. Benjamin Todd Jealous #LetMeLearnYouSomething You Sir, are a Hypocrite!! And I will make sure history reflects that!! You could have at least had the decency to respond, I mean that was within your job description Sir!! You do know silence admits guilt?
You wrote the book Never Forget Our People Were Always Free: A Parable of American Healing was released January 10, 2023. How could we ever be free with people like you holding us back? But, this is the year of the Boomerang, So let's take a look at what you truly did for Black America as a Democrat!! Never in the history of the world has anyone created something so crystal clear and transparent that should would not have been ignored by any Black American if not for the cover up you participated in.. #IJustKnowWhatIknow You rode with Barry Barack Obama!! #BLACKRIGHTSMATTER I choose God!! #RealEyesRealizeRealLies #WakeUpBlackAmerica
From: Gregory Tillman <
[email protected]
>
To:
[email protected]
Subject: Fw: PLAGIARISIM AND INFRINGEMENT IN TEXAS AND 35 OTHER STATES
Dear Mr. Jealous,
You are my last hope, All my life I was told that I would never be nothing! and for a long time I believed it Until I met my wife Frances Bradley and started a family I would have never thought I would be the dad of 6 girls, 23 grand kids, and 1 great granddaughter but, because of them I did something great I created INSURGARD UNLIMITED so that none of us would have to worry it is my UNPUBLISHED work that was Plagiarized and Infringed upon by Governor George Bush and Lieutenant Governor Rick Perry and implemented in 35 other states. I am a man of my word. and that is all a real man really has everything I'm saying I can prove and in a court of law. Please help me protect my rights under Title 17 of the United States Code chapter 5.
Dear Mr. Jealous
If the NAACP had responded and helped they would not have been able to create or had a reason to create the Texas Citizens Participation Act.
This is your 2nd call for action every thing is being posted in The Circle Of INSURGARD for the world to see transparently how my rights were and still are being violated. Last time I wrote you nothing happened, It's been 16 years. The National Association For The Advancement Of Colored People an African-American Civil Rights Organization in the United States, formed in 1909 by Moorfield Storey, Mary White Ovington and W. E. B. Du Bois. I am a black man in the United States and I am trying to protect and advance my rights. Can I count on the NAACP to stand with me? The below attachment proves everything. And is the very reason the bill was created It violates my First Amendment Rights to freedom of speech, It prohibits me from retaining an attorney and gaining access to court. And it minimizes those involved in this Travesty of INSURGARD UNLIMITED!!
The purpose of this chapter is to encourage and safeguard the constitutional rights of persons to petition, speak freely, associate freely, and otherwise participate in government to the maximum extent permitted by law and, at the same time, protect the rights of a person to file meritorious lawsuits for demonstrable injury.
The Texas Citizens Participation Act (TCPA)
The Texas legislature has taken steps to protect individual use of free speech. On June 17, 2011, the Texas Citizens Participation Act (TCPA) was signed into law, expanding the first amendment protections of Texas Citizens. The TCPA, also known as the Texas Anti-SLAPP[1] statute, was created with the purpose to encourage and safeguard the constitutional rights of citizens to petition, speak freely, and associate freely, without fear of retaliatory lawsuits intended to restrict their ability to exercise their first amendment rights.
The Texas legislature created the TCPA to defend individuals and organizations from any lawsuit that impinges on their constitutional rights to petition, association, and free speech. All you need to do is file a motion to dismiss, or an "anti-SLAPP motion", which the court must rule on within 60 days after the motion is served.
In the seven years since the TCPA was signed into law, it has become a persuasive deterrent against SLAPP lawsuits, The biggest deterrent for these disparagement lawsuits is the fee-shifting provisions contained in the TCPA. If the individual (the defendant the company is suing) is successful, the company filing the lawsuit must pay court costs, attorney fees, and other such expenses incurred from defending against the action. More importantly, the court must order a fine against the company that filed the disparagement claim "sufficient to deter the party who brought the legal action from bringing similar actions " So, not only is the company on the hook for all of the costs and attorneys' fees, the company will have to pay additional fees which could amount to thousands of dollars in penalties.
Before It's News®
is a community of individuals who report on what's going on around them, from all around the world.
Anyone can
join
.
Anyone can contribute.
Anyone can become informed about their world.
"United We Stand" Click Here To Create Your Personal Citizen Journalist Account Today, Be Sure To Invite Your Friends.