Congress Raised the Debt Ceiling Again Without Doing Anything To Fix the $28 Trillion National Debt
Wednesday, October 13, 2021 9:41
% of readers think this story is Fact. Add your two cents.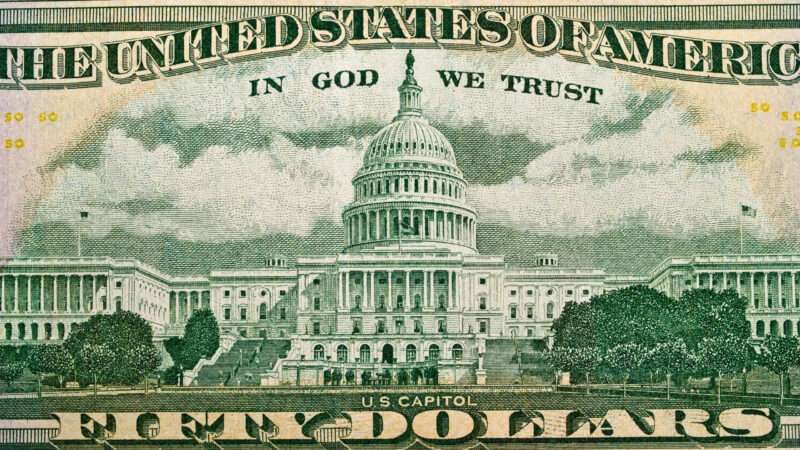 The House of Representatives voted Tuesday evening to lift the debt ceiling by $480 billion, temporarily postponing a possible default until early December. The bill, which had passed the Senate last week, heads to President Joe Biden's desk a few days before the October 18 deadline that Treasury Department officials had set for a possible default.
219-206, House approves rule along party lines that deems as passed the bill to raise the debt ceiling by $480 billion – until early December. Biden will sign it soon. *fixes tally from previous tweet

— Manu Raju (@mkraju) October 12, 2021
But the short-term measure doesn't really resolve anything. It merely buys some time for Congress to reach an agreement on a more significant move on the debt ceiling, potentially as part of the $3.5 trillion reconciliation bill that Democrats are trying to push through the Senate.
To bring the short-term debt ceiling increase to the Senate floor last week, Republicans dropped their monthslong threat of blocking the legislature. In a letter to the White House last week, however, Senate Minority Leader Mitch McConnell (R–Ky.) warned that the GOP would not do so again. "I will not be a party to any future effort to mitigate the consequences of Democratic mismanagement," McConnell wrote. "Your lieutenants on Capitol Hill now have the time they claimed they lacked to address the debt ceiling through standalone reconciliation, and all the tools to do it. They cannot invent another crisis and ask for my help."
McConnell is right that Democratic brinkmanship on the debt ceiling—which could have been raised even without Republican support—was unnecessary and counterproductive. But Republicans were more than happy to raise the debt ceiling on several occasions while President Donald Trump was in the White House. More importantly, Republicans were happy to approve budgets that relied heavily on borrowing during the Trump years. Raising the debt ceiling now is necessary to allow the Treasury to borrow money for that already-approved spending.
That's a detail often lost in debates over the debt ceiling—and one that is sometimes willfully misplaced. Rep. Marjorie Taylor Greene (R–Ga.), for example, claimed that Tuesday's vote on the debt ceiling was to "pay for" the $3.5 trillion reconciliation bill.
In some important ways, fretting about the debt limit is a lot like worrying about the status of the proverbial barn door after the metaphorical cow is already loose. Except, in this case, the metaphorical cow is a lot of very real money that's been borrowed by Congress. The way to avoid fights over the debt limit is to shut the door—that is, to stop deficit spending—before the cow gets away. Once it does, you can point fingers and assign blame if you want, but you've ultimately got to get in the truck and go find the cow. You've got to raise the debt limit.
And then you really should remember to shut the door next time.
A decade ago, it looked like Congress might've learned that lesson. Fights over the debt ceiling helped to usher in the closest thing America has had to a serious conversation about the trajectory of the federal debt in a long time. Those conversations led to temporary spending caps and the 2013 sequestration.
Those spending caps died hard during the Trump years and the COVID-19 pandemic stretched federal borrowing to new highs. So now we're back to having fights about the debt ceiling, because lawmakers and presidents keep agreeing to borrow more money in a bipartisan fashion. This debt limit increase doesn't belong to one side of the aisle or the other. It belongs to everyone in Washington who has spent the past few decades spending, spending, and spending some more with little regard for how to pay for it.
quick recap of the debt ceiling fight: pic.twitter.com/sxyscCQLzI

— Connor O'Brien (@connorobrienNH) October 12, 2021
---
FREE MINDS
When lawmakers talk about "reforming" Section 230, which protects free speech on the internet, they're really talking about repealing it:
Lots of talk from some corners about "reforming" Section 230 rather than "repealing" it. @CathyGellis explains why basically all plans to reform it are effectively repeal. https://t.co/0oKm8POgSO

— Mike Masnick (@mmasnick) October 12, 2021
---
FREE MARKETS
The Food and Drug Administration (FDA) for the first time authorized the marketing of a vaping product on the grounds that it can help smokers quit.
The FDA said that the Vuse Solo e-cigarette produces aerosols that "are significantly less toxic than combusted cigarettes based on available data," and that "the potential benefit to smokers who switch completely or significantly reduce their cigarette use, would outweigh the risk to youth."
In other words, the FDA confirmed exactly what vaping advocates have been saying for years, but did it only after issuing sweeping new regulations that effectively crushed large swaths of the e-cigarette market.
Now, while literally millions of other products await the FDA's official (and slow-moving) stamp of approval, the agency has awarded a huge market privilege to Vuse Solo by making it (for now) the only e-cigarette product that can be marketed legally. It's probably a total coincidence that Vuse is manufactured by R.J. Reynolds, one of the biggest tobacco companies on the planet.
Well, looks like there will be at least 1 e-cigarette legally authorized for sale in the United States. The independent market has been wiped out but R. J. Reynolds gets to keep selling, so the law is working as intended (by big tobacco companies). https://t.co/6FBppwbOU4

— Jacob Grier (@jacobgrier) October 12, 2021
---
COVID-19 UPDATE
Vaccinated, passport-holding individuals will once again be allowed to cross the Canadian and Mexican land borders into the United States starting in November, The New York Times reports:
The lifting of the 19-month ban at the land borders will not only reconnect the United States to its neighbors, but is one of the last steps to opening the country's borders to vaccinated travelers throughout the world. After more than a year of cutting off the country from international tourism, the administration has now turned the country into a welcome destination for the vaccinated — while making clear that all foreigners who choose to not get a shot will face stringent restrictions to enter the United States.

Unvaccinated travelers will continue to be barred from crossing the borders with Mexico or Canada.
Lifting the travel restrictions is a welcome—if long overdue—signal that pandemic restrictions are winding down, even if shutting the border never did much to stop COVID-19′s spread in the first place and made even less sense once vaccines were readily available.
---
QUICK HITS
• Data released Wednesday morning show the consumer price index rose 5.4 percent in the past year, the largest year-over-year increase in inflation since 1991.
• A rare moment of brutal honesty from the White House.
REUTERS: "There will be things that people can't get," at Christmas, White House says

— Josh Caplan (@joshdcaplan) October 12, 2021
• It will take Britain more than a decade to get new nuclear power plants online:
Fun fact: the US decided to build "the world's first full-scale atomic electric power plant devoted exclusively to peacetime uses" in 1953 and it went live in 1957.

That is, it took less time to invent nuclear power stations in the 50s than it takes to replicate them today. https://t.co/tVGTwh5iBY

— Patrick Collison (@patrickc) October 12, 2021
• Federal tax receipts jumped by 18 percent in the fiscal year that ended last month, the biggest one-year increase since 1977. This is your periodic reminder that the federal government doesn't have a revenue problem; it has a spending problem.
• When a missing teen sparked a moral panic about Dungeons & Dragons.
Source:
https://reason.com/2021/10/13/congress-raised-the-debt-ceiling-again-without-doing-anything-to-fix-the-28-trillion-national-debt/
Before It's News®
is a community of individuals who report on what's going on around them, from all around the world.
Anyone can
join
.
Anyone can contribute.
Anyone can become informed about their world.
"United We Stand" Click Here To Create Your Personal Citizen Journalist Account Today, Be Sure To Invite Your Friends.