Politicians Use Subsidies To Squeeze Semiconductor Manufacturers
Wednesday, March 8, 2023 7:33
% of readers think this story is Fact. Add your two cents.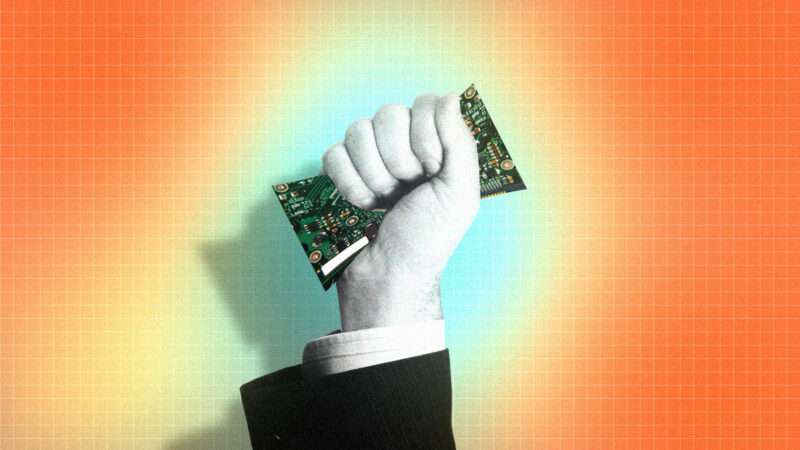 It's no secret that rising international tensions and snarled supply chains are fracturing the world, threatening to curtail an all-too-brief period of relatively free trade and the prosperity it brought. With political priorities competing with ones of efficiency, governments are increasing their control over production and commerce. That includes the Biden administration, which is subsidizing private companies to move the manufacturing of microchips to the U.S.—and then using its leverage to extract concessions and take a big skim of the profits. That means greater expense for you and me.
"Rebuilding America's leadership in the semiconductor industry is a down payment on our future as a global leader," U.S. Secretary of Commerce Gina Raimondo boasted shortly after the passage of the CHIPS Act last summer. "CHIPS for America, will ensure continued US leadership in the industries that underpin our national security and economic competitiveness."
That's a fancy way of saying the government will subsidize chipmakers to the tune of tens of billions of dollars to manufacture computer chips in the United States instead of in countries, like Taiwan, that are potentially at risk from China. That's not a baseless concern given that China's government is threatening "confrontation and conflict" with the United States and clearly wants to absorb Taiwan (though U.S. officials are not without fault in building these tensions).
Private Investment for Private Companies
But if moving production to the U.S. makes sense, chipmakers should do it themselves—and they are. Companies announced plans to expand manufacturing capacity long before the CHIPS Act passed.
"Samsung Electronics Co.'s planned $17 billion chip factory in Texas is expected to crank out top-end semiconductors that are essential to 5G cellular networks, self-driving cars and artificial intelligence," The Wall Street Journal reported in November 2021. "It follows hefty bets on U.S. soil by Intel Corp., Taiwan Semiconductor Manufacturing Co. [TSMC] and Texas Instruments Inc."
Moreover, as Christine McDaniel and Weifeng Zhong of George Mason University's Mercatus Center pointed out, there are ways to encourage manufacturing that don't require subsidies. Red tape and government contract requirements are big impediments to opening multi-billion-dollar factories.
"First, we should streamline regulatory burdens on building manufacturing plants," they suggested. "Second, stop forcing ties between a subsidized private sector and labor unions… Third, scale back on trade policies, especially so-called Section 232 and 301 tariffs, that prevent all U.S. manufacturers from accessing inputs and from competing with China at globally attractive prices."
Politicians Want Leverage
But freeing the marketplace wouldn't give government officials the leverage over companies that comes with offering subsidies with strings attached. Those include requiring the use of U.S.-sourced construction materials, childcare provisions, and workforce "equity" targets.
"President Joe Biden's Commerce Department has announced that companies getting the subsidies will have to do (and not do) a bunch of other things if they want the money," Reason's Veronique de Rugy cautioned. "These strings will significantly undermine chip manufacturing by increasing production costs."
"The recent Commerce Department notice…lards the notice of funding availability up like a Christmas tree with additional priorities," warn Patrick T. Brown of the Ethics and Public Policy Center and Connor O'Brien of the Economic Innovation Group, two industrial policy advocates who see the CHIPs Act justifying critics' fears. "The inevitable result will be to drive up costs for participating and water down the effectiveness of the new incentives."
Politicians Want to Skim Profits
Getting out of the way also wouldn't give officials a claim on manufacturing proceeds. And the Biden administration really wants a piece of the action.
"Among firms that receive more than $150 million in funding, Commerce will require 'Upside Sharing' of a portion of 'excess profits' with the U.S. government," notes the Tax Foundation's Erica York. "The notice defines excess profits as any cash flows or returns that exceed what firms submit for their projected cash flows as part of their application."
As a result, she adds, "if a project is surprisingly successful, the government can claw back up to 75 percent of the awarded funds."
Since the government's take will be based on "projected cash flows over the lifetime of the project," companies have an incentive to get creative with their forecasts, potentially divorcing them from economic reality. The whole scheme could turn domestic chip manufacturing into an ultimately uncompetitive political operation.
Like Mercatus's McDaniel and Zhong, the Tax Foundation's York thinks the government should get out of the way. She suggests reforming the tax code to reduce barriers to investment.
"Fixing the bias against capital investment and R&D by allowing full expensing is preferable to a CHIPS-and-Science-type industrial policy approach and its long track record of ineffectiveness," she adds. "The CHIPS Act implementation is proving our point."
Higher Costs in a Fractured World
Late last year, according to The Wall Street Journal, TSMC founder Morris Chang warned the Commerce Department that factors "including federal regulatory requirements" make it more expensive to produce computer chips in the United States. "Mr. Chang said the cost of making chips in Arizona may be at least 50% higher than in Taiwan."
That was before the Biden administration detailed its policy wish-list conditions for subsidies, and its plans to skim profits from participating companies. Interestingly, when TSMC broke ground on that Arizona plant, Chang sounded a mournful note about the circumstances driving the need for that facility.
"Globalization is almost dead. Free trade is almost dead. And a lot of people still wish they would come back, but I really don't think they will be back for a while," he commented. "In the meantime, because of the change in political situation, the new dream, well…it's the old dream revived, has the help of the US government, the federal government, the state government, the local government."
With the conditions government is placing on its "help" and the price it plans to extract at the other end, you might add that free enterprise is almost dead—at least for companies taking the CHIPS Act's subsidies. That expensive scheme threatens to put an important industry under the thumb of politicians, and to drive up costs for all of us.
The post Politicians Use Subsidies To Squeeze Semiconductor Manufacturers appeared first on Reason.com.
Source:
https://reason.com/2023/03/08/politicians-use-subsidies-to-squeeze-semiconductor-manufacturers/
Before It's News®
is a community of individuals who report on what's going on around them, from all around the world.
Anyone can
join
.
Anyone can contribute.
Anyone can become informed about their world.
"United We Stand" Click Here To Create Your Personal Citizen Journalist Account Today, Be Sure To Invite Your Friends.