Will the Government Shutdown Result in 'Hunger for Millions' as Reuters Claims?
Tuesday, September 26, 2023 16:49
% of readers think this story is Fact. Add your two cents.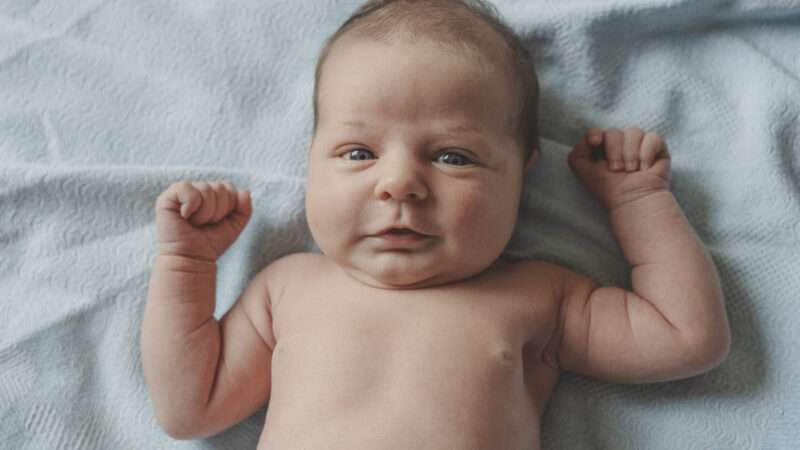 "Biden, US officials warn of hunger for millions in a government shutdown," reads a Reuters headline from yesterday. The article details how Agriculture Secretary Tom Vilsack told reporters this week that the "vast majority" of the 7 million who receive benefits from the Special Supplemental Nutrition Program for Women, Infants, and Children (WIC) program will see their benefits disappear after the government shuts down, which is likely to happen this Saturday at midnight due to congressional inability to approve spending bills.
"Nearly half of U.S. newborns rely on WIC, the USDA says," according to Reuters.
Just one problem: That's not true.
If you scroll down to Figure 6 on the Department of Agriculture's helpful site, you can input your state and see the current numbers as well as how those trends have changed over time. The "coverage rate"—the number who participate in the program, out of the total number who are eligible—hovers around roughly 50 percent. But half of U.S. newborns are not eligible for WIC in the first place, as it is a means-tested program designed to serve the poor, and half of newborns in the United States are not in poverty or close to it.
In my state of New York, for example, there were 1,449,500 children aged 0-4 and pregnant or postpartum women (all of whom would be theoretically eligible for WIC, if meeting the need requirement); of that total population, 48.7 percent would be eligible for the program (so about 706,000), and about half of that number ends up actually taking advantage of benefits (roughly 353,000).
For the record, other parts of the USDA's site partially contradict that panel of information. During fiscal year 2022 (which may have seen an uptick due to pandemic-related disruptions), WIC administered benefits to "an estimated 39 percent of all infants in the United States." This seems high to me given what we know about poverty statistics. It's hard to get a straight answer, even using the agency's own data and infographics. But one thing becomes clear: it is not true that half of U.S. newborns rely on this means-tested government program, which is what Reuters claimed (albeit with the handy hedge word nearly).
The official national poverty rate as of 2022 hovered at around 11.5 percent, per Census Bureau data. There are plenty of issues with how poverty gets measured in the U.S. As I wrote recently in Roundup:
Poverty in America is measured in two ways: via the Official Poverty Measure (OPM), which uses cash and cash-like government benefits (welfare and unemployment checks), and the Supplemental Poverty Measure (SPM), which factors in food stamps and tax credits. Depending on which measure you look at, you'll get a different sense of how dire (or not) the situation is. For example, stimulus checks, expanded food stamp benefits, and expanded child tax credits were counted only under the SPM (not the OPM). When they expired last year, the poverty rate (as counted by the SPM) rose.
But the buried lede in all of this trouble with counting is that there are actually a lot of programs designed to take care of the needs of the American poor. WIC, for example, tends to be available to those with "a family income of at or below 185 percent of the U.S. poverty level"; 37 percent of WIC recipients are also enrolled in Medicaid but not Temporary Assistance for Needy Families (TANF) or SNAP; 31 percent of WIC recipients used both Medicaid and SNAP but not TANF; 4 percent use all mentioned programs.
None of this is to downplay the hardships or indignities of poverty. Rather, it is important for news outlets to accurately report what is really happening on the ground so that we don't have a warped sense of the scale of the country's problems. If fully half of American infants are starving or in danger of it—and if that money will soon be pulled because Congress can't agree on appropriations bills—that would be a dire situation. Thankfully, that's not really what's happening, and there are generally multiple welfare programs that serve these groups at once.
Even if the government shuts down and WIC payments get temporarily suspended, the Supplemental Nutrition Assistance Program (SNAP) will still continue to cut checks for the needy, at least for the entire month of October, for example. The longest government shutdown in history lasted for 34 days, so it's likely that SNAP would have enough runway to continue to administer benefits for the duration of the shutdown. Meanwhile, the Department of Housing and Urban Development says that it will continue to administer housing vouchers but that "the processing or closing of FHA-insured loans may be delayed."
In other words: some of the programs that poor people rely on to scrape by may be temporarily halted or skeletal in staffing, but basic necessities will, in some form, remain available. Media outlets and politicians looking to score points should not claim otherwise.
The post Will the Government Shutdown Result in 'Hunger for Millions' as Reuters Claims? appeared first on Reason.com.
Source:
https://reason.com/2023/09/26/will-the-government-shutdown-result-in-hunger-for-millions-as-reuters-claims/
Before It's News®
is a community of individuals who report on what's going on around them, from all around the world.
Anyone can
join
.
Anyone can contribute.
Anyone can become informed about their world.
"United We Stand" Click Here To Create Your Personal Citizen Journalist Account Today, Be Sure To Invite Your Friends.