How The MSM Fake News Deceives The Masses. Deconstructiong The Dark Art's of Fake News, 101 by @OratorBlog
Friday, October 22, 2021 22:27
% of readers think this story is Fact. Add your two cents.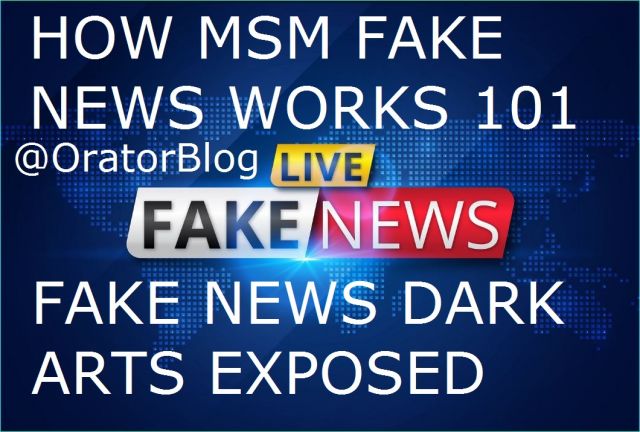 How The MSM Fake News Deceives the Masses.
Deconstructing The Dark Arts of Fake News, 101 by @OratorBlog
A DEEP DIVE INTO THE SHADY WORLD OF MSM NEWS (FAKE NEWS)
DEBUNKING THE DEBUNKERS AT THE TOP OF THE FAKE NEWS FOOD CHAIN
AND REDEFINING WHAT CREDIBLE NEWS REPORTING REALLY IS
Noam Chomsky:
"The major media-particularly, the elite media that set the agenda that others generally follow-are corporations "selling" privileged audiences to other businesses. It would hardly come as a surprise if the picture of the world they present were to reflect the perspectives and interests of the sellers, the buyers, and the product.
Concentration of ownership of the media is high and increasing. Furthermore, those who occupy managerial positions in the media, or gain status within them as commentators, belong to the same privileged elites, and might be expected to share the perceptions, aspirations, and attitudes of their associates, reflecting their own class interests as well.
Journalists entering the system are unlikely to make their way unless they conform to these ideological pressures, generally by internalizing the values; it is not easy to say one thing and believe another, and those who fail to conform will tend to be weeded out by familiar mechanisms." — Noam Chomsky, "Necessary Illusions"
Since the mainstream media can't be trusted to tell the truth without bias or without a hidden agenda, how do people actually stay informed? Recent polls show that Americans have the lowest level of trust in the mainstream media (Merely 18% trusted television news)
So how do a growing number of Americans in this day and age stay informed? Through use of social media and independent journalism. Independent journalism rose to counter the main narratives of big corporate news. Since there's no accountability to a corporate entity or the big 6, there's no bias or personal agenda, in which reporters and news people have to twist facts to fit the bigger picture.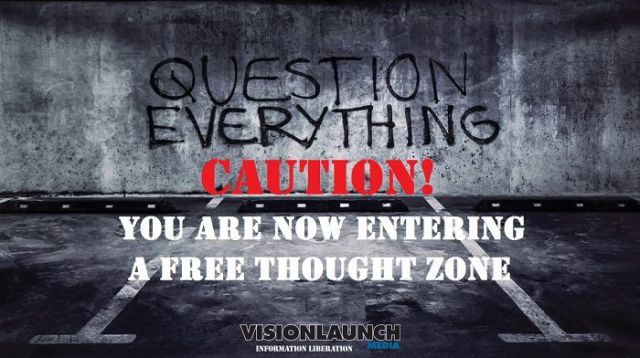 THE ASSOCIATED PRESS IS THE VERY SOURCE OF MOST FAKE NEWS LIES
The Associated Press is America's primary news source and the world's foundational source for news about the United States. The AP presents America to the rest of the planet. It is the most powerful news source. It's a hundred times more influential than Fox News, CNN, and MSNBC. The AP dwarfs the New York Times' impact and influence.

THE FACT IS THAT MOST MAIN STREAM MEDIA NEWS IS NO LONGER ACTUALLY NEWS
THEY DO NOT REPORT FACTS, BUT OPINIONS AND ANALYSIS. (BIASED ANALYSIS)
BEYOND MEDIA AND IDEOLOGICAL BIAS, THERE IS THE ALMOST COMPLETE LACK OF THE MOST IMPORTANT THING REGARDING REPORTING HONEST FACTUAL NEWS- "CONTEXT"
Even more of a Threat to Honest News Reporting than Biased Reporting, Omission of Facts, or even Propaganda-
THE FAILURE TO PROVIDE ANY MEANINGFUL CONTEXT-
Prevents the Full Truth from Reaching the Public… HOW SO???
We know the MSM News is Biased and Full of Crap. And Propaganda is not that hard to spot.
But the Failure to Report the Facts by Omission of Meaningful Context is the most Damning of all.
Let's take a look at The Top Polar Opposites: "Authoritarianism versus liberalism"
Houston, We Have a Problem.
LIBERALS ARE NOT LIBERAL… PROGRESSIVES ARE NOT PROGRESSIVE
AND IT IS THE SO-CALLED "LEFT" WHO ARE THE AUTHORITARIANS
That is the Difference Honest Context Makes…
Let's take a Much Bigger Example.
Calling the January 6th Trump Supporters INSURRECTIONISTS is Taking that So Far Out of Honest Context that is INSANE.
Saying Jan. 6th was Worse Than 9/11 IS INSANE
(They were Not Even Protesting Until the Police Attacked Them)
Let's take a look at what President Trump Called the Crime of The Century.
FISAGATE vs OBAMAGATE vs TRUMPGATE
The True Honest Context Has Never Been covered by MSM News, or even by Top Politicians.
The Very Source of the Steele Dosier was Sanctioned by British Intelligence.
The 5 Eyes Spy Ring Work for the Globalist Cabal.
THIS WAS IN FACT AN ACT OF WAR COMMITTED BY THE UK
Funny How NO ONE Seems to want to Mention THAT MOST IMPORTANT OF ALL FACTS
THAT IS THE 1000 POUND GORILLA THAT EVERYONE IS IGNORING
THAT IS THE MISSING "CONTEXT" THAT MAKES ALL OF THE DIFERENCE
The News at one time Were the Gate Keepers of The Truth.
They Called Out Lies and Provided Historical Context.
To a Reasonable Extent, they did Not Let BS Fly.
But with the Elimination of any True and Meaningful Independent Investigative Journalism-
They Killed Off All of That…
The Ownership of the MSM by 6 Mega-Corporations Gave Them A COMPLETE MONOPOLY ON THE NEWS…
@OratorBlog 10-23-2021
How to Spot 11 Types of Media Bias:
Journalism is tied to a set of ethical standards and values, including truth and accuracy, fairness and impartiality, and accountability. However, journalism today often strays from objective fact; the result is biased news. Bias isn't necessarily a bad thing, but hidden media bias misleads, manipulates and divides us. This is why All Sides provides hundreds of media bias ratings and a media bias chart.
72 percent of Americans believe traditional news sources report fake news,
falsehoods, or content that is purposely misleading. With trust in media declining,
media consumers must learn how to spot types of media bias.
This page outlines 11 types of media bias, along with examples of their use in popular media outlets. Download this page as a PDF, and don't forget to check out the 14 types of ideological bias.
How to Spot 11 Types of Media Bias: pdf Download
Beyond Left vs Right: 14 Types of Ideological Bias:
Authoritarianism versus libertarianism, localism versus globalism, traditionalism versus progressivism — bias is not just about left versus right.
The All-Sides left-to-right media bias scale doesn't tell the full story about political ideology. In fact, the words "liberal" and "conservative" don't tell the full story.
Authoritarian versus Libertarian
Nationalist/Localist vs Globalist
Individualist vs Collectivist
Secular vs Religious
Traditionalist vs Progressive
Elitist vs Populist
Rural vs Urban
IT IS EXTREMELY IRONIC THAT A WEBSITE DEVOTED TO CALLING OUT MEDIA BIAS
IS ACTUALLY DEVOTED TO EXTREMELY BIASED ANALYSIS
"Overall, we rate AlternativeNews.com a right-wing Tin-Foil Hat Conspiracy and Quackery Level Pseudoscience website based on the questionable sources they link to."
"AlternativeNews.com is a news aggregation website that pulls news from conspiracy, pseudoscience, and far right-leaning sources. The website has the tagline "The Independent News Source for Free-Thinking People." AlternativeNews.com does not have an about page, disclaimer, or disclosure of ownership."
NATURAL NEWS IS SPOTLIGHTED AND SINGLED OUT A CONSPIRACY AND QUACKERY
If you go to the Natural News Website However, You Will See that All of Their News Reports Link To Credible Sources That Prove Their Claims.
"The website is owned by Mike Adams who owns several so-called alternative news sites such as Natural News. AlternativeNews.com does not have advertising, but rather serves as a portal to websites owned by Mike Adams, hence increasing traffic on the websites he owns."
Analysis / Bias
"In review, AlternativeNews.com is a news aggregation website that links to many of Mike Adams Alternative News sites such as Natural News, News Target, Science. News, Climate. News, Trump. News and Liberty. News. AlternativeNews.com also features the Good Gopher browser that links to all of Mike Adams's websites.
For background Natural News and News Target both promote right-wing conspiracies and quackery level pseudoscience. See their hyperlinked reviews above. In general, this source's sole purpose is to promote Mike Adams' websites and promote junks science, conspiracies, and quackery level pseudoscience. Mike Adam's websites have been called an "empire of misinformation."
Overall, we rate AlternativeNews.com a right-wing Tin-Foil Hat Conspiracy and Quackery Level Pseudoscience website based on the questionable sources they link to. (D. Van Zandt 2/1/2019)"
This one is Particularly Amusing
(LAUGH OUT LOUD)
Mike Adams Is Building an Alternate Reality Online

EMPIRE OF MISINFORMATION
https://www.mcgill.ca/oss/article/quackery/mike-adams-building-alternate-reality-online
Anti-vaccination, HIV-AIDS denier and pro-quackery Mike Adams (AKA The Health Ranger) is the chief engineer of a self-contained world on the Internet.

If there is a Wonderland filled with health scares, monsters, and miraculous concoctions, Mike Adams is building it. And it's looking-glass is the Internet.
Much has been written recently about online "echo chambers": the idea that we are catered to on the Internet with sites and recommendations that reinforce our preexisting beliefs. If you watch a lot of science videos on YouTube, follow many scientists on Twitter, and regularly search for scientific questions on Google, your online experience will shift away from neutrality, as search results, post sorting, and recommendations will be tailored to your pro-science stance. This is an echo chamber because, in due time, you only hear your beliefs repeated back at you and stop seeing what's happening on the other side.
Echo chambers for the pseudoscience crowd exist as well, though Mike Adams' online bubble is so vast and self-sufficient, it warrants the term "ecosystem".
THIS HIT PIECE ARTICLE DOES HAVE SOME CREDIBLE LINKS, HOWEVER:
(THE LINKS ARE NOT LIVE; THEY DO NOT WANT YOU TO ACTUALLY SEE THEY ARE CREDIBLE)
Adams suggests you use Good Gopher Search Engine:

BUT THE TRUE FACT IS MEDIA-BIAS FACT CHECK IS LIKE 90% OF ALL FACT CHECKER FAKE NEWS WATCH SITES.
THEY ARE ALL FUNDED BY BIG-MONEY GLOBALIST/DEEP STATE/ANTI-AMERICAN INTERESTS
2021 List Of the Best Alternative News Media Sites
A Brief History of Fake News
(FALSE ASUMPTIONS BASED ON MSM NEWS VS INTERNET SOURCES)

Their References Tells You Everything You Need to Know
How Contemporary Fake News Is Different
No matter who started the "fake news thing," fake news in its modern form is different from the historical forms of journalistic nonsense in traditional media outlets. The speed at which it is spread and the magnitude of its influence places it in a different category from its historical cousins. There are three unique parts to modern fake news that make it different from older varieties of intentionally exaggerated or false reporting: the who, the what, and the how.
TAKE THE POLITICAL COMPASS TEST
Before taking the test: Please note that this isn't a survey, and these aren't questions. They're propositions. To question the logic of individual ones that irritate you is to miss the point. Some propositions are extreme, and some are moderate. That's how we can show you whether you lean towards extremism or moderation on the Compass. Your responses should not be overthought. Some of them are intentionally vague. Their purpose is to trigger reactions in the mind, measuring feelings and prejudices rather than detailed opinions on policy.
Transparency Troubles: How the Associated Press Mixes News and Subjectivity:
When an article is clearly labeled as "news" or "opinion," do you read it with that in mind?
People coming to a site or clicking on a link expecting hard news are sometimes met with subjective analyses and opinionated angles, and content is not properly labeled. All Sides has found even historically trusted news sources, such as the Associated Press, sometimes fail to properly label content.
Media Outlets Should Maintain Boundary Between News and Opinion
Journalism is practiced through various literary devices — no-frills fact-based news reports, perspectives-laden analyses or fully opinionated columns. Each is distinctly different; hard news gives us facts and tells us what happened, while analyses and opinion articles contextualize the events and provide readers with valuable insight and perspectives.
How Misleading Labels Create Confusion for Readers
More concerning about creeping bias in AP reporting is that most major publications, channels, and stations in the U.S. have subscriptions to the Associated Press wire stories…
How biased is Reuters or Associated Press?
Main Stream Media News Channels Do Not Do Their Own Investigative Journalism.
They Pay the Associated Press to Investigate and Write the News FOR THEM.
So Does Pfizer and Big-Pharma…
As the Primary and Exclusive Source of Investigative Journalism, Their Intentional Twisting of The Truth is Particularly Offensive.
AP Knows that what Project Veritas Reported WAS COMPLETELY TRUE.
But as the Primary Source of THE NEWS, Reporting True Factual News is NOT THIER JOB.
The AP's Job is to Falsify and Twist THE TRUTH, to Package It for Mass Consumption.
James Okeefe Reports Exactly How They Twisted His Factual Report Very Clearly in His Video below.
But let's take a look at some more of their Bogus Fact Checking in Action.

DEFAMATION BY IMPLICATION: The Associated Press 'Strawmans' Project Veritas
The Federalist: The AP's Spin On Its Own Poll Shows Media Bias In Action

Media bias: Associated Press Stokes Racial Division, Smears Trump

THE HILL: The AP provides another example of how media pushes an anti-gun agenda

THE NEW YORK POST: The Associated Press' progressive bias is out of control

THE HOVER INSTITUTE: A Brief History of Media Bias by Bruce Thornton, Wednesday, June 12, 2013
A Study of Bias in the Associated Press. May 2, 2010
This is Really About the Left Attacking the Right, but when it Suits the Liberal Press, they will Tell Some Truth
(The Truth is right vs Left is Just Controlled Opposition on Both Sides.
THE MSM NEWS SERVES THE GLOBALISTS)
The Problem with such Websites as the One Below is that they Fail to address the Most Important News Phenomena of our Modern Times- See below:
"Citizen Journalists" and the Bypassing of Main stream media for a Truely Revolutionary Independent Phenomena of the Modern Day News."..
MSM FIGHTS MISINFORMATION JUST LIKE CARTEL GANG MEMBERS FIGHT CRIME A guide to anti-misinformation actions around the world
WHO OWNS THE NEWS???
Ever wondered who owns your favorite news websites?
Our latest study shows the current state of media consolidation around the world.
We started off by identifying the top 50 most visited news websites in the world as of December 2019, using data from web traffic analysis company Alexa and market intelligence provider Similar Web. We then determined the parent companies behind each of these 50 outlets and identified all of the properties in their online media portfolios.
The world's most influential media moguls: Which CEOs have the most power?
This means that publications under the direction of Verizon Communications reach an incredible 52% of the world's population.
Who owns the most media outlets? 666
New Media Investment Group. Under their umbrella, you'll find prominent titles such as USA Today, Detroit Free Press, The Columbus Dispatch, The Arizona Republic, and the Austin American-Statesman. In total they own 666 media sites.
Click to view full size image:
Who owns the most media outlets? 666 Click to view full size image:
Who owns the most media outlets? Click to view full size image:
The companies that control global news Click to view full size image:

Who dominates the news industry in the USA, AMERICA:
Who dominates the news industry in the UK
Who dominates the news industry in the Australia
While many believed the internet would bring openness and diversity to the world's media, online news media has become increasingly consolidated over the past several decades.
According to a recent analysis from the Columbia Institute for Tele-Information research center, the market concentration of internet media has more than doubled since 2000. In an analysis of 30 countries, researchers found that, on average, the top four media companies in each country hold 40% of that country's media content market.[1] Such a high degree of media concentration — which is only projected to increase in the near future — has far-reaching implications for social, cultural, economic, and political life.
As the concentration of online news has increased, so has public distrust in mass media. A recent Gallup poll shows that Americans remain largely mistrustful of the mass media, with just 41% currently having "a great deal" or "fair amount" of trust in newspapers, television and radio to report the news "fully, accurately and fairly."
The news media has a powerful influence over consumer tastes, political opinions, and culture at large. As media moguls continue to build their empires, and emerging conglomerates begin to expand into the news media industry, it is important to remain aware of who exactly owns the news.
The Associated Press Is Not Real News.
Project Veritas Proves the AP is the Source of Fake News and Nothing More Than Bait and Switch Shills. Debunking the Debunkers at the Source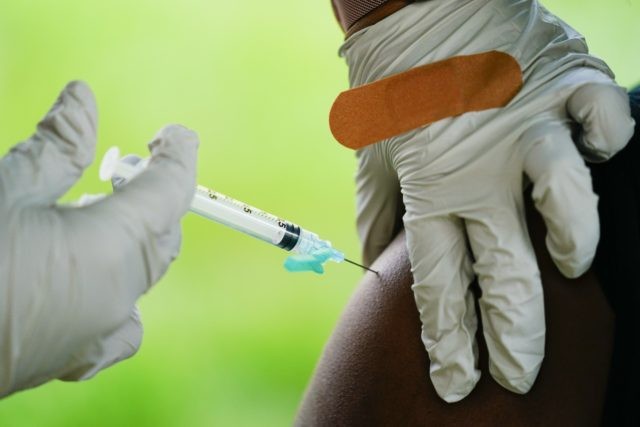 Associated Press, Project Veritas Not the Real News
NOT REAL NEWS: A look at what didn't happen this week
Associated Press writer Angelo Fichera in Philadelphia contributed this report.
Pfizer's COVID-19 vaccine does not contain fetal cells, contrary to online claims
CLAIM: Newly leaked emails among Pfizer employees show that the company's COVID-19 vaccine contains fetal cells. (FACT CHECK. TRUE)
Pfizer's COVID-19 vaccine does not contain fetal cells, contrary to online claims

Even Breitbart Proves They Promote The AP's Fake News.
The Gateway Pundit Proves they have Far More Credibility than Breitbart:
BREAKING: Project Veritas: Pfizer Whistleblower Reveals Internal Emails Discussing Covid Vax, 'We Want to Avoid Having the Info on the Fetal Cells Floating Out There'
BREAKING: Project Veritas: Pfizer Whistleblower Reveals Internal Emails Discussing Covid Vax, 'We Want to Avoid Having the Info on the Fetal Cells Floating Out There'

The FBI is not targeting opponents of critical race theory
CLAIM: "Attorney General Merrick Garland has instructed the FBI to mobilize against parents who oppose critical race theory in public schools, citing 'threats.'"
(Fact Check. Wrong)
First Off, The AP starts out with a Biased Lie. They are IN FACT Quoting the Criminal Biden Administration and Asking the Criminals If They Committed a Crime.
Number One. WE Have Existing Laws and Local Police who are there to handle Any Crimes that are Committed.
If there are in fact any Crimes Being Committed, there would be Arrests and Charges for such Crimes. Hmmm. I wonder Where Those Are. There does Not Seem to Be Any.
No, this is a Closed and Shut Case of Retaliation Against Those Who Oppose the Biden Admins Globalist Agenda…
And Garland has Been Proven to Have a Conflict of Interest. His Immediate Family Directly Benefits by the Millions from the Sale of Critical Race Theory Book Sales.
Garland's son-in-law's company, Panorama, provides its CRT-related platform to over 1,500 school districts, 23,000 schools, and 13 million students. No wonder he wanted to stop parents from criticizing CRT being pushed in US schools.

REVEALED: National School Board Association Coordinated with Biden Regime Before Garland Classified Parents "Domestic Terrorists"

Here are some Previous So Called Fact Checks by The Associated Press: NOT REAL NEWS: A look at what happened this week
CLAIM: If your coronavirus test comes back positive, it "could also be the common cold." "This is straight from the CDC."
THE FACTS: Posts sharing this claim are mistaking guidance on antibody tests from the Centers for Disease Control and Prevention for the health agency's guidance on tests for the virus. A common cold alone would not result in a positive COVID-19 test. There are two types of tests available that relate to COVID-19: viral tests and antibody tests. Viral tests check if the virus that causes COVID-19 is active in the body, while antibody tests are designed to look for a past infection by checking the blood for relevant antibodies. As part of its guidance on antibody tests, the CDC's website says: "A positive test result shows you may have antibodies from an infection with the virus that causes COVID-19. However, there is a chance a positive result means that you have antibodies from an infection with a virus from the same family of viruses (called coronaviruses), such as the one that causes the common cold." In recent weeks, social media users have confused this message on antibody tests as pertaining to viral tests. "So if your Corona test is positive, it could also be the common cold," reads one Facebook post viewed more than 160,000 times. "This is straight from the CDC. I rest my case." This post misrepresents CDC information, and is false. If your viral test is positive, it means you have a current infection with SARS-CoV-2, the specific virus that causes COVID-19, according to the CDC.
Using The CDC as their Source of Fact Checking PROVES The AP is NOT A CREDIBLE SOURCE OF INVESTIGATIVE JOURNALISM
The CDC has BEEN CAUGHT IN LIE AFTER LIE. THEY ARE A VACCINE COMPANY and Complete SHILLS for BIG-Pharma.
So here are THE ACTUAL FACTS.
FALSE POSITIVE TEST RESULTS OCCURE AT AN EXTREMELY HIGH RATE
You Do Not Even Have to Be Sick to Test Positive for COVID-19 Sars Cov 2
SO, YES. SOMEONE WITH A COMMON COLD CAN TEST POSITIVE USING THE BOGUS PCR TEST METHOD.
It really IS That Simple. THE ASSOCIATED PRESS IS LYING…
CLAIM: A video makes numerous claims about preventing the coronavirus, stating that hydroxychloroquine can prevent and cure COVID-19, and wearing masks and keeping people locked down have no value.
THE FACTS: The video, which features a group that calls itself America's Frontline Doctors, tells viewers they have been duped into isolating themselves and encourages people in the U.S. to return to their normal activities. It relies on unsubstantiated and false information to make the case. The video was viewed millions of times and was retweeted by President Donald Trump.
Multiple social media platforms removed the video because it contained false information. Many of the key false claims in the video were made by Dr. Stella Immanuel, a Houston physician, who said she has successfully treated 350 patients using the anti-malarial drug hydroxychloroquine. She recommends using the drug alone as a preventive, and with zinc and azithromycin as a cure for COVID-19.
"I came here to Washington, D.C., to tell America nobody needs to get sick," she said in the video. "This virus has a cure. It is called hydroxychloroquine, zinc, and Zithromax. I know you people want to talk about a mask. Hello? You don't need mask. There is a cure. I know they don't want to open schools. No, you don't need people to be locked down. There is prevention and there is a cure." Claims that hydroxychloroquine is effective in treating the coronavirus have been widely debunked by top health officials and the drug has been a part of several national studies.
"There is no evidence done in a rigorous study that shows hydroxychloroquine in combination with azithromycin or zinc or whatever combination you use that has any benefit in the treatment of coronavirus to date," said Dr. Amesh Adalja, a senior scholar who specializes in infectious diseases at the Johns Hopkins Bloomberg School of Public Health.
In June, the U.S Food and Drug Administration revoked its emergency use authorization for the use of hydroxychloroquine and chloroquine, a similar drug, to treat COVID-19, basing its decision on large and randomized clinical trials of hospitalized patients. The FDA said that the drugs "showed no benefit for decreasing the likelihood of death or speeding recovery." The NIH recently conducted its own study of hydroxychloroquine on the coronavirus and found that it offered no benefit to patients. The AP reported on a nationwide study released in April that looked at 368 patients and how they responded to hydroxychloroquine with or without the antibiotic azithromycin, also known as Zithromax.
The analysis of the use of the drugs in U.S. veterans' hospitals revealed that there were more deaths among those who were given the malaria drug versus standard care. While there has been evidence that hydroxychloroquine has an effect against the coronavirus in a laboratory setting, it does not appear to have any kind of beneficial effect in humans, said Adalja of Johns Hopkins. The World Health Organization has said there is currently no cure for the virus, which has killed More than 150,000 people in the U.S. and 675,000 around the world. The video not only touted hydroxychloroquine but it also attacked recommendations made by top health officials to combat the virus. In the video, Immanuel says Americans don't need a mask because hydroxychloroquine is the cure. Experts have said time and time again that wearing a mask helps reduce the spread of the coronavirus along with keeping six feet apart. While lockdowns may disrupt day-to-day life, health experts agree that they limit the transmission of the virus.
(That one is Particularly Amusing. although The AP Did Know at the time That They Were Lying, since then these LIES Have Been Disproven Thousands of Times)
Yet The AP Has Not Detracted Their Proven Misinformation. But instead Continue to try to Perpetuate That False Narrative,
Even Though the Masses Now Knows for A FACT that HCQ Works EXTREMELY WELL at Preventing and Curing All Viral Infections. It is Even the Long-Sought Holy Grail That Cures the Common Cold. And it has Been Intentionally Hidden from the Public.
Duh AP. It says Right on the Mask Packages that they Do Not Work to Stop Covid Infection.
Fauci admitted Himself "That Masks Do Not Prevent Infections, That They Will Only Make the Public FEEL SAFER…

HERE IS A LEGITIMATE FACT CHECK ON WEARING MASKS: The Gateway Pundit:
COVID DISINFORMATION: Post Reporter Tries to Make Mask Fanatics Seem Heroic

How The Mainstream Media Lost All Credibility & Why It's Too Late To Save It September 17, 2014 by David Rushton
When I was younger, we didn't have social media or alternative news sources, rather we had network TV news. Channels like CNN and Fox and the local stations (channel 6 ABC Action News). They would deliver breaking news and more. We didn't question it; we took it as truth. Looking back at the news from when I was teenager compared to now, it's mind-boggling how they managed to get away with so much for so long.
Fun fact: 6 companies own at least 90% of all the news outlets where the world receives American news.
The six are Time Warner Inc, General Electric Co., News Corp., The Walt Disney Co., and Viacom Inc. (1) Back in 1983, according to Benjamin Bagdikian, there were over 50 corporations that controlled information. (2) Shouldn't that have worried anybody? How did this happen? We can thank President Bill Clinton and the Telecom Act of 1996. The Telecom Act in theory was supposed to foster competition among media companies; instead, it allowed a massive amount of consolidation. (3)
In a sense Noam Chomsky was dead on about how the news on your TV was more a bastardized version of commercials and bias. Why? Because the news doesn't care about how unfair or how biased it is. I want you to look at CNN, Fox News or MSNBC, look at 6ABC or whatever your local news station is. I want you to count how many stories actually show a semblance of actual opinion or find actual criticism about current world issues or even coverage of current world issues. You'd have a better time finding that pot of gold at the end of a rainbow.
Look at the most widely covered MSM News and you will find the most blaringly obvious examples of credibility loss and outright disinformation of the issues that confront us on a daily basis…
"Citizen Journalists" and the Bypassing of Main stream media for a Truely Revolutionary Independent Phenomena of the Modern Day News."..
Citizen Journalists
DOING THE JOB OF CORPORATE JOURNALISTS
(MANY OF US FEEL EXACTLY THE SAME WAY)
Having slowly grown disillusioned with the level of reporting that was being passed off as "journalism", that disillusionment grew at an alarming rate when COVID19 hit the UK in March 2020. I watched as the corporate media, almost in unison, began acting as stenographers for the official line of the English government and the devolved administrations.
I watched as government diktats were swallowed whole, regurgitated onto paper and the screens of electronic devices unquestionably and largely unverified by these stenographers.
I watched as "social media influencers", most with conflicts of interests to external bodies such as the World Economic Forum, World Health Organisation, Sage, Independent Sage etc, sprung into action propagating varying unverified claims supporting the narrative of their interest groups whilst amassing huge social media followings in the process. Fear sells.
I watched as previously unheard of doctors, consultants and academics began pitching themselves as "Covid experts" with the aim of self-promotion rather than truth promotion. These "experts" would take a populist position and begin propagating that position to an audience whom were seeking confirmation for their own biases. People wanted frightened and scaremongers were in no short supply.
I watched as five decades of established science and epidemiology was ignored as it stood in the way of the post-Covid narratives. The new narrative was that modelling should replace facts and data. Established peer-reviewed literature should be ignored if it doesn't lend support to the new quasi-science agenda. Scientists who point to the established science were labelled as "fringe" whilst being attacked and vilified by this new breed of self-proclaimed experts who were seemingly using the crisis to raise their online profiles with the end result of enriching themselves.
I watched as unverified facts were passed off by the governments to a neutered, uneducated and compliant media who would reprint them as facts. No challenge to the official Covid narrative was permitted and as journalists are career driven, with mortgages, they weren't going to risk being labelled as "Covid deniers" so just went along with everyone else. Besides, they aren't being paid to verify. Their role is to repeat.
I watched to I could no longer remain a casual observer and I felt that as the corporate media were showing no signs of ever seeking evidence for the numerous unverified claims, that someone had to at least try challenge and verify said claims.
When agendas and ignorance are used to distort the facts – the truth suffers
"Citizen Journalists" and the Bypassing of Main stream media for a Truely Revolutionary Independent Analysis of the News…
Those voices that are the loudest, demanding that we place our trust in Public Health officials and bow at the altar of authority; that we just roll up our sleeves and take a jab for something that the majority don't need jabbed for; are quite often the voices of unreason and hysteria. These same people who 19 months ago didn't care about you or your family now demand that you take a vaccine you likely don't need to make them feel safe. If you refuse, they come after you in enraged cyber gangs, demanding that you submit to their intimidation. For them, herd mentality is their refuge. Dissent is not accepted. Whilst these baying mobs of cyberbullies unleash their wrath upon the unsuspecting individual, facts cease to matter and truth suffers as a consequence.
"The goal is for you to submit. The goal is not for the truth be heard."
Citizen Journalism: Meaning, History, Types, Pros and Cons
Imagine what happens when a news medium fails to cover or report an important incident due to critical situations? The medium tends to lose its credibility and trust. To avoid this, the concept of citizen journalism was brought in. Earlier, when the news media came into existence, it was the leaders and businessmen who played a major role in news making. Slowly, the citizens started making news, and in today's date, citizens have started to report the news. The rapid growth of the internet also contributed to the evolution of citizen journalism. Today, there are news media who highly support citizen journalism as it helps them retain their credibility.
What is Citizen Journalism?
The concept of citizen journalism is based on citizens who play a dynamic role in the process of news collecting, reporting, editing, and distributing it to other public. It is different from professional journalism and traditional reporting. This kind of journalism needs no graduation from a professional course. The requirements are simple. The citizen has to have a camera or good writing skills and more importantly a social media account.
In simple terms, Citizen Journalists:
Are not professionals, but they produce and publish news
Are people outside the mainstream media organizations
Are people who were "audience" yesterday
They simply write the news from their perspective.
Citizen journalism is also called as:
Personal publishing
Networked journalism
Participatory journalism
Open source journalism
Citizen media
Grassroots media
Bottom-up journalism
Hyperlocal journalism
Stand-alone journalism
Distributed journalism
Nonmedia journalism
Guerrilla journalism
History of Citizen Journalism:
With high-quality cameras and the fastest internet facilities, citizen journalism has become easier today. But, it all started with 727 citizens in South Korea. Being dissatisfied with the traditional media and their reporting, the Korean entrepreneur, Oh Yeon Ho's declared that "Everybody is a reporter" in the year 2000. Unable to bear the costs of hiring reporters for a professional news medium, OhmyNews, a news website was started. The speciality of this website was, any person could write and report the news. Gradually, the count of the citizen reporters and the news started to increase and it was noted that the reporters count touched 50,000 plus in the year 2007. Citizen journalists from 100 countries reported.
Later, this practice was brought into existence in every country which had the growth of the internet. As technology grew, the issues, the crime scenes, and also other newsworthy events started to grow. Also, citizen journalism was a great help during terrifying happenings such as attacks and natural calamities. It is continuing to contribute to the aspect of receiving information from every corner of the world.
Types of Citizen Journalists:
There are two different ways where a citizen journalist can work:
Working on their own: Social Media
Working with organizations: Creating a blog or a website
(A Third Type is Gonzo Journalism, Uner Cover Investigative Journalism)
Gonzo Journalism Rejects The Myth Of The Neutral Media
Advantages of Citizen Journalism:
Citizen journalism has more advantages than disadvantages.
There are first-hand contributors during a critical instance
Offers an opportunity for talented people who are not professionals
It offers a good amount of space for marginalized groups
It talks about the problems that mainstream media forgot to throw the spotlight on
Low cost but easy access to a large set of audience.
Simply, threats don't play much of a role here.
It empowers local communities
Citizen journalists who speak for their public work for the betterment of their community
Also, Read: Investigative Journalism:
Investigative journalism: Definition, Categories,role,functions
Poke The Bear
The Name That Muders the Truth THE FAKE NEWS

The term fake news means "news articles that are intentionally and verifiably false" [1] designed to manipulate people's perceptions of real facts, events, and statements. It's about information presented as news that is known by its promoter to be false based on facts that are demonstrably incorrect, or statements or events that verifiably did not happen.
Fake news "is fabricated information that mimics news media content in form but…lack(s) the news media's editorial norms and processes for ensuring the accuracy and credibility of information" [2]. It overlaps with misinformation (false or misleading information) and disinformation (false information purposely spread to mislead people).
The definition may seem a bit vague, but it's important. People have used the term "fake news" to mean different things.
This definition eliminates unintentional reporting mistakes, rumors that don't originate from a news article, suspicions/interpretations/conspiracy theories, satire, and biased (but not false) reports.
It also leaves out sweeping indictments of mainstream media. The President likes to call "fake news" the reporting of uncomplimentary things that seem distracting or insignificant, which cast him in a negative light in the context of successes that he thinks should be made more prominent. This site isn't about that.
A Citizen's Guide to Fake News, Published August 29, 2018
Where Does Fake News Come From?
Can Citizen Science Help Fight Misinformation and Biased News Coverage?
A new project called Public Editor asks citizen scientists to work together and vet the credibility of the news.
Can Citizen Science Help Fight Misinformation and Biased News Coverage?

Before It's News®
is a community of individuals who report on what's going on around them, from all around the world.
Anyone can
join
.
Anyone can contribute.
Anyone can become informed about their world.
"United We Stand" Click Here To Create Your Personal Citizen Journalist Account Today, Be Sure To Invite Your Friends.