Morphing Transforming UFOs? (Revised 4/4/2021)
Sunday, April 4, 2021 17:43
% of readers think this story is Fact. Add your two cents.

Morphing Transforming UFOs?
By Paul Dale Roberts, HPI Ufologist
Halo Paranormal Investigations
www.cryptic916.com/
Sacramento Paranormal Help
www.facebook.com/HaloParanormalInvestigations/
Email: [email protected]
Sacramento Paranormal Haunted Hotline: 916 203 7503
Deanna Jaxine Stinson is on a leave of absence from Halo Paranormal Investigations and is on temporary assignment with the X-Files – FBI, as Special Agent Stinson investigating the UFO phenomena. Drawing by Richard Vasseur.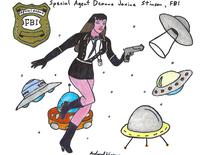 I have heard many strange stories, but this story has got to be the strangest yet. The story can't be verified for authenticity, but it is still a story that should be told. Take a seat and let me tell you this bizarre tale of strangeness.
I receive a call from a young man named Johnny. Johnny does not want his full name in this article, nor does he want to let you know where the incident occurred. He will let you know that the incident happened somewhere in the Midwest. Four years ago, Johnny and his friend Tyler were in a secluded area camping. The area is lush meadows and surrounding trees in the distance. On the night they were camping, there were mid-level Cumulus clouds, perhaps 6,500 feet high from the ground.
Johnny and Tyler heard a rumbling noise in the sky. Tyler's eyes started flickering and he completely passed out. Johnny tried to revive his friend, but he was out cold and then he noticed what appeared to be a large white panel truck in the sky! The large white panel truck was huge. If you were to place 2 large Hummers together, it was the size of two large Hummers in width and in length. The white panel truck seemed to have a huge panel door on the side, large windows in front and 4 wheels and it was driving on top of the mid-level Cumulus clouds! There was a large bright light that seemed to chase it.
Johnny was affixed to this object and finally to his surprise the object descended from the clouds and landed in the meadow. Right behind it came the bright light and the bright light turned into what looked like a Space Shuttle!
At this time, I was ready to hang up on Johnny, because I thought this story was absolutely bizarre and it was hard for me to fathom that this story had any credibility to it. But, I decided to hang on, because the story was fascinating to say the least.
Johnny was compelled to go towards the large white panel truck. He could not resist walking towards this strange flying machine that has a Space Shuttle parked at its rear. Johnny remembers looking into the window of the large white panel truck and he could make out the driver/pilot. The driver/pilot had a US space suit on and as he peered through the window into the driver/pilot's head gear he saw what he describes as a Grey with large black oval eyes. The driver/pilot of this vehicle started waving his arms frantically and Johnny stepped back from the large white panel truck and it ascended into the sky with the space shuttle following. As it reached the clouds both objects blinked into nothingness.
Johnny went to the campfire and discovered that the campfire was out. The wood was completely burned and now smoldering. Johnny was confused, because the fire should have kept burning, it was only perhaps 40 minutes that passed during the sighting. Tyler awakened and asked what happened. Johnny and Tyler were also shocked that the sun was now rising. Johnny claims that the area has a lot of UFO activity, black helicopters and some cattle mutilations. Johnny also claims that at the age of 10 that he may have been abducted. He has flashbacks of buzzing sounds, bright lights and being stared at by big black eyes.
The only reason why I take some credence to Johnny's story is that UFOs have been known to morph into other objects. Here are some possible cases and stories:
UFOS TRANSFORM INTO AIRSHIPS:
From 1896 to 1897, thousands of people witnessed 'airships', when there were no airships in existence. The first airship was spotted over Sacramento, California on November 17, 1896. The airship looked like a Goodyear blimp and there were no Goodyear blimps in 1896. Could UFOs have disguised their ships to look like airships, so that citizens would not be alarmed?
UFOS TRANSFORM INTO BLACK HELICOPTERS:
Some Ufologists make claim that UFOs can project images to deceive witnesses. Case example where witnesses watch a typical saucer shaped UFO morph into a black helicopter. Could UFOs use projected holograms to disguise their craft to conceal themselves from potential witnesses? A famous projected hologram by a UFO could have happened at the Miracle of Fatima where gatherers closest to the 3 children saw a projected image of a 'lady', while gatherers furthest from the children saw a dancing sun (possible UFO).
Since there are cases in which UFOs play 'Transformers' to the witnesses, I was compelled to tell Johnny's story and let you the reader be the judge.
HPI NEWS AND UPCOMING EVENTS!
REDDING HAUNTING:
On August 22, 2009, Saturday, the HPI team heads to Mill Pond Lane in Redding to investigate a haunted home. Activities in the home are:
Possible portal in home, the occupant feels entities are coming in and out of a portal in her home.
Entities are pushing and shoving occupants.
3 or 4 men stand over occupant's bed and stare at her, while she is trying to sleep.
Little children ghosts are seen in the house.
Some of the children wear outfits from the 1800s.
Old lady ghost is seen.
Dolls are placed underneath the bed.
Whistling heard in occupant's ear.
Entity calls her name. Entity has female voice.
House is 3 years old, but possibly the land is haunted. Research is being conducted.
After this investigation we are doing a Batsquatch/Bigfoot/UFO hunt at Mount Shasta. We will be camping all night at Mount Shasta.
MONSTER QUEST/HISTORY CHANNEL:
Shannon McCabe and I were contacted by Anna Mikelson of History Channel's Monster Quest to do a possible investigation at Mount Shasta in search of Batsquatch/Mothman.
HPI CHRONICLES: A HAUNTING IN PIONEER:
sacramentoparanormalonline.com/Blog/?p=64
DAVID MACE PIONEER INVESTIGATION VIDEO:
www.youtube.com/watch?v=VeJLsAZ4pR8
HPI'S HALLOWEEN VAMPIRE BALL!!
Information and highlights can be found at www.shannonmccabe.com HPI is having a Haloween Vampire Ball at the very haunted nightclub called 'Vegas'! Also, when you stop at this site, also check out 'Paul's Lair' (you will find my articles at this location); 2012 The Real Truth video; Showtime's Penn & Teller The Apocalypse episode featuring Shannon and Paul; Marcy Playground documentary!
INVESTIGATION PHOTOS!
Can be found here: s643.photobucket.com/albums/uu157/PaulDaleRoberts_2009/
Paul Dale Roberts, HPI General Manager, Paranormal Investigator & Ghostwriter
Shannon McCabe's HPI
Haunted and Paranormal Investigations International
www.HPIparanormal.net
My comic book The Legendary Dark Silhouette is being made into a movie, see link below:
www.tldsmovie.org – You can actually get involved with this movie, find out how!
Mysteries of Angels & Demons featuring Demonologist Paul Dale Roberts can be purchased at:
www.ivesstreetentertainment.com
Paul on Wikipedia, click link below:
en.wikipedia.org/wiki/Paul_Dale_Roberts
www.jazmaonline.com
WPRT Paranormal Radio – Content Editor
Email: [email protected]
Paranormal Cellular Hotline: 916 203 7503 (for comments on this
story).
If you have a possible investigation call: 1-888-709-4HPI
Copyright 2009 Paul Dale Roberts, HPI Ghostwriter Copyright 2009
all rights reserved.
Before It's News®
is a community of individuals who report on what's going on around them, from all around the world.
Anyone can
join
.
Anyone can contribute.
Anyone can become informed about their world.
"United We Stand" Click Here To Create Your Personal Citizen Journalist Account Today, Be Sure To Invite Your Friends.