A Brief History of False Flag Attacks. Why Didn't President Trump Make False Flags and Propaganda Illegal While He Was in Office?
Friday, January 28, 2022 0:38
% of readers think this story is Fact. Add your two cents.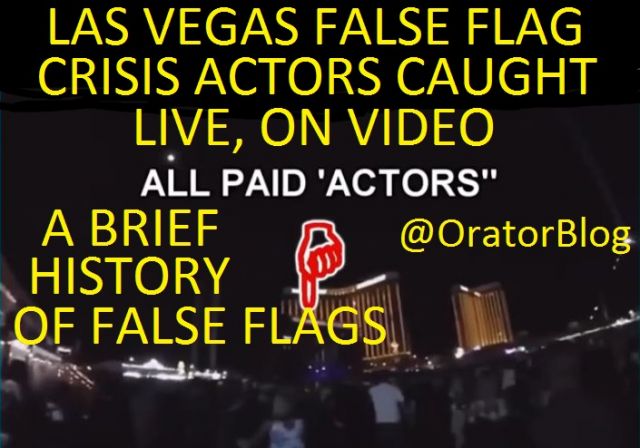 A Brief History of False Flag Attacks.
Why Didn't President Trump Make False Flags and Propaganda Illegal While He Was in Office?
Many Patriots Still Miss the Fact that the Kenosha Riot-Rittenhouse Shooting-Court Case was a Staged Event-False Flag that Played Both Sides
The Point is, if Americans are being Played in Psyops from Both Sides, How Can ANY of it Be Trusted???
THERE IS NO QUESTION. WE ARE BEING MANIPULATED!!!
YOU ARE WATCHING A MOVIE!!!
The Question is, are we being subject to Controlled Opposition from Both Sides Who are Really Working Together for a Controlled Outcome???
Republican and Democrat Leadership have both FAILED to Point Out Any False Flag Staged Events.
They have been Caught Red Handed in case after case of Fear Porn Theater and Psychological Warfare Psyops.
IF NONE OF OUR LEADERS ARE TELLING THE TRUTH, HOW CAN ANY OF THEM BE TRUSTED???
WHY DIDNT PRESIDENT TRUMP MAKE FALSE FLAGS AND PROPAGANDA ILLEGAL WHILE HE WAS IN OFFICE???
With all of President Trump's Complaints about THE FAKE NEWS, it is Outrageous that He Left the Evil Propaganda False Flag System Intact.
President Trump not only FAILED to Protect us from this Evil Treason, He Failed to even Call Out False Flags altogether!!!
We must start thinking more critically. Start asking the hard questions and not give anyone a FREE PASS
I am concerned that many otherwise intelligent Patriots are far too ready and willing to jump on the Propaganda Band Wagon. Even After Red Flags have been thrown all across the field.
DO NOT OVERLOOK THE FACT THAT THE BIGGEST FALSE FLAG – MASS GENOCIDE EVENT TOOK PLACE DIRECTLY UNDER PRESIDENT TRUMP'S PRESIDENCY- "THE COVID-VAX PLANDEMIC GLOBAL GENOCIDE"
Let's take a look at the Rittenhouse/Kenosha Fiasco and its relationship to the Sandy Hook False Flag as an example.
So, wait a minute. If Kyle Rittenhouse was a Crisis actor, (It Looks Like he is)
THEN WHAT MAKES YOU THINK THE JUDGE WAS NOT ACTING AS WELL????
Trust No One – Question Everything
Personally, I believe the ANTIFA Black Lives Matter Protests are Staged Event – False Flags Conducted by the Deep State to Manipulate the Masses.
I Believe the Kenosha Riot and the Kyle Rittenhouse Fiasco was a Staged Event to Attack Gun Ownership Rights and to Trigger an Uprising with the Not Guilty Verdict for Rittenhouse.
But even if you believe it was a Psyop Ran by the White Hats (See article Below)
A Psyop – False Flag Staged Event and Fake News Propaganda Campaign is an UNACCEPTABLE EVIL No Matter Who is Doing It…
FALSE FLAGS AND PROPAGANDA MAY BE LEGAL, BUT I BELEIVE FALSE FLAG CRIMINALS SHOULD ALL BE HUNG FOR TREASON
For a Judge to Take Part in a Faked-False Court Case would be a Complete Travesty of Justice, no matter Who was Behind it.
@OratorBlog 1-27-2022
Robert David Steele just emailed me: "I want to weigh in very strongly in support of the Las Vegas shooting being a false flag event. As with Orlando the numbers do not add up."
What are the odds Las Vegas shooting was a false flag? UPDATED
2 SEPARATE SHOT BLASTS (VIDEO DELETED BY YOUTUBE)
What are the odds that all of the witnesses who described multiple shooters are wrong?
What are the odds that DHS was in Nevada not long ago as part of a plan that ran from last November right up until very recently, mimicking events like the one that just happened, by pure coincidence?
Mandalay Bay Las Vegas Shooting October 1, 2017
LOS VEGAS FALSE FLAG CRISIS ACTORS VIDEO
(This Video has been SCRUBBED from the Internet, But I Found it)
GEORGE SOROS BET 42 MILLION DOLLARS HOTEL STOCK WOULD GO DOWN
WELL, WHAT DO YOU KNOW? THE STOCK WENT DOWN AFTER LOS VEGAS ATTACK
How Billions were FOOLED by the Vegas shooting. Mandalay Bay Fake Shooting Compilation
From the YouTube channel Nevada Forensics, mirrored
https://153news.net/watch_video.php?v=4MOMS8MNANKS
THIS IS THE MAIN VIDEO. PLAYER DID NOT LOAD. CLICK LINK ABOVE
Las Vegas False Flag – Red Flags:
Las Vegas False Shooting – A BUNGLED FALSE FLAG EVENT
Amazing video has emerged on Brighteon in February, 2020, that apparently had been circulating around in privately shared networks.
https://www.brighteon.com/3590b1d6-8c61-4094-aaae-683757cfcda8
It shows that the Las Vegas shooting was staged and so many people felt it was a false flag that the narratives kept changing.
Upon the release of hundreds of hours of video tape and audio tape a few crucial facts have become clear. That there was a mass shooting drill scheduled for that day. That there was insider trading regarding PUT options and unusual insider activity on MGM stocks and even an advanced warning describing the exact scenario made by a private individual.
All the public needed was smoking gun evidence. Hand in the cookie jar evidence! By far the most compelling evidence featured to date for any crime is video and audio evidence. Well? Here it is.
1) CCTV panned right to Paddocks room during the shooting and no broken windows or muzzle flashes were seen.
2) Suspicious conversations between responders, caught on video that was being suppressed. Court order took care of that suppressed video.
3) Incriminating statements implying they had room keys to a door they breached.
4) Statements that they were going to blow out a window.
5) The infamous "Corey" featured on the well known tape, "Corey No! Corey No!" during a hammer strike scene.
6) Private footage of Paddocks window being activity breached by explosives.
7) CCTV showing a beating taking place inside a cocktail trailtor during the shooting.
8) Plus a tidbit or two of unusual, suspicious, crazy behavior by police. "turn off your weapon mic.???" "Really?"
9) A shirtless individual in Paddock's room, left out of the police report.
The video apparently has popped up in private venues and no wonder. There are such things as dead witnesses in this case, and more than one journalist has met unnatural demises and this video will get you censored off of the main social platforms.
This video was also getting so much traffic from "Before It's News" platform it was apparently taken off public status for a while but still available under private/ commercial arrangements.
Unless a subscriber like myself shares the link which will expire as public and revert to private. The truth may set you free but it also may cause depression and sleep loss.
Israeli False Flag Operations They Don't Teach You In School
HOMELAND SECURITY DRILL BEFORE EVENT
Nevada Homeland Security planned mock terror drill for one year, ahead of Oct. 1 massacre
Accused Vegas Shooter's Doctor A DHS Employee; Is Division Leader of NV Emergency Response Agency
The physician who last June prescribed accused Las Vegas shooter Stephen Paddock Diazepam (a drug used to make some more hypno-suggestible or "hypnotizable" and induce amnesia) [1][2], is Dr. Steven P. Winkler of Las Vegas, NV. Winkler is the Chief Medical Officer of Nevada-1 DMAT (Disaster Medical Assistance Team)[3]. DMATs operate under the direction of the Department of Homeland Security and Winkler is thus what is known as an intermittent federal employee and also serves on a number of professional committees. [4] NV-1 DMAT is also a division of Nevada's Clark County Emergency Management agency who just prior to the October 1, 2017 Las Vegas mass shooting, hosted at least one multi-agency mock-mass casualty terrorism response exercise in Las Vegas. [5][6] CIA code named "MK-ULTRA" "mind control" programs experimented heavily with amnesia inducing hypnosis, facilitated by certain drugs like Diazepam. [7]
Mandalay Bay Las Vegas Mass Shooting Was Another Faked Event—and Why These Deceit Events Matter (REVISED)
STATE OF THE NATION: Las Vegas Mass Shooting—Another Faked Event?

Mossad false-flag terrorist Gutjahr "accidentally deleted" his Munich photos
Sometimes it isn't the crime that gets you, it's the cover-up.
One of the clumsiest cover-ups in history may take down the Israeli Mossad Department of False Flag Operations, along with its idiot operative, two-time-loser Richard Gutjahr.
Gutjahr, as I revealed last week, was pre-positioned on the scene of the recent terror attacks in Nice, France and Munich, Germany. A professional photographer, married to high-level Israeli neocon operator Einat Wilf, Gutjahr is apparently tasked with filming the beginnings of false flag terror attacks and broadcasting them to the world.
Now Gutjahr is claiming that he ACCIDENTALLY deleted those photos — which could be used as evidence against him in an "accessory to mass murder" trial.
Ex-Georgia Congresswoman Cynthia McKinney: "Israel responsible for Nice and Munich terror attacks"
(JTA) — A former Georgia Congresswoman claimed that Israel was responsible for the recent terror attacks in France and Germany.
Cynthia McKinney posted on Twitter Saturday night: "Same Israeli photographer captures Nice and Munich tragedies. How likely is that? Remember the Dancing Israelis? …"
https://twitter.com/cynthiamckinney/status/757062738929528832?s=20&t=SpXtVF1XgXtDyT52sCCPYQ
YouTube Deleted the Video-
The tweet includes a link to a video about the photographer's coincidence on the Veterans' Today site.
Dancing Israelis refers to a conspiracy theory that five Israeli men were detained by police in New Jersey on 9/11 after being caught celebrating the attack on the World Trade Center.
The photographer in question, Richard Gutjahr, is not Israeli, but is married to an Israeli, Einat Wilf, a former Knesset member for the Labor party. Wilf served in the prestigious Israeli army's intelligence unit 8200.
McKinney was the Green Party presidential nominee in 2008.
Gutjahr tweeted photos from the sites of both attacks, though he later said the Munich photos accidentally were deleted from his camera.
In Nice, 84 people were killed July 14 by a rampaging truck driven by a French-Tunisian man. On Friday, a lone gunman, 18, shot up a Munich mall, killing nine.
Dancing Israelis refers to a conspiracy theory that five Israeli men were detained by police in New Jersey on 9/11 after being caught celebrating the attack on the World Trade Center.
Gutjahr tweeted photos from the sites of both attacks, though he later said the Munich photos accidentally were deleted from his camera."
BREITBART SHILLS FOR ISRAEL
TEL AVIV – A former congresswoman spread the lie on Twitter that Israel played a role in both the Nice and Munich terror attacks, based on the detail that an Israeli photographer was present at the scene of both incidents.
Cynthia McKinney, a Democrat and former member of the U.S. House of Representatives from Georgia, who has made disparaging remarks about Jews in the past, tweeted: "Same Israeli photographer captures Nice and Munich tragedies. How likely is that? Remember the Dancing Israelis?…"
CONGRESSWOMAN: ISRAEL AND MOSSAD RESPONSIBLE FOR NICE ATTACK, REMEMBER THE DANCING ISRAELIS?
By Kevin Barrett, Veterans Today Editor (click the embedded video above to watch us discuss this story on False Flag Weekly News with special guest host Jeremy Rothe-Kushel – click HERE for links to all the stories
IT IS BECAUSE OF PRESIDENT TRUMP'S FAILURE TO BRING AN END TO FALSE FLAG ATTACKS THAT WE STILL LIVE IN FEAR OF SUCH AS THE FOLLOWING ARTICLE:
OPERATION PATRIOT PURGE: CIA PLOTTING JANUARY 29, 2022, DOMESTIC TERRORIST AND/OR RUSSIAN-BACKED PRO-TRUMP SPECIAL FORCES-RELATED ATTACK, BIOLOGICAL ATTACK, CHEMICAL ATTACK, COUP, MASS SHOOTING, OCCUPATION, SIEGE AND/OR STORMING EVENT TARGETING WASHINGTON, DC AND/OR GREATER AMERICA AS PRETEXT FOR MARTIAL LAW & NIGHT OF THE LONG KNIVES-LIKE PURGE OF TRUMP SUPPORTERS WITHIN US MILITARY (JANUARY 27, 2022)
Judge Bruce Schroeder Played a Top Role in the Kenosha/Rittenhouse False Flag Staged Event
KYLE RITTENHOUSE THE GREEN SCREEN CRISIS ACTOR, AKA BABY NOAH, SANDY HOOK..
Must see 14m.. This was NOT a win but a ploy to trigger BLM and Anti-Gun Riots to push legislation to ban guns… Pay attention to his behavior… Terrible acting, his crying was awkward and not sad. His emotions were fake and he was side by side with the judge… that doesn't happen… EVER not even with celebrities. May be a hard pill to swallow… But swallow it…
Kyle Rittenhouse the crisis actor was also involved with the so-called Capitol attacks inside the Capitol Bldg. as well. Look at the thumbnail picture that is Ole Kyle
Kenosha Has the Stink of a Staged Event
Kyle Rittenhouse – The Truth in 11 Minutes
Kyle Rittenhouse Green Screen Malfunction/Kyle Is Actually a Crisis Actor (baby Noah) Sandy Hook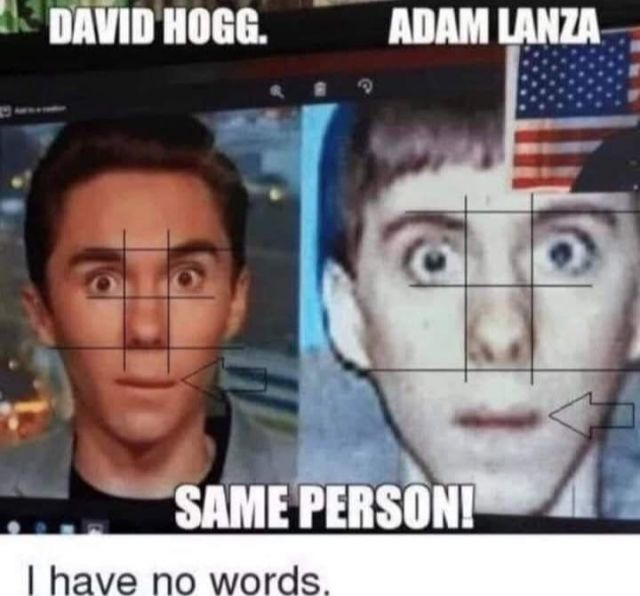 Sandy Hook False Flag Mass Shooter Adam Lanza is Parkland School Mass Shooter Survivor Crisis Actor David Hogg. Sandy Hook Documentary: We Need to Talk About Sandy Hook @OratorBlog Wednesday, December 15, 2021

Presidents and Mass Shootings – A Brief History of Mass Shooter False Flag Attacks (This overlooks the Biggest False Flags – 9/11 and Perl Harbor)
PRESIDENTIAL SILENCE
A LIMITED TOOLKIT
It is now absolutely clear that the Las Vegas Mass Shooter Event was not the act of a Lone Gunman. Shots were fired from multiple directions, requiring MULTIPLE SHOOTERS.
WHY DID PRESIDENT TRUMP HELP TO COVER THIS UP???
It is far too soon to know if the Trump administration will surpass the Obama administration's tragic record of 24 mass shootings in two terms, but Trump's presidency has already witnessed the worst mass shooting in American history. On October 1, 2017, a 64-year-old man — quite old compared to the profiles of other mass shooters — killed 58 people before killing himself at a country-music festival in Las Vegas. This attack was disturbingly well planned: The killer, armed with multiple weapons, shot his victims from the window of his hotel room and monitored the hallway outside his room via cameras he had placed there earlier. Trump appropriately called the shooting "an act of pure evil" and lavishly praised the bravery of the police who eventually stopped the killer. He also traveled to Las Vegas and met with victims and medical staff at the city's University Medical Center.
THANK YOU, SOROS CONTROLLED MEDIA MATTERS, FOR PUTTING TOGETHER A LIST OF FALSE FLAGS CALLED OUT BY ALEX JONES


A Comprehensive Guide To Alex Jones: Conspiracy Theorist And Trump "Valuable Asset"
Jones' Overarching Belief Is That "Globalist" Elites Are Plotting To Kill And Enslave The World. Jones believes that a cabal of global elites — sometimes referred to as the New World Order — are running secret programs designed to kill and enslave the world's population, and it is up to patriots like himself to spread news of their plans for world domination. In his 2007 film Endgame, Jones laid out that scenario:
ALEX JONES: In the near future, Earth is dominated by a powerful world government. Once free nations are slaves to the will of a tiny elite. The dawn of a new dark age is upon mankind. Countries are a thing of the past. Every form of independence is under attack, with the family and even the individual itself nearing extinction. Close to 80% of the Earth's population has been eliminated. The remnants of a once free humanity are forced to live within highly controlled compact prison-like cities. Travel is highly restricted. Super highways connect the mega cities and keep the population from entering into unauthorized zones.
No human activity is private. A.I. super computers chronicle and categorize every action. A prison planet dominated by a ruthless gang of control freaks, whose power can never be challenged. This is the vision of the global elite. Their goal: a program of total dehumanization where the science of tyranny is law. A worldwide control grid designed to ensure the overlords' monopoly of power forever. Our species will be condemned to this nightmare future, unless the masses are awakened to the New World Order master plan and mobilized to defeat it. [Endgame, 2007]

Jones On Sandy Hook Shooting: "Staged," "Hoax," "Completely Fake With Actors"

The Present Proves the Past-
Jones: Vaccines Are Part Of Government Program To Kill Or Maim The Population

CNN has nothing but praise for Judge Schroeder, which should be a Red Flag in itself-
Judge Bruce Schroeder's reputation as a tough jurist comes through in Rittenhouse trial
Who is Judge Bruce Schroeder?
Schroeder — the longest-serving active judge in Wisconsin's trial courts — is viewed as a tough jurist, the type of judge who's not afraid to make difficult decisions, no matter the response.
"He has a reputation for doing what he believes is the right thing and being an independent thinker," said William Lynch, a retired attorney who served on the board of the ACLU of Wisconsin at the time of Schroeder's ruling about ordering AIDS tests for sex workers in the 1980s.
NPR plays both sides, Calling Judge Schroeder into Question to trouble the Left, but then goes on to give approval for his credibility, and thus give credence to the Entire Fiasco…
As the nation awaits a Kyle Rittenhouse verdict, some raise eyebrows at the judge
https://www.npr.org/2021/11/16/1056181659/kyle-rittenhouse-trial-judge-bruce-schroeder-kenosha
At 75 years old, Schroeder is the longest-serving circuit judge in Wisconsin. He was first appointed in 1983 by a Democratic governor and has continuously won election since, often running unopposed.
He has a well-earned reputation of being both no-nonsense on the bench approachable, say lawyers in Wisconsin. He tells a lot of stories, and he focuses a lot on lunch.
With the trial carried live on TV and internet streams, viewers across the country have been able to get an up-close view of Schroeder in action.
https://www.realhistorychan.com/the-kyle-rittenhouse-event.html
Partly because of Q Anon clues and partly due to deductive observation, the RHC has believed for months now that the leadership of the radical street Communists — unbeknownst to the red rank and file following their lead — have been rounded up and replaced by operatives working for Military Intelligence. The objective? To herd the angry mobs into Q Anon's trap while linking them to the Democrat Party. It's very simple and it's very effective at scaring the female voters of the mushy middle into the Trump camp.
"If Rittenhouse is not convicted, he will set a precedent for others like him to pick up guns they shouldn't have and thrust themselves into the middle of unrest they should avoid — confident in knowing that prison won't be in their future."
Rittenhouse will walk free because nobody died. And the "Sicilian Message" sent from the White Hats to both the Reds in the suites and the Reds in the streets is very clear: Antifa and BLM are gone and nothing can bring them back.
2 CRISIS ACTORS READY TO PLAY TARGET

The Great Reset, Revolutionary Street Theater at Kenosha, Wisconsin, and 17-Year Old Kyle Rittenhouse
Hence, my hypothesis #2 states that Kyle Rittenhouse is one of many crisis actors in this staged "street theater" drama. Both he and the "unnamed security guard" who were aggressively confronted by Joseph Rosenbaum were wearing green T-shirts and carrying a rifle. (See the video at about 2:50 to 3:10). This suggests that the event may have been scripted in such a way that there was some flexibility in the way the drama unfolded. In other words, either Kyle or the other man in the green T-shirt with the rifle could have been the designated targets of Rosenbaum's bullying attacks, depending on how events played out on the street. In this scenario, it is possible that all involved might have been following subliminal or virtual telepathy/auditory instructions which they received from some remote handlers/directors.
At this early stage of investigation, I find hypothesis #2 more plausible. In hypothesis #1, Rittenhouse is the individual who is targeted (the TI) by the rioters. However, the public is the "targeted audience" (TA) in both scenarios. Thus, there is also the distinct possibility that the narrative advanced in the 11-minute video provided here is propaganda.
But what would be the purpose of such deception? Perhaps the purpose is to both terrorize and infuriate mainstream America in such a way that civil war becomes more probable?
While I do not know which of these two scenarios is correct, both seem more probable to me than the official narrative. The whole event has the feel of a staged, made-for-TV street theater. If so, the August 25 Kenosha riot may be just one in a long series of Pentagon-produced domestic terrorism events; events which are paid for by the annual $4 billion the Pentagon earmarks for "propaganda."
These are important questions in the sense that what we are witnessing, most probably, is a series of staged events that are designed, probably by military psychologists, to influence/change the behavior of the American public. If so, the gang stalking-street theater-violence, etc., should be regarded as state tools of mass social engineering and perception management.
YES, KYLE CRIES LIKE A GIRL, BUT HE PROBABLY IS ONE


Followers of the QAnon movement are lashing out at Kyle Rittenhouse for his comments on lawyer Lin Wood
Rittenhouse angered the QAnon sphere by commenting on Wood and the QAnon movement during an interview with NewsNation on Tuesday. Wood represented Rittenhouse when the 18-year-old was on trial for charges related to the fatal shooting of two men — Joseph Rosenbaum and Anthony Huber — and for injuring another, Gaige Grosskreutz, during an August 25 protest in Kenosha, Wisconsin, last year. Rittenhouse was acquitted on five felony charges last Friday.
"We fired him, because he was, like, going on with all this QAnon and election fraud stuff and just stuff we don't agree with," Rittenhouse said.
Kyle Rittenhouse: Incident, Trial and Fallout are all a PsyOp
Anyone else think Kyle Rittenhouse and the whole narrative is a bunch of PsyOp bullshit?
The trial is deliberately being led to the jury instead of dismissal which should have happened. Massive mistakes by the defense allowing inadmissible evidence. etc etc. Done on purpose. We also know juries can be influenced by the mob (Derek Chauvin PsyOp)
KR showed high skill level with a weapon, shooting people while being attacked multiple times, clearing a weapon malfunction, zero accidental shootings. This is beyond difficult or normal weapon skill. All caught on video. He was obviously trained by a pro, not video games or paintball.
Overwhelming amount of photo and video evidence, from earlier in the day, to multiple encounters during the night before and after the shooting, the video of him in the street running away after shooting JR, and now the "secret" FBI videos. Enough images to present a "narrative".
Predictable media coverage.
Before It's News®
is a community of individuals who report on what's going on around them, from all around the world.
Anyone can
join
.
Anyone can contribute.
Anyone can become informed about their world.
"United We Stand" Click Here To Create Your Personal Citizen Journalist Account Today, Be Sure To Invite Your Friends.