Breaking! U.S. Army Tweets [17] Booms! It's Happening Now! National Guard in All 50 States! Must Watch Video
Tuesday, January 18, 2022 19:10
% of readers think this story is Fact. Add your two cents.

BREAKING! U.S. Army Tweets [17] BOOMS! It's Happening NOW! MUST WATCH VIDEO!!
PLUS SCROLL DOWN FOR TODAY'S FEATURED ARTICLE: The National Guard is NOW Officially in All 50 States!
For those who prefer Rumble:
Get Your Gold IRA FREE Investor Guide Today! Click Below 👇👇👇 (Before It's News will advise you that they are not responsible for this link. It is safe.)
http://www.patriotgoldgroup.com/download/ira-investor-guide-cp.html
JOIN US ON TELEGRAM: https://t.me/ChristianPatriotNews
Sponsor A Show:
[email protected]
We are the enemy of Big Tech, Big Money and Big Media.
Together, let's expose the lies of the enemy. Impart a little truth every day. Especially the Truth that Jesus Christ is Lord!
Any support you can provide is greatly appreciated. We're in this together. Together WE WILL WIN! Please support the fight.
Use Any of The Following Links. (Before It's News will advise you that they are not responsible for these links. They are safe.)
GIVE SEND GO.COM *U.S. PLUS INTERNATIONAL*
https://givesendgo.com/ChristianPatriotNews
NEW! Donor Box (accepts eChecks)
https://donorbox.org/christian-patriot-news
NOW YOU CAN BUY ME A COFFEE! *U.S.A. PLUS INTERNATIONAL*
https://www.buymeacoffee.com/ChristianTruth
Sign up for Cash App using my code and you'll get $5 FREE.
Here's a link…
Already have Cash App? Here's my Cash App Link:
https://cash.app/$ChristianPatriot
Here's Today's Featured Article:
According to the National Conference of State Legislatures, all 50 states, the District of Columbia, Puerto Rico, Guam and the U.S. Virgin Islands have activated National Guard forces to assist in the battle against the pandemic.
In Wisconsin, National Guard members were activated in March 2020. In 2021, they focused on testing people for COVID-19 and distributing vaccines. In the fall, Wisconsin National Guard members began training as temporary and certified nursing assistants.
"We have the most expansive use of the Guard in this model," Walz said. "It appears that every other state, now with [the Omicron variant of COVID 19], is hustling to get there. They are picking up this model and starting to train."
Minnesota's Task Force COVID began in March 2020 when Walz authorized the Minnesota National Guard to assist with the COVID-19 response. The Guard provided personal protective equipment from its medical warehouse at Camp Ripley to first responders across the state.
The Minnesota National Guard also partnered with the Minnesota Department of Health and the Army Corps of Engineers to identify and select alternate care sites.
In May 2020, the Minnesota National Guard began supporting COVID-19 testing in Minnesota's long-term care facilities. Approximately 100 Soldiers and Airmen assisted state health officials, conducting more than 70,000 tests at more than 500 facilities by Aug. 25, 2020.
In May and June 2021, Guard members tested almost 350,000 people for the coronavirus. Minnesota's Airmen and Soldiers continued to operate these sites throughout 2021, supporting nasal swab and saliva testing.
"The Guard has been asked to do a lot, and they are still continuing to do it," added Walz. "They are doing it with professionalism, and they are doing it with care."
"The Minnesota National Guard's success is a result of the professional women and men who serve our organization," said Col. Scott Rohweder, Minnesota National Guard's director of operations. "Additionally, our interagency and educational partners made it possible to quickly respond to requests for COVID-19 missions. These relationships at home were the foundation for planning and performing duties associated with COVID-19 community-based testing and vaccination sites, and support to long-term care facilities."
Watch Next:
Q: Suicide Weekend! Clintons, Rothschilds, Soros Panic [18.18] Reprisals DoD Law of War! MUST WATCH!!
Today's Video: We Saw Multiple Comms From Donald J. Trump And The Q Team! The U.S. Army Tweeted 17 BOOMS Today! Is This The Start Of The Military Phase? We're Expecting A Huge Red Wave In October And November! We Will Take Back The House, The Senate And Eventually The White House! Is Trump Bringing Back Currency Backed By Gold And Silver?
Today's Article (Above): According to the National Conference of State Legislatures, all 50 states, the District of Columbia, Puerto Rico, Guam and the U.S. Virgin Islands have activated National Guard forces to assist in the battle against the pandemic.
We'll Also Show You Some Incredible Four-Year Deltas! The Deep State Cabal Has Been Warned! To Those Who Have Committed Treason And Sedition Against The United States of America, Justice Is Coming!
Indictments And Arrests Are Coming, Followed By Military Tribunals. We're In Biblical Times! History Is Being Made Right Before Our Very Eyes. We're In The Midst Of The Great Awakening! Welcome To The Information War! It's Irregular Warfare! Spoiler Alert… In The End, God Wins!
Enemy Combatants Will Be Dealt With According To The Department Of Defense Law Of War Manual. Justice Is Coming!
You're Witnessing The Q Team's Sting of The Century! President Trump Caught The Swamp! Truth Bombs Are Destroying The Deep State Cabal's Propaganda Narrative! Those Responsible For The [Coup Attempt] Against President Donald J. Trump, Will Not Go Unpunished!
Welcome To The Military Phase Of The Greatest Worldwide Election Sting Of All-Time! Is Trump Running A Shadow Presidency Behind The Scenes? When Will "We, The People" Witness The Coming Reveal?
Corrupt Politicians And The Fake News Propaganda Media Will All Be EXPOSED For Their Crimes Against Humanity! Q Says Soon [They] Will Not Be Able To Walk Down The Street! These People Are All Pure Evil! They Worship The Devil! And Now The Hunters Have Become The Hunted!
We Are Finally Approaching The Precipice! Will We Be Done In 30 Days? Expect Multiple Big Events To Break In Our Favor! Watch For More John Durham Indictments. Look For A Huge [DECLAS] Of Intel. Q Is Threatening A D5 Avalanche Is On Its Way!
The Global Elite Are Scared. There's Panic In DC And Around The World. What Do They Fear? The Truth. And Patriots Are Rising Up Everywhere To Expose Their Criminality!
The Mother Of All BQMBS Is Incoming! Carpet Bombs Will Lead To A Huge MOAB! We're On The Q Clock! Watch Trump's Upcoming Press Releases, Interviews And Rallies. It's Finally Happening, Right NOW!
[They] The Deep State Cabal Overplayed Their Hand. And They Will Not Succeed! We Caught Them All! We The People Will Take Our Country Back! We Are About To Witness Trump's Epic Return To His Rightful Place As President Of The United States!
Maricopa County Alone Has Enough Evidence To Decerify Arizona. It Will Be The First Domino To Fall! Georgia And Pennsylvania Are Next. Those Three States Alone Will Show Enough Fraud To Overturn The 2020 Presidential Election And Restore Donald J. Trump To The White House!
We Had To Walk Through The Darkness Before We Could See The Light! It Had To Be This Way To Safeguard Future Elections And Save Our Children From The Real Pandemic: Child Sex Trafficking! Patriots can prove everything! But the longer we wait, the more The Deep State is Exposed! Every Scenario Was Planned For! The Whole World is Watching!
Trump Will Not Return as The President of The Bankrupt U.S. Corporation, but rather The President of The New Republic of The United States! In this New American Republic We The People have all the power. There is NO FEDERAL INCOME TAX! And America returns to The Gold Standard!
Arrests & Military Tribunals Are Coming SOON! Zuckerberg, Jack Dorsey, Fauci, The Obamas, Bidens & Clintons will all end up in GITMO for High Treason!
Previous Updates:
Q: Military InteL. Lin gence! The 17th at 17:17 How Many Coincidences Before It's Mathematically Impossible?
Incoming Sonic BOOMS! Truth Bombs Are Destroying The Deep State Cabal Propaganda Narrative!
Q+ Trump Signals Military Start [Arrests] Tribunals & Executions! MUST WATCH!!
A Christian, Biblical Perspective on Gene Altering mRNA [email protected]! Your Body Is God's Temple!
FOLLOW US ON GAB:
https://gab.com/ChristianPatriotNews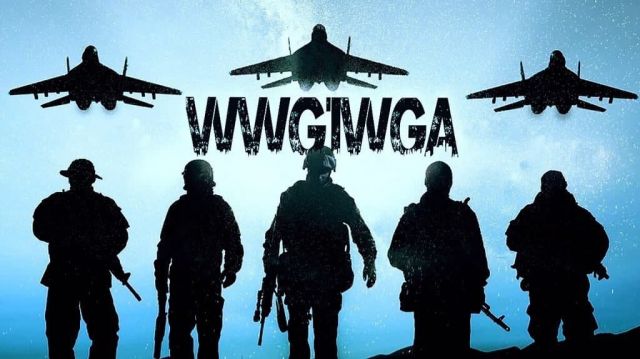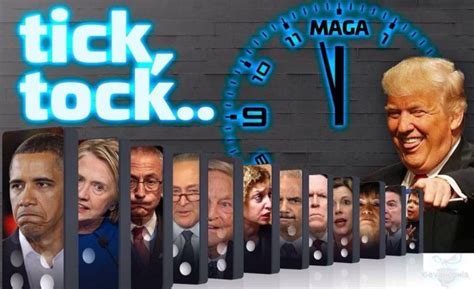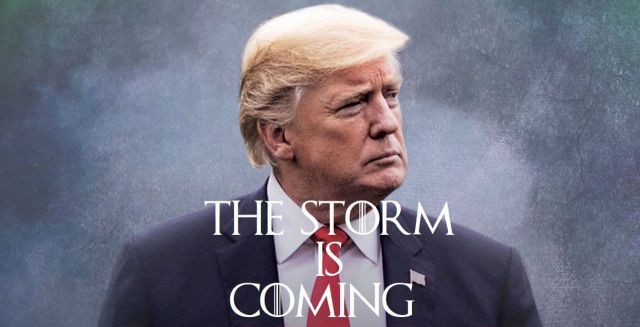 Before It's News®
is a community of individuals who report on what's going on around them, from all around the world.
Anyone can
join
.
Anyone can contribute.
Anyone can become informed about their world.
"United We Stand" Click Here To Create Your Personal Citizen Journalist Account Today, Be Sure To Invite Your Friends.