It's Not Just the 87,000 New IRS Agents, It's who They Will Be – What They Will Do!
Tuesday, August 9, 2022 8:10
% of readers think this story is Fact. Add your two cents.

Not just the numbers and who they will be but what they will do. "…to provide digital asset monitoring…."
We should recall what Obama did and had in mind for the IRS before we jump to the easy explanation. "The real reason they target low income is because they can't afford attorneys and accountants" often quoted.
The reason is not the low hanging fruit.
Biden's Build Back Better Framework, issued in October 2021, noted that wage earners had a 99% tax compliance rate and that the miscreant 1% evades about $160 billion per year in taxes. Sounds like a lot, but it's not too bad actually: that's just 4% of the $3.863 trillion taken in. Given that perfection will always elude us, at what point does this become statistically insignificant and unjustifiably wasteful? There are about 12,000 "agents" in the IRS, and about 145 million taxpayers. Do we really need 87,000 more agents to address issues with maybe a million and a half taxpayers? Absolutely not!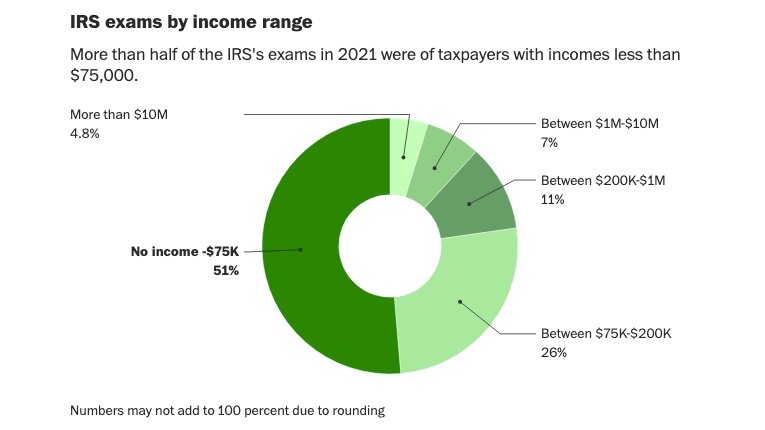 From RNC Research
Let's put our thinking caps on. Hmmm.
So, again, what's this money for? In the original BBB bill, this section took up a page. Now, it's ten pages long. It starts on page 1926 of the current version of H.R. 5376 and on page 39 of the Senate's draft Inflation Reduction Act; versions are slightly different but the total is the same. In the $45 billion enforcement section, we've got "…to provide digital asset monitoring…."

If that doesn't make the hairs on the back of your neck stand up I don't know what will. The IRS should be concerned only with assets it suspects are being funded through tax fraud and it doesn't take $45 billion to do that. But to establish the ability to implement Senator Warren's unconstitutional "wealth tax," well, it might just be enough.
And just where are we going to get all of these accountants? With electronic filing the need for clerical staffing has drastically been reduced. At present, the IRS cannot fill its annual hiring goals. Where are these 87,000 coming from and who will they be?
.
IRS agents are accountants. Now that the San Diego school district is giving straight As to every child who lives in the district, whether or not they show up at school, think any of them will be able to make it through 30 semester hours of increasingly complex accounting courses?
Forty percent of all accounting graduates opt to become CPAs, which takes them out of the running for entry-level agent positions. CPAs need a full year's worth of credits on top of their degree, a couple of years in a public accounting sweatshop, passing all the segments of the CPA exam, and annual continuing education credits. Starting wages for agents are significantly lower than for private industry accountants.
Now we come to the great reveal.
Buried in the wording is a paragraph giving the Secretary of the Treasury the ability to hire directly into the competitive service without regard for current laws that mandate publicly announcing available competitive service openings. The Secretary can ignore all federal laws that give hiring preference to veterans, the disabled, former employees (that would include those fired for not taking the co-vax), military spouses, Peace Corps volunteers, etc. That's one way to make sure only those who meet a political smell test get to participate in this new IRS enforcement program.
I suggest hiring those suitable for their prize – …to provide digital asset monitoring…." when did this become a function of the IRS?
The goal of Pelosi, Schumer, Warren, Sanders, and the rest of the ultra-pro-regressive bunch.
For more read from The American Thinker
This is exactly filling out what Obama had in mind. Let's go through some of the good old times of Obama. I pulled out a portion of a couple of old posts:
Recall this old war horse Lois Lerner?
December 12, 2017 — bunkerville
Former IRS senior executive Lois G. Lerner told a federal court last week that there's "no legitimate" reason why the public should see her testimony about her role in tea party targeting, pleading with a judge to keep her deposition permanently sealed.

They said there's "exceedingly low" public interest in having their depositions released, and they said tea party groups are pushing for disclosure out of "spite."
The IRS has reached settlements with hundreds of tea party groups and the government admitted it bungled its handling of their nonprofit status applications during the Obama administration. The government, in one of the settlements, even singled out Ms. Lerner for specific criticism, saying she failed to stop the targeting and even hid it from her supervisors.

But Ms. Lerner's own defense of her actions, as well as Ms. Paz's testimony, remain secret, with the transcripts of their depositions sealed and all references to the information from those depositions redacted from other documents.
February 26, 2014 — bunkerville
Treasury's proposed rules would significantly alter 501(c)(4) tax-exempt organization activities and restrict First Amendment rights. Other tax-exempt organizations, including labor unions, would not be subject to the same rules. A letter recently signed by more than 50 conservative and free market groups expressed similar concerns and called on Congress to block the proposed regulations. Camp, who has led the House Ways and Means Committee investigation into the IRS's abuse of conservative groups, released the following statement:

"Despite the administration's insistence that 'there's nothing to see here,' the committee has found evidence demonstrating that right-leaning groups were targeted to an extent far beyond what was reported by the Inspector General. Our investigation is still ongoing and the committee has not received all the requested documents. It is premature to publish new rules before getting all of the facts. The Administration's proposed rules openly target groups that are exercising their First Amendment rights. We cannot allow these draft regulations to go into effect. Congress must make sure every American's right to participate and engage in civic debate is protected, and this legislation will provide some much-needed assurance that IRS targeting and surveillance will not continue.

"Additionally, I am disappointed by reports that the Department of Justice had decided – without conducting a serious investigation – that it will not to pursue criminal charges in the IRS's intentional targeting of conservative groups. I have long said that we will follow the facts of this case wherever the facts lead us – and this case
January 18, 2011 — bunkerville
Unhappy with a family member? Had a bad day at the office? Now you can make them spin in the wind. Now the lawyers go into a feeding frenzy. Here you go:

The Internal Revenue Service, reversing an earlier position, proposed rules making it more likely informants will collect a reward when they blow the whistle on tax-dodging employers, neighbors or family members.

The agency proposed regulations today that make it easier for whistleblowers whose information results in denial of refunds or a reduction in deductible losses to get rewards of as much as 30% of the amount involved. Earlier guidance tied reward payments to a portion of additional taxes paid as a result an informant's tip.
February 3, 2010 — bunkerville | Edit
Acquiring Shotguns
This ought to tell us more than we want to know! Good taste in Shotguns–a Remington parkerized shotgun ought to do the trick.
Utilizing Speedfeed® stock variations and Speedfeed® fore-ends, the shotguns are virtually indestructible and are the best choice when weather extremes are a factor. The addition of the R3 recoil pad to all Model 870 Police shotguns reduces the felt recoil of heavy loads by 30%.
Solicitation Number: TIRWR-10-Q-00023
Agency: Department of the Treasury
Office: Internal Revenue Service (IRS)
Location: Field Operations Branch Western (OS:A:P:B:W)
The Internal Revenue Service (IRS) intends to purchase sixty Remington Model 870 Police RAMAC #24587 12 gauge pump-action shotguns for the Criminal Investigation Division. The Remington parkerized shotguns, with fourteen inch barrel, modified choke, Wilson Combat Ghost Ring rear sight and XS4 Contour Bead front sight, Knoxx Reduced Recoil Adjustable Stock, and Speedfeed ribbed black forend, are designated as the only shotguns authorized for IRS duty based on compatibility with IRS existing shotgun inventory, certified armorer and combat training and protocol, maintenance, and parts. Swell!
Submit quotes including 11% Firearms and Ammunition Excise Tax (FAET) and shipping to Washington DC.
The very best of the swamp today.
For the best in conservative news push the button.
Source:
https://bunkerville.wordpress.com/2022/08/09/its-not-just-the-87000-new-irs-agents-its-who-they-will-be-what-they-will-do/
Before It's News®
is a community of individuals who report on what's going on around them, from all around the world.
Anyone can
join
.
Anyone can contribute.
Anyone can become informed about their world.
"United We Stand" Click Here To Create Your Personal Citizen Journalist Account Today, Be Sure To Invite Your Friends.