Stewart Best (1/24/2021): Surfing Hell Unawares…Have You Died?
Sunday, January 24, 2021 18:57
% of readers think this story is Fact. Add your two cents.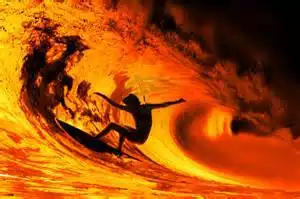 Stewart Best (1/24/2021): Surfing Hell Unawares…Have You Died?
To Download a Free Guide to the Narrow Way (Prove it Out w/ Your Bible & an OLD Strong's): CLICK HERE
HAVE YOU DIED? HAVE YOU GONE TO THE LOWEST ROOM?
The Bible tells us something very strange, and Jesus verified it many times, yet it is ignored by modern Christians and considered a heresy. That makes Jesus a heresy as well.
First, take a look at this comment from Jesus:
Matthew 10:37-39
37 He that loveth father or mother more than me is not worthy of me: and he that loveth son or daughter more than me is not worthy of me.
38 And he that taketh not his cross, and followeth after me, is not worthy of me.
39 He that findeth his life shall lose it: and he that loseth his life for my sake shall find it.
Mark 8:33-35
33 But when he had turned about and looked on his disciples, he rebuked Peter, saying, Get thee behind me, Satan: for thou savourest not the things that be of God, but the things that be of men.
34 And when he had called the people unto him with his disciples also, he said unto them, Whosoever will come after me, let him deny himself, and take up his cross, and follow me.
35 For whosoever will save his life shall lose it; but whosoever shall lose his life for my sake and the gospel's, the same shall save it.
So then why do people call themselves Christians and DENY the very Word of Christ?
The cross is an instrument of DEATH. Perhaps we find our answer in a parable from the Lord: found in Luke 14:7-11 that will help us explain the unexplained.
7 And he put forth a parable to those which were bidden, when he marked how they chose out the chief rooms; saying unto them.
8 When thou art bidden of any man to a wedding, sit not down in the highest room; lest a more honourable man than thou be bidden of him;
9 And he that bade thee and him come and say to thee, Give this man place; and thou begin with shame to take the lowest room.
10 But when thou art bidden, go and sit down in the lowest room; that when he that bade thee cometh, he may say unto thee, Friend, go up higher: then shalt thou have worship in the presence of them that sit at meat with thee.
11 For whosoever exalteth himself shall be abased; and he that humbleth himself shall be exalted.
A mystery to all those who are totally disobedient to the Lord's COMMANDS to enter in at the STRAIT GATE and WALK THE NARROW WAY TO THE LOWEST ROOM, the PIT OF A VERY MYSTERIOUS DEATH. The answer is found in Job, but few pay any attention to it:
12 But where shall wisdom be found? and where is the place of understanding?
13 Man knoweth not the price thereof; neither is it found in the land of the living.
14 The depth saith, It is not in me: and the sea saith, It is not with me.
15 It cannot be gotten for gold, neither shall silver be weighed for the price thereof.
16 It cannot be valued with the gold of Ophir, with the precious onyx, or the sapphire.
17 The gold and the crystal cannot equal it: and the exchange of it shall not be for jewels of fine gold.
18 No mention shall be made of coral, or of pearls: for the price of wisdom is above rubies.
19 The topaz of Ethiopia shall not equal it, neither shall it be valued with pure gold.
20 Whence then cometh wisdom? and where is the place of understanding?
21 Seeing it is hid from the eyes of all living, and kept close from the fowls of the air.
22 Destruction and death say, We have heard the fame thereof with our ears.
23 God understandeth the way thereof, and he knoweth the place thereof.
Perhaps that is why the Lord tells us that we are to seek after WISDOM and UNDERSTANDING with all of our getting; rather than sitting around doing "our thing", whatever that is.
The Modern Church is a house of foolishness. It is also a PRISON HOUSE that keeps you in the Matrix. It is A HOUSE OF LIES, DECEPTIONS, DELUSIONS where one thinks they are saved and going to heaven but ARE NOT as said in Revelation 3:
14 And unto the angel of the church of the Laodiceans write; These things saith the Amen, the faithful and true witness, the beginning of the creation of God;
15 I know thy works, that thou art neither cold nor hot: I would thou wert cold or hot.
16 So then because thou art lukewarm, and neither cold nor hot, I will spue thee out of my mouth.
17 Because thou sayest, I am rich, and increased with goods, and have need of nothing; and knowest not that thou art wretched, and miserable, and poor, and blind, and naked:
18 I counsel thee to buy of me gold tried in the fire, that thou mayest be rich; and white raiment, that thou mayest be clothed, and that the shame of thy nakedness do not appear; and anoint thine eyes with eyesalve, that thou mayest see.
19 As many as I love, I rebuke and chasten: be zealous therefore, and repent.
So, there you have it. Clear, simple and concise. Yet the Church is full of FALSE PROPHETS, who parade around showing their apostasy and yet the Christians hang on their every word. Yes, of course, TRUMP will have two consecutive terms! What happened to that? Even if Trump were to return by hook or crook, he will not now serve two consecutive terms which is what they all said. And if Biden's election was to happen, why did they not warn us that Biden was going to be elected and then Trump would re-emerge? Because they are fakes. Total fakes. Yet all of them will have EXCUSES and will not admit they are frauds. And NONE OF THEM have the testimony of TRUE SALVATION, and thus are part of Peter's WARNINGS. They are FAKES, fake "prophets" and FAKES in their false salvation doctrine, yet God's people LOVE TO HAVE IT SO.
Yes, just say this simple prayer and YOU ARE IN LIKE FLINT. Your ticket to heaven, now dig deep into your pocket and help us help ourselves. Sounds like "The Polar Express" going to the North Pole to visit Santa. Whoops Satan!! Isn't that convenient says the Church Lady.
So why is anyone listening to any of them now? You need to totally disengage. You need to repudiate these FAKES and go back to your Bible and STUDY TO SHOW YOURSELF APPROVED.
Enter in as Jesus commanded or die in your sins. Your choice. Take it or leave it!
To Download a Free Guide to the Narrow Way (Prove it Out w/ Your Bible & an OLD Strong's): CLICK HERE
Stewart Best has been teaching the true gospel of Jesus Christ for over 30 years. His classic video, "Iron Mountain—Blueprint for Tyranny," drew national attention (including the Wall Street Journal) and deep state scrutiny. NBC's Dateline Show backed off when they found out he had the actual evidence of the truth and they could not control the narrative.
The "hate-mongering" SPLC deemed him a "domestic terrorist," men with long guns showed up at his property, and a black helicopter dropped water balloons as a warning, but the Lord delivered him from it all.
In the past, he has appeared on the Art Bell Show and also on Steve Quayle's former radio show.
Be sure to check out Stewart's own Night Shadows Radio Show and the NightShadows Radio Member site (there is a FREE side).
At fourscore years of age his force does not seem to have abated one bit, still producing prolifically with his team at the LightGate ministry in Wisconsin. He was a professional aviator for many years, flying the latest corporate jets as Captain, and he also served in the military.
Iron Mountain and many other videos are available at his YouTube channel "angelfall923"…but watch while you can! YouTube is de-channeling more and more truth-tellers every day. —FTW
He that hath ears to hear, let him hear. (Matt 11:15)
---
Source: https://lightgateblogger.wordpress.com/2021/01/24/surfing-hell-unawares/
---
---
[The true gospel: the only way Jesus gave us was the strait gate/narrow way. Few will DO it. BE ONE!!].
Do You Know The SECRET to This Matrix World — And the WAY Out ? CLICK HERE
CLICK HERE For A Testimony of Authentic Regeneration From a Remarkable Young Lady — This is Not Your Typical "Testimony"
Be sure you are saved, and not just think you are. Do you have the right KIND of faith?
Matt 7:13-14:

Enter ye in at the strait gate: for wide is the gate, and broad is the way, that leadeth to destruction, and many there be which go in thereat: (Matt 7:13)

Because strait is the gate, and narrow is the way, which leadeth unto life, and few there be that find it. (Matt 7:14)
→ Jesus Christ Said Few Would DO It — The True Gospel in Under Ten Minutes
→ 10-Minute Preaching: "Your Whole Entire Life Is Supposed to Get You Out of the Matrix"
→

Time is running out for mankind

– even for the vast majority of Christians who think they are going to Heaven but are not – just as Jesus said.
A DELUSION OF A SALVATION THAT DOES NOT EXIST

.

→ The Bible is clear – only 1 in 1000 Christians is actually BORN AGAIN.

→ No Cross, No Death, No Judgment – No Crown of Eternal Life!!

→ The time is now getting so short to escape the Matrix, in truth!!

→ For more information, FREELY-download and study out while you can:

→ The Dark/Light Series (PDF) (1Cor 13:12) — A Guide to Authentic Salvation

→ "It is the best book I have ever read outside of the word of God itself."

→ "Other than my Bible, it's the best thing I ever read."
---
---
→ See Other Stories Contributed by "Follows TheWay"
---
---
Before It's News®
is a community of individuals who report on what's going on around them, from all around the world.
Anyone can
join
.
Anyone can contribute.
Anyone can become informed about their world.
"United We Stand" Click Here To Create Your Personal Citizen Journalist Account Today, Be Sure To Invite Your Friends.