Stewart Best (2/27/2021): There is NO return, For Babylon Has Fallen
Saturday, February 27, 2021 12:28
% of readers think this story is Fact. Add your two cents.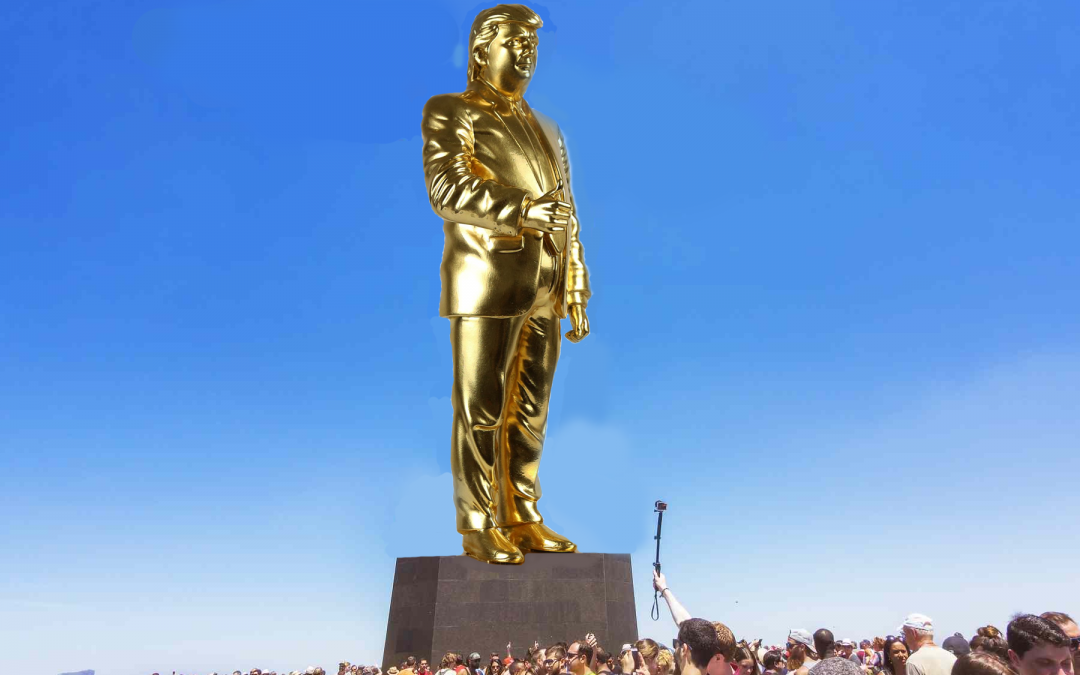 Stewart Best (2/27/2021): There is NO return, For Babylon Has Fallen
There is NO return, For Babylon Has Fallen
THE GOLDEN CALF WORSHIP RETURNS:
Exodus 32:2-10
2 And Aaron said unto them, Break off the golden earrings, which are in the ears of your wives, of your sons, and of your daughters, and bring them unto me.
3 And all the people brake off the golden earrings which were in their ears, and brought them unto Aaron.
4 And he received them at their hand, and fashioned it with a graving tool, after he had made it a molten calf: and they said, These be thy gods, O Israel, which brought thee up out of the land of Egypt.
5 And when Aaron saw it, he built an altar before it; and Aaron made proclamation, and said, To morrow is a feast to the Lord.
6 And they rose up early on the morrow, and offered burnt offerings, and brought peace offerings; and the people sat down to eat and to drink, and rose up to play.
7 And the Lord said unto Moses, Go, get thee down; for thy people, which thou broughtest out of the land of Egypt, have corrupted themselves:
8 They have turned aside quickly out of the way which I commanded them: they have made them a molten calf, and have worshipped it, and have sacrificed thereunto, and said, These be thy gods, O Israel, which have brought thee up out of the land of Egypt.
9 And the Lord said unto Moses, I have seen this people, and, behold, it is a stiffnecked people:
10 Now therefore let me alone, that my wrath may wax hot against them, and that I may consume them: and I will make of thee a great nation."
Trump worship is not new, and those that do not want Jesus Christ to return because they are not ready and refuse to repent, LO0K FOR A MAN TO SAVE THEM, and that leads to actual worship of A MAN. Be careful what you wish for, they say, for you may be given it – and in this case, IT WILL BE ANTICHRIST, posing as a SAVIOR. It is ALL OF THIS WORLD! Those that worship Trump KNOW NOT the TRUE GOD OR WHO HE REALLY IS!!
Now then, Jerry Nadler sealed even further the fate of a once great and God fearing nation America-Babylon when he said, after a great speech given by a Christian representative concerning a nation that turns against the Creator inherits CURSES, Nadler says "GOD'S WILL IS OF NO CONCERN TO THIS CONGRESS". What a foolish ANTICHRIST COMMENT TO MAKE ON PURIM.
Any nation that forgets GOD'S WILL shall be turned into HELL
AND YOU SAY WE ARE A GOD-FEARING NATION? WE ARE IN SERIOUS TROUBLE WITH THE LORD!!
To Download a Free Guide to the Narrow Way (Prove it Out w/ Your Bible & an OLD Strong's): CLICK HERE
Stewart Best has been teaching the true gospel of Jesus Christ for over 30 years. His classic video, "Iron Mountain—Blueprint for Tyranny," drew national attention (including the Wall Street Journal) and deep state scrutiny. NBC's Dateline Show backed off when they found out he had the actual evidence of the truth and they could not control the narrative.
The "hate-mongering" SPLC deemed him a "domestic terrorist," men with long guns showed up at his property, and a black helicopter dropped water balloons as a warning, but the Lord delivered him from it all.
In the past, he has appeared on the Art Bell Show and also on Steve Quayle's former radio show.
Be sure to check out Stewart's own Night Shadows Radio Show and the NightShadows Radio Member site (there is a FREE side).
At fourscore years of age his force does not seem to have abated one bit, still producing prolifically with his team at the LightGate ministry in Wisconsin. He was a professional aviator for many years, flying the latest corporate jets as Captain, and he also served in the military.
Iron Mountain and many other videos are available at his YouTube channel "angelfall923"…but watch while you can! YouTube is de-channeling more and more truth-tellers every day. —FTW
He that hath ears to hear, let him hear. (Matt 11:15)
---
Source: https://lightgateblogger.wordpress.com/2021/02/27/there-is-no-return-for-babylon-has-fallen/
---
---
[The true gospel: the only way Jesus gave us was the strait gate/narrow way. Few will DO it. BE ONE!!].
Do You Know The SECRET to This Matrix World — And the WAY Out ? CLICK HERE
CLICK HERE For A Testimony of Authentic Regeneration From a Remarkable Young Lady — This is Not Your Typical "Testimony"
Be sure you are saved, and not just think you are. Do you have the right KIND of faith?
Matt 7:13-14:

Enter ye in at the strait gate: for wide is the gate, and broad is the way, that leadeth to destruction, and many there be which go in thereat: (Matt 7:13)

Because strait is the gate, and narrow is the way, which leadeth unto life, and few there be that find it. (Matt 7:14)
→ Jesus Christ Said Few Would DO It — The True Gospel in Under Ten Minutes
→ 10-Minute Preaching: "Your Whole Entire Life Is Supposed to Get You Out of the Matrix"
→

Time is running out for mankind

– even for the vast majority of Christians who think they are going to Heaven but are not – just as Jesus said.
A DELUSION OF A SALVATION THAT DOES NOT EXIST

.

→ The Bible is clear – only 1 in 1000 Christians is actually BORN AGAIN.

→ No Cross, No Death, No Judgment – No Crown of Eternal Life!!

→ The time is now getting so short to escape the Matrix, in truth!!

→ For more information, FREELY-download and study out while you can:

→ The Dark/Light Series (PDF) (1Cor 13:12) — A Guide to Authentic Salvation

→ "It is the best book I have ever read outside of the word of God itself."

→ "Other than my Bible, it's the best thing I ever read."
---
---
→ See Other Stories Contributed by "Follows TheWay"
---
---
Before It's News®
is a community of individuals who report on what's going on around them, from all around the world.
Anyone can
join
.
Anyone can contribute.
Anyone can become informed about their world.
"United We Stand" Click Here To Create Your Personal Citizen Journalist Account Today, Be Sure To Invite Your Friends.