Stewart Best (06042023): Sunday Addition -- News of the Day and New Book Announcement
Monday, June 5, 2023 7:35
% of readers think this story is Fact. Add your two cents.

COMING SOON:
I have had folks over the last 40 years tell me that they have attended Church over 50 or more years, since they were very young, and NEVER heard any of the verses of Scripture cited in "The Locksmith" when it comes to salvation. NEVER ONCE that they could recall – "Are you sure this is IN THE BIBLE?"
Jesus Warned Of A Huge Deception & False Prophets
"The Locksmith" unlocks the mystery of what Jesus was telling us, with a multitude of Scripture, word studies and drawings along with a challenge to PROVE IT WRONG. Don't believe it; don't just accept it, PROVE IT ALL FOR YOURSELF.
When you stand before your Creator, you cannot point your finger at your Pastor or Priest, or anyone else – IT WILL BE ONE ON ONE and multitudes of Christians are SENT AWAY to ETERNAL RUIN. They were DENIED ENTRANCE TO HEAVEN! Why? What happened? They were sincere and very dedicated Christians, AND 100% POSITIVE THEY WERE GOING TO HEAVEN. Jesus told us all about them and the lies they embraced as being TOTALLY TRUE!
Jesus told us these poor Christians were under a DELUSION, a DECEPTION, a FRAUD. But even with all the warnings, only very few seem to want to know what the real truth is and even the co-called "remnant" is in real trouble with Jesus. This has nothing to do with "works" or "legalisms" or "law-keeping". The TRUE salvation gospel has NEVER CHANGED and NEVER WILL.
MORE NEWS:
If you cannot figure out who Trump is and what he stands for with the above and his WARP SPEED "JAB" that has now killed millions and maimed millions more, you never will. The WHO is now communist run from top to bottom, and they will be your masters in the very near future through their "One Health" system.
Is this another sign from the Lord as to the last days? It is interesting that the Mayans claimed that the center of the Milky Way was a black hole that lead to where the Creator lives and that this "center" gives both life and death to Earth. Scientists have picked up activity and even have photographed gigantic energy bursts coming from there as this gigantic center gobbles up stars and hurls huge waves of cosmic energy and gravity waves outward. Are we going to soon experience some cosmic shock waves?
THE FAKE RAPTURE – IS IT CLOSE AT HAND?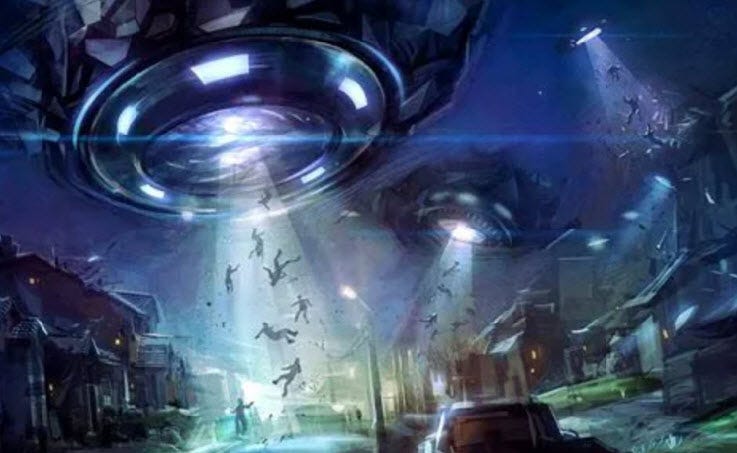 Most movies and pictures showing the "rapture" of the Church show Christians being snatched away in some form of "tractor beam" in which they will be lifted up into the UFO "cloud". Pictures of such events have been taken and videoed showing exactly that with cars and animals – but is that what the Bible says? The answer is no – the REAL RAPTURE will actually be a "vanishing" event in which the Church is REMOVED in the twinkling of an eye – a time so short it cannot be measured.
Having said that, there may well be a FAKE RAPTURE EVENT as recorded by some New Age "seers". If true, and you see "space-ships" coming down and taking people "up" in a beam of light! Then run for your life, as one man said "go hide in your basement" and have no part of it – if Jesus comes to get you, it won't matter where you are, you will simply be "vanished" according to 1 Corinthians 15:51-53. Here it is:
1 Corinthians 15:51-53
51 Behold, I shew you a mystery; We shall not all sleep, but we shall all be changed,
52 In a moment, in the twinkling of an eye, at the last trump: for the trumpet shall sound, and the dead shall be raised incorruptible, and we shall be changed.
53 For this corruptible must put on incorruption, and this mortal must put on immortality.
The word MOMENT:
G823
ἄτομος – atomos – at'-om-os
From G1 (as a negative particle) and the base of G5114; uncut, that is, (by implication) indivisible (an "atom" of time): – moment.
This time period is so short no clock could measure it. We now have cameras that take fantastic slow-motion shots, but this ultra-short period of time could NEVER be captured.
The word TWINKLING:
G4493
ῥιπή – rhipē – hree-pay'
From G4496; a jerk (of the eye, that is, (by analogy) an instant): – twinkling.
If you see an ARRIVAL of a fleet of UFO's and then "beings" come out of them claiming to be our creators or space-brothers and they are here to help or save us, then you know, or should know, they are liars and part of a huge deception.
CHRISTIAN PERSECUTION RISING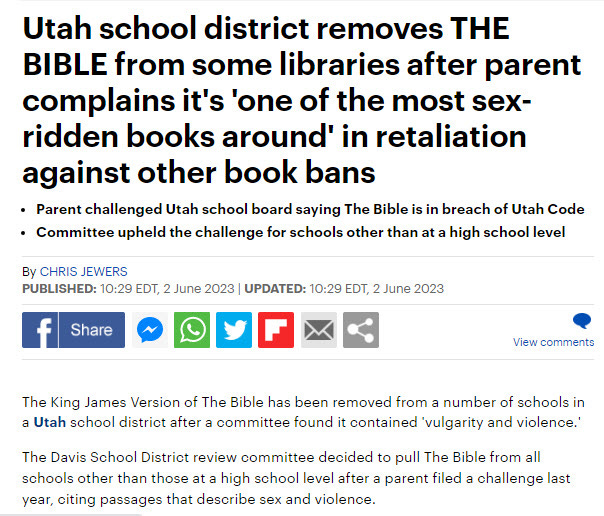 As the noose tightens, ever so slowly, but then comes a "tipping point" will occur and the real persecution of Christians will begin in earnest. Right now it is "demonization" and that has been going on for some time now, but it is beginning to change with Government, FBI, Homeland Security, CDC, FDA and United Nations remarks concerning these "Christians", who are a problem that may have to be dealt with soon.
Biden has already said he would "sign on" to this "One Health" agreement. Unless this is stopped in some manner, all Americans will go under total UN tyranny and our Bill of Rights will be totally destroyed. WHO's mandates for forced mRNA Kill shots will be next!!
When we have the Lord against us for near total disobedience, and then Satan against us because he wants his planet back, and then his "minions" controlling the governments down to the state and county level, we don't have much to say about where all of this is going, now do we?
Why the American people cannot wake up to what is going on is a question on a lot of folks minds. The evidence is now in from scientists and doctors who are experts in their field. Their warnings seem to go unheeded, the rulers go totally unpunished as they commit first degree murder via the needle. They have been so successful in this they are now getting ready for the next culling operation, and this next time it will be mandatory and tied directly to the MARK OF THE BEAST.
Nothing more to say here. So few even care anymore.
Coming Soon On PDF and Hard Copy. No other book out there like it. Proves Jesus was exactly who He said He was and why MILLIONS UPON MILLIONS of sincere Christians are LOST SOULS and are NOT going to heaven. 100% guaranteed or your money back.
Stewart
Before It's News®
is a community of individuals who report on what's going on around them, from all around the world.
Anyone can
join
.
Anyone can contribute.
Anyone can become informed about their world.
"United We Stand" Click Here To Create Your Personal Citizen Journalist Account Today, Be Sure To Invite Your Friends.