9 Top Space Losers After IPO – Who's Leading the Ranking?
Wednesday, February 2, 2022 7:32
% of readers think this story is Fact. Add your two cents.

9 Top Space Losers After IPO – Who's Leading the Ranking?
2021 was a promising yet highly volatile year for the public space industry. With innovative practices reaching the forefront of company developments, there was considerable scope for companies to grow with emerging technologies.
With this being said, as the realm of possibility increased, so did the number of companies in existence. In an industry that's becoming highly competitive, there has to be winners and losers.
2021 saw many space companies go public as SPACs, a method that allows for a more straightforward exchange entrance. Yet, though many companies entered the market with great promise, many fell in a fashion that was commensurate with their rise. This led to despair among the investors who entered the market with ambition but saw no progress.
So, who were some of the biggest space losers of 2021? Let's delve into objectivity and look at numbers and analytical insights that indicate a financial decline.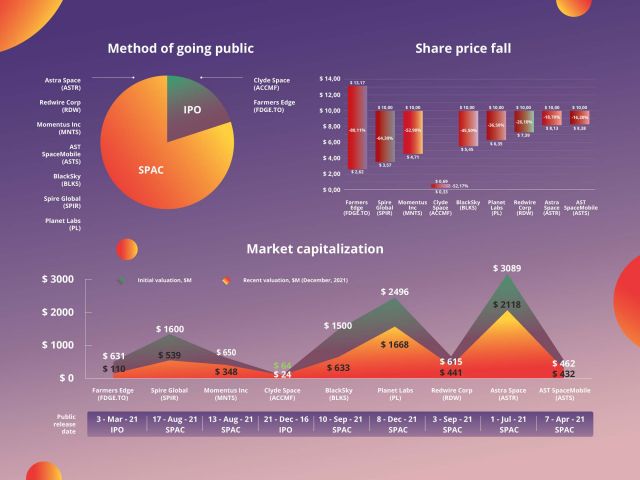 Farmers Edge
Undoubtedly, the biggest loser of 2021 was Farmers Edge, a classic case of stock being likeable yet having many downsides. As an investment that's currently perceived as risky and uncertain, this perception had ultimately led to the fall of Farmers Edge stock:
Following the company's IPO, it was stated to have a capitalization of around $631 when it appeared on Toronto Stock Exchange. However, this later dropped to a measly $110m in 2021. The company's total enterprise value also dropped from $537m to the current ~$30m. The situation is now begging the question of what exactly caused this 80% and 86% drop in value and total enterprise value, respectively?
In the second quarter of 2021, investors started to sell off their stock. Blackrock was one of the strategically critical investors that conducted an exit. Such development doesn't come as a surprise, considering Farmers Edge's CFO leaving in just a year after joining the team and an accelerated cash outflow from the company's accounts. According to the estimates, the available money will suffice for about a year of operations.
Add the wrong strategy to the above negative signals, and it's no wonder that investors decided to leave. The company expected to expand its client base and boost average check through upselling. But despite a daring user acquisition tactic – year-long freemium access – the company hasn't shown positive results. Instead, churn rates among freemium subscribers turned out sky-high. The number of new subscriptions has fallen instead of doubling, which was critical to reaching the break-even point. The expectations on average check increase failed as well. But it doesn't look like the company is to change something about their product, so it's doubtful that something will change in the future.
Spire
It was a rocky 2021 for Spire. The company initially experienced a huge surge in share prices following the news it was partnering with influential satellite company Myriota. However, though the company's deal sounded good at first, the reality of the situation slowly unfolded for investors.
One of the company's biggest errors was its failure to disclose critical information surrounding how valuable its collaborative efforts would be. Investors were likely deterred by a lack of communication, where there was no indication of how working with Myriota would generate additional revenue or profit.
People slowly began selling their shares with a lack of certainty stemming from whether the company's share price increase was justified. Additionally, Spire failed to disclose who, when, and how many shares were sold, laying a foundation for the withdrawal of shareholders who engaged during the IPO stage. The company's dramatic fall in share price occurred over four months, where it experienced a whopping 39% loss of shareholders.
As a result, by the end of 2021, the share prices dropped by 64%, and the company's market cap decreased from $1.6 billion to just $539m.
Momentus
There has been considerable negative news surrounding Momentus from late 2020, consolidated by evidence that the company no longer planned to conduct missions for customers in 2021.
However, this was just the tip of the iceberg for Momentus, whose CEO was declared by the Pentagon as posing a risk to national security. The Russian resident was barred from using US technology, alongside fighting against fraud accusations in an attempt to clear his name.
When fraud is alleged, investors are advised to avoid engaging with organizations. In this case, the fraud stems from the SEC exposing 'fraudulent conduct'. Inevitably, the founder was axed, meaning the company now lacks a visionary leader who can direct the company to a path of success.
To make matters worse, Momentus was caught up in a lie surrounding the veracity of its technology tests. In particular, company officials have been caught in a lie when announcing successful tests of its "microwave electro-thermal ('MET') water plasma thruster. In reality, it didn't even pass Momentus's acceptance criteria when it was tested back in 2019 due to low power.
Unproven technology, fraud, and a generally negative public perception could well be the start of the end for Momentus. In the third quarter of 2021, the company had to postpone its first launch in accompaniment with a vast increase in operating expenses.
The company's shares are now traded at 52% lower rates than the initial stock price, so that market cap has also fallen by almost a half – from $650m to $348m.
AAC Clyde Space
AAC Clyde Space investors have experienced a less than favorable return over three years. The company's share price has fallen well short of the market return, falling by 52% by the end of 2021.
Despite having impressive revenue growth, the company has witnessed a significant decrease in stock price over 2021. This must have come from the company constantly issuing additional shares to purchase companies and finance operating activities. The resulting dilution of shares has deterred shareholders who have lost value.
BlackSky
The shares of this company fell out of the sky in 2021, but why exactly? With no downgrades from analysts or bad earnings news announced, it's difficult to determine what went wrong. However, perhaps no news is not always good news in a market where many other SPACs are experiencing declining share prices.
The company's share price was down 45% in late 2021, offering evidence that SPAC IPOs are risky investments. When engaging with a company with no public trading history, investors have great uncertainty, which is probably why Blacksky has struggled in the face of adversity.
It experienced early exits from investors as the public began to lose confidence in space companies. On top of the overall market situation, after publishing financial statements, the company failed to fulfil its original promise.
BlackSky's operating costs recently increased 2.8x, while its revival increased by a less than impressive $8m. Now, the company's market cap has decreased more than two times – from almost $1.4 billion to just a bit over $600m.
No matter how promising the future for the company seemed at the beginning, one could doubt if the prospects are really attractive for investors.
Planet
In the third quarter of 2021, Planet published information about its earnings. Following the announcement, the company's stock fell by 22%, where considerable suspicion arose after "the suspension of a large government contract due to the government takeover by an unsanctioned regime".
Planet also declared issues with its single satellite, which was described as having 'thruster problems'. There were also issues with the remote control of one of its spacecraft. This brought the questions about technologies developed by the company to the foreground.
Investors were also deterred by news the company has a long-term plan to reach profitability by 2025, alongside increasing operating costs, R&D in particular. There is a negative vibe and doubts surrounding this organization, and with the fall of stock price by almost 37% by the end of the year and market cap lower by 20%, the future is questionable.
Redwire
Redwire experienced a fall in its share prices when new SEC rules were announced for SPAC reporting. In light of this news, it was projected that the company would experience an 8% decrease in share price. This surfaced when Redwire had 59.6m shares in circulation, with 4.8m of these being redeemable.
Though the company was expecting a fruitful earnings day in the final quarter of 2021, this didn't materialize.
Redwire informed it would be rescheduling its earnings announcement yet failed to explain why this was necessary. Amid great uncertainty, speculation began to circle shareholders' minds, who were left with questions unanswered.
A failure to inspire confidence in investors often leads to a share price decline, which is evident from this situation. It was later revealed that Redwire had found errors in its reports which caused considerable delays. As of December 30, 2021, the financial information promised had yet to be released.
Shareholders also went on to file a class-action lawsuit against Redwire, claiming the organization had 'violated the stock exchange act'. As is often the case, negative news can severely impact a company's financial standing. And stock price decline of around 26% by the end of 2021 proves this right.
Astra Space
In 2021, Astra Space's stock fell off the side of a cliff, so it's safe to say the company's future is in question.
Astra Space has a business model that isn't validated, only worsened by the fact it has a weak market position in a competitive landscape of light rocket vehicles. This all might have inspired a lack of confidence in investors. Compounded by a lack of revenue or record of reliability, it indicates the questionable SPAC approach to business arrangements.
Astra did launch its first rocket in 2021. However, many were left unimpressed by the result after some previous failures. There are also many environmental concerns surrounding the inability of the company to make its rockets reusable. So almost 19% fall in shares price and around 20% decrease in market capitalization by the end of 2021 has its grounds. And whether the company will manage to recover is a question of time, technology, and the market.
AST Spacemobile
Ever since executing a reverse merger in the first quarter of 2021, AST SpaceMobile has experienced a steady decline in share price. It promoted the launch of a constellation of satellites that enables customers to make regular calls via satellite technology. AST SpaceMobile aspired to use high-end technology with promises of great results. But by the end of 2021, the share price has decreased by 16%.
The leap of faith made by many investors has yet to be justified. The company's share value had lost half of its value by April 2021, ending in a difficult position to recover from.
AST claimed to raise enough money from its IPO to fund the launch of its first 20 satellites. However, there is no timeline on when these spacecraft will be launched. The company postponed its Bluewalker-3 test to March and later summer of 2022.
The company also increased the cost of its R&D, thus creating an uncertain prospect for investors across the globe.
Are Space IPOs Worth Investing In?
Having brought awareness to space companies that have gone public, it's important to recognize that many of them witnessed a significant downfall in 2021. SPAC investments or public offerings for companies without validated products and business models are generally much less profitable for investors, underperforming and often falling below the IPO price.
Investors should be highly alert to the risks associated with these types of investments. If you're looking to get involved, you should be aware of the quality of the companies you're investing in. Though space investments rarely come with profits over the short term, one must still thoroughly check the company, its idea, and management to assess investment quality.
Investors should always remember that it's challenging to differentiate a proper space startup from one that is no more than a "bubble" and a way to attract money for startup founders. So being cautious and acting with extreme vigilance would be the best investment strategy.
Before It's News®
is a community of individuals who report on what's going on around them, from all around the world.
Anyone can
join
.
Anyone can contribute.
Anyone can become informed about their world.
"United We Stand" Click Here To Create Your Personal Citizen Journalist Account Today, Be Sure To Invite Your Friends.