Those City Folks Who Just Moved to the Country Are in for a Rude Awakening (Video)
Sunday, December 20, 2020 11:36
% of readers think this story is Fact. Add your two cents.

by N.Morgan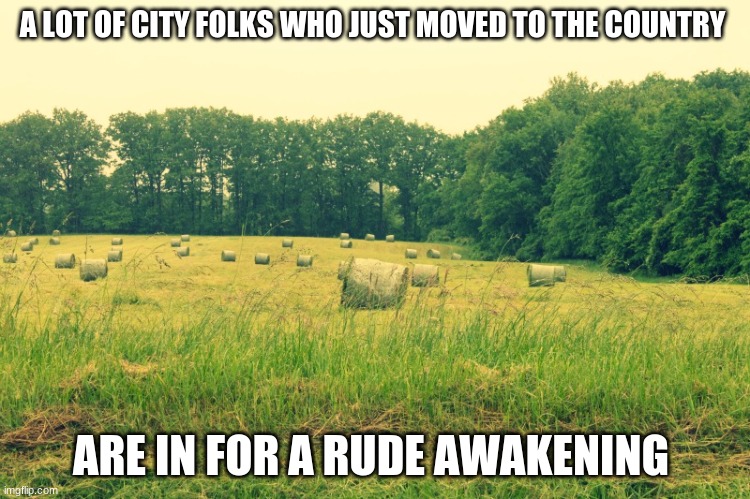 Many people dream of moving out of the city for a quiet, peaceful country living. I grew up in the country and for several years I lived in Pittsburgh PA. and honestly, I wasn't meant for big city living. Since the beginning of the Covid pandemic and subsequent lockdowns, a lot of folks have decided that city life is no longer for them. There's been a whole new demand for rural homes as people discover it's not so fun to live in a tiny apartment with no yard, 3 children, and two parents all working from and learning from home.
However, an essay on Medium pointed out that a lot of these former urbanites may not have thought things through. Courtney Maum wrote of a scenario that many of us who have lived in the boonies can clearly imagine:
TRUTH LIVES on at https://sgtreport.tv/
The other night, I left my house to find our cat before the coyotes did and found my brand new neighbor standing in our driveway, instead. Without any preamble, she gestured to the three cords of wood we had meticulously split, seasoned, and stacked throughout the summer. Could she have some wood?

I blinked dumbly at my neighbor, waiting for the punchline. It is an unspoken pact in these here hills: eggs, milk, and sugar's for the taking, but you don't touch someone's wood. The kind of firewood you order in the country, when you order it, how you stack it, how you keep it dry, it's a form of parenting; it is holy ground. (source)
The piece continues with several other examples of people who moved to the country to discover they were completely unprepared.
Boy, that brought back some memories.
I remember when I moved straight from the big city to a cabin in the Algonquin Forest.
Eight years ago, I took a leap of faith (or ignorance, depending on who you ask) and relocated myself, my youngest daughter, two cats, and two dogs from a cute little house in the greater Toronto area to dirt cheap cabin in the Algonquin Forest on the shores of a spectacularly beautiful lake. (My eldest was in school in another city but visited often.)
To clarify the situation we were is based on some of the comments that seem to be making this a story about men being irrelevant, my children's father had recently died quite suddenly and shockingly. We had to make a dramatic change, both financially and so that everything around us was not a painful memory.
The cabin was heated only by wood, it had decent internet when the electricity was working, and – oh – the electricity? It went out a lot, and along with it, so did the running water.
But I was fueled by dreams of resilience, prepper nirvana, and actually being able to afford my rent while starting a business as a freelance writer as we slung everything we owned into a 24-foot U-haul, something I'd never driven before. I'd also never towed anything in my entire life, but I hooked up a trailer to the back of the Uhaul with my cash-purchased, rusty Dodge Durango on it, and away we went, heading toward what was sure to be an epic adventure in an idyllic location.
Bless my heart.
I had absolutely no idea what I was getting myself into.
Zip.
Zilch.
Nada.
This probably isn't what you want to read from the person you take prepping advice from but it's probably something a lot of people should read before making a giant leap into the unknown.
By the time we arrived, seven hours later, my neck was pinging in agony from the tension and my hands were cramping from gripping the steering wheel so hard. I nearly took out a gas pump with my truck when I filled up. I couldn't figure out how to move the van without hitting said pump and I ugly cried right there at the gas station staring at it until a kindly trucker took over, got into the moving van, maneuvered it for me, and pointed it back toward the road. I was so grateful I hugged him. I may or may not have gotten a little snot on his shirt because of how hard I was sobbing.
Anyway, I got ahold of myself, vowed to pay whatever exorbitant fee Uhaul wanted to charge me to NOT have to refuel before returning the van and trailer, and made it the rest of the way to our new forest home with no more unfortunate incidents. We were delighted to see deer frolicking and a mama and baby bear as we got closer to our destination and declared these to be signs that boded well for our future.
Little did I know how little I knew.
When my daughter and I moved there, we had a prepping mindset, but we were city girls. Our wilderness experiences were based on day hikes and Youtube videos. We'd made the occasional backyard bonfire with wood purchased at a local grocery store and one of those fancy fire-starting logs. We dealt with a power outage due to bad weather perhaps once a year. We lived in a place where anything we might need was within walking distance and where you could stretch a skipping rope in the distance from our house to the neighbor's house.
We arrived in the summer, and life in the boondocks is always easier in a temperate climate. We located all sorts of wild fruit in the 23 acres of forest behind the cabin and put up jars of it for the winter ahead. We hiked, explored, and set out in a canoe on pretty much a daily basis. I sat there on my deck every morning, overlooking the lake and working on the laptop.
Life had become a coffee commercial. My daughter and our younger dog spent more time in the lake than on dry land.
Nothing did I know about country living, 5-foot snowfalls, and heating with wood. I didn't know diddly about living with bears as neighbors. Nobody warned me about the absolutely gigantic spiders that live in your woodpile. We were not warmly welcomed by most of the locals. We were seen as outsiders the entire year we were there, aside from a handful of kind-hearted neighbors who realized we really intended to last through the winter.
As the weather began to cool off, I realized that I was in so far over my head I couldn't see the daylight. Yes, I had wood. Yes, I was a prepper so we had lots of food and gear and filters and stuff. But I had no experience at all.
I learned very quickly that prepping and rural living is not at all the same things, although the same skills and personal qualities cross over.
I am not writing this to discourage you from taking leaps – this was the first of many giant leaps for me and it changed my life forever.
References:
https://www.theorganicprepper.com/city-folks-who-moved-to-the-country/
https://www.sgtreport.com/2020/12/a-lot-of-city-folks-who-just-moved-to-the-country-are-in-for-a-rude-awakening/?utm_source=rss&utm_medium=rss&utm_campaign=a-lot-of-city-folks-who-just-moved-to-the-country-are-in-for-a-rude-awakening
https://www.youtube.com/watch?v=3Zp5UhB-CfQ&ab_channel=BackRoadsLiving
Stories Contributed by N. Morgan
Click banners below for supplements to prepare for flu season or to complete your survival 1st Aid Kit:
Oxygenate and Hydrate your Cells to Boost Vitality!
Do you Yawn often, Snore, have Restless Sleep? Try our Oxygenated Humic Fulvic Mineral Complex!
Before It's News®
is a community of individuals who report on what's going on around them, from all around the world.
Anyone can
join
.
Anyone can contribute.
Anyone can become informed about their world.
"United We Stand" Click Here To Create Your Personal Citizen Journalist Account Today, Be Sure To Invite Your Friends.