Race Baiter Rhode Island State Rep Resorts To Using Racist Statements About Her "White Privileged" Opponent!
Thursday, June 25, 2020 0:33
% of readers think this story is Fact. Add your two cents.

Race Baiter Rhode Island State Rep Resorts To Using Racist Statements About Her "White Privileged" Opponent!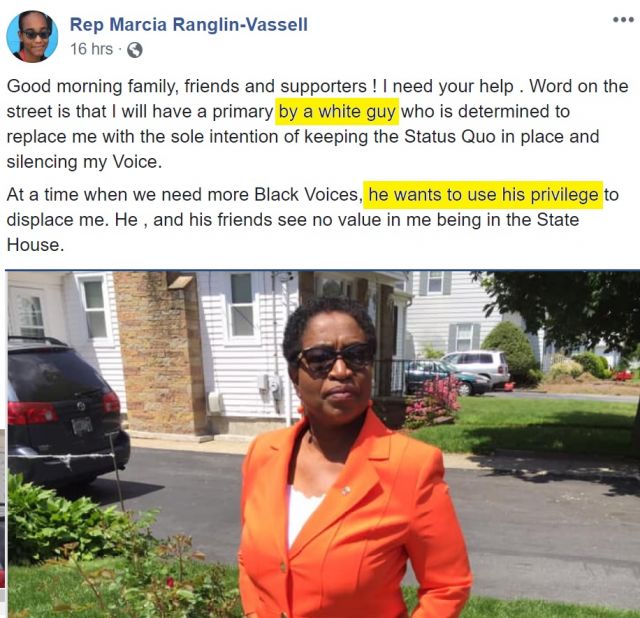 Source: Rep Marcia Ranglin-Vassell Facebook Page

Posted June 24th, 2020 by Rhode Island State Rep – District 5
Marcia Ranglin-Vassell (D)
With the race wars brewing up all over the world, you would think a State Elected Official would do her best to try to promote unification, especially being a Representative of Rhode Island District 5 in Providence which is a very diverse area of Providence, RI being her constituents are of all race, color and creed.
She claims that her opponent Ronald Iacobbo (R)
"I will have a primary by a white guy who is determined to replace me with the sole intention of keeping the Status Quo in place and silencing my Voice.

At a time when we need more Black Voices, he wants to use his privilege to displace me. He , and his friends see no value in me being in the State House."
Invoking that Mr. Iacobbo will use his "White Privilege to displace me". The term "White Privilege" is a racist and bogus term. Being that if there was such thing as called "White Privilege", she would have never became State Representative in the first place being that she defeated 'A White Guy' incumbent long time State Representative & House Minority Leader John DeSimone by a narrow victory.


Source: Ballotpedia
At NO TIME did Mr. Iacobbo ever use any racial or sexiest statement against his opponent Incumbent Marcia Vassell. I reached out to Mr. Iacobbo for comments, still awaiting a response.
This isn't the first time Marcia Vassell has pulled out the race card. In the General Assembly last year in 2019 she went on a rant in the middle of session accusing someone in the General Assembly of using a racist statement calling her a "house slave" that was never stated or proven.
Racist comment stirs emotion for black Rhode Island lawmaker- AP News
It seems as if lately when Representative Vassell is challenged, she whips out the race card to try to use in her favor which is a VERY despicable act as a public servant and Representative of her Constituents. As a State Official, she should be leading by example and promote unity especially in these days of racial divide. She is NOT a representative of the black community, being that black folks I know are very respectful and show honor unlike this insanity.
I want to note, I personally am a Independent-Constitutionalist. I have worked countless campaigns since I was a child. I worked campaigns for Democrats, Republicans, Independents and Libertarians. I vote according to the person and who supports the Constitution for the United States of America the best Reason stating to show, I am not biased nor belong to any political party.
Representative Vassell claims, she Represents black women. Well what about the white, Hispanic, Latino, Asian women in her district? Also if she truly does represent black women. Where is she when black babies are being aborted daily, when women's rights for self-defense are being trampled on by the majority of State Elected Officials constantly attempting push draconian gun control legislation and making it extremely hard for a "black women" or any women at that to obtain a concealed firearm permit, as Vassell constantly advocates and votes in favor or these Unconstitutional gun control laws. Then has the nerve to use racist statements against her opponent Ronald Iacobbo.
-Dan Bidondi for TruthRadioShow.com & BeforeItsNews.com
#Unity #UnityIsPower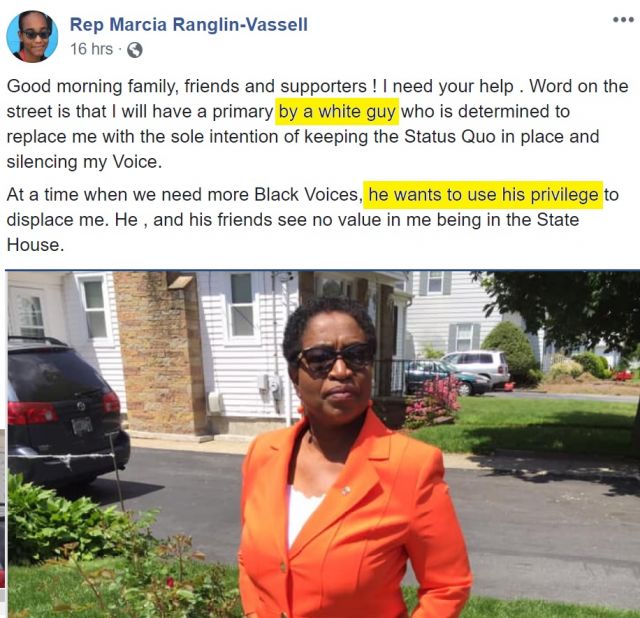 Before It's News®
is a community of individuals who report on what's going on around them, from all around the world.
Anyone can
join
.
Anyone can contribute.
Anyone can become informed about their world.
"United We Stand" Click Here To Create Your Personal Citizen Journalist Account Today, Be Sure To Invite Your Friends.