Under Standing the Act of the Stamp 1765
Wednesday, October 14, 2020 10:26
% of readers think this story is Fact. Add your two cents.

Under Standing the Stamp Act of 1765
(The British Act of the Stamp – 1765)
The Stamp Act of 1765 (short title: Duties in American Colonies Act 1765; 5 George III, c. 12) was an Act of the Parliament of Great Britain which imposed a direct tax on the British colonies in America and required that many printed materials in the colonies be produced on stamped paper produced in London, carrying an embossed revenue stamp. Printed materials included legal documents, magazines, playing cards, newspapers, and many other types of paper used throughout the colonies, and it had to be paid in British currency, not in colonial paper money.
The Stamp Act was very unpopular among colonists. A majority considered it a violation of their rights to be taxed without their consent—consent that only the colonial legislatures could grant. Their slogan was "No taxation without representation". Colonial assemblies sent petitions and protests, and the Stamp Act Congress held in New York City was the first significant joint colonial response to any British measure when it petitioned Parliament and the King.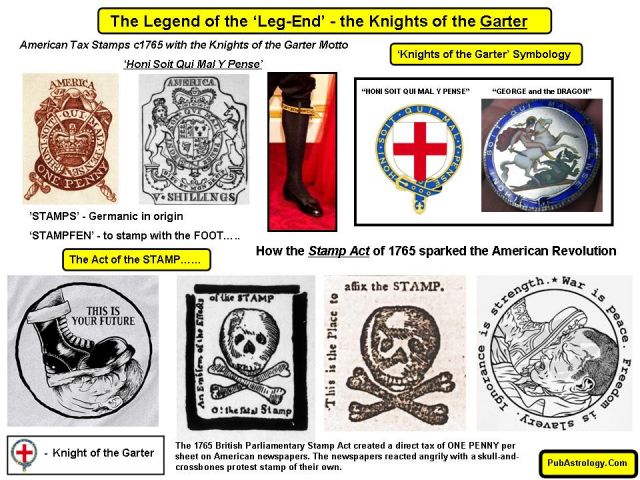 How the Stamp Act sparked the American Revolution
Levied on legal documents, bonds, deeds, almanacs, newspapers, college diplomas, playing cards — indeed, on nearly every form of paper used in the Colonies, the stamp tax ignited a firestorm of opposition that swept through the Colonies with unprecedented force. In each Colony, the stamp agents were mobbed and forced to resign. Except in Georgia, the law was effectively nullified before it could be put into effect.
The Stamp Act sparked more than riots and mobs. It precipitated one of the greatest constitutional debates in Western history. Much of the imperial debate was carried out in pamphlets — inexpensive booklets ranging in length from 5,000 to 25,000 words and printed on anywhere from 10 to a hundred pages or so. Easy and cheap to manufacture, these pamphlets were the instant media of their day, perfect for rapid exchanges of arguments and counter-arguments.
This dispute between the Colonists and Britons, and among Americans themselves, involved all of the fundamental issues of politics and government — power and liberty, rights and constitutions, popular consent and representation, statutes and fundamental law, and the problem of sovereignty. Once begun, this decadelong contest escalated through several stages until it climaxed with the Americans' Declaration of Independence in 1776.
Order of the Knights of the Garter.
Founded 1348, Woodstock, Oxford, England.
An elite 'British' Order limited to 24 knights at any one time…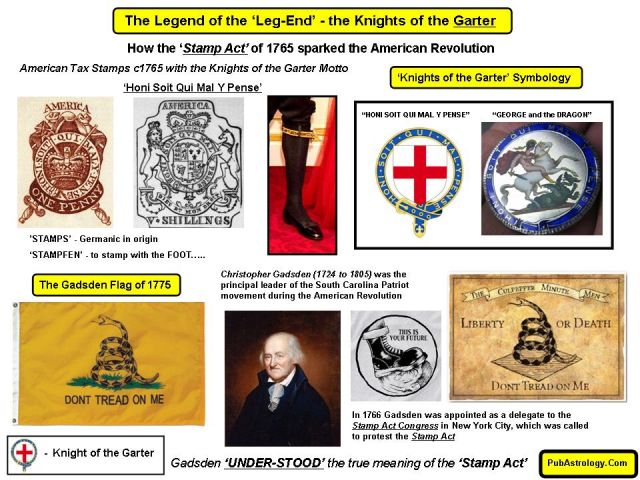 Christopher Gadsden (1724 – 1805) was the principal leader of the South Carolina Patriot movement during the American Revolution.
In 1766 Gadsden was appointed as a delegate to the Stamp Act Congress in New York City, which was called to protest the Stamp Act.
Gadsden 'UNDER-STOOD' the true meaning of the 'STAMP ACT'.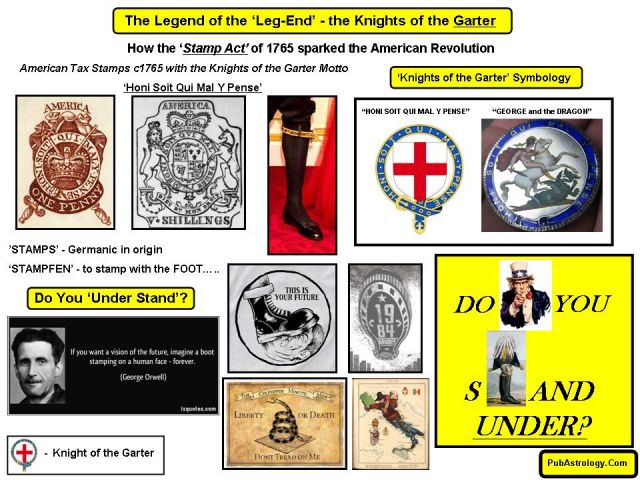 George Orwell (Eric Blair) – Author of 1984
'Liberarci'
is an anagram of
Eric Blair.
In Italian,
'liberarci'
means
'to free ourselves'……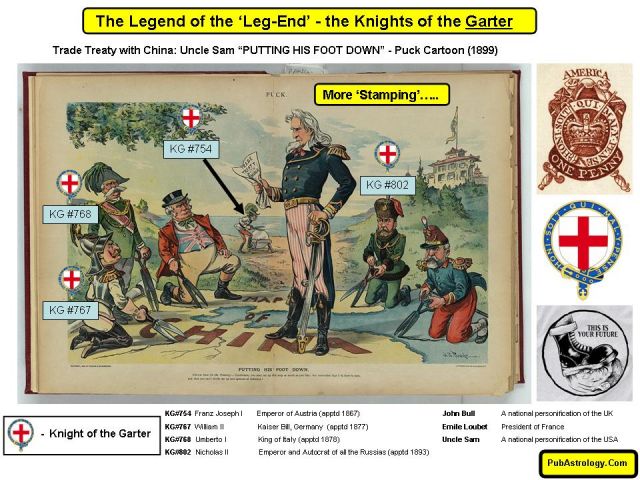 More Acts of Stamping by the Knights of the Garter and their Agents
Uncle Sam – "PUTTING HIS FOOT DOWN"
(Another reference to the Knights of the Garter and the 'Boot of Italy' stamping their authority on China)
N.Y.: Published by Keppler & Schwarzmann, 1899 August 23.
To the general public, America appeared to have won independence from the colonies in 1776 but was actually firmly under the control of the Knights of the Garter and the Holy Roman Empire.
Print shows Uncle Sam holding a "Trade Treaty with China", standing on a "Map of China" in the midst of foreign rulers labeled "Germany, Italy, England, Austria, Russia [and] France"; depicted are William II, Umberto I, John Bull, Franz Joseph I sharpening scissors at a grinding stone in the background, Uncle Sam, Nicholas II, and Emile Loubet, each with large scissors, intent on cutting up the map.
KG#767 William II Kaiser Wilhelm II, Germany appointed 1877
KG#768 Umberto I King of Italy, appointed 1878
KG#754 Franz Joseph I Emperor of Austria, appointed 1867
KG#802 Nicholas II Emperor and Autocrat of all the Russias apptd 1893
John Bull a national personification of the United Kingdom
Emile Loubet President of France
Uncle Sam a national personification of the USA
Order of the Knights of the Garter.
Founded 1348, Woodstock, Oxford, England.
An elite 'British' Order limited to 24 knights at any one time…
Before It's News®
is a community of individuals who report on what's going on around them, from all around the world.
Anyone can
join
.
Anyone can contribute.
Anyone can become informed about their world.
"United We Stand" Click Here To Create Your Personal Citizen Journalist Account Today, Be Sure To Invite Your Friends.