Story Views

Now:
Last Hour:
Last 24 Hours:
Total:
SIF portfolio: High StockRank could be highlighting hidden profitability at NWF
Tuesday, February 13, 2018 10:09
% of readers think this story is Fact. Add your two cents.

When markets become more volatile and uncertain, sticking strictly to a rules-based approach such as SIF can become more difficult. But I also find that it's something of a relief, as it removes the need for speculative decision making.
We don't know whether the recent shakeout represents the start of a more prolonged bear market, or simply a long-overdue correction. What we can be sure of are the historic quality and value metrics associated with individual stocks.
For example, a defensive business that generated a return on capital employed of 20% last year will probably be more attractive at a lower price, not less so. There's plenty of historical evidence to suggest that this kind of financial ratio is more likely to influence future portfolio returns than short-term stock market conditions.
So while market momentum may be turning against us, my view is that by focusing on quality, value and company-specific momentum — the three elements of the StockRank — we should still be able to find profitable opportunities in which to invest.
NWF could be a super stock
This week's stock in focus is AIM-listed fuel and feed and grocery distributor NWF Group. This group has three divisions, all of which appear to have attractive scale.
NWF Agricultural supplies feed for one in six of the UK's dairy cows. NWF Fuels is the third-largest supplier of fuel oils in the UK, with more than 58,000 customers. And the group's transport business, Boughey Distribution, operates more than 100 trucks and 900,000 square feet of warehousing in north west England, where it consolidates grocery goods for distribution to major retailers such as supermarkets.
You might be thinking that these are all generally low-margin, low-growth businesses with limited appeal. Paul Scott came to a similar conclusion recently, but he also reprinted an interesting comment from one of the company's advisers. This highlighted much higher returns on capital in this business than its low margins might suggest. It's worth a read.
This week I'm going to look at the numbers behind NWF's StockRank, and explain why I believe they support the view that this business is more profitable than it might seem.
Interestingly, NWF's StockRank of 94 makes it one of the top three stocks in the energy sector, placing it ahead of cyclical oil producers whose ranks you might expect to be rising. It's also been classified as a Super Stock by Stockopedia's algorithms.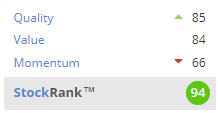 Deceptively good value
NWF shares have risen by 40% over the last five years, broadly matching the AIM All-Share Index, which has risen by 36%: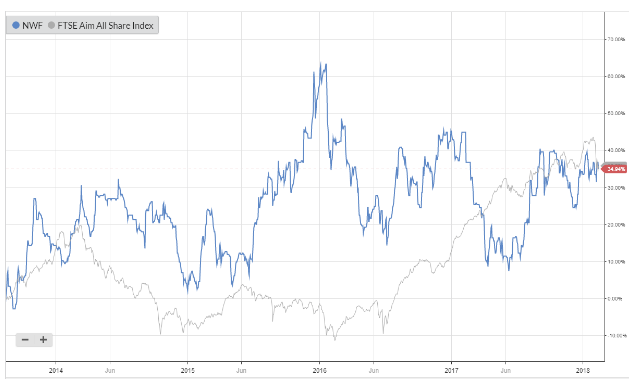 Although this may not seem very impressive when compared to AIM stocks such as Boohoo.com, NWF shareholders have enjoyed a stress-free life and regular dividend growth. Normalised earnings per share and the dividend have grown by an average of more than 5% per year since 2012. Profits and shareholder returns have stayed comfortably ahead of inflation.
These gains also mean that the stock's valuation still looks reasonable at today's higher share price. NWF earns a ValueRank of 84 with few obvious weaknesses: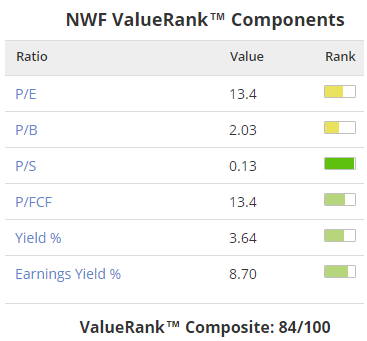 Although the stock's trailing P/E of 13.4 isn't exactly cheap, the matching P/E and P/FCF ratios show that earnings were matched by free cash flow. This isn't always the case and reassures me that profits result in genuine surplus cash.
One downside here is that the group's £19m pension deficit currently requires reduction payments of £1.8m per year. So a significant amount of cash is sucked away that would otherwise be available for dividends. Paul Scott looked into the pension situation in more detail so I won't go over this ground again here. But in short, it looks like the firm will have to close this gap with overpayments, rather than rely on improving bond yields.
Notwithstanding this, NWF is able to pay rising dividends and the shares currently have a trailing yield of 3.6%. This is well above the AIM All-Share average of 2.1%.
The final value metric I'd like to highlight is earnings yield (EBIT/EV). I find this a very useful way to judge the valuation of a company. What it shows is how much operating profit you would get per pound if you bought all of the company's shares and debt and become its owner. In this case, the answer is 8.7p per £1, or an earnings yield of 8.7%. That's above my threshold of 8% and is a level I find attractive.
Underlying profitability lifts quality score
NWF's operating margin is just 1.5%. In some cases I'd view this as a concern. But given the nature of the group's feed and fuel businesses, I'm not worried.
The comments provided by NWF's adviser to Paul in January confirmed my understanding of this business. Fuel and feed are bought at market prices and then quickly sold with a fixed margin added on. In the case of fuel, gross margin is said to be 1p per litre.
My view is that the profitability of this operation is more accurately measured by comparing this gross profit with the cost of procuring, storing and supplying fuel and feed. The sale price of the commodity itself is largely irrelevant, in my opinion.
The only part of the group's business where I believe operating margin is relevant is its food (logistics) business. This division generated an operating margin of 7.6% last year. My understanding is that this is quite good for this sector. Certainly it's better than listed rivals Eddie Stobart Logistics (c.4%), Clipper Logistics (c.5%) and Wincanton (4.8%).
Stepping back and taking a broader look at NWF's quality score suggests few problems: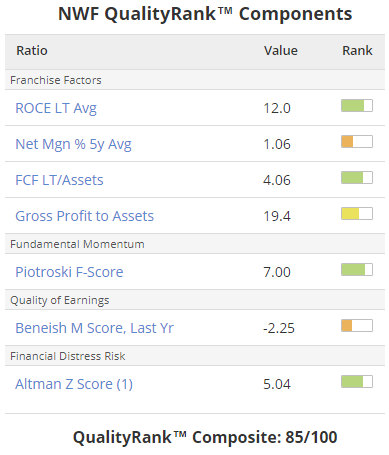 The group's long-term average ROCE of 12% and FCF LT/Assets ratio of 4.1 seem pretty solid. I'd argue that they support my view that the underlying profitability of this business is greater than its operating margin suggests.
Similarly, a Piotroski fundamental health score of 7/9 suggests that this is a healthy, growing and cash generative business.
What next for momentum?
NWF's MomentumRank of 66 is by far the weakest of the StockRank factors. It's also fallen by 10 points over the last 30 days. This is presumably the result of the earnings downgrade which followed the company's recent interim results: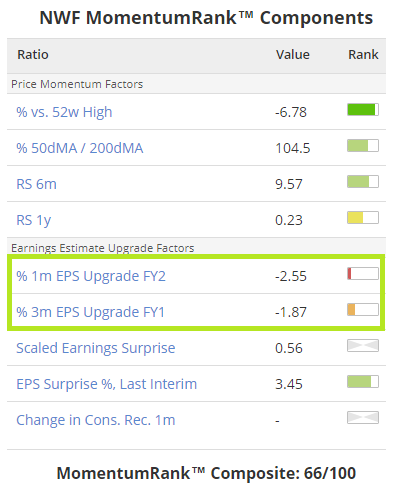 However, the scale of this downgrade is minimal. An adjustment of about 2% doesn't seem a big deal to me. Meanwhile, price momentum is actually surprisingly strong, despite the recent market wobble.
The stock also looks reasonably priced, on a rolling forecast P/E of 11.4 and with a 3.9% yield.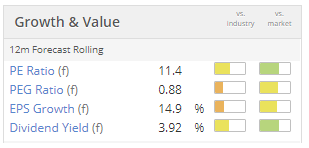 My opinion
I'm comfortable with the outlook for NWF. I think the group's stable business and strong balance sheet should continue to provide a reasonable return for shareholders.
This stock has been on my watch list for a while and will now join both the SIF portfolio and my own portfolio. As usual, I'll purchase shares after this article has been published.
Source:
https://www.stockopedia.com/content/sif-portfolio-high-stockrank-could-be-highlighting-hidden-profitability-at-nwf-314668/