Small Cap Value Report (Mon 21 Sept 2020) - SDRY, CRW, AUG, FCAP
Monday, September 21, 2020 8:44
% of readers think this story is Fact. Add your two cents.

Good morning, it's Paul here with the SCVR for Monday.
Timings - after a leisurely start today, I'll be writing here until about 3pm.
Today's agenda
Superdry (LON:SDRY) – ridiculously late results, which have taken 5 months to be published. Covering the 52 weeks to 25 April 2020
Craneware (LON:CRW) – Final Results for FY 06/2020
Augean (LON:AUG) – Interim results to 30 June 2020
Finncap (LON:FCAP) – AGM trading update
For general interest – initial report from the FRC on the collapse of Carillion.
.
---
Superdry
(LON:SDRY)
Share price: 137p (down 10% today)
No. shares: 82.0m
Market cap: £112.3m
I've been itching to see some numbers from this fashion brand retail/wholesaler, and have been having a vigorous debate with a friend who is bullish on it, and me being bearish. My view is that SDRY was only trading around breakeven before covid struck, so with a lot of expensive flagship stores, it's probably been losing money hand over fist in recent months during the shutdown. Also, will its wholesale customers be willing or able to pay their invoices?
The founder, Julian Dunkerton, returned as CEO, in an attempt to restore the brand to previous glory, after a period of poor management by hired hands. It's interesting how brands often lose their way, once the founder exits, and no longer has that oversight of everything.
The statement today is headed;
Performance materially impacted by Covid-19 disruption. Cash and liquidity remain strong

Brand reset continues with the launch of AW20 collection
The company has certainly been unlucky with timing. Not only is it having to deal with covid/lockdown, but also it's trying to "reset" its brand by focusing the product ranges (getting rid of things like kidswear which devalue the brand), and trying to re-establish full price sales instead of heavy discounting. Brand resets are very difficult to pull off successfully, because once a brand is damaged, it tends to remain damaged because the sparkle has gone, and the brand has become old hat. To resurrect a brand, it needs outstandingly good new products, that become must-haves for customers. Otherwise, they just wait until the prices are reduced in the sales.
The numbers look bad, and remember this only includes about 1 month of impact from covid lockdowns, which started in the UK in late March 2020.
Revenue down 19.2% vs LY at £704.4m
Gross margin also down, 150 bps to 53.6% – although remember that is a mixture of retail (higher margin) and wholesale (lower margin)
Underlying loss before tax of £(41.8)m (LY: a profit of £38.0m)
Huge exceptional costs, of £125.1m – mainly a charge to write down the value of the leasehold stores, which are now a financial millstone, rather than an asset – because traditional rents are now far too high. The trend is for retailers to do a CVA or pre-pack administration, and secure much cheaper turnover rents. I wouldn't invest in any company like this unless amp; until they have got rid of the problem leases in that way. Otherwise shareholders are just likely to be pouring in fresh money, in order to bankroll the landlords. What's the attraction of that?!
It's useful when companies estimate the financial impact of covid/lockdown, which Superdry does here;
We estimate that the profit impact of Covid-19 across all of our operations, including lost sales and additional costs experienced in FY20, amounted to ~£62m. This has been calculated as the gross margin miss to forecast in March and April, the increase in bad debt for the same period as well as the Covid-19 stock obsolescence provision at the year end, less the impact of the furlough benefits and UK rates holiday in April.
Bear in mind that £62m lost profit is only up to end April 2020. Therefore it's likely to be the thin end of the wedge, with far higher losses in FY 2021 being likely. My worry is that this profit impact could overwhelm the company.
Net cash is slightly up, at £36.7m – cash conservation measures taken – I wonder how much VAT/payroll taxes have been deferred? I'll be looking for signs of creditor stretch on the balance sheet
Having established that performance is weak, the key question is whether it is at risk of going bust? The balance sheet strength is key when any company is trading at a loss, so I'll focus on this next.
Balance Sheet – note that the results include a £19.7m charge for inventory amp; debtor provisions. There could be more provisions necessary in the new financial year.
I've checked the last Annual Report, and it only seems to have £4.8m in freehold property. The stores, and fixtures amp; fittings seem to be leased, hence have little to nothing in resale value, and I doubt any stores have any leasehold premium valuation any more.
NAV is £112.7m, less intangibles of £48.4m, gives NTAV of £64.3m – still a reasonably solvent position. Although looking forwards, the company must be losing money heavily in the new financial year FY 04/2021, therefore I would expect this balance sheet to be deteriorating quite rapidly.
Unusual cash position – note that the group has £307.4m cash, but £270.7m in current liabilities marked "borrowings". Although these are shown separately, the notes explain that these are pooled cash amp; overdrafts, i.e. different parts of the group bank with the same bank, which nets off the surplus and negative balances. I think the accounting treatment is misleading here, in that by showing them separately, it is not reflecting the commercial reality that SDRY could not withdraw the £307.4m cash, and spend it on something like an acquisition. It's tied to the overdrafts. I don't know why they do it like that, maybe it's to avoid triggering tax liabilities by moving money abroad, I have no idea. The key point to understand, is that SDRY is not cash rich, most of that cash is spoken for, in overdrafts.
Leases – under IFRS 16 the Right of Use Asset is £118.0m, which is dwarfed by the lease liabilities: £80.1m current, plus £240.8m long term. Thus we have a £202.9m deficit on the leases, if we net off the theoretical asset, and the actual future years' rental liabilities. That's a big problem. Although some rent reductions have been achieved, and some leases might be capable of being restructured, landlords normally won't consider any negotiations until the lease is nearing expiry or break clause. So I cannot see any way around these horrible lease liabilities. It's just going to be a constant drain on the company's resources, having to pay now uneconomic rents. This is the company's biggest problem, and the solution is clearly a CVA or a pre-pack. I consider this share uninvestable until that is done.
Bank facilities – this is interesting, and could be a good way for struggling retailers to refinance. Note that French Connection (LON:FCCN) (which I hold) has also recently refinanced with an asset-backed loan (secured on the receivables book, and inventories, I assume, which are the main assets for these type of businesses).
Post year-end, completed the refinancing of our facilities to an Asset Backed Lending facility of up to £70m due to expire in January 2023, with amended covenants
Going concern - these are always an interesting read. Remember it's the auditors who require these disclosures, and although auditors are frequently criticised (often with good cause), they're earning their fees at the moment, with useful going concern notes.
The narrative frequently uses the phrase "material uncertainty" over going concern, so shareholders have been warned. If you choose to ignore this, then it's your risk. The risk is obviously that the company has to raise more equity in future, and dilutes existig holders heavily. Or, worst case, it ends up going bust once funding has dried up.
If the turnaround plan doesn't work as expected, then the business is in trouble;
However, a sustained downturn as a result of the new strategy not turning the business around, and a failure to renew the ABL in January 2023, would threaten the viability of the business over this four year assessment period.
Current trading - unfortunately, we're only given sales figures, not any indication of profitability.
The table below shows revenues by channel, initially for the first individual months (periods 1,2 and 3 which together are Q1), then it shows the most recent figures for Q2 to date (7 weeks), then the grand totals.
.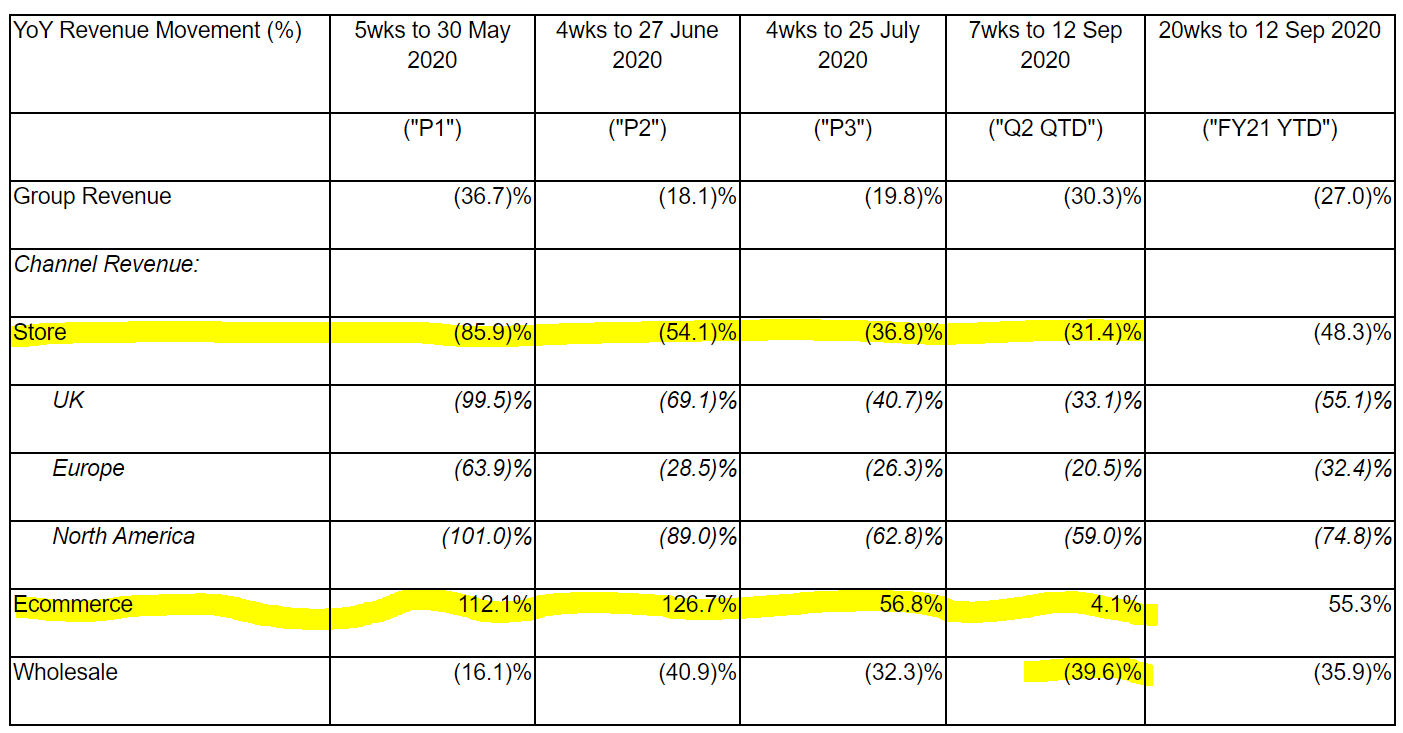 .
As you can see from my highlighting, the stores revenues are in a recovering trend, but the most recent figures are still (31.4)% down on last year, which will have disastrous impact on the bottom line. Although it isn't paying business rates this year, which is a useful profit boost, helping to blunt the damage.
Online grew strongly when the shops were shut, but the most recent column shows that the growth has since stalled.
Wholesale is also heavily down, and has deteriorated again in the most recent column.
My estimate of losses – to put these numbers above into perspective, if we work on annualised numbers, then £704m starting revenue, then (30)% fall is £211m lost sales. On a 53% gross margin, that is £112m lost gross profit. There might be some cost reductions too, but most costs are largely fixed. So I reckon at least half of that lost gross margin would fall through to the bottom line, which means that full year PBT performance would be down maybe c.£60m on FY 04/2020 (a loss of £(41.8)m underlying), so I'm estimating a FY 04/2021 loss of over £100m. That's before thinking about any further write-offs of receivables, inventories, and stores fixed assets.
It's difficult to see how lenders would want to continue offering borrowing facilities, if actual performance is that bad. They could insist on an equity fundraising being done, as the price for covenants being eased amp; facilities extended.
My opinion - it's very clear to me that my earlier caution on this share was justified.
With greatly increased losses in the current year FY 04/2021 looking likely, I think time is running out for this group. The one hope is that its new season range might wow customers in such a way that it starts reporting revenues up on last year. There's no sign of that yet, with the most recent sales figures still looking poor, even online.
As things stand, this share looks very high risk, and I'd say a refinancing with dilution to existing holders, is probably only a matter of time. It needs a spectacularly good turnaround in performance to reverse the decline that has set in. How likely is that? Not very, in my view, but I'll keep an eye on future trading updates, in the hope of spotting a turnaround, if one appears. The founder's reputation, and life's work is on the line here, so he couldn't be more motivated to get this right, and is likely to be highly tenacious in attempting to stop the rot.
It's not a risk I would want to take though. There are better opportunities elsewhere, with homewares retailers that are rapidly recouping lost sales (e.g. Scs (LON:SCS) – I'm long). I think that's a much better spot, than heavily loss-making, tired brands like Superdry (LON:SDRY) or Ted Baker (LON:TED) , chasing after their former glories, but laden down with uneconomic property rents.
I can't find any up-to-date broker forecasts unfortunately, so have no idea how they see things at the moment. If any subscribers have got recent (i.e. based on today's results) forecasts on SDRY, maybe you could kindly post a comment below with their estimate of losses in FY 04/2021? That would be really helpful. Isn't it crazy that forecasts estimates are so elusive?
.
---
Source:
https://www.stockopedia.com/content/small-cap-value-report-mon-21-sept-2020-sdry-crw-aug-fcap-667503/
Before It's News®
is a community of individuals who report on what's going on around them, from all around the world.
Anyone can
join
.
Anyone can contribute.
Anyone can become informed about their world.
"United We Stand" Click Here To Create Your Personal Citizen Journalist Account Today, Be Sure To Invite Your Friends.