Small Cap Value Report (Weds 26 Oct 2022) - MADE, MEAL, BMY, OTB, VNET
Wednesday, October 26, 2022 6:41
% of readers think this story is Fact. Add your two cents.

Good morning from Paul amp; Graham.
A couple of long-running problems (MADE and MEAL) look to be reaching the end game, so I typed up some thoughts last night (Paul). Happy to discuss, so please do add your thoughts in the comments.
Agenda
Paul's Section:
Made.Com (LON:MADE) – a bombshell announcement last night, saying that takeover talks have been terminated, as none of the parties could commit to the required timetable (end of October) for firm offers. Says it might suspend the shares. Unfortunately for holders, this looks as if insolvency is imminent.
UPDATE – another update this morning from MADE, saying that its operating subsidiary company, MDL, has stopped taking new customer orders. This looks to be a precursor to putting it into administration, as it needs more cash from the plc. This raises the interesting possibility that MADE might cut off its trading subsidiary from further funding, possibly leaving a cash shell with some remaining cash – so not necessarily a complete wipe out for shareholders? But that depends on what cash there is left, and also what liabilities are at topco level. I've just been discussing this with a bear on MADE, who dug out some interesting information that the group holding company seems to have given a pledge (which sounds like a fixed charge) to the bank, in respect of property leases. So any remaining cash might be spoken for possibly? It's total guesswork at this stage. Normally when companies fail, they're up to their eyeballs in debt, and there are cross-guarantees between group companies, so the whole lot goes into administration. MADE is unusual, in that it's got net cash, but is burning through it so fast, that the operating company will almost certainly have to be made insolvent. Possibly, leaving some cash at topco level?
Parsley Box (LON:MEAL) – another bombshell yesterday, with an announcement saying that it is considering de-listing the shares. Still has cash in the bank, but needs more. I'll be glad to see the back of this share, so we can focus on more interesting investment ideas with a better chance of success.
On Beach group (LON:OTB) [no section below] – last night I had a quick look at yesterday's trading update from this online travel company, concluding that it's starting to look potentially good value as a recovery share. Here's a link to that comment, if you're interested. It's quite handy to use links direct to particular comments, which you can do by clicking on the thing that looks like a link in a chain, next to any reader comment.
Graham's Section:
Bloomsbury Publishing (LON:BMY) (£341m) – interim results are out for this publisher, famous for its Harry Potter connection. It is a much broader business than just HP books however: it also has significant revenues from a wide range of other consumer books, and a growing academic and professional division. I review the financials here and find little to shake my belief that this is a high-quality business with few faults. It remains confident of achieving its full-year expectations.
Vianet (LON:VNET) (£16m) – a solid update from this "internet of things" company. Beer monitoring systems are fully online again but post-Covid input cost inflation will impact profitability in the short-term, even if revenues get back to the levels seen in FY March 2019 or FY March 2020. Vending machine solutions continue to gain traction. Overall, there are definite seeds of encouragement to be found in this update. I personally dislike the company's style of presenting itself, but I must acknowledge that these shares could rebound at some point, if profit margins normalise.
---
Made.Com
(LON:MADE)
0.7p (down 90% yesterday afternoon)
Market cap £3m
Update on Formal Sale Process amp; Strategic Review
Key points -
Interested parties asked to make firm offers by end October (next week)
All parties have said they are not able to meet this deadline.
Hence discussions have been terminated.
MADE is no longer in possession of funding proposals, or possible offers.
FSP is still technically ongoing, but in reality I think it's effectively over now.
Board is considering the position.
Will preserve value for creditors (not shareholders!) if it can't raise further funding, or receive a firm offer before existing cash runs out (no figures or timing is given for this).
Suspension of listing – might be appropriate.
My opinion – as regulars here will know, I've been emphatically ringing the alarm bells about insolvency here for a few months. I get no pleasure at all from seeing people lose money, so am not going to crow about this imminent failure. See our archive here for the warning signs.
Remember this only floated in June 2021, and now looks almost certain to go bust imminently. A total, unmitigated, disaster.
Is it worth a gamble at sub-1p? I would say no, but if it's like betting on the Grand National for 100:1 for fun money, then that's up to you. It's usually not a good idea to throw good money after bad.
As mentioned before, someone is likely to buy it out of administration, so I expect the brand name (and concept) to continue in some form, but with existing shareholders wiped out. A sorry tale.
UPDATE – although note my further comments above, with another announcement this morning raising a feint possibility that there might be some cash remaining at group topco? But this is total guesswork, and liabilities (e.g. bank guarantee re leases) might absorb any remaining cash possibly? Too uncertain to gauge at this stage.
---
Parsley Box
(LON:MEAL)
4.0p (down 58% yesterday)
Market cap £3m
This has been an absolute crock since day 1 – another disastrous 2021 IPO, that we've regularly torn to shreds here at the SCVRs, with good reason. Terrible product (I mystery shopped it several times), terrible management, and awful numbers, and horrific cash burn.
I mystery shopped it again here, very disappointing, awful product. Basic principle of retailing – if you appal and disgust your customers with terrible product, you won't have many future customers!
Key points from the latest update -
2022 trading "remains in line with market guidance" (i.e. heavy losses amp; cash burn)
Cash reserves down to £3.5m
Assessing sources of capital – so it needs more cash, and it sounds like the stock market isn't interested in pouring more cash down the plughole.
Considering whether to de-list from the stock market.
Mentions the "wider stakeholders" – which is one of the biggest red flags you can get, as this word often indicates existing equity is likely to be worth little to nothing.
My opinion - we've made it abundantly clear here at the SCVR previously that MEAL is not likely to succeed, based on the poor figures and high cash burn. To be fair, Directors did stump up a lot of the last fundraise in March 2022 from their own personal funds.
Surely even they must now be realising that the game's up, hence why they're thinking about de-listing?
I know it's easy to be disparaging about companies that are failing, but at least they tried. We wouldn't get anywhere as a society, if we didn't have entrepreneurs, prepared to be bold, and try out new ideas, and investors to back them. In the case of MEAL, I think they executed badly, very badly. Bottom line for me, the products were generally awful, just terrible. Meat dishes only had tiny specks of meat, they were more like soup, not casseroles.
The top 9 shareholders at MEAL control almost ¾ of the company, so it looks likely to me they'll probably just take it private, which would mean saving a lot of costs (listing fees, advisers, unnecessary NEDs, PRs, etc).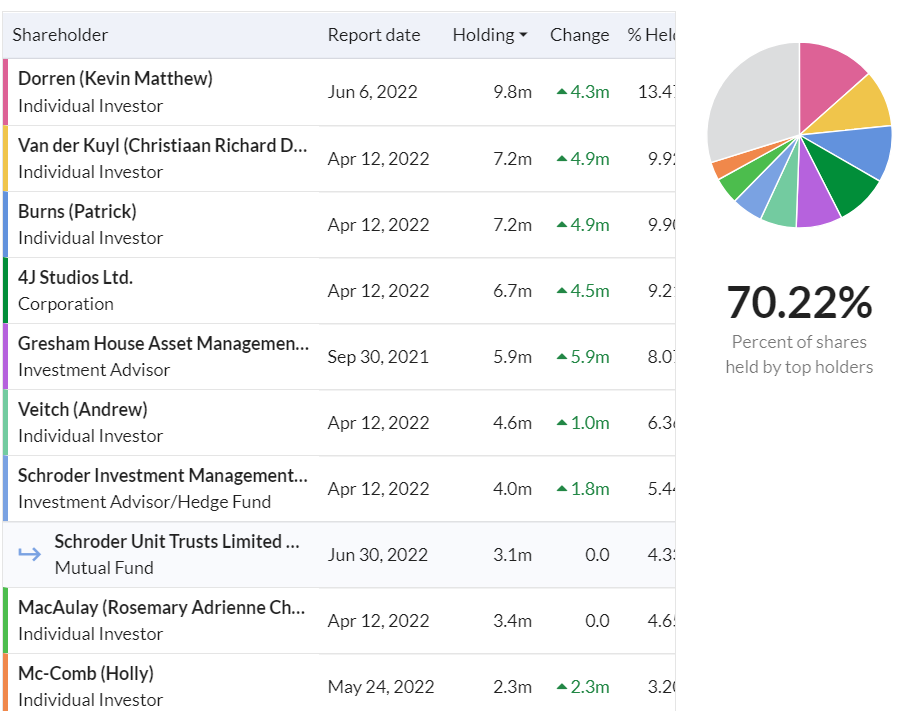 .
The interesting thing here, is that in the last fundraise, the Directors were actually quite kind to minority shareholders, and paid a generous price for their new shares (20p). Whereas more hard-nosed types could have screwed private investors. So with only about a quarter of the shares in public hands, worth under £1m, there's a possibility that the Directors might take it private for around the current share price. Or, investors could just accept the de-listing (if it happens), and continue to hold the shares in a private company, if possible.
Personally, I just like to draw a line under failed investments like this, and move on. Why waste time monitoring some lousy public business, that then becomes a lousy private business?
Bad luck to holders, but it hasn't worked out, and is never likely to work out. Walk away, and find something better to engage your energy, is my view. Holding on to bad investments (or worse, averaging down and hoping for a miracle) just saps your life force, as we've all experienced no doubt.
.
---
Graham's Section:
Bloomsbury Publishing
(LON:BMY)
Share price: 418.65p (+2.5%)
Market cap: £341m
This is an independent book publisher – see its investor relations website here. Paul analysed its most recent full-year results in June. Today we have interim results for the H1 period ending August 2022.
Shareholders will be pleased to hear that Bloomsbury is confident of achieving the Board's expectations for the year.
The main numbers:
Revenues +22% to £122.9m, helped by three acquisitions.
Organic revenue growth 12%
Adjusted PBT +23% to £15.9m
Reported PBT +17% to £12.9m
The CEO describes them as "very strong results":
These are our highest ever first half sales and profits. These results demonstrate the strength and resilience of our strategy of publishing for both the consumer and academic markets, our growth of digital revenues and our global diversification.
The business is split into "Consumer" and "Non-Consumer" divisions.
The "Non-Consumer" division serves the academic and professional markets. It has "higher, more predictable margins and greater digital and global opportunities", and includes Bloomsbury Digital Resources, ("BDR") an online service for libraries and researchers
Both divisions saw excellent growth in H1, with the help of acquisitions, but the growth in the Non-Consumer division stands out to me. Within this division, the Digital Resources unit saw revenue growth of 69% to £13.6m. Profit more than doubled to £6.6m.
This unit is targeting 50% organic revenue growth at a 30% profit margin over the next five years.
Strategy – I like this section. Bloomsbury sets out its overall goals and its goals for each unit, and whether or not it achieved them in H1.
The goals in the Non-Consumer division are straightforward enough: it wants growth, and has a stretching growth target for BDR.
In Consumer, it has some non-financial goals:
"Discover, nurture, champion and retain high quality authors and illustrators, while looking at new ways to leverage existing title rights."
"Grow our key authors through effective publishing across all formats alongside strategic sales and marketing."
"As the originating publisher of J.K. Rowling's Harry Potter, to ensure that new children discover and read it for pleasure every year."
It says that all of these goals were achieved in H1, including 35% growth in Harry Potter sales (25 years after initial launch).
Bloomsbury is also looking to "expand international revenues and reduce reliance on the UK market". It especially wants to "take advantage of the biggest academic market in the USA". 73% of revenues are now overseas, up from 65% last year.
My view
There's a lot to like here, and it's hard to find anything to dislike.
The profit margins are very good for a start. The operating margin drops out at over 10%, and that's if you take the very strict approach of using the unadjusted numbers.
If you allow the company to apply its adjustments, the operating margin is 13%. And the gross margin is excellent at 54%.
Exposure to the US dollar has tremendously boosted things, too, although you won't find this on the income statement. It's in the statement of comprehensive income:
This currency exposure has effectively doubled the company's overall profits for the period, from £10m to £20m.
Of course you can argue that this is beyond the company's control and could easily reverse in future periods, but it's still a very nice boost to the company's financial picture.
The balance sheet is excellent, with no borrowings (apart from leases), cash of £41m, and net assets of £182m.
Thinking more broadly about the business, I think the digital resource (BDR) unit looks particularly exciting. But there is growth throughout every division.
And while I'm very cautious about companies engaged in heavy Mamp;A activity, there is no denying that Bloomsbury appears to be the rare company that is able to do it successfully.
As it says today, it has completed 18 acquisitions since 2008. During that time, it has paid an attractive dividend stream and its book value per share has, overall, been increasing. ROCE and ROE are not too high but they are, I think at acceptable levels. The Stock gets a QualityRank of 96.
So I'm unable to find fault in Bloomsbury. Have I missed something? Perhaps. But I must tentatively agree with the Stockopedia computers that this is an excellent stock offering good prospects.
---
Vianet
(LON:VNET)
Share price: 56.5p (+10%)
Market cap: £16m
Back in 2019, I noted that Vianet had managed to use almost all of the buzzwords of the era: "cloud-based", "Big Data", "Software-as-a-Service", "ecosystems" and "Internet of Things".
It looked fairly valued to me, based on its earnings at the time, but it has since endured a rough few years (damaged by Covid, no doubt). The share price is down 60%.
Let's see what today's trading update for H1 has to tell us:
The positive momentum in our Smart Zones division in FY2022, as COVID-19 restrictions eased, has continued through H1 2023. The Group's hospitality sector customers are now fully operational on 100% billing, and this has resulted in a strong rebound in year-on-year revenues.
Despite the "challenging" conditions in hospitality, Vianet maintains that this has actually led to increased demand for the data and analysis tools that it provides. Remember that Vianet has been built around the old Brulines business, i.e. beer monitoring systems.
Elsewhere:
In the Smart Machines division, the team continue to win new contracts and build the Group's order pipeline. Continued demand for our end-to-end vending management solution and cashless vending solutions has resulted in a footprint of 52,490 vending connections in H1 2023, up almost 24% on H1 2022.
Financially, we have the following insights:
Revenues +13% to £7.2m
Recurring revenue 86% of the total.
Pre-tax loss of just over £100k, although it looks like it made a small adjusted profit if you exclude the impact of an impairment relating to an acquisition.
Sales should "return to pre-pandemic monthly run rates in FY2023".
Unfortunately, component costs have risen, so pre-Covid profitability sounds like it will be a big challenge. Maybe new products will help:
The Board expects further improved results and sales growth in H2 2023. A significant new product release is scheduled for November and will establish SmartVend as the industry-leading vending management software platform.
You can check out the SmartVend business here.
My view
I'm always left cold by Vianet's investor communications. It's hard to put my finger on why exactly this is the case, but the use of buzzwords is certainly a big part of it
I just don't come away with a satisfying sense of clarity around the company's products and progress. It might be entirely my own fault for failing to understand what it is that the company is doing.
Financially, things aren't great. Paul covered FY 3/2022 results in detail, noting that cash flow had been used up in capitalised development costs.
So we are left in a situation where the company's core beer monitoring business is less profitable than it was before (due to input cost inflation), and its other activities are yet to take up the slack, while at the same time burning through any cash flow the company is generating.
So personally, this is not a share I'd be interested in, though I may be leaving a big opportunity on the table at this valuation. If it hits forecasts it will be cheap here. But that's a very big "if".
Source:
https://www.stockopedia.com/content/small-cap-value-report-weds-26-oct-2022-made-meal-bmy-otb-vnet-956165/
Before It's News®
is a community of individuals who report on what's going on around them, from all around the world.
Anyone can
join
.
Anyone can contribute.
Anyone can become informed about their world.
"United We Stand" Click Here To Create Your Personal Citizen Journalist Account Today, Be Sure To Invite Your Friends.
Please Help Support BeforeitsNews by trying our Natural Health Products below!
Order by Phone at 888-809-8385 or online at https://mitocopper.com M - F 9am to 5pm EST
Order by Phone at 866-388-7003 or online at https://www.herbanomic.com M - F 9am to 5pm EST
Order by Phone at 866-388-7003 or online at https://www.herbanomics.com M - F 9am to 5pm EST
Humic & Fulvic Trace Minerals Complex - Nature's most important supplement! Vivid Dreams again!
HNEX HydroNano EXtracellular Water - Improve immune system health and reduce inflammation.
Ultimate Clinical Potency Curcumin - Natural pain relief, reduce inflammation and so much more.
MitoCopper - Bioavailable Copper destroys pathogens and gives you more energy. (See Blood Video)
Oxy Powder - Natural Colon Cleanser! Cleans out toxic buildup with oxygen!
Nascent Iodine - Promotes detoxification, mental focus and thyroid health.
Smart Meter Cover - Reduces Smart Meter radiation by 96%! (See Video).