Aquatex Is a Human-Made Stone Composite Material Often Used in the Manufacturing of Sanitary Ware Products
Thursday, August 19, 2021 12:07
% of readers think this story is Fact. Add your two cents.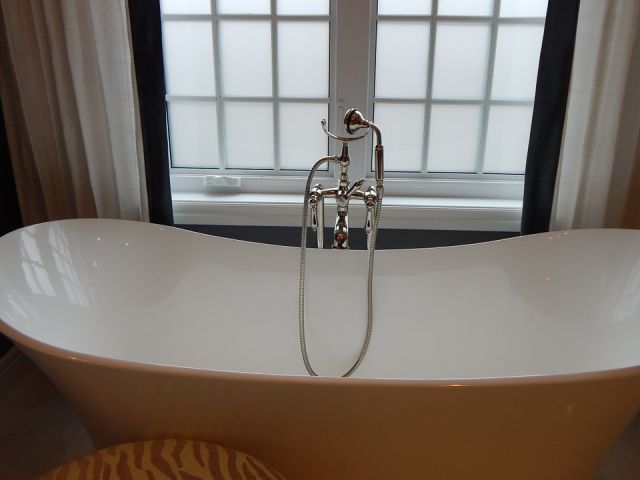 AquateX is a human-made stone composite material often used in the manufacturing of sanitary ware products. This is a special type of solid surface material, which is considered to be an economical and sustainable alternative to natural stone such as marble or granite. In just over 50 years, solid surfaces have become a popular building material for interior and exterior applications. New composite materials like solid surface and polymerized concrete have helped designers to overcome some of the depth and other dimensional restrictions previously encountered when manufacturing with older acrylic thermoforming machines. The AquateX stone resin material is produced and patented by Aquatica Plumbing LTD Europe, which is certified according to cUPC (Unified Plumbing Code) in the US and Canada. The company also holds a separate certification in the State of Massachusetts.
History
In 2003, Joseph Burnstein founded Aquatica Plumbing Europe Ltd in Canada as a wholesale plumbing supplier. In 2013, Mr Burnstein gathered experienced scientists and R&D experts to develop a special stone composite solid surface material, using only the best qualities to use for the creation of bathroom products. This was part of a huge effort to create groundbreaking materials, innovative production techniques, engineering and designs from renowned European designers to transform the interior design industry by offering sustainable alternatives. A few months after the launch of AquateX, the company launched the very first in-house developed solid surface bathtub Karolina using Aquatex.
Composition
60% of AquateX is composed of the aluminum mineral that is derived from the deeply weathered volcanic rock, bauxite. The main minerals in bauxite are gibbsite (Al2O3.3H2O), boehmite (Al2O3.H2O) and diaspore, which has the same composition as boehmite, but is harder with greater density. 40% of AquateX is made up of US made high-tech resin.
Properties
AquateX can be crafted into practically any geometrical form and shape. AquateX is a light-weight, non-porous, hygienic material combining a silky smooth exterior with a tough interior. The white matte surface is velvety soft to touch, but it's durable nature ensures exceptional heat retention. AquateX solid surfaces are manufactured of a proprietary formula composed of polymer resin and filled with aluminum hydroxide and other specialized additives. The strength of AquateX comes from the acrylic and polyester resins, while aluminum hydroxide gives AquateX its chemical, stain, fire and UV resistant properties. AquateX can be used in areas with higher fire safety requirements. The surface will not lose its quality or properties, even at 100ºC. If a product made of AquateX is burnt – the material produces a liquid. AquateX offers good resistance to UV rays and will undergo only nominal color changes under continuous exposure to water and sunlight.
Performance Characteristics
AquateX is a low-maintenance material, which does not require re-sealing or re-painting. Light sanding can remove scratches, small chips and cigarette burns.
AquateX is inert, hypoallergenic and non-toxic. This type of solid surface is safe to use in medical facilities and can come into contact with food. AquateX solid surfaces do not react to any chemicals being in its vicinity.

If maintained properly, products made from AquateX will outlast most other materials. Any possible damage can be repaired by a specialized technician with little effort.

AquateX is homogeneous throughout and will therefore never discolor.

In addition to all the beneficial characteristics of the standard AquateX, the Aquatica R&D team developed an ultra-polished, high-gloss marble-like version of the material called AquateX LuX.

AquateX is considered to be an eco-friendly option as it is 100% recyclable material.

AquateX colours include white and multiple varieties of black, grey, brown, blue, green, red and yellow.
Application
AquateX solid surfaces can be used for the following purposes:
Sanitary Ware: bathtubs, vanity countertops, shower walls, sinks, etc

Hospitality: bars, tables, receptions desks etc.

Shop Fitting: displays, counters, wall cladding etc.

Airports: check-in counters

Public buildings: sculptural art, facades, meeting tables, benches, etc.

Hospitals: laboratory countertops, decontamination sinks etc.
Pigmented Solid Surfaces
AquateX is a popular choice for manufacturing pigmented solid surfaces as it offers an endless amount of color and design flexibility in comparison to natural stone. Solid surfaces can be manufactured in any color by adding different natural or engineered additives and pigments to the white stone composite material AquateX. Accurate scientific instrument driven color calculations are used to create precise colors. Sleek Concrete, Sleek Sandstone and SeaStone are examples of pigmented engineered solid surfaces using AquateX.
Production
Experts bind natural mineral derivatives like aluminum hydroxide with acrylic modified resins inside Aquatica's proprietary temperature controlled reactor, and cast them into moulds to create outstanding solid surface products. The parts are subjected to repeated heating and cooling cycles inside our proprietary curing oven to give products improved surface hardness, blushing, and superior thermal shock resistance.
Cleaning and Maintaining AquateX
AquateX can be cleaned and restored to its original state with a simple abrasive detergent and a microfiber cloth, which can remove everything from cigarette burns, ink, hair dye, crayons, wine and coffee stains. Frequently cleaning an AquateX product will help to preserve the product and prevent any wear and tear signs that might occur over time.
Recommended products to use for cleaning AquateX include:
Soft cotton cloths of a "natural multi-purpose" type.

Microfiber cloths

"Scotch-Brite©" – solely for treating tough, persistent stains.

Ammonia-based detergents (e.g. LYSOFORM).

Slightly abrasive cream-based detergents (e.g. CIF, Mr. Clean, Fantastik, Soft Scrub® Multi-Surface Gel, etc.).

Descaling agents (e.g. VIAKAL)

Bleach
The following should be avoided while cleaning products made of AquateX:
Detergents that contain alcohol, strong acids and acetones must not be used to treat the AquateX surfaces.

If one of the above-mentioned substances come into contact with the material, we recommend cleaning the surface immediately with plenty of water and detergent to avoid the formation of permanent stains.

Ensure not to use colored detergents which could leave pigment residues.

Avoid contact between the material and products with high coloring power such as nail varnish, hair dyes, self-tanning products, etc., and oil-based products (hair oil and conditioner), because they could cause permanent stains.

Do not use a cloth or pad containing a metal wire.
Testing on Exposure to UV Light and Yellowing
Unlike most other commercially available Solid Surfaces, AquateX is extremely resistant to yellowing or aging. This resistance to UV lightening is obtained at the molecular level by achieving the optimal molecular structure of the polymers. This innovative structure allows the material to retain its original colour even under prolonged exposure to sunlight or artificial UV light. By contrast, the UV resistance of most other Solid Surface materials is achieved by solubilizing it with a mix of UV absorbing additives. These have a tendency to degrade over time due to the same UV radiation and therefore they protect the material from colour variations for only a very limited time. Scientists tested AquateX using an accelerated yellowing test methodology with UV type A lamps (similar to the solar spectrum), under temperature conditions of up to 50°C and saturated water moisture. The testing lasted for 1836 hours (76.5 days), an extremely long exposure time. It should be noted that in common solid surfaces the protecting effect of the UV-absorbing additives expires after about 405 hours upon, which the material yellowing accelerates rapidly, quickly degrading its overall look and feel. After 77 days AquateX is less yellow than at the time of manufacturing, and this phenomenon will continue for many months, before its slow and imperceptible yellowing. The human eye perceives yellowing only when YVI ≥ 3 units.
AquateX's Awards
In 2016, AquateX was awarded the title of "The Best Innovative Material of the Year" at the UK Kitchen & Bathroom Awards. This British design-focused awards event for the kitchen, bathroom and interiors industry, acknowledges outstanding designers, project design and manufacturers for product design. AquateX received the Golden Award, impressing the panel of judges for its innovative composite material of high strength and durability.
Tests
Easy to maintain test conducted by IAPMO R&T laboratory in California according to Section 5.12 of CSA B45.5-11.IAPMO Z124-2011

Hard and sturdy by IAPMO R&T laboratory in California according to Section 5.7 of CSA B45.5-11.IAPMO Z124-2011

Ignitability test by the Aquatica laboratory according to Section 5.13 of CSA B45.5-11.IAPMO Z124-2011

Stain resistance test by the Aquatica laboratory according to Section 5.13 of CSA B45.5-11.IAPMO Z124-2011

Burn resistance test by IAPMO R&T laboratory in California according to Section 5.14 of CSA B45.5-11.IAPMO Z124-2011

Aging test simulating 6 months of household use testing by IAPMO to Section 5.10 of CSA B45.5-11.IAPMO Z124-2011 Results of this test showed no observable colour change, or disclouring or spotting. The product could be easily repolished with Scotch-Brite and abrasive dishwashing detergent.
Related AquateX Materials
AquateX Professional is a series of advanced, designer oriented materials leveraging the AquateX product core and intended for architectural professionals. The company combined AquateX solid surface with opposite materials like natural marbles, granite or colorful resins to offer different materials to professionals in architecture, industrial and interior design.

AquateX BioEco is an eco-sustainable solid surface composed of 55% natural inert minerals of high purity and 45% bio-resin – a viscous substance of plant origin. 55% of AquateX BioEco is made of a mineral filler composition of high-purity aluminum hydroxide derived from Gibbsite – the filler used in medicine as an antacid for humans and animals.​ AquateX BioEco can help industry professionals to achieve Materials and Resources Credits 2, 3 and 4, as well as Indoor Environmental Quality Credit 2, under the LEED V4 rating system.
Before It's News®
is a community of individuals who report on what's going on around them, from all around the world.
Anyone can
join
.
Anyone can contribute.
Anyone can become informed about their world.
"United We Stand" Click Here To Create Your Personal Citizen Journalist Account Today, Be Sure To Invite Your Friends.