UPDATE: BRITAIN MOVED AGAINST THE GOV-ID-1984-Parasites: ITS OVER.... The parasites now need to be arrested, tried and punished for crimes against humanity and Genocide
Wednesday, November 25, 2020 12:49
% of readers think this story is Fact. Add your two cents.

~~~~~~~~~~~~~~~~~~~~~~~~~~~~~~~~~~~~~~~~~
About Patrick Henry and our Red Pill projects: Fascist-book: https://www.facebook.com/pauljamesCET/ More Articles: tinyurl.com/qno5k6e
LivingLawSociety.org +++ more links here 1776reloaded.org internallydisplacedpeople.org Several important articles have been uploaded to BIN on the ongoing CCP. Demon-rat.Socialist party of DC and their Coup of America. All available at this link: /v3/contributor/bio/?uid=713008 Video channel: https://www.brighteon.com/channels/1776reloaded
The focus of our work over the last 15 years has been to investigate the Legal and Governance system operating in America at Federal, State, County, City etc.. Conclusion: the entire legal system in America is illegally operated by Constitutionally-banned foreign agents that run America for foreign interests. This means Constitutionally-banned foreign agents run nearly every now Occupied counterfeit government Office in the nation. It is further concluded these Constitutional banned foreign agents have literally been engaged in a Mixed War against the American people, relying on lawfare while farming Americans to pfofit the International Bankers (aka Human Trafficking) and the CROWN / VATICAN system in a silent war with America since the War of Indepence.
See LivingLawSociety.org for more and proof that the original organic United States Constitution post 1819 was modified and orchestrated to bring America under a foreign Corporate Democracy [Socialistic Mob-rule] as a path to destroy the Republic and the peoples guarantee of a Republican form of Government to advance the Luciferian Roman Cults Talmudic New World Order Agenda.
The following letter was sent to Trump via US Military alerting those loyal to the American people to this state of affairs with certified government proofs of claim. /new-world-order/2020/12/letter-to-trump-and-us-military-on-lawfare-mixed-war-color-of-lawauthorityoffice-constitutionally-banned-foreign-agents-fake-weaponized-courts-etc-time-to-take-back-america-from-the-parasites-9526.html
~~~~~~~~~~~~~~~~~~~~~~~~~~~~~~~~~~~~~~~~~~~~
Unlearn people – We are in the second War of Independence and its for all people of the World. Not just America. If America falls the World falls in to a NWO Abyss styled like CHINA CCP.
Please share…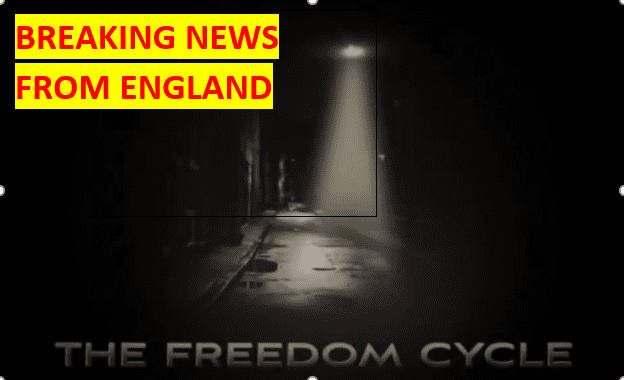 [Pls bookmark and share: Also posted today: /new-world-order/2020/11/dear-america-the-american-people-have-been-under-mixed-war-and-lawfare-since-the-civil-war-trump-has-the-opportunity-to-undo-it-please-unlearn-9471.html] ]
Breaking News from England: Start here: https://www.brighteon.com/d30bc8d8-008d-4fb4-915b-7eaa0967eb6e (if you do not see the video – 404 error – then it is still uploading - available here until its taken down - https://www.facebook.com/100034006772371/videos/397638561379700/
ALL GOVERNMENT CABINET & MPS TO GO ON HOUSE ARREST
ALL GOVERNMENT CABINET & MPS TO GO ON HOUSE ARREST. POLICE & ARMY BACKING THE PEOPLE! Jonathan Trapman from The Freedom Cycle announces the reinstatement of the Common Law in these sacred lands. TAKING DOWN TYRANNY ONE LAWFUL STEP AT A TIME . https://thefreedomcycle.com
The people of Britain have MOVED AGAINST THE New World Order GOV-ID-1984-Parasites for their Crimes against Humanity / Genocide via the WEF / WHO Plandemic.
Now America needs to do the same:
UPDATE from: https://www.facebook.com/michael.obernicia/posts/2758614971046391
COVID-1984 PCP UPDATE: After initially being told yesterday morning that we wouldn't receive the judge's decision [on whether to issue the arrest warrant] for another ten days, by the late afternoon he had already made up his mind and ruled as follows:
1. That he was satisfied that we have the authority to bring the private prosecution.
2. That he has the jurisdiction to decide the application.
3. That it is not a prosecution which can only be run by the CPS.
However, the judge did not agree that Hancock's dishonesty is proven by his publicly documented failure to disclose to MPs [before they voted on the CV act] that CV had been reclassified as no longer being considered an airborne High Consequence Infectious Disease [HCID], or that the Imperial Model had been proven to be false.
Whilst the decision could easily be appealed, we have been advised by our legal team that we need to acquire more prima facie evidence of Hancock's dishonest conduct, before any judge will issue a warrant or a summons, which we expect to obtain within the next 28 days.
Nevertheless, our legal team has also advised us that the production of the very same evidence we are seeking to prove dishonest conduct will constitute sufficient prima facie evidence of a much more serious crime than fraud, as well as conclusive proof of the frauds we have already alleged.
In other words, we've been asked to provide the smoking gun from the crime scene, so that's what is required to sustain the allegations.
Furthermore, don't forget that the urgent action we took was taken in the absence of a formal criminal investigation, while our legal team prepared their initial advice on how the PCP should proceed, after assessing the myriad of criminal allegations, to guarantee the greatest chance of success.
Now we have received that advice, we have agreed that the information in the main part of the case against Hancock et al will be laid in the criminal court, as soon as we have obtained the prima facie evidence that would remove all possibility of reasonable doubt in the minds of a jury, when [and not if] the PCP moves to the trial stage. All being well, we will have that evidence by 22/12/2020 at the latest.
Tomorrow afternoon, we are due to speak with our legal team and there will be a further update soon afterwards, laying out how the case will proceed, now that we have established the evidence threshold that needs to be met, given that nobody else has ever brought such a private criminal prosecution against a serving cabinet minister before, let alone had one arrested.
In the meantime, rest assured that, whatever the establishment throws at us, be it in whatever form it comes, the PCP is moving forward, with or without a warrant being issued to prevent further crimes being committed.
Once again, thank you to the vast majority of you, both for warding off shills, trolls and agents in my absence, as well as keeping the faith, despite the wild and crazy false allegations that are flying about.
More here: Uploaded by: http://www.livinglawsociety.org/index.php/wake-the-f-k-up
Concede no, never: Why?
Note that some of these links are still uploading… please share …
revisist the channel to check to see if they have uploaded:
https://www.brighteon.com/channels/1776reloaded
Dr warns against COVID-1984 Fraud: https://www.brighteon.com/054790cb-1430-4bc9-8ee4-156f0844a849
#1: https://www.brighteon.com/653d88c0-e9f1-45a0-9197-699a66900689
Original CIA.Fascist.Tube.upload: https://www.youtube.com/watch?v=fAsOj34fMow
#2: https://amgreatness.com/2020/11/17/sworn-affidavit-from-high-ranking-military-officer-claims-smartmatic-was-designed-to-change-votes-without-being-detected/
#3: https://themarshallreport.wordpress.com/2020/11/22/sidney-powells-kraken-is-dod-cyber-warfare-program-we-are-at-war/
#4: https://richardsonpost.com/howellwoltz/19050/trump-will-win-heres-why/
#5: Trump exposes Crown plan to take over the world (which they have been doing a long time) – https://www.brighteon.com/783196be-4555-4e05-af0e-a0421f989e5c
#6: Are We Being Told the Truth About COVID-19 Prof. Sucharit Bhakdi https://www.brighteon.com/96dac436-7c23-4d52-9e37-3f9d2aa6053c
#7: Damning testimony on COVID 1984 fraud – JamesDelingpole: https://www.brighteon.com/f4565d20-0363-42f2-b28b-045119bce5ad
#8: 'bombshell-intel-by-tech-giant-insider-blows-the-lid-off-the-entire-election-narrative-boom https://www.brighteon.com/dashboard/videos/5acd1258-e20f-43c6-ae45-274947313041
Some excerpts
Document issued to President Trump and US Military, et al at the following links:
The Crown / Vatican installed a 5th Column in America that has Illegally operated here for over 100 years! The reason why can be found in the Secret Treaty of Verona 1822:
https://1776reloaded.org/joomla30/index.php/unlearn/temp-unlearn/secret-treaty-of-verona-1822
The 5th Column are the BAR Attorneys (now more than 1.3m Active in America)! Whether they know it or not they have foisted Americans under a foreign jurisdiction and engaged us in Mixed War and Lawfare for foreign interests! Most of them do not know any better for they were trained to break the law of the land from the get go! They were trained to be ignorant of the real foundational law forms of our nation. BAR Associations / Attorneys are CROWN Franchisees! They are Constitutionally banned from Government since 1819! Attorneys have for the last several decades usurped the Unalienable Rights of the American people and are responsible for introducing a counterfeit Governance "Legal" system that underpins the FOREIGN – illegal banking and FOREIGN legal systems operating across America! The same is true on all Western Nations infiltrated by the CROWN / VATICAN New World Order ROMAN CULT. The British announcement above applies to America! Britain and America etc., are common law nations, not ROMAN Civil Law nations which only applies to the de facto US Corp. FAKE overlay… [See Cal Civ. Code 22.2 referenced below]. Our rights as Americans [Duped in to thinking we were Corporate Citizens of DC US Corp., induced through acts of fraud, sedition and Treason (hence legally invalid)] are under Common Law and not Civil Law. Civil law applies to things and fictions like Corporations – NOT THE PEOPLE! The Attorneys illegally operating in America have operated as if we the people were subjected to Crown Roman Civil Law! We are not and never were! Attorneys were trained upside down so that the CABAL through the ROMAN US Corp could enslave the American people and use us which is what they have done these past 150 years. Attorneys were not trained on the Common Law foundations of our nation and original states! This was of course deliberate FRAUD perpetuated on the American people and it points to why Attorneys were banned from America in 1819 by our early Lawful Lawmakers as exposed herein…
I am not saying all attorneys are bad! I am saying they have NOT been trained on the foundational law of our nation! They were trained to Wrong think! Some figure this out, most did not! See right hand side margin of LivingLawSociety.org for books by those that woke up!
Now … wake the f%$k up while we/you still can and unlearn the lies you have been told all of your life by Crown / Vatican Gov Co Service corporations masquerading as your Government…
unlearn: https://codes.findlaw.com/ca/government-code/gov-sect-1027-5.html
Unlearn: Title 10 USC 253: https://www.law.cornell.edu/uscode/text/10/253
TONA: end of this page and extensively covered at LivingLawSociety.org
Make no mistake, we are in a pivotal moment in the history of the World and the fight of our Lives:
Luciferian Baby Murdering Cult v welfare and survivial of 7.8 Billion people
The current front line of this millennia old battle is Pedo Biden and the Covid 1984 pimping New World Order v Trump, the American people and all people that wish to remain Free and Independent
if you do no understand the above comment you owe itself and your familly to unlearn…
http://www.livinglawsociety.org/index.php/wake-the-f-k-up
http://www.livinglawsociety.org
Biden's own words. "He had the biggest voter fraud organization in history"
image is linked: https://media.thedonald.win/post/XfmogiHt.jpeg

more here: https://www.citizenfreepress.com/
Ignorantia juris non excusat or ignorantia legis neminem excusat (Latin for "ignorance of the law excuses not" and "ignorance of law excuses no one" respectively) is a legal principle holding that a person who is unaware of a law may not escape liability for violating that law merely because one was unaware of its content.
An Introduction to the organic The United States for America Constitution Titles of Nobilty Article of Amendment XIII.
Enacted 1810., ratified March 1819, never overturned
"Titles of Nobility Act", lawfully enacted in 1810, fully ratified by 1819
Published up through the 1870′s before it was vanished by enemies foreign and domestic. Agents of the Crown – Vatican that have ran America as a Slave Plantation ever since!
ARTICLE XIII: "If any citizen of the United States shall accept, claim, receive, or retain any title of nobility or honour, or shall without the consent of Congress, accept and retain any present, pension, office, or emolument of any kind whatever, from any emperor, king, prince, or foreign power, such person shall cease to be a citizen of the United States, and shall be incapable of holding any office of trust or profit under them, or either of them."
Evidence of the plot to retake America by agents of the Vatican / Crown:
Before It's News®
is a community of individuals who report on what's going on around them, from all around the world.
Anyone can
join
.
Anyone can contribute.
Anyone can become informed about their world.
"United We Stand" Click Here To Create Your Personal Citizen Journalist Account Today, Be Sure To Invite Your Friends.