Battle Between the CIA and DoD? This contains a wealth of information, highly recommended!
Friday, December 11, 2020 12:15
% of readers think this story is Fact. Add your two cents.

This Article: https://tinyurl.com/ydy4q7lg

China.NoJoe = CROWN / VATICAN (Black Nobility) New World Order Puppet. jesuit controlled CROWN (under Vatican) indirectly running ALL US Courts, Alphabets (Particularly CIA, FBI, DOJ etc., Big Tech, All NWO-main-stream programming media acting in the USA! ALL 1.4M constitutionally-banned BAR Attorneys (Banned since 1819) in USA are beholding (via OATH) to the CROWN via CROWN BAR Franchises – orchestrated by CROWN Middles Inns of Court – Crown Corp. of London aka CROWN… this should become increasingly evident aas we see attorneys defend slow No-Joe and BLOCK Trump challenges in the CROWN BAR controlled courts ran by Constitutionally – banned foreign agents under Oath to the CROWN]
Battle Between the CIA and DoD?
#DanielNatal #TheDanielNatalShow #CIA
Uploaded for preservation and education purposes by LivingLawSociety.org / 1776Reloaded.org to our 1776Reloaded.org Brighteon video channel: https://www.brighteon.com/channels/1776reloaded
Video below the following image: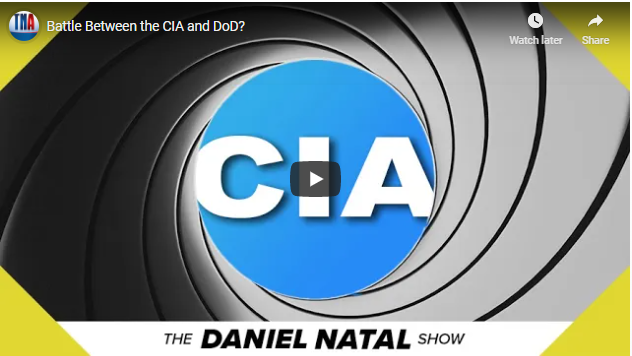 ~~~~~~~~~~~~~~~~~~~~~~~~~~~~~~~~~~~~~~~~~
About Patrick Henry and our Red Pill projects: Fascist-book: https://www.facebook.com/pauljamesCET/ More Articles: tinyurl.com/qno5k6e LivingLawSociety.org +++ more links here 1776reloaded.org internallydisplacedpeople.org Important articles have been uploaded to BIN on the ongoing CCP. Black Nobility.New World Order.RINO-Demon-rat.Socialist DC Crown US Corp.party of DC, the ongoing New World Order Usurpation of America by enemies Domestic and Foreign, and the GOV-ID-1984-Great-Reset-Agenda21/2030-Depop-Plandemic. Articles available at this link: /v3/contributor/bio/?uid=713008 Video channel: https://www.brighteon.com/channels/1776reloaded
The focus of our work over the last 15 years has been to investigate the Legal and Governance systems operating in America at Federal, State, County, City etc.. Conclusion: the entire legal system in America has been usurped by 185,000+ foreign CROWN / VATICAN rooted corporations and is illegally operated by Constitutionally-banned foreign agents that unlawfully run America for foreign interests (example US Corp., [CANADA], STATE OF CALIFORNIA, COUNTY OF ______ are NOT the original organic We the people Governments but counterfeits). Constitutionally-banned foreign agents run nearly every now Occupied counterfeit government Office in the nation. In America the leading faction of the 5th Column at war with the rest of us are BAR Attorneys (whether they know it or not)! See California Government Code 1027.5 to understand the silent War that has been going on for 150+ years. It is further concluded these Constitutional banned foreign agents have literally been engaged in a Mixed War against the American people, relying on lawfare while literally farming Americans to profit the International Bankers (aka Human Trafficking) and the CROWN / VATICAN system in a silent war with all Americans since the War of Independence.
See LivingLawSociety.org for more and proof that the original organic United States Constitution post 1819 was modified and orchestrated to bring America under a foreign Corporate Democracy [Socialistic Mob-rule] as a path to destroy the original organic we the people Governments and deprive the people of their guarantee of a Republican form of Government all so as to advance their Luciferian Roman Cult Talmudic New World Order Agenda.
The following letter was sent to Trump via US Military alerting those loyal to the American people to this state of affairs and linking to certified government issued proofs of claim. /new-world-order/2020/12/letter-to-trump-and-us-military-on-lawfare-mixed-war-color-of-lawauthorityoffice-constitutionally-banned-foreign-agents-fake-weaponized-courts-etc-time-to-take-back-america-from-the-parasites-9526.html
~~~~~~~~~~~~~~~~~~~~~~~~~~~~~~~~~~~~~~~~~~~~
Original upload Notes for Battle Between the CIA and DoD lower down this page:
This link is also highly relevant: /opinion-conservative/2020/12/biden-team-kicked-out-of-pentagon-intelligence-briefing-tucker-carlson-america-hijacked-capt-dave-bertrand-ret-must-see-video-3556687.html
Fascist tube original upload: https://www.youtube.com/watch?v=KI53BoelnT4
23.6K subscribers
SUBSCRIBE
Now that National Security Action Memorandum 57 has transferred powers from the CIA to the Department of Defense, are the two agencies at war? Lt. General Thomas McInerney says that a struggle ensued as special forces from the DoD stormed a CIA facility in Germany and retrieved servers implicated in vote rigging in the 2020 election. Are big things happening behind the scenes, illustrative of Trump's battle against the Deep State? Are bigger things than even the election taking place? 🇺🇸 The New American: http://www.thenewamerican.com/ 📲 Let's Connect! http://www.facebook.com/TheNewAmerican https://parler.com/profile/TheNewAmerican https://twitter.com/NewAmericanMag https://www.instagram.com/newamericanmag85/ #DanielNatal #TheDanielNatalShow #CIA
Before It's News®
is a community of individuals who report on what's going on around them, from all around the world.
Anyone can
join
.
Anyone can contribute.
Anyone can become informed about their world.
"United We Stand" Click Here To Create Your Personal Citizen Journalist Account Today, Be Sure To Invite Your Friends.