Secret Military Documents: Trudeau Invited Chinese Troops to Train at Canadian Military Bases
Thursday, December 10, 2020 11:31
% of readers think this story is Fact. Add your two cents.

This article: https://tinyurl.com/yajhnnyr
Please share articles posted to BIN to ther platforms… thanks…
SECRET MILITARY DOCUMENTS:
Trudeau invited Chinese troops to train at Canadian military bases
LivingLawSociety.org intro: Jump below wavey line to get straight to the Video related to the above Headline.
~~~~~~~~~~~~~~~~~~~~~~~~~~~~~~~~~~~~~~~~~
About Patrick Henry and our Red Pill projects: Fascist-book: https://www.facebook.com/pauljamesCET/ More Articles: tinyurl.com/qno5k6e LivingLawSociety.org +++ more links here 1776reloaded.org internallydisplacedpeople.org Important articles have been uploaded to BIN on the ongoing CCP. Black Nobility.New World Order.RINO-Demon-rat.Socialist US Corp. party of DC, the ongoing New World Order Usurpation of America, and the GOV-ID-1984-Great-Reset-Agenda21/2020-Depop-Plandemic. All available at this link: /v3/contributor/bio/?uid=713008 Video channel: https://www.brighteon.com/channels/1776reloaded
The focus of our work over the last 15 years has been to investigate the Legal and Governance systems operating in America at Federal, State, County, City etc.. Conclusion: the entire legal system in America has been usurped by 185,000+ foreign corporations and is illegally operated by Constitutionally-banned foreign agents that unlawfully run America for foreign interests (example US Corp., [CANADA], STATE OF CALIFORNIA, COUNTY OF ______ are NOT the original organic We the people Governments but counterfeits). Constitutionally-banned foreign agents run nearly every now Occupied counterfeit government Office in the nation. In America the leading faction of the 5th Column at war with the rest of us are BAR Attorneys (whether they know it or not)! See California Government Code 1027.5 to understand the silent War that has been going on for 150+ years. It is further concluded these Constitutional banned foreign agents have literally been engaged in a Mixed War against the American people, relying on lawfare while literally farming Americans to profit the International Bankers (aka Human Trafficking) and the CROWN / VATICAN system in a silent war with all Americans since the War of Independence.
See LivingLawSociety.org for more and proof that the original organic United States Constitution post 1819 was modified and orchestrated to bring America under a foreign Corporate Democracy [Socialistic Mob-rule] as a path to destroy the original organic we the people Governments and deprive the people of their guarantee of a Republican form of Government all so as to advance their Luciferian Roman Cult Talmudic New World Order Agenda.
The following letter was sent to Trump via US Military alerting those loyal to the American people to this state of affairs and linking to certified government issued proofs of claim. /new-world-order/2020/12/letter-to-trump-and-us-military-on-lawfare-mixed-war-color-of-lawauthorityoffice-constitutionally-banned-foreign-agents-fake-weaponized-courts-etc-time-to-take-back-america-from-the-parasites-9526.html
~~~~~~~~~~~~~~~~~~~~~~~~~~~~~~~~~~~~~~~~~~~~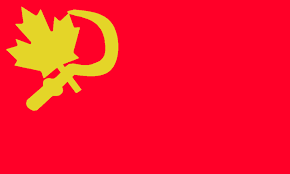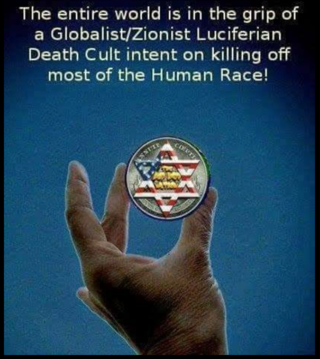 SECRET MILITARY DOCUMENTS uploaded and exposed by https://www.rebelnews.com: Trudeau invited Chinese troops to train at Canadian military bases DOCUMENTS:
TinyURL: https://tinyurl.com/y2vbsecm
http://www.mediafire.com/folder/dgdn7jq4z9ekp/CCP.Trudeau.Chinada
https://www.godlikeproductions.com/forum1/message4620342/pg4
I suggest you do a little digging into how the City of London aka The Square Mile (not London the City) has controlled Canada since it's creation.
Ever heard of the Hudson Bay Corporation?!
Or the Crown as in Crown Corporations?!
In Canada the Federal and Provincial Elections and actually (s)elections. Because you get choose between the various candidates and their parties and they are all tied to the City Of London.
The Law Courts in Canada, the Crown corporations are all owned and operated by the City Of London.
So as a Canadain you only get to choose between the City Of London's candidates.
That's why it doesn't matter who gets in the policy comes straight out of the City of London.
The City of London is a City State and has been since the days of the Holy Roman Empire. Don't take my word for do your own due diligience.
The City of London is the Adminstrative Center of the West and is one of three city states that make the West's Trinity of Power.
The Vatican is a City State and represent the Spiritual Center of the West and is the 2nd part of the West's Trinity of power.
Which brings us to the third City State Washington DC and it represents the military centre of the west power and completes the trinity.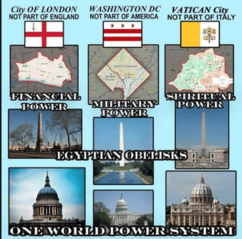 Three Corporations run the world: City of London, Washington DC and Vatican City
[link to www.sinhalanet.net (secure)]
/new-world-order/2020/12/new-global-pact-created-the-pope-rothschilds-rockefeller-big-bankers-their-agreementchilling-9551.html
https://www.whitehouse.gov/presidential-actions/executive-order-addressing-threat-securities-investments-finance-communist-chinese-military-companies/
Re: SECRET MILITARY DOCUMENTS: Trudeau invited Chinese troops to train at Canadian military bases
Original upload notes below:
We have long been trying to wake the world up to the fact that a Luciferian Roman cult has captured all governments of the World. This is proven by the fact that every nation is under the Crown Central Banking system and that it is a REGIS'tered CORPORATION under the Crown / Vatican "Legal" system. In some nations we have parasites like Pelossi, NWOsom, Kate Brown, Cynthia Johnson, Trudeau, Brian Kemp of Georgia, Doug Ducy etc… openly at war with its own people.
The American people need to understand that America's original federal states compact created government was captured in the1860s (Foreign Municipal Corp erected at the end of the 1860s) and the states fell to the cabal and the same fate between 1934 – 1954 which are all now under Foreign Corporate Governments which Corporate governments are openly violating the people's guarantee of a Republican form of Government.
The NWO Cult promised they would one day control the people though marks on paper [See The Lernid Protocols of the Elders of Zion] and now they do! The Luciferian Roman Cult have implemented a Mixed War over our nations relying on CROWN agents known as Attorneys to move forward their NWO Agenda. The preferred weapon of the parasites behind the curtain is Lawfare.
This is an example posted just yesterday of an actor in so called Government openly at War with the American people and not ashamed of the fact that all now know this reality: /new-world-order/2020/12/sitting-michigan-state-representative-rep-cynthia-johnson-exemplifies-the-mentality-of-the-lefty-neo-marxists-for-you-full-of-hate-for-anything-that-does-not-conform-to-their-socialist-warped-indoct-9542.html
The ongoing Fifth Column BAR Attorney war can be best understood by reading this: California Government Code 1027.5 . Note that our enemies behind the gate do not want the people to have knowledge of their Birthright American status or our Nations Organic law foundations. Attorneys are relied on to ignore these lawful foundations as they engage in Lawfare against us all. A clear understanding of natural / common law / organic law foundations is what is required to lay waste to BAR Attorney Lawfare.
A faction of 1.3M Fifth column useful idiots acting in America now unlawfully occupy every Government Office across the nation in violation of our organic law foundations. Their kind have engaged in an endless Mixed war on the American People that has left the American people largely impoverished. This Mixed War relies on lawfare (see Letter to Trump below for explanation of terms used herein).
Lawfare is what has been used to thieve TRILLIONS from Americans under fake laws, thieve 20M+ homes from the American people on counterfeit paperwork, thieve Millions of children from parents on lies while denying equality under the law and due process of law, … and to MANUFACTURE the fake Plandemic Bull Shit and the so called Lock Down mandates (ALL ILLEGAL):
/health/2020/12/numerous-whistleblowers-claim-pandemic-is-the-greatest-hoax-ever-perpetuated-on-the-human-race-3036682.html
Enemies behind America's gates have for far to long been moving the American people in to global socialism through the destruction of America's organic law systems and by getting the masses to believe in fake threats as a means to scare us in to accepting the NWO Agenda Manifesto [Hegelian Dialectic: Problem Reaction Solution: Plandenic = Mandate Vaccines; promote Gobal Overpop = Agenda 21 / Agenda 2030 = Implement Global Socialism and depop techniques (via Vaccines)]. The exact same agenda has been going on in Canada and across the World.
People must understand all 'ISMS' are a product of the BLACK NOBILITY Luciferian Roman Cult that have long been pushing the world in to Totalitarian One World Government control.
CHINA is a creation of the Globalists behind the New World Order and positioned to bring about the NWO. It is a tool of the parasites pushing the millennia old New World Order Strategy exposed at 1776Reloaded.org [See left margin NWO-101].
It is a sad reality that parasites running America's counterfeit NWO controlled so called governments have allowed CHINAto buy up sections of American land and businesses using Central Banker NWO Military Debt Script! No Free and Independent Nation can compete with a nation underpinned on SLAVERY and TRYANNY! If people actually think this all through they would realize that CHINA will eventually own it all because it is able to out-compete everyone else! This is a further demonstration of the famous Rothschilds Quote in play:
Give me control of a nations money supply / Mayer Amschel Rothschild founder of the Rothschild banking dynasty.
The parasites behind the NWO want all people to succumb to a China style Technocratic control / slavery grid that would make the world a much more efficient slavery system for the Luciferian baby sacrificing cabal to run, over their current CROWN Plantation Slave System, that relies on corporations masquerading as Free and Independent Nations.
Trudeau like every NWO whore pumping the One World Order, CHINA, the Plandemic, for the Luciferian Roman Cult needs to be dealt with by the people relying on the time honored Natural Common Law remedies. Make no mistake that many of these parasites were NEVER lawfully elected in to any office! The vote rigging system has been relied on for decades. Remember FRAUD vitiates all acts created on Fraud! See here:
/new-world-order/2020/12/fraud-vitiates-all-it-touches-breaking-news-in-georgia-sunday-12620-cpa-firm-results-epoch-times-news-9528.html
America and Canada are being ravaged by CHINA because of useful idiots like Trudeau, Biden etc…
China admits controls Biden https://www.youtube.com/watch?v=acZXridt7wM
Time the people ejected them and pronto if we are to save our nations! Restoring organic law through education is a sure means to turn around the ship.
Please note Constitutionally – banned foreign agents run every Court house, Law firm, the FBI, the CIA and virtually every so called de facto Government enterprise illegally operatingf across America and on ever state. To understand why they are cosntitutionally banned foreign agents go read at the Right Margin of LivingLawSociety.org home page. Here is a clue:

ALL Foreign agents are banned from American Government… which implies if FOREIGN agents are running government in America today, then we do not have an American Government! If it is violating the law of the land do the people owe it any allegiance? Is Trump trying to restore the law Republican form of Government? I do think so. If a government abandons its people (lie Trudeau has done) then under the law of nations, the people can throw off that government and create a new one that serves them. The is under the Law of Nations and enshrined in the Declaration of Independence.
May be even military loyal to the people are waking up: https://abcnews.go.com/Politics/pentagon-plans-cut-support-cias-counterterrorism-missions/story?id=74641591
LivingLawSociety.org will be publishing documents that will help people better deal with STATE lawfare. Documents will be uploaded to BIN. One such example can be found in the intro section [Letter to Trump / US Military].
Incidentally – CHINA now controls our media and media companies are paid not to publish anything damaging to CHINA! Case in point, I could not share this article on fascist book! Please share this and other BIN articles!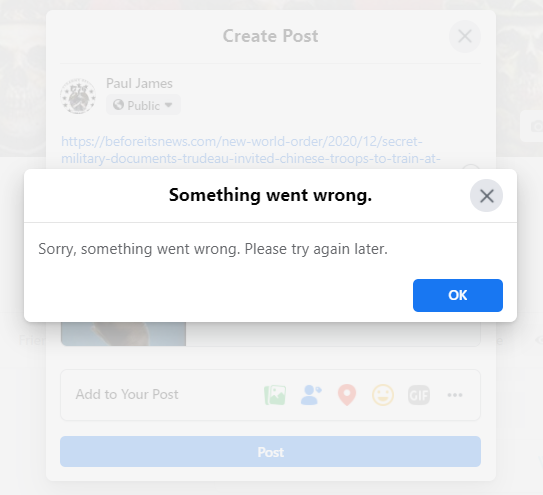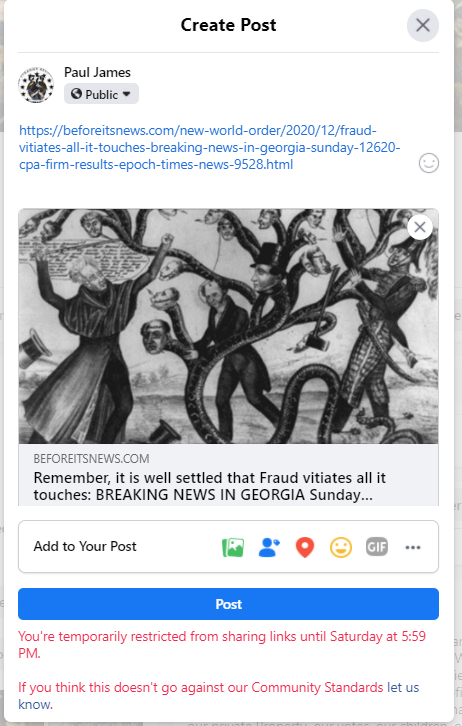 Original Video Upload Notes:
►See the full documents for yourself: http://www.TheChinaFiles.com Ezra Levant reveals shocking government documents showing Prime Minister Justin Trudeau ordering the Canadian Armed Forces to train members of the People's Liberation Army in Canada. Rebel News: Telling the other side of the story. https://www.rebelnews.com for more great Rebel content. Unlike almost all of our mainstream media competitors, Rebel News doesn't receive any government funding. We rely on our generous audience to help keep us reporting. Please consider supporting Rebel News by making a donation, purchasing a RebelNews+ subscription, shopping in our online store, or any of the other methods below: ►Support our independent journalism – https://rebelne.ws/donation ► Donate in cryptocurrency – http://rebelne.ws/crypto ►Make a donation through PayPal – https://rebelne.ws/paypal ►Rebel News Plus – Become a Premium Content subscriber – https://rebelne.ws/plus ►BUY Rebel News gear – https://rebelne.ws/store ►LISTEN to our FREE podcast – https://rebelne.ws/podcast Make sure to follow Rebel News on social media too! FACEBOOK – https://rebelne.ws/fbook TWITTER – https://rebelne.ws/twitter INSTAGRAM – https://rebelne.ws/Instagram PARLER – https://rebelne.ws/parler An original video production by Rebel News. #RebelNews #EzraLevant #TheChinaFiles #JustinTrudeau #XiJinping #China #CCP #ChineseCommunistParty
~~~~~~~~~~~~~~~~
recent posts:
SECRET MILITARY DOCUMENTS: Trudeau invited Chinese troops to train at Canadian military bases

Sitting Michigan State Representative Rep Cynthia Johnson exemplifies the mentality of the Lefty-Neo-Marxists for you. Full of hate for anything that does not conform to their Socialist Warped, Indoctrinated view of the World.

In case you missed it: Bidens Selling Off America: The bigger Story here is this: The friction going on in America today is that TRUMP is running America as a sovereign nation when in fact up until now it has been an OCCUPIED NATION!

More on the Crown.NWO.CCP.Demon-rat.Socialist party of DC and their ongoing Coup of America aided by China Slow Biden. by: #MichaelFlynn, #TomMcInerney & #MaryFanning Drop A MOAB: 'If We Don't Get THIS Right, We're Done!'

Remember, it is well settled that Fraud vitiates all it touches: BREAKING NEWS IN GEORGIA Sunday 12/6/20 – CPA FIRM RESULTS + The Epoch Times News article. Impact of FRAUD also applies to the so-called "Government Orders" re: GOV-ID-NWO-WEF-WHO-CDC Corp. GATES / Fauci 1984: Plandemic!

Four Page Cover Letter to Trump via US Military / Ambassador Rick Grenell on Lawfare, Mixed War, Color of: Law/Authority/Office, fraud, Constitutionally-banned foreign Bar Attorneys, fake weaponized Courts (foreign, private for profit BAR Courts) etc. Time to take back America from the parasites!

Do you get it yet? Banned foreign agents have been running America since the 1860′s… they MUST get Trump out of the Whitehouse to move forward their NWO!

Breaking News: December 4, 2020 – SHARE – Has Attorney Bill Barr been clean with America? Have attorneys been clean with America? Alleged Government documents surfaced that show the worst!

UNLEARN America: We Were Warned about the ongoing Coup: California Government Code: 1027.5 Remedy TONA and TITLE 10 Section 253

Former Russian Bio-Warfare Expert Warns That 'Covid-19' Vaccine Is a Deadly Bio-Weapon

About | Advertise With Us | FAQ | Contact | Privacy | Terms of Service | Copyright Notification | RSS Subscribe
Before It's News®
is a community of individuals who report on what's going on around them, from all around the world.
Anyone can
join
.
Anyone can contribute.
Anyone can become informed about their world.
"United We Stand" Click Here To Create Your Personal Citizen Journalist Account Today, Be Sure To Invite Your Friends.