The endgame of this plutocracy is global financial domination and world government.
Monday, December 14, 2020 12:31
% of readers think this story is Fact. Add your two cents.

This article: https://tinyurl.com/y8yxt33c
Uploaded for education and preservation purposes by LivingLawSociety.org. Info on LivingLawSociety.org at the bottom of this page. Bookmark the following also:
Mirrored https://1776reloaded.org/joomla30/index.php/unlearn/the-plutocracy-cartel-an-entrenched-global-elite-of-vast-wealth-has-spread-its-tentacles-over-the-earth-wielding-extraordinary-power-over-world-affairs
https://www.forbes.com/sites/bruceupbin/2011/10/22/the-147-companies-that-control-everything
https://1776reloaded.org/joomla30/index.php/talmudic-global-governance/us-corp-shadow-gov
We the people V The Plutocracy Cartel (Black Nobilty Cabal).
Note. Two Constitutions, the second is a FOREIGN CROWN / VATICAN DC UNITED STATES Mutual Corp. The original organic constitution (written to control Government – NOT the people) only has XIII Amendments where the later Amendment, The Titles of Nobility Anemendment, has been hidden since the beginning of the 1870′s) banned all foreign agents from American Government! This includes the 1.4M Attorneys currently unlawfully operating in America. This fact futher evidences that we have been rulled by foreign agents for decades! More on the implications on TONA in other articles by this writer. See links below.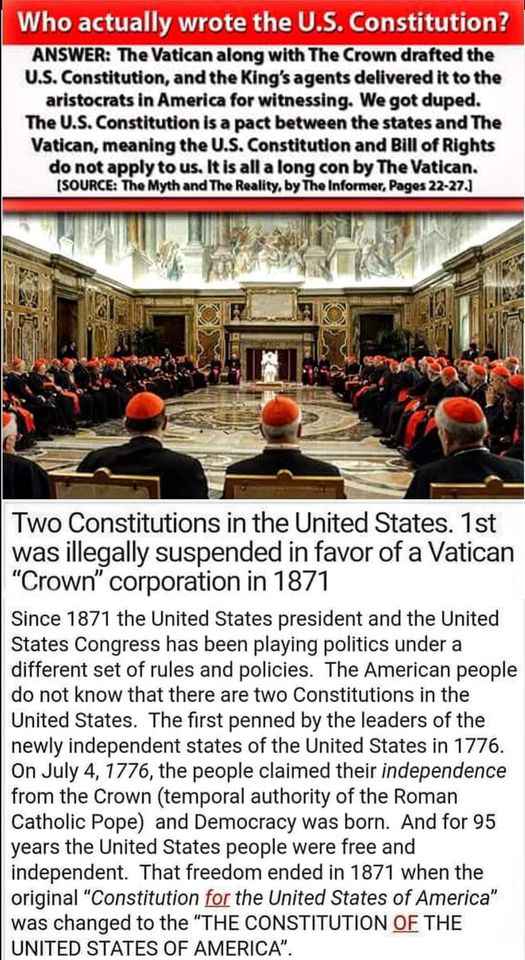 California Code, Commercial Code – COM § 9307 / UCC 9-307(h) [Location of United States.]
The United States is located in the District of Columbia. If the Capital of the United States is located in the District of Columbia, and it's a DISTRICT and not a State, is it safe to assume that anywhere outside of D.C. is not subject to the United States?
So then the United States is a D/B/A for the District of Colombia as a religious corporation operating as if it was the organic original We the people founding fathers created Government! It is NOT!
The existing DC UNITED STATES Corp. is a creation of the Plutocracy Cartel!!! Making sense yet? Now you know why they never wanted Trump in office and why they are doing everthing to get rid of him!
What is the Plutocracy Cartel (Black Nobilty Cabal)?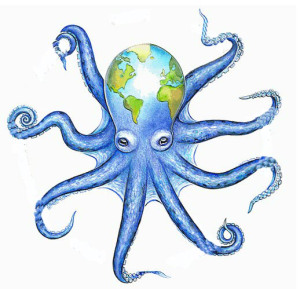 THE PLUTOCRACY CARTEL, AN ENTRENCHED GLOBAL ELITE OF VAST WEALTH HAS SPREAD ITS TENTACLES OVER THE EARTH WIELDING EXTRAORDINARY POWER OVER WORLD AFFAIRS
Republished from http://www.plutocracycartel.net
THE PLUTOCRACY CARTEL

AN ENTRENCHED GLOBAL ELITE OF VAST WEALTH HAS SPREAD ITS TENTACLES OVER THE EARTH WIELDING EXTRAORDINARY POWER OVER WORLD AFFAIRS
A wealthy and powerful oligarchy of banks, corporations, and dynastic families and institutions, runs the world. This elite group exercises control through interlocking boards of directors and stock ownership, acting through private clubs, societies and institutions, dominating national governments, both democratic and authoritarian.
Behind a facade of wealth and privilege, the octopus arms of the Plutocracy Cartel embrace every region of the globe, generating obscene profits from its activities, including weapons trafficking, funding wars and controlling the global trade in drugs. And, as they accumulate more and more wealth and power, they undermine democracy, exploit the weak and vulnerable, ruin lives, and kill hope for millions.
The endgame of this plutocracy is global financial domination and world government.
This website seeks to expose this hegemonic global shadow government that dictates to presidents and prime ministers, directs economic and foreign policies, controls the value of money, oversees drug trafficking, and funds wars.
THE PLUTOCRACY CARTEL'S GLOBAL NETWORK

DYNASTIC FAMILIES AND INSTITUTIONS
EUROPEAN DYNASTIC FAMILIES

HOUSE OF WINDSOR (Great Britain)
NETHERLANDS
BELGIUM
LIECHTENSTEIN
LUXEMBOURG
SPAIN
DENMARK
NORWAY
SWEDEN
MONACO
INTERNATIONAL BANKING DYNASTIES

ROTHSCHILDS
ROCKEFELLERS
KUHN LOEB
WARBURG
LAZARD
GOLDMAN SACHS
ISRAEL MOSES SEIF
LEHMAN
INTERNATIONAL INVESTMENT BANKS

ROTHSCHILD BANK OF LONDON
ROTHSCHILD BANK OF BERLIN
WARBURG BANK OF HAMBURG
WARBURG BANK OF AMSTERDAM
LAZARD BROTHERS OF PARIS
ISRAEL MOSES SEIF BANK OF ITALY
KUHN LOEB BANK OF NEW YORK
GOLDMAN SACHS OF NEW YORK
J. P. MORGAN CHASE BANK OF NEW YORK
LEHMAN BROTHERS OF NEW YORK (filed for bankruptcy in 2008)
~~~~~~~~~~~~~~~~~~~~~~
LLS Insertion:
"I care not what puppet is placed on the throne of England to rule the Empire. The man who controls Britain's money supply controls the British Empire and I control the British money supply." It also controls the FED and the UNITED NATIONS who's original ownership is found below (click hyper link). - Nathan Mayer Rothschild
FEDERAL RESERVE Money System (same are behind the UNITED NATIONS Corporation):
Rothschild Bank of London
Rothschild Bank of Berlin
Warburg Bank of Hamburg
Warburg Bank of Amsterdam
Lazard Brothers of Paris
Israel Moses Seif Banks of Italy
Chase Manhattan Bank of New York
Goldman, Sachs of New York
Lehman Brothers of New York
Kuhn Loeb Bank of New York
And why UNITED STATES gave $233.7Bn to Israel over six decades?
The "UN" is a corporation founded in France several years before the United Nations Charter was ever created. And here, for your edification, are the Principal Parties of Interest driving the "UN Agenda"—– Current version UN Corp dba World Bank dba FEDERAL RESERVE — 52% owned by Rothschild Bank of London and Berlin; 8% owned by Lazard Freres Bank of Paris; 8% owned by Israel Moses Seif Bank of Italy, 8% owned by Warburg Bank of Hamburg and Amsterdam; 6% owned by Lehman Brothers of New York; 6% owned by Kuhn Loeb of New York; 6% owned by Chase Manhattan/Rockefeller Bank of New York; 6% owned by Goldman Sachs. (There may be some changes in ownership(s) since this list was compiled, but the above is accurate for the most part.)
~~~~~~~~~~~~~~~~~~~~~~~~~~~~~~~~~~~~~~~~~~~~~~~~~~~~~~~~~~~~~~~~~~
THE CITY OF LONDON CORPORATION

THE "CROWN", THE "CITY", THE "SQUARE MILE"
THE VATICAN

THE VATICAN BANK
BANKS
CENTRAL BANKS

BANK OF INTERNATIONAL SETTLEMENTS
FEDERAL RESERVE
BANK OF ENGLAND
CENTRAL BANKS OF MOST NATIONS
GLOBAL BANKING CONGLOMERATES
THE WORLD'S 25 LARGEST BANKS (2012)

HSBC
BNP PARABIS
INDUSTRIAL AND COMMERCIAL BANK OF CHINA
MITUBISHI
CREDIT AGRICOLE
BARCLAYS GROUP
ROYAL BANK OF SCOTLAND
JPMORGAN CHASE
BANK OF AMERICA
CHINA CONSTRUCTION BANK
MIZUHO FINANCIAL GROUP
BANK OF CHINA
CITIGROUP
AGRICULTURAL BANK OF CHINA
ING GROUP
BANCO SANTANDER
SUMITOMO MITSUI FINANCIAL GROUP
SOCIETE GENERALE
UBS
LLOYDS BANKING GROUP
GROUP BCPE
WELLS FARGO
UNICREDIT
CREDIT SUISSE
DEUTSCHE BANK
CORPORATIONS & FINANCIAL INSTITUTIONS
TOP 50 TRANSNATIONAL CORPORATIONS AND BANKS
WITH THE GREATEST INFLUENCE OVER THE GLOBAL ECONOMY (2011)

1 – BARCLAYS PLC – GREAT BRITIAN
2 – CAPITAL GROUP COMPANIES INC. – UNITED STATES
3 – FMR CORP (Fidelity Management) – UNITED STATES
4 – AXA FR 6712 – SWITZERLAND
5 – STATE STREET CORPORATION – UNITED STATES
6 – JPMORGAN CHASE & CO. – UNITED STATES
7 – LEGAL & GENERAL GROUP PLC – GREAT BRITAIN
8 – VANGUARD GROUP, INC. – UNITED STATES
9- UBS AG – SWITZERLAND
10 – MERRILL LYNCH & CO., INC. – UNITED STATES
11 – WELLINGTON MANAGEMENT CO. L.L.P. – UNITED STATES
12 – DEUTSCHE BANK AG – GERMANY
13 – FRANKLIN RESOURCES, INC. – UNITED STATES
14 – CREDIT SUISSE GROUP – SWITZERLAND
15 – WALTON ENTERPRISES LLC – UNITED STATES
16 – BANK OF NEW YORK MELLON CORP. – UNITED STATES
17 – NATIXIS – FRANCE
18 – GOLDMAN SACHS GROUP, INC. – UNITED STATES
19 – T. ROWE PRICE GROUP, INC. – UNITED STATES
20- LEGG MASON, INC. – UNITED STATES
21 – MORGAN STANLEY – UNITED STATES
22 – MITSUBISHI UFJ FINANCIAL GROUP, INC. – JAPAN
23 – NORTHERN TRUST CORPORATION – UNITED STATES
24 – SOCIÉTÉ GÉNÉRALE – FRANCE
25 – BANK OF AMERICA CORPORATION – UNITED STATES
26 -LLOYDS TSB GROUP PLC – GREAT BRITAIN
27 – INVESCO PLC – GREAT BRITAIN
28 – ALLIANZ SE – GERMANY
29 – TIAA US 6601 – INDIA
30 – OLD MUTUAL PUBLIC LIMITED COMPANY – GREAT BRITAIN
31 – AVIVA PLC – GREAT BRITAIN
32 – SCHRODERS PLC – GREAT BRITIAN
33 – DODGE & COX – UNITED STATES
34 – LEHMAN BROTHERS HOLDINGS, INC. – UNITED STATES
35 – SUN LIFE FINANCIAL, INC. – CANADA
36 – STANDARD LIFE PLC – GREAT BRITAIN
37 – CNCE – FRANCE
38 – NOMURA HOLDINGS, INC. – JAPAN
39 – THE DEPOSITORY TRUST COMPANY – UNITED STATES
40 – MASSACHUSETTS MUTUAL LIFE INSUR. – UNITED STATES
41 – ING GROEP N.V. – NETHERLANDS
42 – BRANDES INVESTMENT PARTNERS, L.P. – UNITED STATES
43 – UNICREDITO ITALIANO SPA – ITALY
44 – DEPOSIT INSURANCE CORPORATION OF JP – JAPAN
45 – VERENIGING AEGON – NETHERLANDS
46 – BNP PARIBAS – FRANCE
47 – AFFILIATED MANAGERS GROUP, INC. – UNITED STATES
48 RESONA HOLDINGS, INC. – JAPAN
49 – CAPITAL GROUP INTERNATIONAL, INC. – UNITED STATES
50 – CHINA PETROCHEMICAL GROUP CO. – CHINA
MONEY LAUNDERING BANKS AND FINANCIAL INSTITUTIONS
(a partial list)

HSBC
BANK OF AMERICA
JP MORGAN CHASE
CITIGROUP
WELLS FARGO
WESTERN UNION
AMERICAN EXPRESS
BARCLAYS
UBS
BNP PARABIS
SOCIETE GENERALE
DEUTSCHE BANK
ROYAL BANK OF SCOTLAND
LLOYDS BANK
CREDIT SUISSE
BANCO SANTANDER
ING GROUP
STANDARD CHARTERED
AND MANY OTHER INTERNATIONAL BANKS AND FINANCIAL INSTITUTIONS
OIL CORPORATIONS
(a partial list)

ROYAL DUTCH SHELL
CHEVRON
BRITISH PETROLEUM (BP)
EXXONMOBIL
TOTAL SA
SAUDI ARAMCO
PETROBRAS
PEMEX
ENI
MARATHON PETROLEUM
CONOCO PHILLIPS
WEAPONS MANUFACTURERS
(a partial list)

LOCKHEED MARTIN – USA
BAE SYSTEMS – BRITAIN
BOEING – USA
NORTHROP GRUMMAN – USA
GENERAL DYNAMICS – USA
RAYTHEON – USA
EADS/AIRBUS – BRITAIN/FRANCE
UNITED TECHNOLOGIES – USA
FINMECCANIA – ITALY
THALES – FRANCE
INSTITUTIONS, ORGANIZATIONS & JURISDICTIONS
(A PARTIAL LIST)
SOCIETIES , CLUBS AND ORGANIZATIONS

UNITED NATIONS
WORLD TRADE ORGANIZATION (WTO)
WORLD BANK
INTERNATIONAL MONETARY FUND (IMF)
COUNCIL ON FOREIGN RELATIONS (CFR)
TRILATERAL COMMISSION (TC)
BILDERBERG GROUP
CHATHAM HOUSE / ROYAL INSTITUTE OF INTERNATIONAL AFFAIRS (RIIA)
CLUB OF THE ISLES
PILGRIMS SOCIETY
CLUB OF ROME
THINK TANKS

CENTER FOR STRATEGIC AND INTERNATIONAL STUDIES (CSIS)
BUSINESS ROUND TABLE
EUROPEAN ROUND TABLE OF INDUSTRIALISTS (ERT)
INTERNATIONAL CHAMBER OF COMMERCE (ICC)
WORLD ECONOMIC FORUM
WORLD BUSINESS COUNCIL FOR SUSTAINABLE DEVELOPMENT (WBCSD)
BROOKINGS INSTITUTION
RAND CORPORATION
HERITAGE FOUNDATION
AMERICAN ENTERPRISE INSTITUTE
TAX-EXEMPT FOUNDATIONS

ROCKEFELLER FOUNDATION
FORD FOUNDATION
CARNEGIE ENDOWMENT
GATES FOUNDATION
SOROS OPEN SOCIETY FOUNDATION
TAX HAVENS, SECRECY JURISDICTIONS AND MONEY LAUNDERING CENTERS

TRILLIONS OF DOLLARS OF GLOBAL ELITE TREASURE ARE HIDDEN FROM VIEW
INDIVIDUALS AND CORPORATIONS AVOID PAYING TAXES
DRUG MONEY IS LAUNDERED THROUGH LARGE INTERNATIONAL BANKS
FUNDING OF GOVERNMENT COVERT OPERATIONS IS OBSCURED

CITY OF LONDON
"City of London" is the secrecy jurisdiction of choice for the global mega-wealthy
WALL STREET (NEW YORK CITY)
NEVADA
DELAWARE
WYOMING
SOUTH DAKOTA
HONG KONG
MACAO
THE VATICAN
COUNTRIES
UNITED STATES
BRITAIN
PANAMA
SINGAPORE
MALAYSIA
JAPAN
CHINA
BELIZE
ISRAEL
LEBANON
TURKEY
CYPRUS
UNITED ARAB EMIRATES (DUBAI)
BAHRAIN
SWITZERLAND
GERMANY
LUXEMBOURG
MONACO
ANDORRA
LIECHTENSTEIN
NETHERLANDS
IRELAND
MAURITIUS
SEYCHELLES
NUE
SAMOA
MARSHALL ISLANDS
TERRITORIES AND ISLANDS UNDER BRITISH INFLUENCE
British offshore tax havens funnel money from around the world
into London financial institutions and real estate
GIBRALTAR
BRITISH VIRGIN ISLANDS
BAHAMAS
CAYMAN ISLAND
ANGUILLA
ISLE OF MAN
GUERNSEY
JERSEY
GIBRALTAR
MONSERRAT
BERMUDA
ANTIGUA AND BARBUDA
BARBADOS
DOMINICA
GRENADA
ST. KITTS AND NEVIS
ST. LUCIA
ST. VINCENT AND THE GRENADINES
TURKS AND CAICOS
ISLANDS UNDER NETHERLANDS INFLUENCE
ARUBA
BONAIRE
CURAÇAO
ST. MAARTEN
NETHERLAND ANTILLES
THE PLUTOCRACY CARTEL OWNS OUTRIGHT OR CONTROLS

CENTRAL BANKS
LARGEST PRIVATE BANKS
CORPORATE MEDIA (AND MUCH OF THE ALTERNATIVE AND PROGRESSIVE MEDIA)
MOST INLFUENTIAL TAX-EXEMPT FOUNDATIONS
MOST INFLUENTIAL THINK TANKS
MAJOR UNIVERSITIES AND OTHER EDUCATONAL INSTITUTIONS
MAJOR ENVIRONMENTAL ORGANIZATIONS
POLITICIANS AND POLITICAL PARTIES
NATIONAL ECONOMIES
NATIONAL CURRENCIES
MAJOR STOCK MARKETS
LARGEST TRANSNATIONAL CORPORATIONS
LARGEST INSURANCE CORPORATIONS
LARGEST PHARMACEUTICAL CORPORATIONS
LARGEST ENERGY CORPORATIONS
MAJOR ENERGY RESOURCES INCLUDING OIL AND GAS
GOLD, DIAMOND AND ESSENTIAL MINERAL MINING AND DISTRIBUTION CARTELS
AGRICULTURAL LAND
WATER AND WATER SYSTEMS
LARGEST WEAPONS MANUFACTURERS
DRUG-MONEY LAUNDERING NETWORKS
INTERNATIONAL DRUG TRAFFICKING NETWORKS
THE PLUTOCRACY CARTEL

"There is a shadowy group of Plutocrats running multinational corporations, controlling the media narrative, manipulating the money supply, influencing governments, generating chaos, and provoking wars in order to further their agendas.
These people are very real and extremely dangerous. They operate in the shadows, safely out of the light of public scrutiny. They manage by proxy, using cut-outs to do their bidding, never allowing themselves to get their hands dirty?
Politicians are used and discarded, giving the illusion that they are the ones in control. The controllers' identities are hidden through a corporate shell game of holding companies and secret banking tax havens, in places like the Cayman Islands and Luxemburg.
A thirst for publicity and a lust for the spotlight are liabilities if you want to excel in this endeavor. Better to rule from the shadows where your identity and intentions are unknown.
… The people running the show are mostly driven, professional, sociopaths with no discernible traces of compassion.
… Some of our best-known leaders and public figures are actually psychopaths, and what makes a psychopath most effective is their overall lack of empathy. They simply do not have the ability to imagine or feel someone else's pain, and this frees them up to cross boundaries that the rest of us would never dream of crossing. They can operate without limits, giving them an advantage over everyone else. They are professional liars and damn proud of it.
… You do not make it to the top of the food chain by being nice, honest and fair; you get there by force, deception, and influence. You get there through violence, if necessary. You get there through blackmail and extortion. It takes planning and funding, patience and practice, and a mastery of how to use fear to control other people. Those running the world are playing a much different game than the rest of us, and the way they see it, there are no rules. Or at least the rules do not apply to them.
… Their plan is to change society in every country in a way that provides them a reason to impose a world government. The creation of a world central bank and an electronic world currency, in conjunction with the elimination of cash, would allow them complete control to dictate financial policy around the globe. Their policies would be enforced by their world army, and a micro-chipped population would live in fear of having their electronic currency deleted if they ever crossed the world government."
Charlie Robinson, in his book "The Octopus of Global Control", 2017
"At the center of the international financial system are the banks, asset management firms, oligarchs and financial dynasties that together control the network – or cartel – of the Global Financial Mafia. A network of roughly 150 of the world's largest financial institutions collectively control each other and a significant percentage of the network of the world's largest 47,000 transnational corporations. This unprecedented global financial power concentrated in a relatively small list of banks, insurance companies and asset management firms is itself controlled by rich and powerful individuals and families: the core constituency of the world of Global Financial Governance."
Andrew Gavin Marshall
"During the past two centuries when the peoples of the world were gradually winning their political freedom from the dynastic monarchies, the major banking families of Europe and America were actually reversing the trend by setting up new dynasties of political control through the formation of international financial combines. These banking dynasties had learned that all governments must have sources of revenue from which to borrow in times of emergency. They had also learned that by providing such funds from their own private resources, they could make both kings and democratic leaders tremendously subservient to their will."
Carroll Quigley in his book "Tragedy and Hope"
"Powerful private families decide who controls the Federal Reserve, the Bank of England, the Bank of Japan and even the European Central Bank. Money is in their hands to destroy or create. Their aim is the ultimate control over future life on this planet, a supremacy earlier dictators and despots only ever dreamt of."
F. William Engdahl in his book "Seeds of Destuction"
"It is in the pecuniary interests of the international bankers to centralize political power, and this centralization can best be achieved within a collectivist society, such as socialist Russia, national socialist Germany, or a Fabian socialist United States."
Antony C. Sutton, Wall Street and the Rise of Hitler, 2002
"The war against a foreign country only happens when the moneyed classes think they are going to profit from it."
George Orwell
"We are ruled, though it may be difficult to imagine, by a small dynastic power structure, largely consisting of powerful banking families, such as the Rothschilds, Rockefellers, and others. They emerged in controlling the financial system, extended their influence over the political system, the educational system, and, through the major foundations, have become the dominant social powers of our world, creating think tanks and other institutions which shape and change the course of society and modern human history."
Andrew Gavin Marshall
"Major world powers such as China, Russia, India, and Brazil tend to shy away from standing up more robustly to the bullying policies of the United States. Wealthy oligarchic circles in these countries have more in common with their elite counterparts in the U.S. and other core capitalist countries than their fellow countrymen at home. A de facto alliance exists between members of this global "nation" of the super-rich."
Ismael Hossein-Zadeh
"The control of the US, and of global politics, by the wealthiest families of the planet is exercised in a powerful, profound and clandestine manner. This control began in Europe and has a continuity that can be traced back to the time when the bankers discovered it was more profitable to give loans to governments than to needy individuals.
These banking families and their subservient beneficiaries have come to own most major businesses over the two centuries during which they have secretly and increasingly organised themselves as controllers of governments worldwide and as arbiters of war and peace."
Mujahid Kamran
"This world is not run by The Presidents or The Prime Ministers, it is run by the global corporations and the banks. For it is these entities that control the money supply and it is these entities that decide which country lives or falls."
The Daily Bell
"Our global banking system is a global cartel, a "super-entity" in which the world's major banks all own each other and own the controlling shares in the world's largest multinational corporations.
… This is the real "free market," a highly profitable global banking cartel, functioning as a worldwide financial Mafia."
Andrew Gavin Marshall
"The powers of financial capitalism had a far-reaching aim – nothing less than to create a world system of financial control in private hands able to dominate the political system of each country and the economy of the world as a whole. This system was to be controlled in a feudalist fashion by the central banks of the world acting in concert, by secret agreements arrived at in frequent private meetings and conferences. The apex of the system was to be the Bank for International Settlements [BIS] in Basel, Switzerland, a private bank owned and controlled by the world's central banks which were themselves private corporations … Each central bank sought to dominate its government by its ability to control Treasury loans, to manipulate foreign exchanges, to influence the level of economic activity in the country, and to influence cooperative politicians by subsequent economic rewards in the business world."
Carroll Quigley in his book "Tragedy and Hope"
"There is a special breed of international financiers whose success typically is built upon certain character traits. Those include cold objectivity, immunity to patriotism, and indifference to the human condition. That profile is the basis for proposing a theoretical strategy, called the Rothschild Formula, which motivates such men to propel governments into war for the profits they yield… As long as the mechanism of central banking exists, it will be to such men an irresistible temptation to convert debt into perpetual war and war into perpetual debt."
G. Edward Griffin in his book "The Creature from Jekyll Island"
"There is an established and well-defined identity and community of interest between a few leaders of finance, created and held together through stock ownership, interlocking directorates, partnership and joint account transactions, and other forms of domination over banks, trust companies, railroads, and public-service and industrial corporations, which has resulted in great and rapidly growing concentration of the control of money and credit in the hands of these few men."
Pujo Committee – House Committee on Banking and Currency, 1912
"States, most especially the large hegemonic ones, such as the United States and Great Britain, are controlled by the international central banking system, working through secret agreements at the Bank for International Settlements (BIS), and operating through national central banks (such as the Bank of England and the Federal Reserve). The state is thus owned by an international banking cartel, and though the state acts in such a way that proves its continual relevance in the global economy, it acts so not in terms of self-interest for the state itself, but for the powerful interests that control that state. The same international banking cartel that controls the United States today previously controlled Great Britain and held it up as the international hegemon. When the British order faded, and was replaced by the United States, the US ran the global economy. However, the same interests are served. States will be used and discarded at will by the international banking cartel; they are simply tools."
Andrew Gavin Marshall in his book "Global Power and Global Government"
"People, governments and economies of all nations must serve the needs of multinational banks and corporations."
Zbigniew Brzezinski
"The structure of financial controls created by the tycoons of 'Big Banking' and 'Big Business' was of extraordinary complexity, one business fief being built on another, both being allied with semi-independent associates, the whole rearing upward into two pinnacles of economic and political power, of which one, centered in New York, was headed by J. P. Morgan and Company and the other, in Ohio, was headed by the Rockefeller family. When the two cooperated, as they generally did, they could influence the economic life of the country to a large degree and could almost control its political life, at least at the Federal level. They caused the "panic of 1907″ and the collapse of two railroads, one in 1914 and the other in 1929."
Carroll Quigley in his book "Tragedy and Hope"
"The Global Mafiocracy: the banks, corporations, asset management firms, sovereign wealth funds, insurance companies and holding companies that collectively own each other and the wider network of global corporate and financial institutions, manifesting as a relatively small cartel of roughly 150 large financial institutions that wield unparalleled financial power in the modern world.
Behind the major corporate and financial institutions are individuals and families, smaller units of concentrated power who own the largest shares and steer the operations of the global cartel. These individual oligarchs and family dynasties – from the Rockefellers in the US, to the Wallenbergs in Sweden, Agnellis in Italy, Desmarais' in Canada, to the House of Saud in Saudi Arabia, Oppenheimer in South Africa, among others – control and.or influence large percentages of wealth within their respective nations and in the world of globalized financial and corporate networks."
Andrew Gavin Marshall
"America is run by 300 families and England is run by 100 families and these families are intertwined through marriage, companies, banks, not to mention ties to the Black Nobility, Freemasonry, the Order of St. John of Jerusalem and so on. These are the people who, through their surrogates, find ways to protect huge shipments of heroin from Hong Kong, Turkey, Iran and Pakistan and ensure they reach the market places in the U.S. and Western Europe with the minimum cost of doing business."
John Coleman in his book "Conspirators' Hierarchy: The Story of the Committee of 300″
"The global banking cartel, centered at the IMF, World Bank and Federal Reserve, have paid off politicians and dictators the world over [Including Washington]. In country after country, they have looted national economies at the expense of local populations, consolidating wealth in unprecedented fashion – the top economic one-tenth of one percent is currently holding over $40 trillion in investible wealth, not counting an equally significant amount of wealth hidden in offshore accounts."
David DeGraw
"The bulwark of the British financial oligarchy lies in its ageless and self-perpetuating nature, its long-range planning and prescience, its facility to outwait and break the patience of its opponents. The transient and temporal statesmen of Europe and particularly of Britain itself, who have attempted to curb this monstrosity have all been defeated by their limited tenure of confidence. Obligated to show action and results in a too short span of years, they have been outwitted and outwaited, deluged with irritants and difficulties; eventually obliged to temporize and retreat. There are few who have opposed them in Britain and America, without coming to a disgraceful end, but many, who served them well, have also profited well."
E.C. Knuth in his book "The Empire of The City", 1946
"The United States is owned and dominated today by a hierarchy of its sixty richest families, buttressed by no more than ninety families of lesser wealth. These families are the living center of the modern industrial oligarchy which dominates the United States, functioning discreetly under a de jure democratic form of government behind which is a de facto government, absolutist and plutocratic in its lineaments. It is the government of money in a dollar democracy."
Ferdinand Lundberg in his book "America's 60 Families", 1937
"The major objective of foreign policy is the acquisition of markets and economic power for a small group of giant multi-nationals under the virtual control of a few banking investment houses and controlling families."
Antony C. Sutton in his book "Wall Street and the Rise of Hitler"
"The big bankers of the world, who practice the terrorism of money, are more powerful than kings and field marshals, even more than the Pope of Rome himself. They never dirty their hands. They kill no one: they limit themselves to applauding the show.
Their officials, international technocrats, rule our countries: they are neither presidents nor ministers, they have not been elected, but they decide the level of salaries and public expenditure, investments and divestments, prices, taxes, interest rates, subsidies, when the sun rises and how frequently it rains."
Eduardo Galeano
"At issue is who shall rule the world: the emerging 1% as a financial oligarchy, or elected governments. The two sets of aims are antithetical: rising living standards and national independence, or a renting economy, austerity and international dependency."
economist Michael Hudson
"There is no such thing, at this date of the world's history, in America, as an independent press. You know it and I know it.
There is not one of you who dares to write your honest opinions, and if you did, you know beforehand that it would never appear in print. I am paid weekly for keeping my honest opinion out of the paper I am connected with. Others of you are paid similar salaries for similar things, and any of you who would be so foolish as to write honest opinions would be out on the streets looking for another job. If I allowed my honest opinions to appear in one issue of my paper, before twenty-four hours my occupation would be gone.
The business of the journalists is to destroy the truth, to lie outright, to pervert, to vilify, to fawn at the feet of mammon, and to sell his country and his race for his daily bread. You know it and I know it, and what folly is this toasting an independent press?
We are the tools and vassals of rich men behind the scenes. We are the jumping jacks, they pull the strings and we dance. Our talents, our possibilities and our lives are all the property of other men. We are intellectual prostitutes."
John Swinton, preeminent New York journalist, at a press banquet,1880
~~~~~~~~~~~~~~~~~~~~~~~~~~~~~~~~~~~~~~~~~
About Patrick Henry and our Red Pill projects: Fascist-book: https://www.facebook.com/pauljamesCET/ More Articles: tinyurl.com/qno5k6e LivingLawSociety.org +++ more links here 1776reloaded.org internallydisplacedpeople.org Important articles have been uploaded to BIN on the ongoing CCP. Black Nobility.New World Order.RINO-Demon-rat.Socialist DC Crown US Corp.party of DC, the ongoing New World Order Usurpation of America by enemies Domestic and Foreign, and the GOV-ID-1984-Great-Reset-Agenda21/2030-Depop-Plandemic. Articles available at this link: /v3/contributor/bio/?uid=713008 Video channel: https://www.brighteon.com/channels/1776reloaded
The focus of our work over the last 15 years has been to investigate the Legal and Governance systems operating in America at Federal, State, County, City etc.. Conclusion: the entire legal system in America has been usurped by 185,000+ foreign CROWN / VATICAN rooted corporations and is illegally operated by Constitutionally-banned foreign agents that unlawfully run America for foreign interests (example US Corp., [CANADA], STATE OF CALIFORNIA, COUNTY OF ______ are NOT the original organic We the people Governments but counterfeits). Constitutionally-banned foreign agents run nearly every now Occupied counterfeit government Office in the nation. In America the leading faction of the 5th Column at war with the rest of us are BAR Attorneys (whether they know it or not)! See California Government Code 1027.5 to understand the silent War that has been going on for 150+ years. It is further concluded these Constitutional banned foreign agents have literally been engaged in a Mixed War against the American people, relying on lawfare while literally farming Americans to profit the International Bankers (aka Human Trafficking) and the CROWN / VATICAN system in a silent war with all Americans since the War of Independence.
See LivingLawSociety.org for more and proof that the original organic United States Constitution post 1819 was modified and orchestrated to bring America under a foreign Corporate Democracy [Socialistic Mob-rule] as a path to destroy the original organic we the people Governments and deprive the people of their guarantee of a Republican form of Government all so as to advance their Luciferian Roman Cult Talmudic New World Order Agenda.
The following letter was sent to Trump via US Military alerting those loyal to the American people to this state of affairs and linking to certified government issued proofs of claim. /new-world-order/2020/12/letter-to-trump-and-us-military-on-lawfare-mixed-war-color-of-lawauthorityoffice-constitutionally-banned-foreign-agents-fake-weaponized-courts-etc-time-to-take-back-america-from-the-parasites-9526.html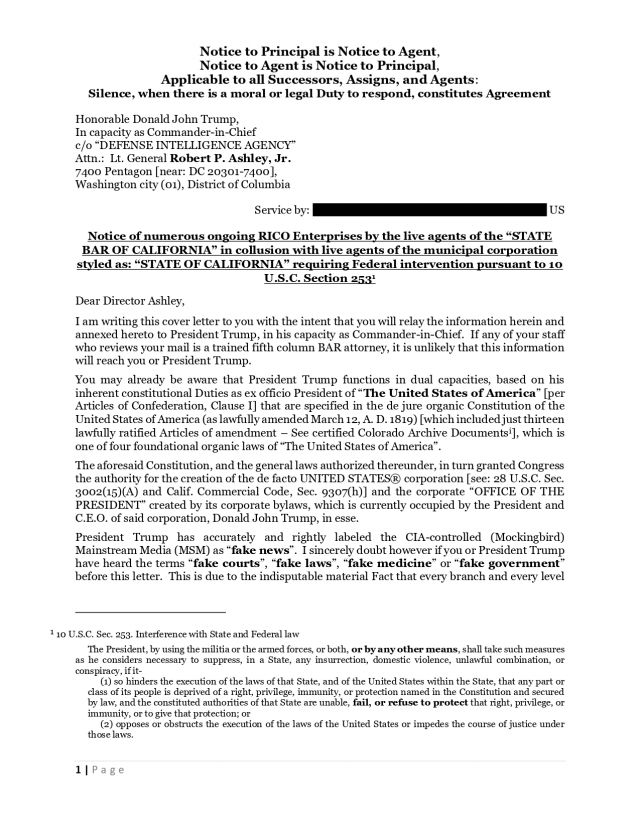 Please see the above link for the next three pages…
"You want to talk about fraudulent elections? Let's start with the very concept of democracy to begin with: other people voting on how much of my property to plunder." – btw TuSA and organic states were created as a republic and guaranteed a republic form of governance – don't let the CROWN Plantation managers have you thinking any of the physical states or Organic Federal states co-ordinating governance was created as a DEMONcracy! PJ
Please like this article/author and others if you find this document insightful or useful and do not forget to share… more by the author here:
/v3/contributor/bio/?uid=713008
~~~~~~~~~~~~~~~~~~~~~~~~~~~~~~~~~~~~~~~~~~~~
Before It's News®
is a community of individuals who report on what's going on around them, from all around the world.
Anyone can
join
.
Anyone can contribute.
Anyone can become informed about their world.
"United We Stand" Click Here To Create Your Personal Citizen Journalist Account Today, Be Sure To Invite Your Friends.