The Next Great reveal about Enemies Foreign and Domestic: Did we tell you that the Backdoor to the Internet is operated by the Clinton Mafia: How The Clintons are always 1 step ahead -- Its HUGE-- email encryption keys
Saturday, December 19, 2020 12:53
% of readers think this story is Fact. Add your two cents.

Clintons have digital keys for all transaction and infrastructure including all executive agencies of the Government!!!! Does anyone see a problem with that? This information has been out at least two years. Did you hear the FBI expose it…. nope… now why is that?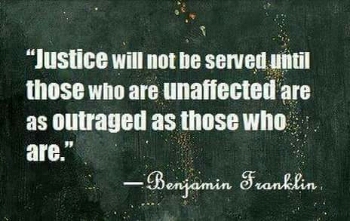 The United States of America = We the People … usurped 1860′s and replaced with DC Municipal Corp. masquerading as a We the People Government. How do you know its not an American Government.Because it is ran by constitutionally banned foreign agents banned from American Government since 1819? These CROWN foreign agents run it all! That is the Rothschilds Central banking System, the entire legal system masquerading as a Judicial system… much of the six Company ZIONIST NWO Media Pschological Warfare system… the FBI, DOJ, the Military Industrial Complex etc.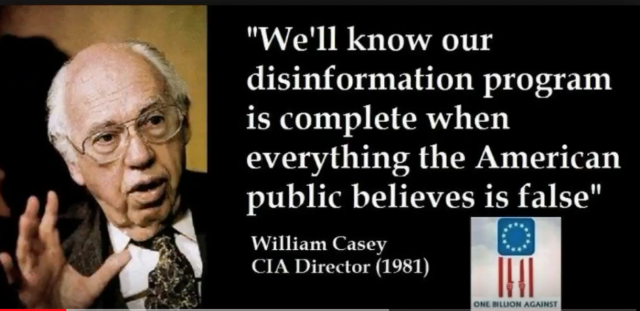 The DC US Mutual Corp. [a Counterfeit American Government] was created by foreign successors after the so called "Civil – War" and has operated as if it was the Original The United States of America Government.
The DC UNITED STATES Municipal Corp. is not the Organic . Original states created compact Government. So what is it really! Its a foreign Crown / Vatican Municipal Corp operated by the Black Nobility crime families to rape and pillage America… a few of the criminals can be seen below with their allies in crime! Remember the Tax Exempt Foundations! See Norman Dodd video below: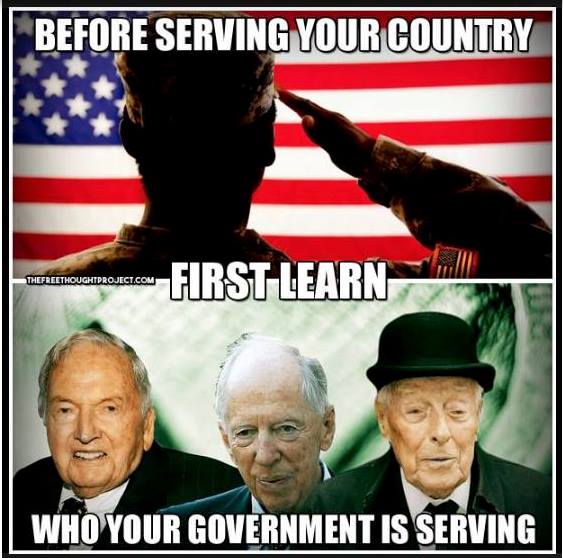 US Corp. is not an American Government… up until Trump… its been an Occupation!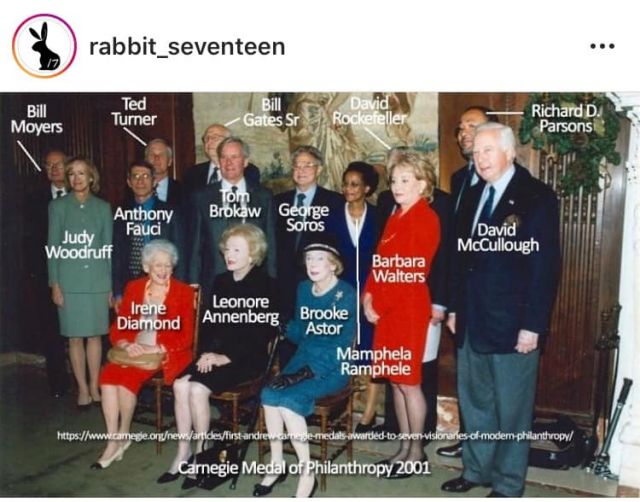 BTW: Bill Clinton is reported to be a Rockefeller! https://newspunch.com/wikileaks-reveal-clinton-ties-to-rothschilds-and-occult-cabal/
Norman Dodd – Remarkable Expose of the Tax Exempt Foundations that conspired to overthrow American Sovereignty
Did someone hack a Car, Plane, Ship, Network, Election System, Computer, Server….now how could they do that?????????
https://nypost.com/2020/12/19/billionaires-son-dies-after-crashing-car-into-verizon-store/
SteveTrueblue
Published 2 years ago | Comments
SUBSCRIBE (22)
How The Clintons are always 1 step ahead — Its HUGE– email encryption
HRC is a director of a company that supplies email encryption codes. All of them.
Clintons director Jerry C Jones
Intrust supplies encryption codes to the NSA !
Orlando Bravo Key name
Clintons have access to every transaction on the NET.
Includes most intelligence groups and most govt agencies.
Thoma Bravo controls Intrust.
~~~~~~~~~~~~~~~~~~~~~~~~~~~~~~~~~~~~~~~~~~~~
What you should be asking yourself? Why are those in so-called Government at War (Lawfare) with the American people? Ans. Because our nation is occupied and has been since the late 1860′s. We are occupied by our original enemy who partnered up with the so-called Robber barons! They run our nation and weaponized all aspects of Government against the American people! Those masquerading as Government have enslaved all Americans and made the American people an enemy of the state [EBRA, Trading with the Enemy Act March 9, 1933]! Time to Unlearn and pass forward!
The following letter was sent to Trump via US Military alerting those loyal to the American people to the state of affairs described below and linking to certified government issued proofs of claim described in the letter. /new-world-order/2020/12/letter-to-trump-and-us-military-on-lawfare-mixed-war-color-of-lawauthorityoffice-constitutionally-banned-foreign-agents-fake-weaponized-courts-etc-time-to-take-back-america-from-the-parasites-9526.html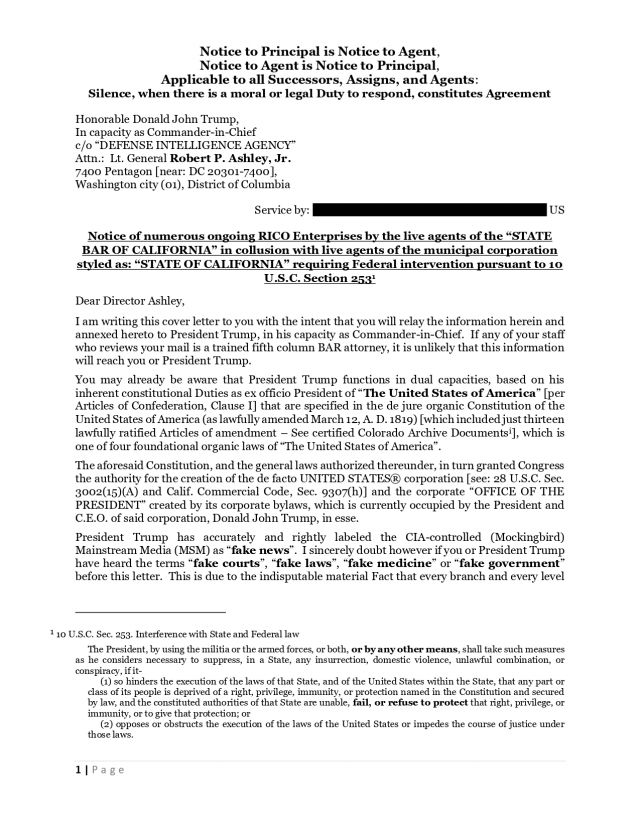 Please see the following hyper-link for the next three pages of the above letter…
/new-world-order/2020/12/letter-to-trump-and-us-military-on-lawfare-mixed-war-color-of-lawauthorityoffice-constitutionally-banned-foreign-agents-fake-weaponized-courts-etc-time-to-take-back-america-from-the-parasites-9526.html
About Patrick Henry and our Red Pill projects: Fascist-book: https://www.facebook.com/pauljamesCET/ More Articles: tinyurl.com/qno5k6e LivingLawSociety.org +++ more links here 1776reloaded.org internallydisplacedpeople.org Important articles have been uploaded to BIN on the ongoing CCP. Black Nobility.New World Order.RINO-Demon-rat.Socialist DC Crown US Corp.party of DC, the ongoing New World Order Usurpation of America by enemies Domestic and Foreign, and the GOV-ID-1984-Great-Reset-Agenda21/2030-Depop-Plandemic. Articles available at this link: /v3/contributor/bio/?uid=713008 Video channel: https://www.brighteon.com/channels/1776reloaded
The focus of our work over the last 15 years has been to investigate the Legal and Governance systems operating in America at Federal, State, County, City etc.. Conclusion: the entire legal system in America has been usurped by 185,000+ foreign CROWN / VATICAN rooted corporations and is illegally operated by Constitutionally-banned foreign agents that unlawfully run America for foreign interests (example US Corp., [CANADA], STATE OF CALIFORNIA, COUNTY OF ______ are NOT the original organic We the people Governments but counterfeits). Constitutionally-banned foreign agents run nearly every now Occupied counterfeit government Office in the nation. In America the leading faction of the 5th Column at war with the rest of us are BAR Attorneys (whether they know it or not)! See California Government Code 1027.5 to understand the silent War that has been going on for 150+ years. It is further concluded these Constitutional banned foreign agents have literally been engaged in a Mixed War against the American people, relying on lawfare while literally farming Americans to profit the International Bankers (aka Human Trafficking) and the CROWN / VATICAN system in a silent war with all Americans since the War of Independence.
See LivingLawSociety.org for more and proof that the original organic United States Constitution post 1819 was modified and orchestrated to bring America under a foreign Corporate Democracy [Socialistic Mob-rule] as a path to destroy the original organic we the people Governments and deprive the people of their guarantee of a Republican form of Government all so as to advance their Luciferian Roman Cult Talmudic New World Order Agenda.
"You want to talk about fraudulent elections? Let's start with the very concept of democracy to begin with: other people voting on how much of my property to plunder." – btw TuSA and organic states were created as a republic and guaranteed a republic form of governance – don't let the CROWN Plantation managers have you thinking any of the physical states or Organic Federal states coordinating governance was created as a DEMONcracy! PJ
Please like this article/author and others if you find this document insightful or useful and do not forget to share… more by the author here:
/v3/contributor/bio/?uid=713008
~~~~~~~~~~~~~~~~~~~~~~~~~~~~~~~~~~~~~~~~~~~~
Before It's News®
is a community of individuals who report on what's going on around them, from all around the world.
Anyone can
join
.
Anyone can contribute.
Anyone can become informed about their world.
"United We Stand" Click Here To Create Your Personal Citizen Journalist Account Today, Be Sure To Invite Your Friends.