Men - Design Your Perfect "10" (Revised)
Sunday, September 26, 2021 21:57
% of readers think this story is Fact. Add your two cents.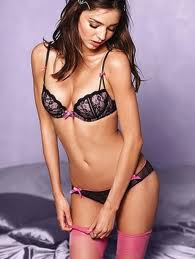 left,
Victoria's
Secret model, the perfect 10?
Let's end the lockdown by
taking our mind off
the #scamdemic
and thinking about love
and sex instead!
My cult-ural brainwashing cost me a normal sex life and family.
(Updated from Sept 1, 2018)
by Henry Makow Ph.D.
Lately I have been thinking about a really great woman I knew when I was 24. I ignored Liz because I wasn't sexually attracted to her. She was pleasant-looking but there was no "chemistry."
She had many of the qualities in the left-hand column below, and she liked me. But my tastes and even my ideas had been
formed by PLAYBOY.
Average looking women literally were invisible.
I had been brainwashed by my cult-ure to believe that "sexual attraction" is 90% of what male-female relationships are all about.
Marriages were based on sexual attraction. You had to live together before marriage to make sure you were "sexually compatible." Sex was the Holy Grail.

I was thinking about Liz lately, wondering what her life has been like. Wondering how my life would have been had I responded to her overture.
It must be hard for really great women to be ignored just because they aren't "hot." All women are beautiful in the act of love. Their face is a light show.
Men search in vain for a porn model that turns them on. Eventually none do because there is no emotional connection. That is what we really seek.
I was thinking about Liz because at age 70, I realize that great sex is only part of a good marriage. I don't want to underestimate it. Men, and especially women, need it. Marriage is by far the best way to get it, and it does create a bond.
But good sex isn't dependent on sex appeal. There is no greater turn-on than the look of love in a woman's eyes. We seek intimacy, not physical thrills.
BESOTTED WITH SEX
Our cult-ure is besotted wth sex.
It wasn't until I was 50 that I realized female beauty and character are not connected. I was so brainwashed by the movies, and PLAYBOY that attributed a moral quality to attractive women. Most sexually attractive women are vacuous.
Our cult-ure is run by a satanic cult which dehumanizes women.
Women and now young girls are taught that their value is their sex appeal.
When sex was tied to marriage, their measure was as wives and mothers.
Now they're strippers & porn stars.
Femininity is modest. There is a gaping hole where femininity used to be. The world is starved for it.
HIGH AND DRY
Men today no longer
can appreciate women as people and cannot form fulfilling relationships.
Sex without love and commitment is dehumanizing. But Satanists have been pushing this because they are all about degrading and enslaving us.
"We corrupt in order to control," is their motto.
We find many people sexually attractive. But we can love very few, and very few can love us. These are the only people we should have sex with.
When you love someone, you really want their good. It's not just what they can give you.
What if
I knew all this back then?
I wouldn't have had three failed marriages by the age of 50, two largely based on sexual attraction.
I am happily married now but how different my life might have been. I
might have had a family.
Men, Design your perfect "10″
You can choose 10 of the 20 qualities listed below. If you choose only from the right-hand column, you will get the woman in the picture above, but she will have none of the qualities in the left-hand column. Put another way, what are you willing to give up for sex appeal? Write and tell me your answer. Give your age. ([email protected])

Character (Honest, Fair) Sex Appeal
Personality (Cheerful & fun) Sex Appeal
Great Sense of Humor Sex Appeal
Intelligent and reasonable Sex Appeal
Skills & Talents Sex Appeal
Warm and loving Sex Appeal
Devoted & Loyal Sex Appeal
Common Beliefs & Interests Sex Appeal
Great conversation.
Incredible Cook & Homemaker
Good mother to your children. Sex Appeal
Unselfish, Interested in Others Sex Appeal
—–
We have been satanically possessed by Cabalism
First Comment by Wade
Have not emailed in awhile. You asked for your reader's response. I am 75 married 24 years to my 3rd. wife who is 46. I married the first two times based on sex appeal. My current wife and I have worked together every day for 30 years and still do. I am not retired. I still ride my Harley. Upon first meeting my current wife I was not attracted to her at all, (not my type I thought) but I greatly admired her non-sexual attributes. We became close friends long before romance.
I took your test and checked every thing on the left side and was not willing to give up any left side attributes for sex appeal. I am sure I would not have had the wisdom to answer your test in that manner when I was a younger man. It is not that sex is no longer important to me. I mean I have a 46 year old wife to keep me young. It is just that with time, and much costly and painful experience the left side of your test is clearly all that really matters.
It would be great to devise some way that this wisdom could be imparted to young men before they marry for the 1st. time. Not easily accomplished. Thanks for a very helpful article for your readers.
Ken Adachi wrote:
Women already possess all the sex appeal they need by virtue of being born a woman. It's what they do with the equipment after its issued that makes the difference in what sort of man they wind up with (and I'm not talking about plastic surgery or any primitive alterations to the body; e.g. tattoos, ..ugh).
The Universal Law of Cause & Effect is always in play, 24/7, in every dimension of reality, whether it's the 3rd or the 5th; the same spiritual rules apply. You reap what you sow.
Decent men are attracted to a decent woman because of their decent behavior and attitudes. Women who throw away their self-respect by talking, acting, dressing, or behaving coarsely, wind up with the sort of guy who's turned on by vulgarity and cheapness. Is that who they want for a husband (or unmarried "partner") and father of their kids?
If she shows off her body in public at every opportunity, then she's TRYING to attract a lot of basic, Neanderthals types. Is that who YOU want for your wife and the mother of your kids?
It's how feminine a woman acts, feels and behaves that motivates normal, decent guys. Normal men are as excited by a small breasted woman as they are by large breasted women if the woman looks, acts, and thinks like the soft, loving and vulnerable gift to mankind that they were meant to be by Divine Plan ~ then it's "Bingo": every single time.
It's that gentility, sweetness, and devotion to that one special man that makes life a gift from one end to the other. Look at Audrey Hepburn. A small body in every department, yet how feminine and desirable she was for millions of men BECAUSE of her innate feminine qualities in both appearance and behavior.
Sex is God's way to show us the Light about the more important roles of love, honor – and above all - the heart, in our lives.
Source:
https://henrymakow.com/design-the-perfect-woman.html
Before It's News®
is a community of individuals who report on what's going on around them, from all around the world.
Anyone can
join
.
Anyone can contribute.
Anyone can become informed about their world.
"United We Stand" Click Here To Create Your Personal Citizen Journalist Account Today, Be Sure To Invite Your Friends.