Sept 30 - Putin Denounces "Satanic" West
Friday, September 30, 2022 11:34
% of readers think this story is Fact. Add your two cents.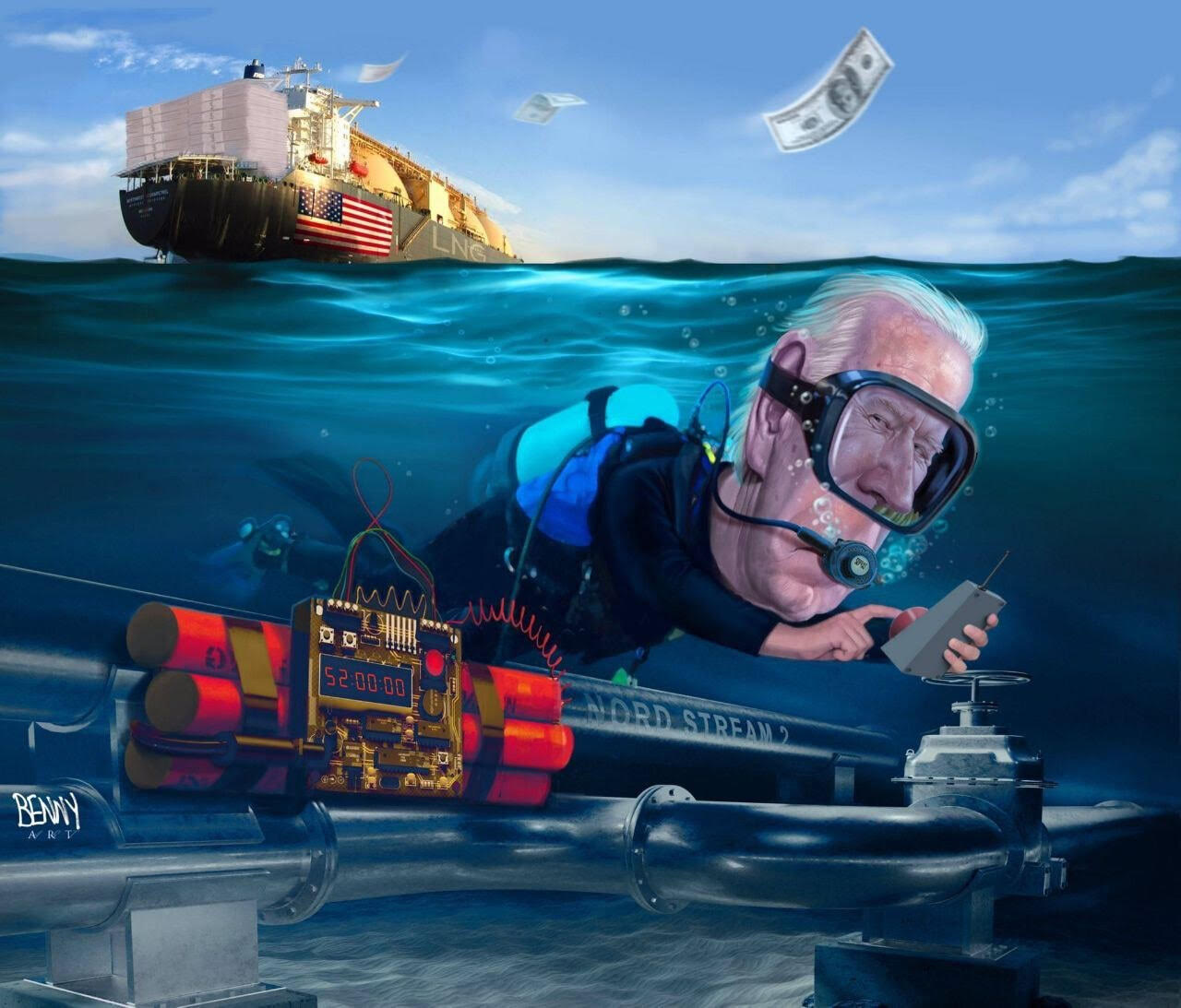 Western media is censoring the truth about Ukraine war. You will never see the following in the MSM.
Putin: Western society 'satanic' with 'various genders'
Russian President Vladimir Putin in a major speech on Friday denounced the Western society as "satanic" with "various genders".
He said the West had turned away from "traditional" and "religious" values, asking the audience if they wanted their "children to be offered sex-change operations," which he said is common in the West.
He added they have "the concepts of various genders in addition to men and women in the United States and European countries".
"Complete madness. Do we really want to see these perversions that lead to degradation and extinction be imposed on children in our schools from the primary grades, so that they are told that there are other genders besides women and men, and offered to undergo a sex change operation? Do we want all this for our country, for our children? All this is unacceptable for us," the Russian leader said.
"Such an absolute denial of a person, overthrow of faith and traditional values, and replacement with the opposite of [what] the religion features – outright Satanism. In the Sermon on the Mount, Jesus Christ denouncing false prophets says: by their fruits you shall know them. And these poisonous fruits are obviously people. Not only in our country. Also many people in the West itself," Putin said.
He asked if Russian needed "concepts as parent one and parent two which are accepted in some Western countries instead of the 'mom' and 'dad'".
He was speaking at a ceremony to annex four regions of Ukraine following a series of votes Kyiv and the West have denounced as illegal, sham referendums. Putin said Luhansk, Donetsk, Kherson and Zaporizhzhia would be merged into Russia.
Putin has aligned himself closely with the Orthodox Church – which strongly rejects same-sex relationships – and has embedded social conservatism into a narrative of Russian political and cultural revival that is now also being used to help justify the invasion of Ukraine.
He routinely slams Western liberalism, blasting so-called cancel culture and promotion of gay and transgender rights.
Last year he said "children being taught a boy can become a girl and vice versa" is monstrous and "a crime against humanity".
—-

Sabotage of the pipelines on the Baltic Sea floor, near Bornholm Island, was executed by the Polish Navy and special forces.
It was aided by the Danish and Swedish military; planned and coordinated with US intelligence and technical support; and approved by the Polish Prime Minister Mateusz Morawiecki.
The operation is a repeat of the Bornholm Bash operation of April 2021, which attempted to sabotage Russian vessels laying the gas pipes, but ended in ignominious retreat by the Polish forces. That was a direct attack on Russia. This time the attack is targeting the Germans, especially the business and union lobby and the East German voters, with a scheme to blame Moscow for the troubles they already have — and their troubles to come with winter.

http://johnhelmer.org/the-bornholm-blow-up-repeats-the-bornholm-bash-poland-attacks-germany-and-blames-russia/
Reader–"I think they had to blow the pipelines before the political pressure would raise with the coming winter freesing. That would have pressured German and other European politicians to restore their political and economic relations with Russia and possible also an end of the war in Ukraine."
–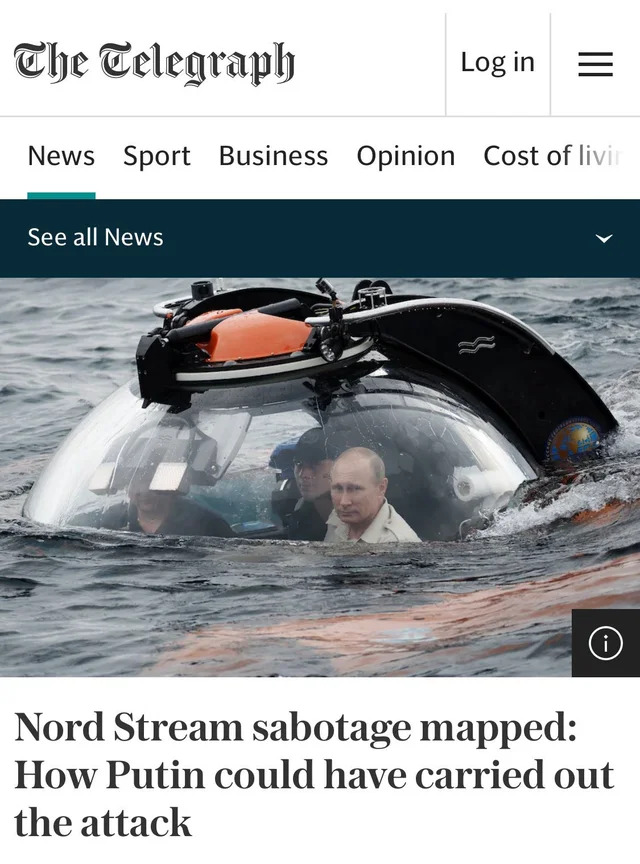 (Putin sets out to sabotage pipelines)
West has drowned truth in ocean of fakes, using Goebbels-type propaganda — Putin

It is noted that the West is used to "acting in a stereotypic manner, to seize everything by force, using blackmail, bribery, intimidation and believes that these methods will be working forever"
MOSCOW, September 30. /TASS/. The West had drowned the truth in an ocean of fakes, using Goebbels-type propaganda methods, Russian President Vladimir Putin said on Friday.
"They have drowned the truth in an ocean of myths, illusions and fakes, using extremely aggressive propaganda, lying all out, like Goebbels: the bigger a lie is the quicker people believe in it. This is how they are acting," he said at a ceremony of signing treaties with the Donbass republics and the Zaporozhye and Kherson Regions on their accession to Russia.
The West is used to "acting in a stereotypic manner, to seize everything by force, using blackmail, bribery, intimidation and believes that these methods will be working forever," he noted.
"Such arrogance stems not only from the notorious concept of their own exclusiveness , but also from the real information deprivation in the world," he added.
https://tass.com/politics/1516101
—

Martin Armstrong


"I know for a fact that the US military is deploying some reservists to Romania to train European soldiers. The reservists have been told that the war will escalate, and as a soldier told me, "things are getting really bad over there." They will be training the Europeans to fight against Russians for at least six months. NATO is constructing a battlefield in Romania for this extensive training. The Cincu military training facility already exists but is undergoing a massive expansion.

https://www.armstrongeconomics.com/world-news/war/nato-preparing-for-world-war/
–
This Cycle Of Retaliation Between The U.S. And Russia Will Ultimately Lead To Nuclear War
Nuclear war is a fate that is too horrible for words, but with each passing day our leaders are dragging us ever closer to such a conflict.
The pipeline sabotage was retaliation for annexing Russian-speaking parts of Ukraine.

https://www.investmentwatchblog.com/this-cycle-of-retaliation-between-the-u-s-and-russia-will-ultimately-lead-to-nuclear-war/
—
Russia still participating in COVID hoax

Russia reports 37,286 new daily COVID-19 cases, 106 deaths
Moscow's COVID-19 cases surged by 3,341 over the past day versus 3,216 cases a day earlier

https://tass.com/world/1515849
–

Brad Pitt on making headlines for wearing a skirt: "We're all gonna die, so let's mess it up."
https://m.facebook.com/Variety/videos/brad-pitt-on-making-headlines-for-wearing-a-skirt-were-all-gonna-die-so-lets-mes/575846280914855/
–
Time to let Canada Heal
There's a new, significant movement on Canadian Twitter. Trending under the word "Trudeau" are testimonials of hundreds of thousands of Canadians sharing their pictures, their biographies, and their stories of the past thousand days.
What sets these Canadians apart? Prime minister Justin Trudeau called them a "misogynistic," "racist," "anti-science," "fringe element," that "takes up space" in Canadian society. "Do we tolerate these people?" he asked during his crusade to turn Canada into a zero-COVID zone.
What did these Canadians do to be slandered and accused in such an abhorrent way by their prime minister? The answer is simple: They said no to a medical procedure. They disagreed or did not consent to medical mandates.

https://brownstone.org/articles/its-time-to-let-canada-heal/
—-

Mark Carney accuses Truss government of undercutting U.K.'s economic institutions

Former Bank of England governor says fiscal plans were to blame for the drop in the pound and bonds
"The message of financial markets is that there is a limit to unfunded spending and unfunded tax cuts in this environment," Carney told BBC Radio. "And the price of those is much higher borrowing costs for the government and for mortgage holders and borrowers up and down the country."

https://financialpost.com/news/economy/liz-truss-uk-mark-carney

–

5 Rabbis Confirm Destruction of US (Edom) is Part of the Judaic Plan – Destruction happens after Moshiach comes, says one. So, this is not a banking/econ crisis, a climate change or Covid crisis, nor is it about Ukraine. All are pretexts to end the world for their NWO rule. (France spoken of as BBQd again.)
Short clip.
https://twitter.com/Know_More_News/status/1575339062830854144
–
THE SUPPRESSED HISTORY OF THE WEST, by George D. Larson PhD.

https://barnesreview.org/product/the-suppressed-history-of-the-west/

–
The EU brought to its knees by the Straussians
https://www.voltairenet.org/article217976.html

Ole Dammegard identifies the ID of false flag operations:

Shoes in Staged Deceptions and False Flags as Both Calling Cards and Black Magik

https://www.winterwatch.net/2022/09/shoes-in-staged-deceptions-as-both-calling-cards-and-black-magick/
–
American Red Cross Under Scrutiny After Confessing It Does Not Separate Vaccinated from Unvaccinated Blood
https://link.vaxxchoice.com/click/1odgV4r_-U-d1r.NUg0uXTCKzyaq/TUtELQhU/3s/beckernews.com/american-red-cross-under-scrutiny-after-confessing-it-does-not-separate-vaccinated-from-unvaccinated-blood-47026/

–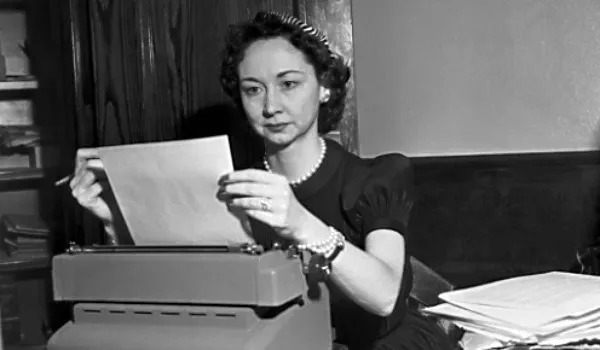 Russ Winter
Thorn in Side of Crime Syndicate JFK Hit: Truth Seeker Dorothy Kilgallen Murdered
https://www.winterwatch.net/2022/09/thorn-in-side-of-crime-syndicate-truth-seeker-dorothy-kilgallen-murdered/
–
Canadian Actress Who Gets Bell's Palsy is STILL Proud to be Vaxxed

https://www.reddit.com/r/conspiracy/comments/xrj3ix/canadian_actress_jennifer_gibson_in_video_telling/

—

Inflation will 'boil us to death', turn U.S. into Argentina – Gates, Schwab and friends are trying to bring western economies down. Do not comply.
https://www.youtube.com/watch?v=s22vVJuCfDY
Source:
https://henrymakow.com/2022/09/sept-30---putin-denounces-satanic.html
Before It's News®
is a community of individuals who report on what's going on around them, from all around the world.
Anyone can
join
.
Anyone can contribute.
Anyone can become informed about their world.
"United We Stand" Click Here To Create Your Personal Citizen Journalist Account Today, Be Sure To Invite Your Friends.