Story Views

Now:
Last Hour:
Last 24 Hours:
Total:
X22Reports POTUS Ready to Declare National Emergency Over Border Wall | It Has Begun, the Push Is on, Timing Is Everything | Firewall Built (Videos)
Friday, January 4, 2019 17:05
% of readers think this story is Fact. Add your two cents.

1-4-19
President Trump's proposition to use the executive powers invented by the Democrats to unilaterally order the U.S. military to build a border wall sounds damn good to me!
PLUS
The [DS] pushes ahead with all their bills, #impeachment, get rid of the electoral college, protect Mueller, stop the wall etc. This was expected.
The Patriots have built a firewall around him and now it is time to build the wall. Trump sends the message to the [DS] the wall will be built no matter what.
Everything is being put into place, we all need to be patient, the plan is working and the pieces are being moved around the chess board.
Q has told us to expect everything we are seeing and they will counter when the time is right.
AND
Job numbers are incredible, remember Trump is using the DS, CB manipulation and playing their game.
Trump's economic advisor says there is no recession headed our way, who else says this, the Fed. Using their playbook to show the economy is doing great and the D's and the CB will bring down the economy.
Auto sales decline.
Rep Thomas Massie introduces the Fed Transparency bill, this will sit in the house until it is needed.
Trump blames the D's for when the economy enters a recession.
---
They Didn't See This Coming, Firewall Built, Now The Border Wall
X22Report
It Has Begun, The Push Is On, Timing Is Everything
X22Report
Who Needs Congress? President Trump Threatens to Declare National Emergency Over #BorderWall
TruNews Today on TruNews we discuss the possibility and impact of President Trump's proposition to use the executive powers invented by the Democrats to unilaterally order the U.S. military to build a border wall. We also detail the latest lunacy of the Democratic freshman Congress and how a spiritual, not political, war is being waged for the future identity of America. Rick Wiles, Edward Szall, Doc Burkhart.
RED HOT CHILI TRANS-GENDER-HUMAN-#CANNIBAL-BLOODLUST… AGENDA!!!
McAllister TV
Trump threatens to declare national emergency to get wall funding – as it happened
President says 'we can call it a national emergency' to bypass Congress and build wall 'quickly' at press conference
Protect the Guardian's independent reporting with a contribution and help us reach our $1m goal by 7 January
Is the person responsible for spell-checking White House communications on furlough thanks to the shutdown?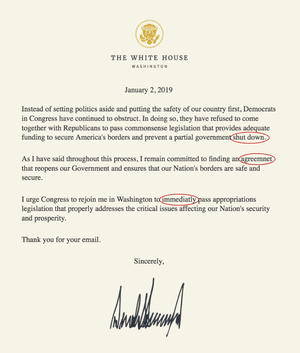 A letter sent by Donald Trump Illustration: Guardian Design
Answer: No, probably not. The White House has been cranking out spelling and grammatical errors with regularity for nearly two years now.
It's unclear who Trump's "top people" are or how amenable to compromise they will be, but McConnell says Trump wants negotiations to occur over the weekend.
Returning from WH, McConnell says "the President agreed to designate his top people" to sit down with "all the leaders' staffs" this weekend to see if they can come up with an agreement that can then be shown to the principal negotiators, @caphilltrish reports.
38 people are talking about this
Schumer: Trump would shut down government for months or years
Nancy Pelosi and Chuck Schumer are addressing reporters after a meeting with president Trump over the government shutdown, and expressing little evidence of progress.
Pelosi calls it a "lengthy" and "sometimes contentious" conversation with Trump at the White House. She says Democrats can't have discussions over other matters until the government is reopened.
216 people are talking about this
· 5h

Pelosi calls it a "lengthy" and "sometimes contentious" conversation with Trump at the White House. She says Democrats can't have discussions over other matters until the government is reopened.
Schumer: "We made a plea to the president once again …. 'Open up the government and let's continue our discussions.'"

Schumer says Trump is prepared to keep govt closed for "MONTHS OR EVEN YEARS"
332 people are talking about this
That would mean Americans wouldn't get their tax returns for "months or even years" — probably not a sustainable position!

Kaitlan Collins✔@kaitlancollins

Chuck Schumer says President Trump told him he's prepared to keep the government shut down for months or even years.
62 people are talking about this
Trump is expected to address the meeting in the Rose Garden shortly.
Updated at 1.47pm EST
Two images captured the mood in Washington this week as excited children crowded into the normally staid House of Representatives to help the re-elected speaker, Nancy Pelosi, welcome the most diverse new intake of lawmakers in US history, while Donald Trump surrounded himself with tough guys at a surprise White House press briefing, delivering another hardline push for his wall project on the US-Mexico border.
Amid the ongoing government shutdown and nearly two years into the Trump presidency, US politics looked into the abyss and saw the divide in Washington – but also glimpsed the future.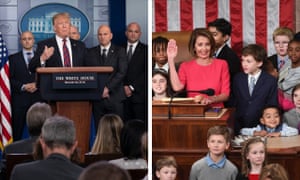 Donald J. Trump speaks about border security in the White House briefing room meanwhile Nancy Pelosi, D-CA, surrounded by children and grandchildren of lawmakers, raises her hand at the closing of the opening of the 116th Congress at the US Capitol in Washington Composite: Rex/Shutterstock/AFP/Getty Images
The most racially diverse and most female group of representatives ever elected to the House in congressional history crowded into the traditionally white and male halls of Capitol Hill for their swearing-in on Thursday afternoon.
They were joined by partners, parents and children who also better reflected the country's patchwork of identities than Congress traditionally does, and signaled that a more diverse future is inevitable.
In a perhaps intentional nod to forward thinking, Pelosi invited children to join her at the podium after she was handed the gavel and prepared to swear in the dozens of new members – mostly Democrats.
Congresswoman Rashida Tlaib initially came out defiant after describing Trump as a "motherfucker" in a call for impeachment, but fled from press trying to ask her about the comments this morning, including our own Ben Jacobs.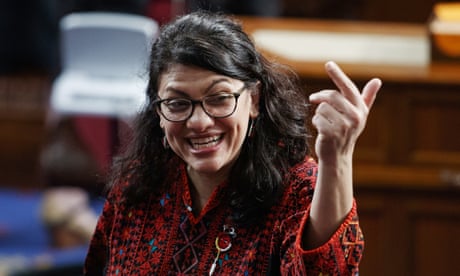 'We're gonna impeach the motherfucker': the Democrats' new street fighters
WTH! First-Ever Palestinian-American to Serve in Congress Rashida Tlaib on Trump: We're Going to Impeach That Motherf**ker (Video) click here
This might be why. From Politico:
House Democrats are furious that an incoming freshman's expletive-riddled statement about impeaching Donald Trump has suddenly upended their carefully crafted rhetoric on their plans to take on the president.
Rank-and-file Democrats, immediately fearful of the damage the comment could cause, unloaded on their new colleague Friday morning. Republicans, they argued, would hold it up as proof that Democrats are playing politics rather than pursuing genuine oversight of the president — even if the GOP never showed interest in investigating Trump scandals while it was in power.
"Mueller hasn't even produced his report yet!" said Rep. Ron Kind (D-Wis.), referring to special counsel Robert Mueller's Russia probe. "People should cool their jets a little bit, let the prosecutors do their job and finish the investigation."

"Inappropriate," added Rep. Jim Costa (D-Calif.). "As elected officials I think we should be expected to set a high bar… It's not helpful."
The Guardian
---
#economy #Qanon #politics #geopolitical #X22Report #borderwall
​IMPORTANT DISCLAIMER! THIS ARTICLE ENDS HERE AND ANY ADS ON THIS STORY'S PAGE, INTERRUPTING THE DESCRIPTION OR TITLES TO VIDEOS, AFTER THE STORY OR AROUND THE STORY, ARE ABSOLUTELY NOT ENDORSED BY OR PLACED BY THIS CONTRIBUTOR