Some surface analysis of yesterday's protest and other items inserted into the news cycles: Links 1 for September 21st, 2023
Thursday, September 21, 2023 12:57
% of readers think this story is Fact. Add your two cents.

Before we start this collection of items, a note about yesterday.
The police were exemplary. There are people masquerading as being freedom people who create incidents with police and deceptively edit to make it look like the police are unfairly attacking or treating our side. To be clear, this is not the case. What took place at the Freedom Convoy is an entirely different matter. But at these sorts of protests the police have done an amazing job at preventing bad things from happening while making sure everyone's rights are respected. For those who have sent me links to a woman who was arrested, please note that the exact same woman is often at the centre of these kinds of incidents and a look at unedited footage usually shows she got less than she deserved from authorities.
The same cannot be said of the MSM. Reporting on yesterday's event in Ottawa was a graduate course in Marxist dialectics. The CTV clip, which is the only one I have had time to watch so far, was flatly lieing about the numbers in order to distort the amount of support each 'side' had, and the language was pure Marxism. As one has come to expect, they misrepresented the nature of the protest and over-represented the counter-protest with no questions as to their own narrative. This was to put it very muildly, deceptive. I would characterize it as a dialectic weapon of destruction against civilization. And no, this is not an exaggeration. This is what it was. When one deliberately distorts all aspects of an event for an outcome that always leads to greater state control and more, criminalizing or negating truth as something which can be expressed, it is exactly a dialctic weapon of destruction against Western Civilization. I shall post it below. Let's treat it like a game show. Perhaps people here would like to watch it and leave comments exposing the various mechanisms of deception and misdirection in this one short clip.
On to the list:
1. Alex Berenson: The mRNA tech must be fully withdrawn and do not allow them to say they did not lie about what they said these shots would do.
Alex Berenson & Joe Rogan Discuss the Long-Term Safety of mRNA Vaccines

"We do not know what the long-term effects of the mRNA vaccines are…And it is immoral and unethical to keep using those right now."@AlexBerenson @joerogan pic.twitter.com/ZP4NcywWVG

— Chief Nerd (@TheChiefNerd) September 20, 2023
2. Relating to yesterday's demonstration: Third of Children Put on Puberty Blockers Saw Mental Health 'Reliably Deteriorate', UK Researchers Find
Over a third of children placed on puberty blockers by Britain's controversial Tavistock child gender clinic suffered mental health problems after taking the hormone-altering drugs, according to fresh analysis.

A new look at a 2011 study conducted by the University College London Hospitals (UCLH) and the Tavistock Centre's Gender Identity Development Service — the UK's only child gender transition clinic that is set to be shut down over safeguarding failures — has found that the mental health of 34 per cent of children placed on puberty-blocking drugs "reliably deteriorated", while 37 per cent saw no difference, and 29 per cent "reliably improved" following the administering of the drugs.

The new findings fly in the face of the 2011 analysis of 44 children aged between 12 and 15 years old which claimed that there had been "no changes in psychological function" after the youngsters were put on puberty blockers. While the original analysis was based on averages of groups based on questionnaires provided to the children and their parents, the new findings were based on individual results, The Telegraphreported.
(It would be interesting to see the data and children who improved after getting these drugs. This seems highly unlikely, unless it is that once you remove a teenager's sex drive he does better on exams. There are other ways to to deal with that however which don't involve dangerous drugs or Marxist critical gender theory.)
3. Zero-Hedge: NATO Fractures: In U-Turn, Poland Announces It Will No Longer Arm Ukraine
Excerpt below but read the whole article. There is something here which could lead to a real understanding of some aspects of the geopolitics of this new world.
[…]"Poland will no longer arm Ukraine to focus on its own defense," Polish prime minister Mateusz Morawiecki announced just hours after Warsaw summoned Ukraine's ambassador related to a fresh war of words and spat over blocked grain, according to the AFP. Warsaw has throughout more than a year-and-a-half of the Ukraine-Russia war been Kiev's staunchest and most outspoken supporter.

Will this massive and hugely significant about-face mark the beginning of the end? Are peace negotiations and ceding of territory in the Donbas inevitable at this point? […]

Crucially, Poland will hold parliamentary elections on Oct.15. The prior atmosphere of enthusiastic pro-Kiev rhetoric has drastically changed, now with comparisons likening Ukraine to a "drowning man". As The Associated Pressexplains:

Polish leaders have compared Ukraine to a drowning person hurting his helper and threatened to expand a ban on food products from the war-torn country. Meanwhile, Ukrainian President Volodymyr Zelenskyy suggested that EU allies that are prohibiting imports of his nation's grain are helping Russia.

Now, Polish officials, who are trying to win parliamentary elections next month with help from farmers' votes, are expressing dismay over some of Ukraine's latest moves, including a World Trade Organization complaint over bans on Ukrainian grain from Poland and two other EU countries.
??Poland to stop supplying Ukraine with weapons.

Polish Prime Minister Mateusz Morawiecki announced on Sept. 20 that Poland will no longer supply Ukraine with weapons as rifts over the import of Ukrainian grain products deepens.

— The Kyiv Independent (@KyivIndependent) September 20, 2023
4. John Campbell with one of the panel of the National Citizens Inquiry in Canada
5. The weaponized state operation of "Me-Too' against Russel brand is moving to the practical stage of the attack. First there is the reputational attack, where the accusation alone is meant to make people feel the target is unpalatable. Then the practical. What shall be done to this unplayable person. Of course the range is large depending on the influence of the target. Russel Brand is influential enough that it appears the European Union and United Kingdom governments, neither of which appear to have been elected in terms of the actual power-players within them, is asking for consequences. Of course this also means the ancient democratic principle of innocent till proven guilty has been abandoned without anyone really noticing it. Which is a bonus for the revolution. Communists must have a clear path to eliminate any threat to the Marxist/Maoist revolution, unencumbered by such pesky things as human rights.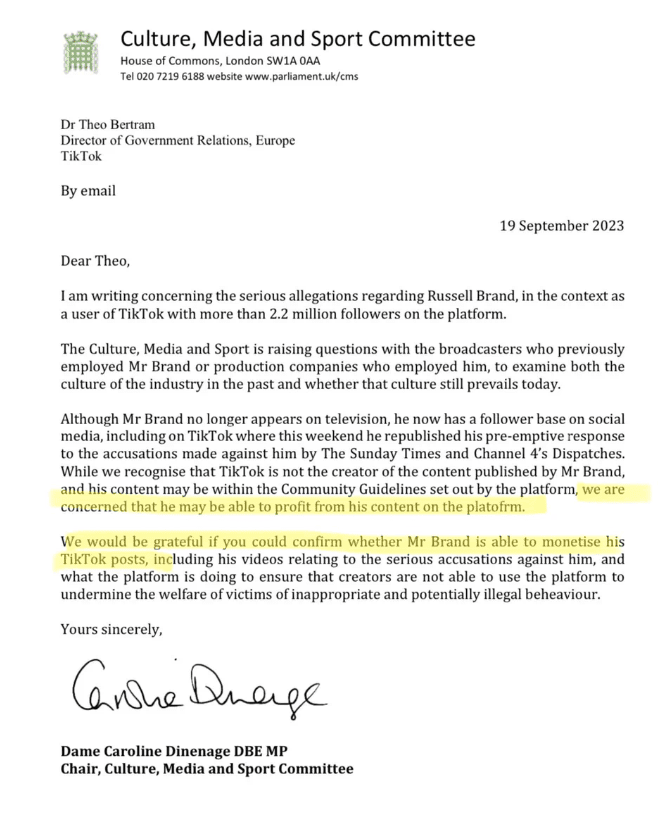 The following appears to be a letter from Rumble, currently the best platform for videos in popular use, in response to this totalitarian request by the MP
Our own opinion:
There are already laws in the US and likely elsewhere forbidding people to profit from crime. Should Brand be found guilty in a fair trial of an actual crime, then they should want him to make as much as possible from these videos so that they can distribute that wealth to the victims. Instead it appears to be about silencing and punishing Brand before any kind of actual trial. Which is quite in keeping with the revolutionary nature of the Western world today.
Thank you all for checking out this site.
A couple of images to close off.
Toronto yesterday:
A trantifa sign threatening violence has been spotted at Queen's Park where the #1MillionMarch4Children is currently underway.

Photo by TPM's @BethBaisch pic.twitter.com/FUqDALJ04y

— The Post Millennial (@TPostMillennial) September 20, 2023
Many
That hopefully will help to wake up the narcoleptic public to the reality of our times.
The image below is like one of those old coloured dot posters of the 80s. You have to let your eyes go out of focus in just the right way and you get an astonishing picture more in your head than on the page.
This is an evolved version of that. Step back from it and zone out. Tell me what you see.
Source:
https://vladtepesblog.com/2023/09/21/some-surface-analysis-of-yesterdays-protest-and-other-items-inserted-into-the-news-cycles-links-1-for-september-21st-2023/
Before It's News®
is a community of individuals who report on what's going on around them, from all around the world.
Anyone can
join
.
Anyone can contribute.
Anyone can become informed about their world.
"United We Stand" Click Here To Create Your Personal Citizen Journalist Account Today, Be Sure To Invite Your Friends.