ITS SHEARING TIME: Two Mind blowing Bombshells to counter RINO Mitch McConnell's own goal! Affidavit published showing McConnell knowledge of deep election fraud going back years and known to those now suggesting we ignore election THEFT by enemies Foreign and Domestic; and two, WIKI Leaks Massive Data Dump (link below)!
Thursday, December 17, 2020 3:39
% of readers think this story is Fact. Add your two cents.

PLEASE SHARE…. LETS GET THIS OUT TO THE MASSES….
HOLD THE LINE. NEVER GIVE IN TO TYRANNY… TRUMP: USE THE MILITARY PER TITLE 10 Section 253 TO TAKE OUT THE TRASH THAT HAS INFESTED EVERY GOVERNMENT OFFICE OPERATING ACROSS AMERICA! SEE THE LETTER AT THE BOTTOM OF THIS PAGE TO FULLY UNDERSTAND WHAT HAPPENED TO AMERICA THESE PAST 150+ YEARS!
First amendment rights: Congress shall make no law respecting an establishment of religion, or prohibiting the free exercise thereof; or abridging the freedom of speech, or of the press; or the right of the people peaceably to assemble, and to petition the government for a redress of grievances.
Several other important posts by author today: Bookmark: /v3/contributor/stories/?uid=713008
To share this article: Here is a TinyURL: https://tinyurl.com/y8wgv9pv
Also posted today, Bookmark:
/new-world-order/2020/12/file-wikileaks-orgfile-everything-that-was-hidden-from-the-american-people-has-been-leaked-massive-data-dump-has-potential-to-destroy-shadow-government-narrative-9581.html
/new-world-order/2020/12/bombshell-interview-breaking-news-hillary-clinton-is-caught-in-an-fbi-sting-taking-an-18m-bribe-with-overstock-ceo-patrick-byrne-as-the-go-between-him-and-an-unnamed-country-%f0%9f%a4-bill-barr-a-9574.html
Trumps path to victory based on EO 13848 addressing Foreign Election Interference and The Insurrection Act of 1807 [Insurrection Act Title 10 U.S.C. Sections 251 - 255]
/new-world-order/2020/12/live-amistad-project-unveils-report-on-election-funding-from-facebook-founder-zuckerberg-9578.html
McConnell urges Senators to Refrain from Objecting to Electoral Votes… really? Now why is that Speaker of the House Mitch?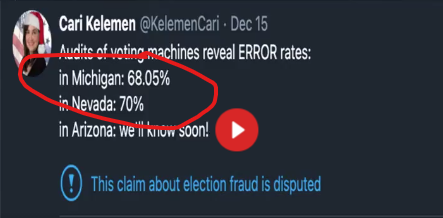 Excerpt:
116. I can personally attest that high-level officials of the Obama/Biden administration and large private contracting firms met with a software company called GEMS which is ultimately the software ALL election machines run now running under the flag of DOMINION.
117. GEMS was manifested from SOE software purchased by SCYTL developers and US Federally Funded persons to develop it.
118. The only way GEMS can be deployed across ALL machines is IF all counties across the nation are housed under the same server networks.
119. GEMS was tasked in 2009 to a contractor in Tampa, Fl.
120. GEMS was also fine-tuned in Latvia, Belarus, Serbia and Spain to be localized for EU deployment as observed during the Swissport election debacle.
121. John McCain's campaign assisted in FUNDING the development of GEMS web monitoring via WEB Services with 3EDC and Dynology.
LINK TO FULL AFFIDAVIT BELOW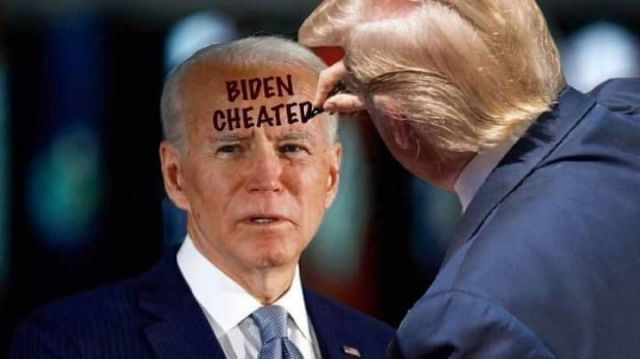 Nothing to see here Mitch! Soes he really think we will ignore the fraud and let China.Pedo.Biden in to the Whitehouse! We think not!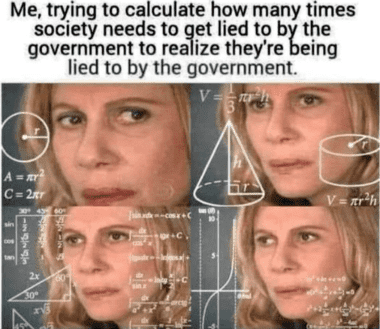 Why are RINO's, Demon-rats, Rothschilds ZIO-CIA-NWO-Mockingbird-Media, Constitutionally-banned CROWN BAR Attorneys that have been unlawfully running Government and the so-called "Courts", all batting for CCP CHINA! Did they already sell out America….. we think so!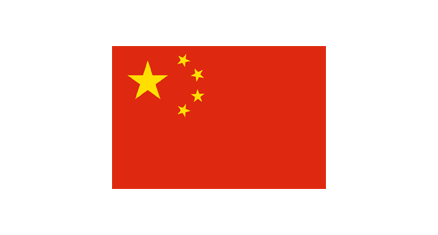 BTW: Please make sure that you understand a plot was exposed in whivh it was concluded America, as of the early 1950′s, was already a target for Global Socialism orchestrated by enemies within. What they did not say was the enemy moving the silent war against Americans through MIxed War (Lawfare) was the CROWN BAR Association system [See LivingLawSociety.org for more]. This was published in the early 1950′s: California Government Code – GOV § 1027.5
Nothing to see here Mitch!
The parasite actors pretending to be a we the people Government all knew the system was rigged…. read the 37 page Affidavit from a Cyber Security Analyst concerning the Dominion and Network architecture below the following image (links below)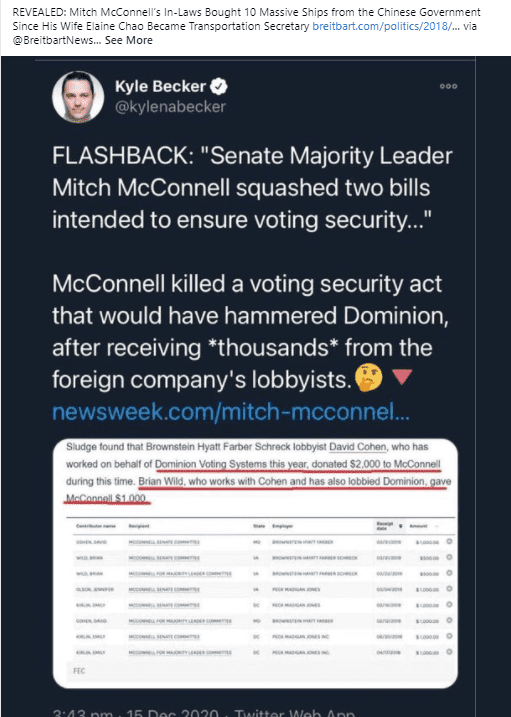 Prather exposes McConnell in this intelligence briefing…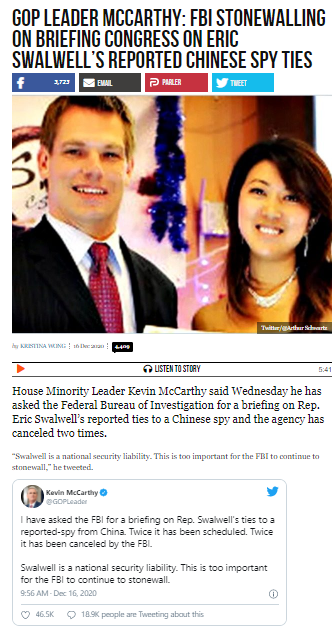 https://www.breitbart.com/politics/2020/12/16/gop-leader-mccarthy-fbi-stonewalling-on-briefing-congress-on-eric-swalwells-reported-chinese-spy-ties
This politicians KNEW the system was rigged!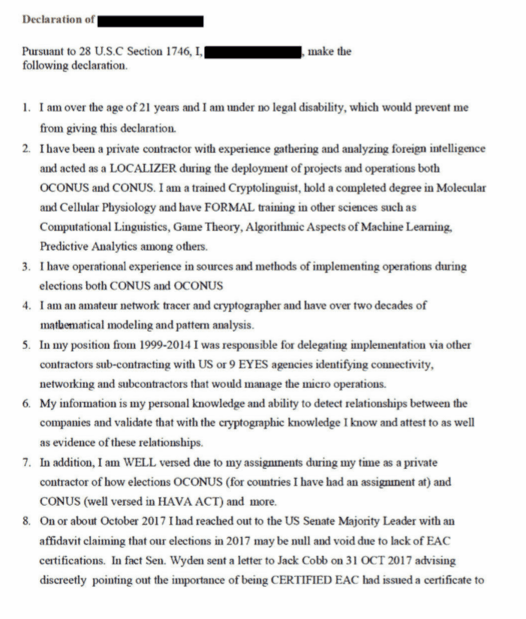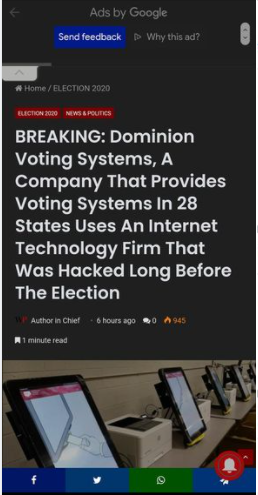 The Full Affidavit is a must read, dispells Mitch et al's lies and it is fully accessible at these links:
https://www.courtlistener.com/recap/gov.uscourts.wied.92717/gov.uscourts.wied.92717.9.13.pdf
https://www.mediafire.com/file/t1ohzm9z35kdp6n/gov.uscourts.wied.92717.9.13.pdf/file
To thank Mitch for his generous offer to sell out 80+M Americans and accept the turning over of America to the NWO.CCP please contact his Office. His Office numbers can be found at the bottom of this page:
~~~~~~~~~~~~~~~~~
REVEALED: Mitch McConnell's In-Laws Bought 10 Massive Ships from the Chinese Government Since His Wife Elaine Chao Became Transportation Secretary https://www.breitbart.com/politics/2018/04/30/revealed-mitch-mcconnells-laws-bought-10-massive-ships-chinese-government-since-wife-elaine-chao-became-transportation-secretary/ via @BreitbartNews
https://twitter.com/alexand57587644/status/1338883628034633730
~~~~~~~~~~~~~~~~
ELAINE CHAO (MCCONNELL'S WIFE) UNDER INVESTIGATION (FOR SHIPPING BUSINESS WITH CHINA)
December 15, 2020 admin Corruption 3 Comments
Looks like Elaine Chao, married to Mitch McConnell has been up to no good too. She is now under investigation to benefit herself or her family's shipping company. Guess where Chao's family's shipped in and out most of their materials to? That's right, China! Another damn crooked family in bed with China. McConnell and Chao aren't a surprise. No wonder her husband, Mitch McConnell is so eager to get Biden installed into office.
Elaine Chao (McConnell's wife) under investigation (for shipping business with CHINA)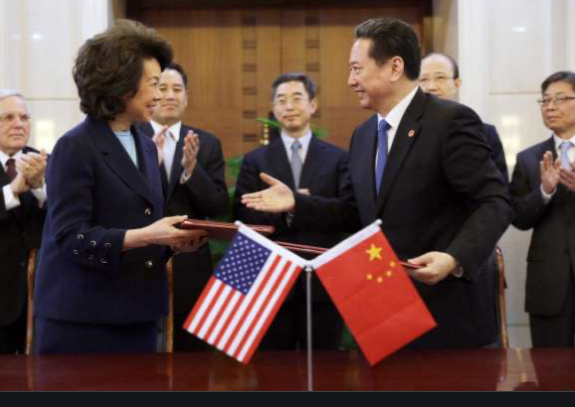 The House Oversight Committee said Monday it is investigating whether Transportation Secretary Elaine Chao acted improperly to benefit herself or her family's shipping company.
Two Democratic leaders sent Chao a letter asking her to turn over documents and communications related to the New York-based company, Foremost Group. Chao's father and sisters own the company, which transports material to and from China.
"Federal regulations prohibit federal employees from using their public offices for 'the private gain of friends, relatives or persons with whom the employee is affiliated in a non-governmental capacity,' " the lawmakers wrote in a seven-page letter to Chao.
The New York Times and Politico have reported that Chao may have used her Cabinet position to benefit the company and increase its influence and status with the Chinese government. China has extended hundreds of millions of dollars in low-interest loans to the company for the purchase of foreign-flagged ships.
##
What else do we know after today: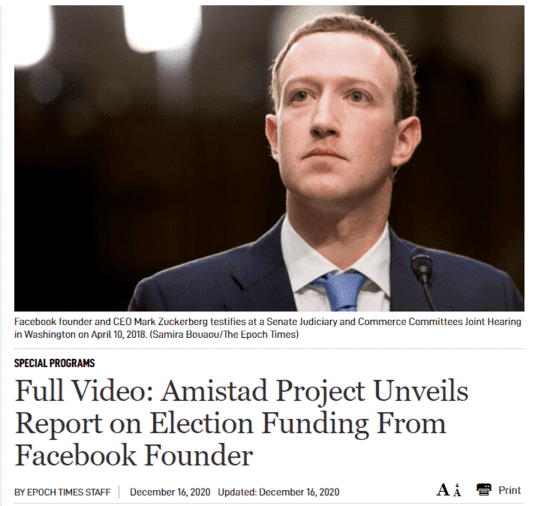 /new-world-order/2020/12/live-amistad-project-unveils-report-on-election-funding-from-facebook-founder-zuckerberg-9578.html
https://www.theepochtimes.com/amistad-project-unveils-report-on-election-funding-from-facebook-founder-zuckerberg_3621081.html
~~~~~~~~~~~~~~~~
Nothing to see here Mitch:
On 2 hours ago
BREAKING: Wisconsin Supreme Court says election officials were wrong; ballots may not be counted
The opinion, which was released this morning, says local elections officials were wrong to suggest that voters could claim the status of "indefinitely confined" based on COVID-19. The majority decision also held that if voters falsely claimed they were indefinitely confined "their ballots would not count."
https://electionwiz.com/2020/12/14/breaking-wisconsin-supreme-court-says-election-officials-were-wrong-ballots-may-not-be-counted/amp/
~~~~~~~~~~~~~~~~
https://leohohmann.com/2020/12/13/2nd-retired-general-calls-on-trump-to-crush-coup-plotters-this-is-more-dangerous-than-the-civil-war/
~~~~~~~~~~~~~~~~
McConnell urges republicans not to object to Biden electoral votes…
Posted by Kane on December 15, 2020 10:16 pm
McConnell Urges Senators to Refrain from Objecting to Electoral Votes
Senate Majority Leader Mitch McConnell (R-KY) reportedly urged GOP senators to refrain from objecting to electoral votes when it comes time to count them in Congress next month, making the remarks on a caucus call Tuesday.
McConnell, who formally recognized Joe Biden and Kamala Harris on Tuesday, reportedly told colleagues that an objection "isn't in the best interest of everybody," per the Hill.
McConnell warned that any GOP senator who signed onto a House Republican objection to a state's electoral votes would then force the Senate to debate and vote on the objection, putting fellow GOP senators in a bad position.
McConnell was not the only Republican leader to make the request, with Republican Whip John Thune (R-SD) and Rules Committee Chairman Roy Blunt (R-MO) making the same call.
There is no indication currently that any GOP senators plan to object to the results.
"I think that there was encouragement on the phone for us to accept the result, as much as it's not what we, you know, would have envisioned for the next four years, and to try to do what's best for American people, which is to look forward," Sen. Shelley Moore Capito (R-WV) said, according to the Hill.
Sen. John Barrasso (R-WY) also said he has not heard any rumblings of GOP senators poised to reject the results.
Rep. Mo Brooks (R-AL) plans to object to next month's count, which will take place January 6. However, he needs a GOP senator to join him in order to launch the challenge successfully.
"Well, it's happened many times in the past," Brooks said during a Monday appearance on Fox News Business's Lou Dobbs Tonight. "Apparently, some folks have not done their history."
"By way of example, the Democrats in the House tried it in 2017 when they tried to strike Alabama's votes for Donald Trump. Georgia, the same way, the House Democrats tried to strike it. Barbara Boxer tried to strike Ohio for George Bush back in 2005, so this is not unusual," he continued, adding that the "law is very clear."
"The House of Representatives, in combination with the United States Senate, has the lawful authority to accept or reject Electoral College vote submissions from states that have such flawed election systems that they're not worthy of our trust," Brooks said.
~~~~~~~~~~~~
Call McConnell's office(s) –Washington DC: (202) 224-2541
Louisville, KY 40202
Phone: (502) 582-6304
Lexington, KY 40503
Phone: (859) 224-8286
Fort Wright, KY 41011
Phone: (859) 578-0188
London, KY 40741
Phone: (606) 864-2026
241 E. Main Street, Rm. 102
Bowling Green, KY 42101
Phone: (270) 781-1673
====================
~~~~~~~~~~~~~~~~~~~~~~~~~~~~~~~~~~~~~~~~~~~~
What you should be asking yourself? Why are those in so-called Government at War (Lawfare) with the American people? The following letter was sent to Trump via US Military alerting those loyal to the American people to the state of affairs described below and linking to certified government issued proofs of claim described in the letter. /new-world-order/2020/12/letter-to-trump-and-us-military-on-lawfare-mixed-war-color-of-lawauthorityoffice-constitutionally-banned-foreign-agents-fake-weaponized-courts-etc-time-to-take-back-america-from-the-parasites-9526.html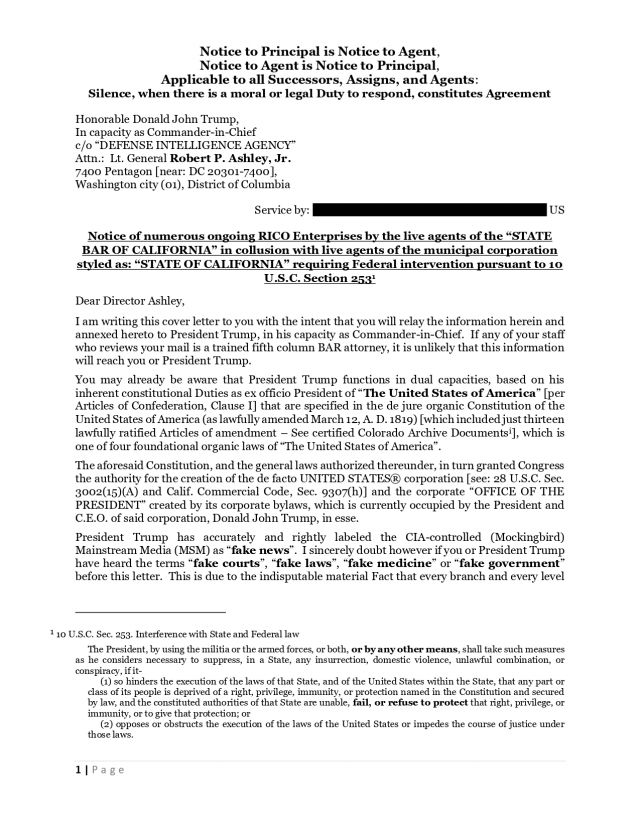 Please see the following hyper-link for the next three pages of the above letter…
/new-world-order/2020/12/letter-to-trump-and-us-military-on-lawfare-mixed-war-color-of-lawauthorityoffice-constitutionally-banned-foreign-agents-fake-weaponized-courts-etc-time-to-take-back-america-from-the-parasites-9526.html
About Patrick Henry and our Red Pill projects: Fascist-book: https://www.facebook.com/pauljamesCET/ More Articles: tinyurl.com/qno5k6e LivingLawSociety.org +++ more links here 1776reloaded.org internallydisplacedpeople.org Important articles have been uploaded to BIN on the ongoing CCP. Black Nobility.New World Order.RINO-Demon-rat.Socialist DC Crown US Corp.party of DC, the ongoing New World Order Usurpation of America by enemies Domestic and Foreign, and the GOV-ID-1984-Great-Reset-Agenda21/2030-Depop-Plandemic. Articles available at this link: /v3/contributor/bio/?uid=713008 Video channel: https://www.brighteon.com/channels/1776reloaded
The focus of our work over the last 15 years has been to investigate the Legal and Governance systems operating in America at Federal, State, County, City etc.. Conclusion: the entire legal system in America has been usurped by 185,000+ foreign CROWN / VATICAN rooted corporations and is illegally operated by Constitutionally-banned foreign agents that unlawfully run America for foreign interests (example US Corp., [CANADA], STATE OF CALIFORNIA, COUNTY OF ______ are NOT the original organic We the people Governments but counterfeits). Constitutionally-banned foreign agents run nearly every now Occupied counterfeit government Office in the nation. In America the leading faction of the 5th Column at war with the rest of us are BAR Attorneys (whether they know it or not)! See California Government Code 1027.5 to understand the silent War that has been going on for 150+ years. It is further concluded these Constitutional banned foreign agents have literally been engaged in a Mixed War against the American people, relying on lawfare while literally farming Americans to profit the International Bankers (aka Human Trafficking) and the CROWN / VATICAN system in a silent war with all Americans since the War of Independence.
See LivingLawSociety.org for more and proof that the original organic United States Constitution post 1819 was modified and orchestrated to bring America under a foreign Corporate Democracy [Socialistic Mob-rule] as a path to destroy the original organic we the people Governments and deprive the people of their guarantee of a Republican form of Government all so as to advance their Luciferian Roman Cult Talmudic New World Order Agenda.
"You want to talk about fraudulent elections? Let's start with the very concept of democracy to begin with: other people voting on how much of my property to plunder." – btw TuSA and organic states were created as a republic and guaranteed a republic form of governance – don't let the CROWN Plantation managers have you thinking any of the physical states or Organic Federal states co-ordinating governance was created as a DEMONcracy! PJ
Please like this article/author and others if you find this document insightful or useful and do not forget to share… more by the author here:
/v3/contributor/bio/?uid=713008
~~~~~~~~~~~~~~~~~~~~~~~~~~~~~~~~~~~~~~~~~~~~
Before It's News®
is a community of individuals who report on what's going on around them, from all around the world.
Anyone can
join
.
Anyone can contribute.
Anyone can become informed about their world.
"United We Stand" Click Here To Create Your Personal Citizen Journalist Account Today, Be Sure To Invite Your Friends.