Nibiru - Dr Sam.. 'Begin to give your Souls to God today, Tomorrow can be Late', given February 8th, 2023
Thursday, February 9, 2023 6:46
% of readers think this story is Fact. Add your two cents.

Plates are slipping, and one in the Middle East is moving towards being sunk in the Mediterranean Sea. How does anyone feel about being faced with such an unknown future – possibly a blank future where there seems to be nothing familiar ahead of us.. Perhaps Dr. Sam is feeling, in some way, the same thing..
commentary by Dr. Sam,
02/08/2023
Good morning.
In name of God, the most gracious, the most merciful.
All is in the hands of God now, I am seriously warning. I'm not kidding. You are not used to seeing me kidding. There was an earthquake in Nablus [Palestine] with a magnitude of approximately 4.5, and people ran into the streets with fear and panic. I warned about an earthquake on the Syrian-African fault, and it happened at the head of it.
I also warned about the weak point of this fissure in the Valley of Jordan and around the Dead Sea, and now there are great pressures of storage in that area, and the Zionist authorities do not reveal the truth. On the contrary, they warn in a manner without being serious. I am warning and I am not scaring.
I know there are people who are angry with me, and are asking me to stop speaking, because my words and commentaries are rapidly materialising. And I only will have success because I confide in God. I put my knowledge, studies and experiences in service to my nation, so I do not reveal anything except with the help of God All Powerful. And on the basis of knowledge and studies, nothing comes from non-existence.
Please take care of yourselves. Many questions come to me and I cannot respond to the world alone, I'm sorry. Not a centimeter on the earth will remain secure after we pass by the point without return. 'The people will not feel what is above them until what is below them shakes.' It's a phrase that you know about me years ago.
I say to these ambitious people that I will go ahead, alerting and warning all the people. And I will give to them the latest correct information and reviewed with evidence. And the actual facts prove what I say. By the grace of God, I am calling you, protect yourselves with strong faith in God. I repeat, there is enormous latent energy stored. I do not know when it will be discharged. Accurate prediction of Earthquakes is impossible even with the most precise global sensors.
And what is happening now, and what will happen, not by human actions, on the contrary, it will be by the ability of one capable and empowered, without nuclear bombs, without CERN, and without project HAARP. There exist only studies and expectations.. The knowledge of the invisible belongs to His Majesty.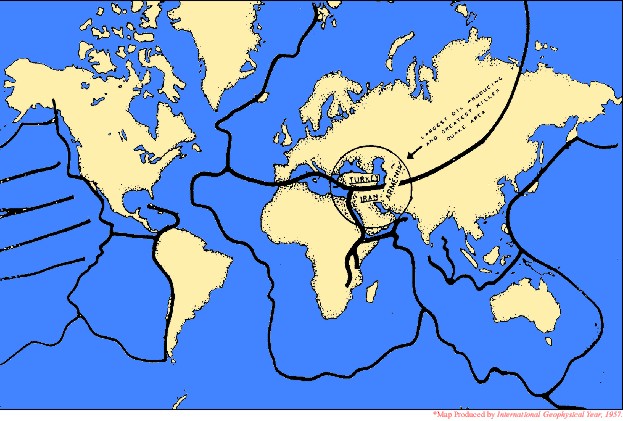 The principle points which I summarised objectively for you now are: The giant Syrian-African fault will not stop. I warned in a lecture yesterday about my fear of Anatolia [the peninsula of Turkey] – the block moving towards the sea, and already it happened for a distance of 3 to 6 meters. An enormous potential energy presses along the crystalline rift, and its weak point is strongly named in the Valley of Jordan, and I give Jerusalem with its sanctities and its people to the Lord of the Worlds.
The reason of our life is known to you in my past lectures, and above this is the alignment of an orbital system.. And it is not the alignment of some planets with the earth, nor of solar storms, because the sum of their forces is negligible before the electromagnetic intruder font which approaches.
We will wait for the monthly report of the migration and any advance or delay or deviation however small, as already I have said, since this represents for us an acceleration of movement only of the heavy visitor. And we will enter the weaker field lines of the earth after a few months, and all is by Order of God. Please pay attention to even yourselves. And God is all around, and I hand over my destiny to my God, Lord of the worlds.. higher than all the oppressors and envious. Be well.
links-
Begin to give your Souls to God today, Tomorrow can be Late
https://www.youtube.com/watch?v=FhbVDMQh5s0
Mary's Messages
/spirit/2020/05/marys-messages-to-help-us-during-tribulation-period-2517355.html
Deep vs. shallow roots
/spirit/2023/02/prophecy-news-do-not-be-deceived-given-to-cherrie-archer-by-jesus-february-1st-2023-2521780.html
Before It's News®
is a community of individuals who report on what's going on around them, from all around the world.
Anyone can
join
.
Anyone can contribute.
Anyone can become informed about their world.
"United We Stand" Click Here To Create Your Personal Citizen Journalist Account Today, Be Sure To Invite Your Friends.